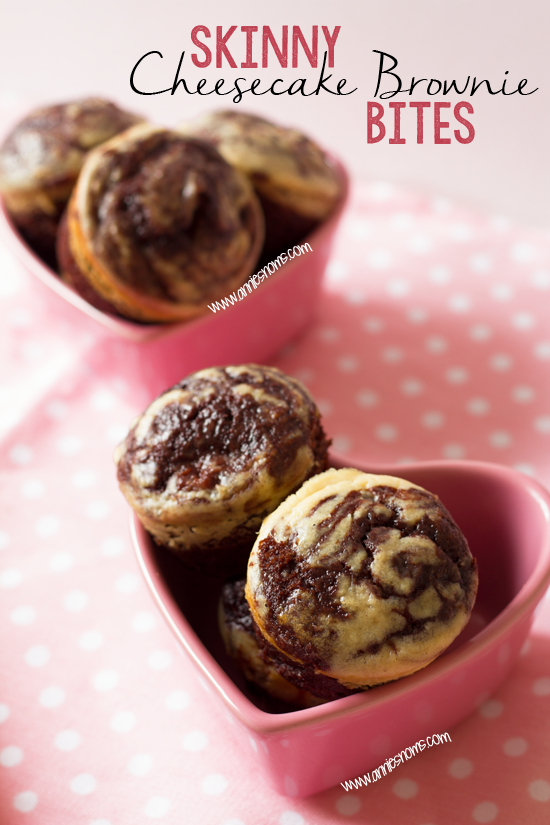 Good Morning! I am still alive, I'm just swamped with work! 8 weeks left until I'm finally free and can get back to blogging. 8 weeks and counting…
It's time for Secret Recipe Club again!
This month I was assigned Mallory's blog Because I Like Chocolate. Being a self confessed chocoholic, I was excited to go and check out her recipes!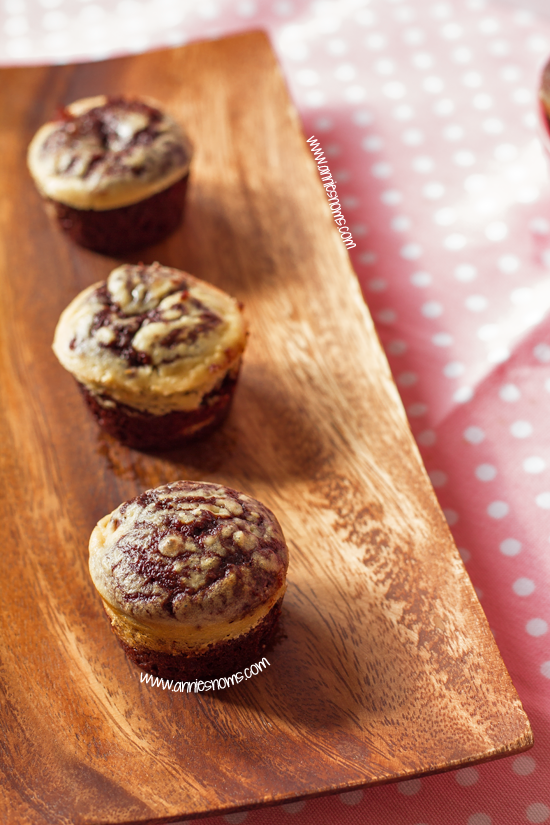 After reading all about Mallory, I really found I could relate to her. You're all aware of my difficulties with food and the line that really hit home with me was:
"Diet and exercise are important, but they can only go so far if you don't have a fulfilling relationship with food."
I realised that this is sooooo true! I'm working hard everyday on my relationship with food, I still have a long way to go, but it really made me think!
Onto more positive things, I found so many recipes I wanted to make: Brioche Buns, Chocolate Overnight Oats, or how about Chocolate Crinkle Cookies?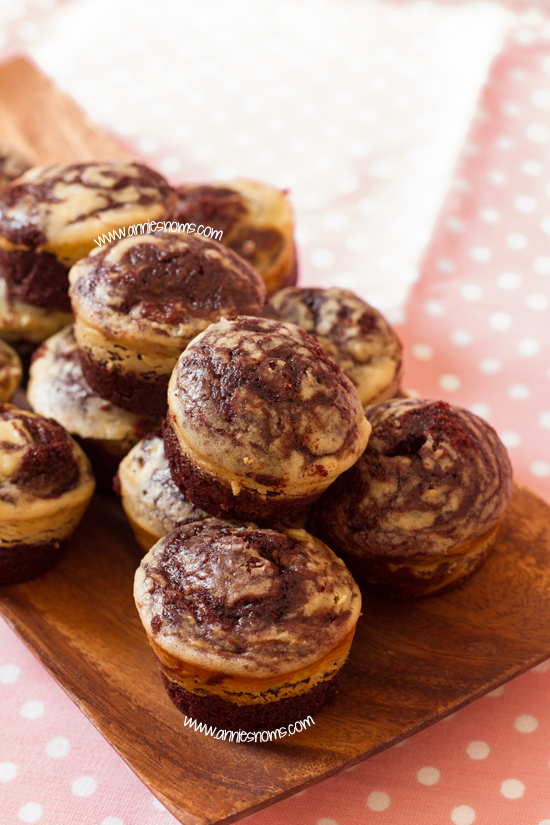 I finally decided on these Skinny Cheesecake Brownie Bites and I am so glad I did 🙂
One thing I really love about so many of Mallory's recipes, are the fact they substitute oil and applesauce for butter. I have to admit, this is the first time I've made something substituting butter out and I was nervous as to how they'd turn out!
I needn't have worried though, these surpassed all of my expectations! You really cannot tell there's no butter! They are so moist and fudgy and don't taste "skinny" at all!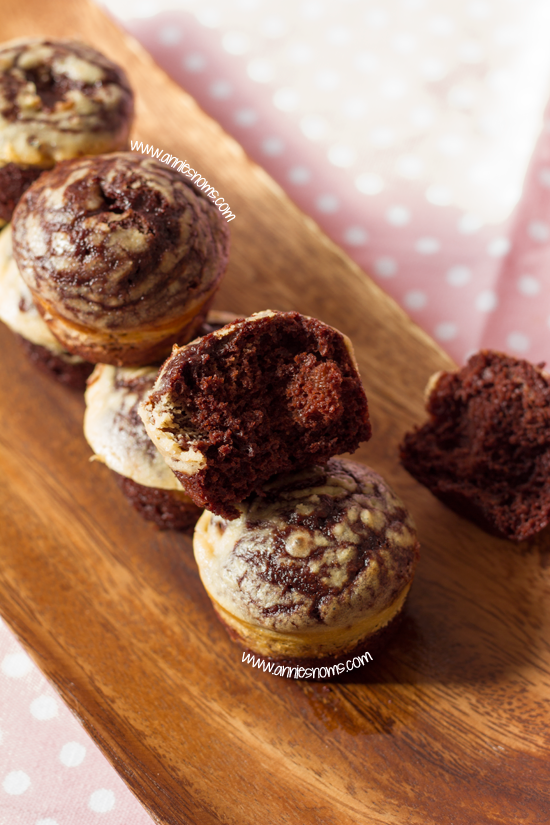 Just look at that richness!! These bite size pieces are just perfect as a little treat without any of the guilt! And testament to how soft and moist these are just look what happened when I tried to pile them up… Whoops hahaha!!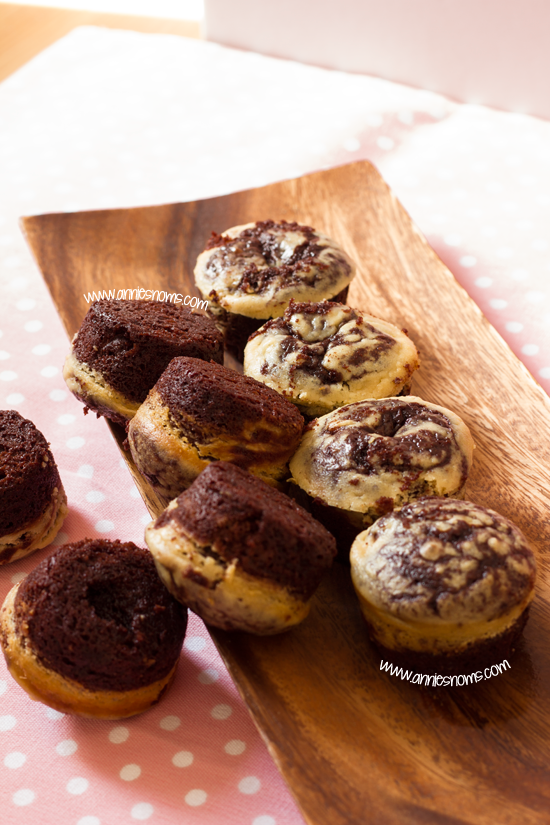 So, seriously go and make these!! The cheesecake topping just tops them off perfectly! It's light and sweet and in perfect contrast to the rich chocolate flavour of the brownies. I'm off to eat another one. (or five) 🙂
Skinny Cheesecake Brownie Bites
Amazingly moist and fudgy brownies bites with a cheesecake topping and NO BUTTER!! A light way to enjoy chocolate brownies!
Ingredients
For the brownie batter:

1/3

cup

light brown sugar

1/4

cup

white sugar

1

egg

1/2

cup

unsweetened applesauce

2

tbsp

olive oil

1/2

tsp

vanilla extract,

or vanilla bean paste if you have it

1/3

cup

cocoa powder

1/2

cup

plain flour

1/4

tsp

baking powder

1/4

tsp

bicarbonate of soda

For the cheesecake layer:

4

oz

light cream cheese

2

tbsp

light brown sugar

1/2

tsp

vanilla extract

1

egg yolk
Instructions
Preheat the oven to 180C/350F and grease 16 holes of a mini muffin tin either with butter or PAM (I used Wilton Bake Easy).

Place the sugars, egg, applesauce, oil and vanilla extract into a large bowl and whisk until combined. Don't be tempted to beat until smooth otherwise they will turn out rubbery!

Add in the cocoa powder, flour, baking powder and bicarb and whisk until just combined.

Leave to one side whilst you make the cheesecake layer: Place all cheesecake ingredients into a medium sized bowl and beat with a hand mixer until smooth and light, about 1 minute on mediu, speed.

Place around 1tbsp of brownie batter in each greased muffin hole, you want them about 3/4 full.

Divide the cheesecake batter between the brownies, around 1tsp per brownie bite.

Take a toothpick or skewer and swirl the cheesecake batter into the brownie batter slightly.

Place in the oven for 12-15 minutes (mine took 12) until risen and an inserted skewer into the centre comes out clean.

Leave to cool in the tin for at least 20 minutes before transferring to a wire rack to cool completely.

Once cool, brownie bites will keep in an airtight container, at room temperature, for 3 days.
Notes
Recipe from: http://www.becauseilikechocolate.com/2013/09/lowfat-cheesecake-brownie-bites.html#.UjpUXBbvyAI