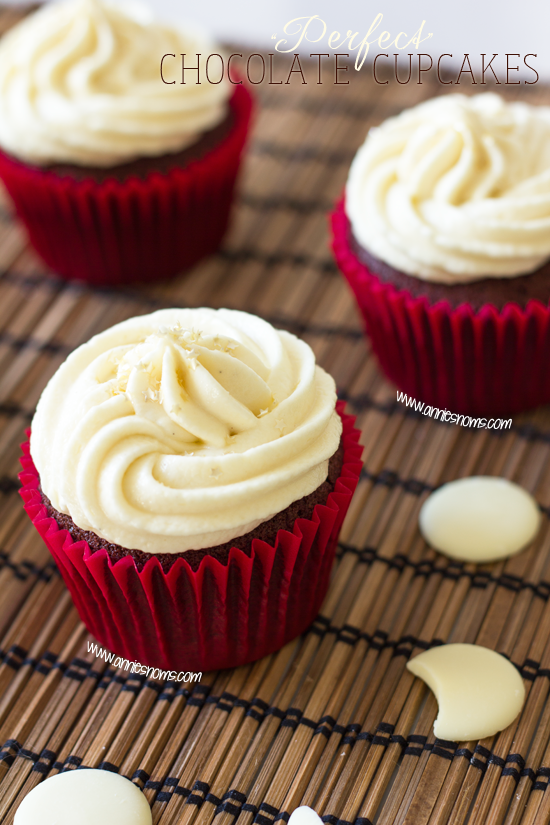 So, here it is! The much anticipated follow up to my most popular recipe post EVER! I started my Back to Basics series with these Perfect Vanilla Cupcakes way back in September last year.
I made these the same day as the Vanilla Cupcakes and sent them in with my boyfriend for his birthday fully planning on sharing them with you a week or so after my first Back to Basics recipe.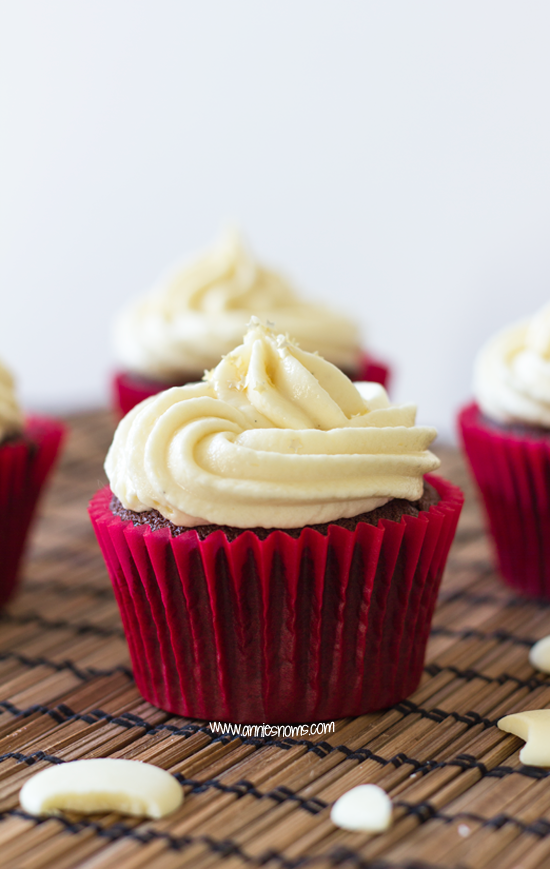 Then… Uni happened. Life became a bit of a blur of work, sleep, grab a bite to eat, repeat x1000. Yawn, I'm over that now.
So, please accept my profound apology for not posting these faster! I have had so many emails asking when I'm planning on posting them as you guys all loved my vanilla cupcakes! They have become the most popular recipe ever on my site, with way over 3000 pins, and that's just from the recipe page!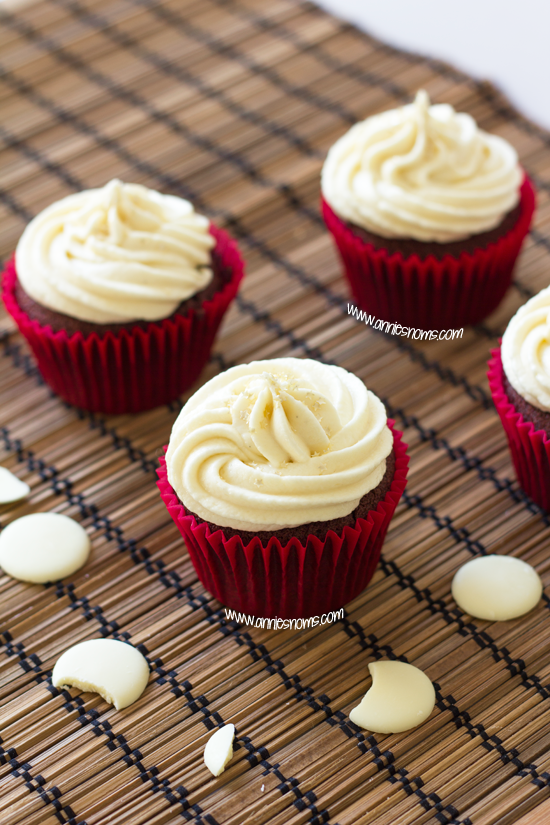 These babies are moist, tender and not too sweet. Whilst I'm a self-confessed chocoholic, when I have a chocolate cupcake I don't want it to be like biting into pure sugar, there's a time and a place for that, and this isn't it, IMO!
These cupcakes have the perfect crumb and stay soft for days! You get this gorgeous chocolate flavour from the cocoa and just a little hint of sweet from the sugar.
I used a mix of margarine and oil in this recipe, I didn't want the same flavour as the Vanilla cupcakes by using all butter, that worked really well for those cupcakes, but for these, they needed to be a little more moist and fudge like.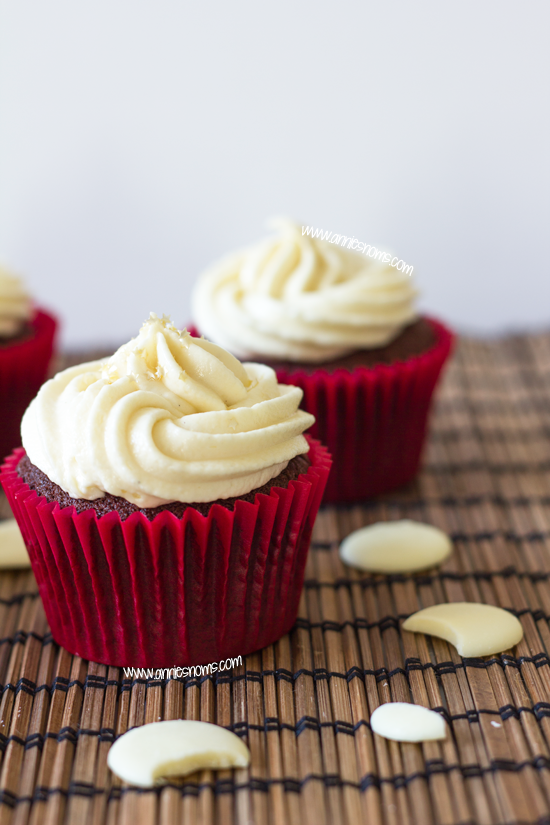 The punch of sweetness in this recipe comes from the glorious, fluffy, smooth white chocolate frosting, which I truly believe contrasts the cupcake perfectly!
Now, I know some people think there should be a 50/50 ratio of frosting to cake, but I'm more a 60/40 girl. I like a whole chunk of frosting, but I do want the cake to come through as well. This is why I always use a large star nozzle and use it at a slight angle (pointing down toward the cupcake) to pipe my cupcakes, it gives you a good swirl, but not so much height that you get the 50/50.
My OH – he prefers less frosting, so if this is you, then I'd advise spooning the frosting on – and maybe halving the recipe. 😉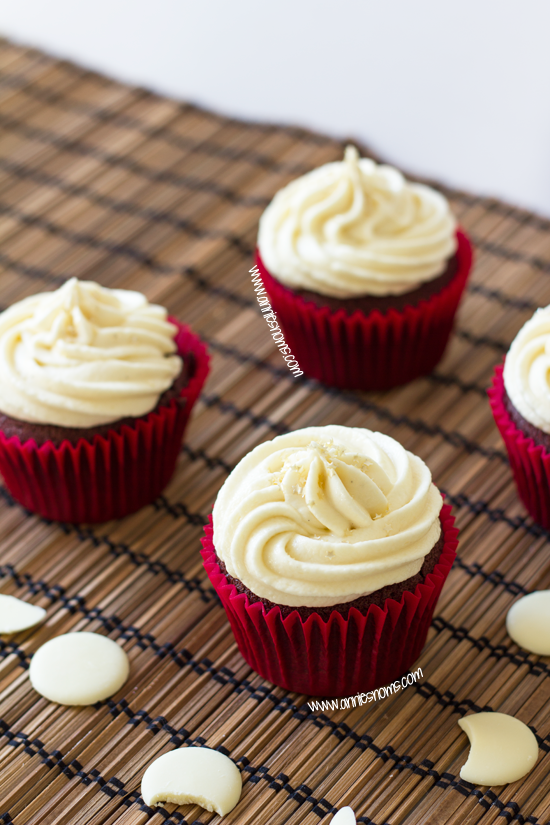 To make the frosting, I melted 7oz of Green and Black's White chocolate and mixed it with icing sugar, butter and vanilla extract. To really finish it off and bring out the flavours, I added just a pinch of salt.
There aren't many words to describe this frosting – it is light, fluffy, like eating a bar of white chocolate, but also with the melt in the mouth texture of butter cream icing!
If you want a better description of how I mix and bake my perfect cupcakes, read the post part of my Perfect Vanilla Cupcakes.
Enjoyed this post? Sign up to my weekly newsletter to ensure you never miss a post!
Perfect Chocolate Cupcakes
My base recipe for the perfect Chocolate Cupcake, soft, moist and not too sweet, these chocolate cupcakes are perfectly complimented by their sweet, white chocolate frosting!
Ingredients
For the cupcakes:

3/4

stick (85g) butter/margarine*

1

cup

(200g) caster sugar

1/4

cup

(50ml) vegetable/sunflower oil

2

large eggs

1

tsp

vanilla extract

1

cup

(140g) plain flour

1/2

cup

(50g) cocoa powder,

sifted

2

tsp

baking powder

1/2

cup

(120ml) milk

For the frosting:

7

oz

(198g) white chocolate,

melted and slightly cooled

2

sticks (226g) butter,

at room temperature

2 1/2

cups

(300g) icing sugar

2

tsp

vanilla extract

Pinch of salt
Instructions
Preheat the oven to 180C/350F and line a 12 hole cupcake tray.

Place the butter and sugar into a large bowl or the bowl of your stand mixer and beat until light and fluffy, about 2 minutes on med-high speed.

Add in the oil, eggs and vanilla extract and mix until well incorporated, about 1 minute on med-high speed.

Add in the flour, cocoa powder, baking powder and milk and mix until well incorporated, light and smooth, about 1 minute on med-high speed.

Divide the batter between the cupcake liners, 3/4 full.

Place the cupcakes in the oven for 20-25 minutes, until risen, they spring back and an inserted skewer into the centre comes out clean.

Remove from tin immediately and place on wire rack to cool completely.**

Once cooled, make the frosting, place the butter and icing sugar into a large bowl or the bowl of your stand mixer and beat until light and fluffy, 2-3 minutes on med-high speed.

Add in the vanilla, melted chocolate and pinch of salt and beat until light and fluffy, about 1 minute on med-high speed.

Either spoon the frosting onto the cupcakes, or half fill a piping bag and pipe a swirl on each cupcake.

Cupcakes will keep in an airtight container, in the fridge, for 3 days.
Notes
*This is the one time I would advocate using margarine instead of butter. Margarine makes the cupcakes more moist.
**If you don't remove the cupcakes from the tin quickly, I always find the liners peel as the grease from the tin makes them wet and soggy.
Recipe by Annie of Annie's Noms