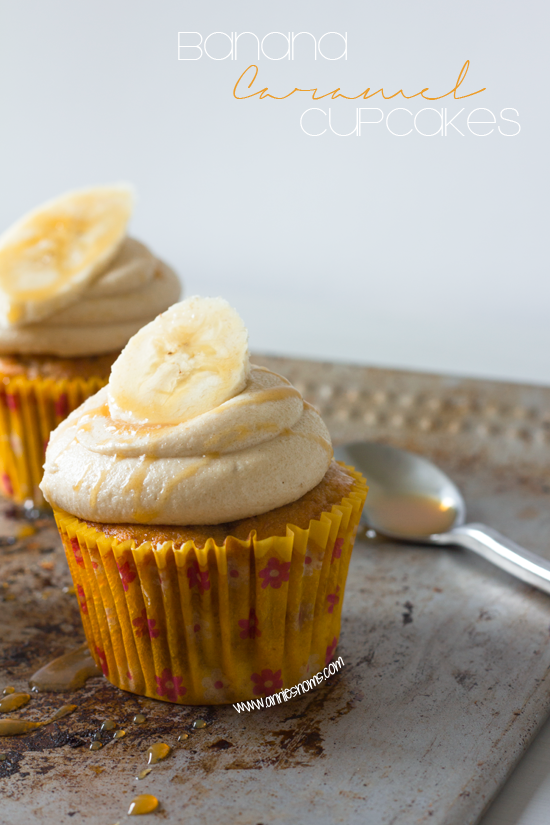 Wow, do I have a treat for you today!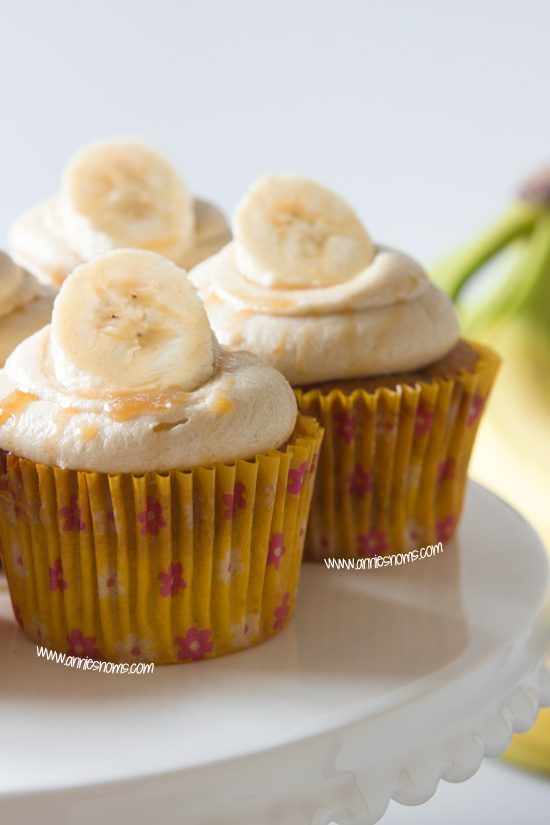 A banana cupcake, with caramel sauce swirled into the batter, baked up to perfection and then topped with brown sugar frosting, a slice of fresh banana and caramel sauce!!
These are just pure bliss.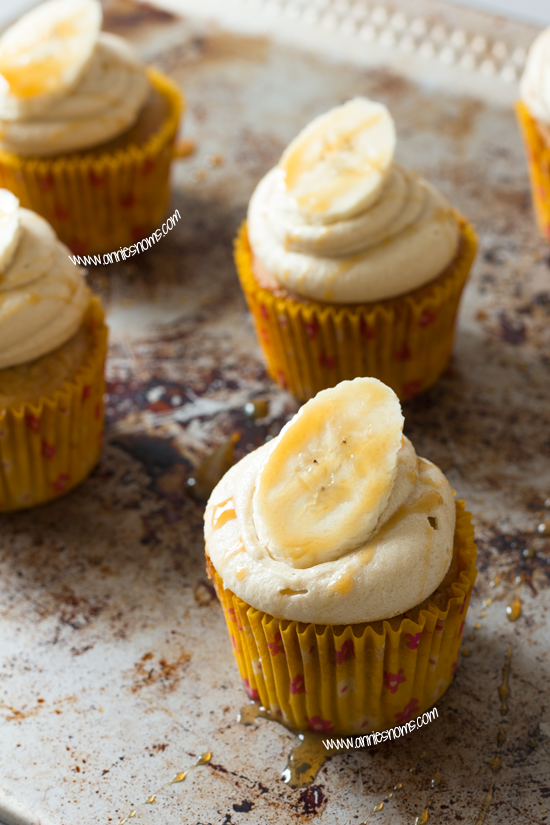 I apologise for this post being a little photo heavy… they were just so pretty, I had to keep shooting!!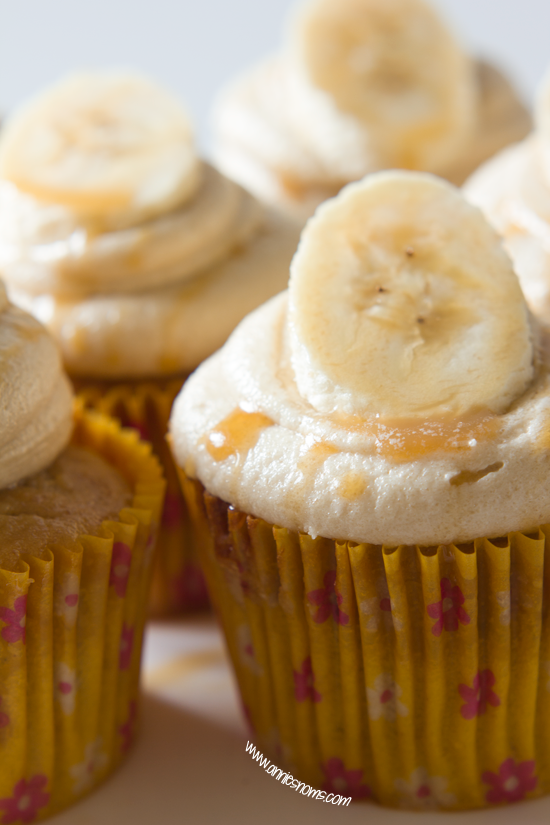 So, how did I make these bad boys?
I started way back with my Perfect Vanilla Cupcakes, then I looked at my Pumpkin Chocolate Chip Cupcakes.
I looked at the ingredients and wrote a couple of possible recipes, but I was sure the ratios weren't quite right. I baked up a batch with 1 cup mashed banana and they were a little too in your face.
I'm funny with banana – I can't stand anything artificial or banana flavoured, but I'll quite happily munch on a fresh banana and make myself a frozen banana milkshake.
I wanted these to taste like banana, but not be so overwhelming that you got none of the sweetness of the caramel.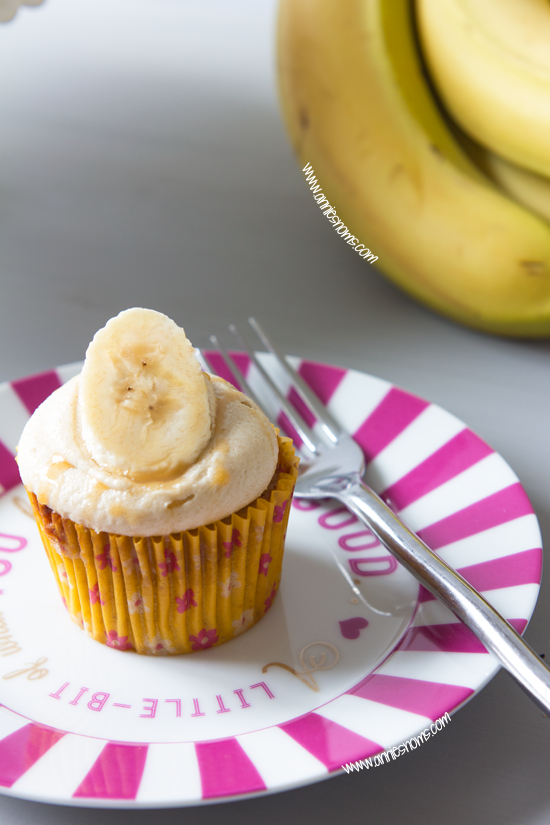 Likewise, I didn't want the caramel to be too much either, so I experimented with amounts until I got it right.
I finally decided on 3/4 cup mashed banana and 1/4 cup caramel sauce, split into 1tsp of sauce per cupcake.
Since the caramel is only swirled into the top, as you bite into these you first get hit with caramel sweetness and a hint of banana, then as you delve deeper, you get more and more banana.
(You can see the slight colour variation from top to bottom on this shot :))
And then there's the frosting…
I didn't want to make a caramel frosting specifically because, again, I thought it would overpower the banana, these cupcakes needed to be a perfect balance of flavours.
I decided on making a frosting with icing sugar and light brown sugar, the brown sugar adds a slightly vanilla/caramel note, but it works perfectly with the cupcakes.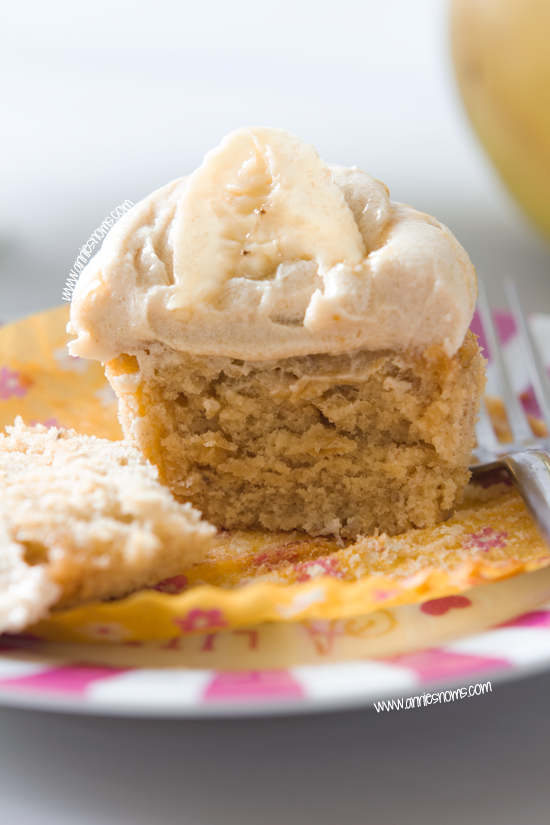 To finish all this goodness off, I garnished the cupcakes with slices of freshly sliced banana and added just a drizzle of caramel sauce.
And breathe…
It may sound like there's an awful lot going on, but they're actually pretty simple. Who doesn't have a bunch of over ripe bananas sitting on the side screaming to be used?! This is how these came about!! They were getting browner and browner and I was like "Aghhhhh, I need to use these!!"
And you can use any caramel sauce too, in the UK I can't seem to find too many caramel sauces in the baking aisle, I got mine from a place called The Food Company, but you can normally get caramel ice cream toppings in UK supermarkets 🙂
So there we have it – a very delectable cupcake!
Enjoyed this post? Sign up to my weekly newsletter to ensure you never miss a post!
Banana Caramel Cupcakes
A truly decadent treat, these are tender, moist cupcakes packed with fresh banana and caramel sauce, topped with brown sugar frosting and more caramel sauce!
Ingredients
For the cupcakes:

1

stick (113g) unsalted butter or margarine,

at room temp*

1/2

cup

light brown sugar

1/4

cup

caster sugar

2

eggs

1/2

tsp

vanilla extract

1 1/2

cups

plain flour

2

tsp

baking powder

Pinch salt,

ONLY if you're using unsalted butter

3/4

cup

mashed banana,

this was 3 small bananas for me - the riper the better!

1/4

cup

Caramel Sauce;

I used Hershey's

For the frosting:

2

sticks (226g) unsalted butter,

at room temp

1 1/2

cups

icing sugar

1

cup

light brown sugar

1-2

tbsp

milk,

if required

Caramel sauce for topping,

optional (I used Hershey's)

1

medium banana,

sliced, for garnish, optional
Instructions
Preheat the oven to 180C/350F and line a 12 hole cupcake tin.

Place the butter and sugars into a large bowl, or the bowl of your stand mixer and beat until light and fluffy, about 2 minutes on med-high speed.

Add in the eggs and vanilla extract and mix until well combined, 1 min on med-high speed.

Add in the flour, baking powder, salt (if using) and mashed bananas and mix on low-med until well combined and smooth.

Divide the batter between the liners, 3/4 full.

Divide the caramel sauce between the cupcake liners, about 1tsp per cupcake, then swirl the sauce and batter together with a skewer.

Place in the oven for 20-25 minutes until risen, golden and an inserted skewer into the centre comes out clean. They may be slightly more golden than normal, this is due to the caramel sauce.

Transfer to a wire rack immediately and leave to cool completely.*

Once cooled, make the frosting. Place the butter, icing sugar and brown sugar into a large bowl or the bowl of your stand mixer and beat on med-high until light and fluffy, 2-3 minutes.

Add 1-2tbsp of milk if required to loosen the frosting. Half fill a piping bag and pipe a swirl onto each cupcake.

Slice your medium banana into 12 and garnish the cupcakes. Drizzle caramel sauce on each cupcake and dig in!

Cupcakes will keep in an airtight container, in the fridge, for 2 days, before serving allow to warm up for 20 minutes.
Notes
*Normally I would't advocate the use of margarine, but for cupcakes it results in a more tender end product. *Yes, really as soon as they come out of the oven, it hurts! But I find if I leave the cupcakes in the tin to cool, the liners get greasy and pull away from the cakes. Recipe by Annie of Annie's Noms