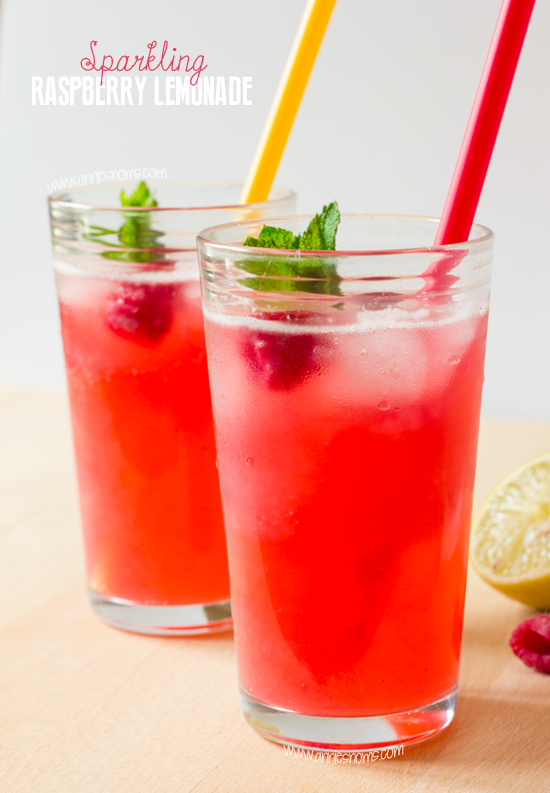 Apparently it's the hottest day of the year today… So what could be better than this quick and easy homemade Raspberry Lemonade?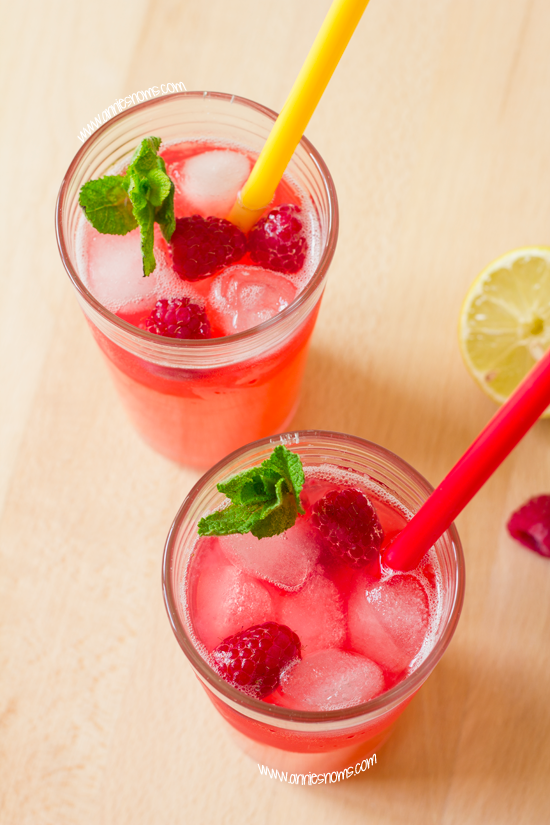 I've been seeing a lot of beautiful drinks on Pinterest recently, all kinds of different flavours and I decided, that since I embarrassingly have never made my own lemonade (!) that I'd give it a go!!
I don't think I'll be going back to shop bought any time soon…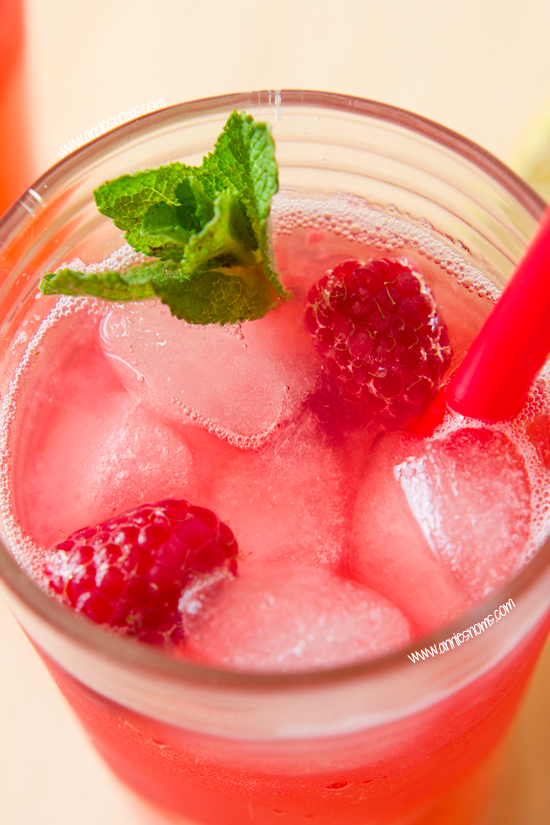 This is just so refreshing, the flavours come through in layers; when you first taste you get a hit of lemon, then the raspberries and the sweetness come through; raspberries and lemons really are just a match made in heaven!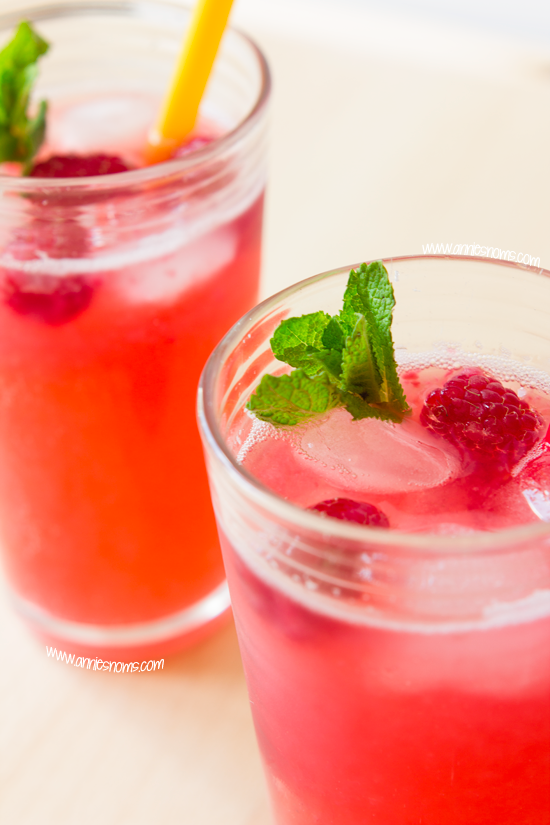 I've seen a few recipes with 1 cup of sugar in, I didn't want my lemonade to be overly sweet, so I developed a recipe using 1/2 cup, I like tasting the tartness of the lemon, so the sugar was more to balance out all of the flavours and add a little sweetness, rather than making a sweet lemon drink.
Of course, if you prefer a sweeter drink, then make your simple syrup with equal parts water and sugar, for this recipe, that would be 1 cup of each.
Or you could make the drink to the recipe and if anyone wants to make their own drink a little sweeter, then they can; this is what my OH did!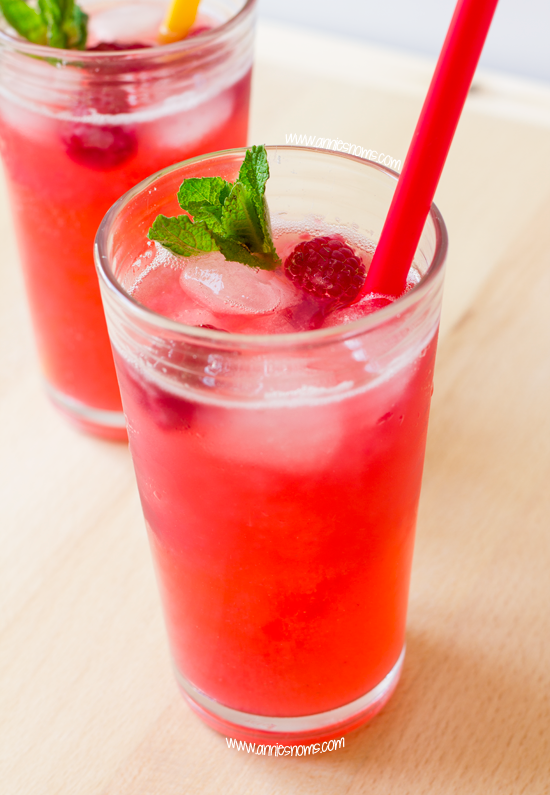 I started off making the easiest simple syrup ever, I just boiled the kettle and measured 1 cup of water. I added this to the sugar and mixed until dissolved.
The actually hands on time for this recipe is 10 minuites, if that, but waiting for the simple syrup to cool is the bit that takes the time!
Once the simple syrup was cooled, I puréed some fresh raspberries and sieved them to get rid of the pips, I then juiced 4 lemons and mixed all the ingredients together in a large jug – that's it, all done!!
To serve, I placed a few ice cubes into a glass, poured the drink and then garnished with a couple of raspberries and a sprig of mint; simple, perfect and oh so pretty!
So, enjoy the weather and have a pitcher of this in the fridge ready to quench your thirst!
Enjoyed this post? Sign up to my weekly newsletter to ensure you never miss a post!
Sparkling Raspberry Lemonade
A super easy and quick Summer drink. So refreshing, with fresh raspberries and lemons, This is bound to become your go-to homemade drink!
Ingredients
1

cup

water

1/2

cup

caster sugar

1

cup

fresh raspberries

1/2

cup

freshly squeezed lemon juice,

this was 4 lemons for me

3

cups

sparkling water,

chilled if possible

Ice cubes,

optional

Raspberries,

to garnish, optional

A few sprigs of fresh mint,

to garnish, optional
Instructions
First of all, make the simple syrup. Place the 1/2 cup of sugar into a heatproof jug. Boil your kettle and then add 1 cup water to the sugar. Mix until the sugar is dissolved. Leave to one side to cool.

Once the simple syrup is cool, it's time to make the raspberry lemonade! Purée 1 cup of fresh raspberries, with a hand blender or mini chopper.

Sieve the puréed raspberries into a pitcher/jug.

Add the lemon juice, simple syrup and sparkling water and stir until combined.

Place a few ice cubes in a glass and serve. Garnish with a few raspberries and a sprig of mint, if desired!

Sparkling lemonade will keep covered in the fridge, for 2 days.
Notes
Recipe by Annie of Annie's Noms