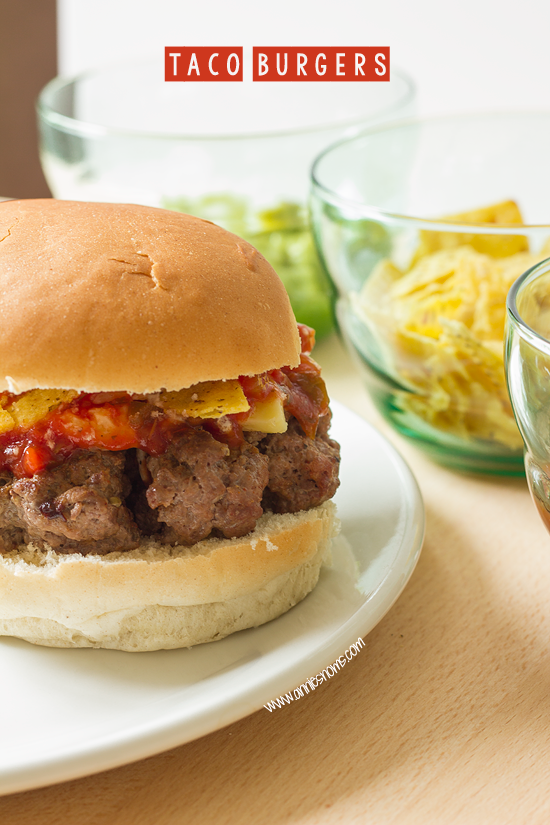 I'm so excited to be back doing the Secret Recipe Club this month!
Mostly, because I love finding new recipes and inspiration and also because I like stuffing my face with all these new recipes 🙂
This month, I was assigned Jamie's blog, Our Eating Habits.
From reading about Jamie, I found that she likes to bake, cook and dine out. When I read "Why waste time and calories on bad food?" I just knew I was going to find something delicious to make!!
I spent ages looking through loads of recipes, Baked Long Johns anyone? Or how about this Buffalo Chicken Pasta Bake?
And you all know how much I love breakfast (and Biscoff), so these Biscoff Coffee Cake Muffins would be just perfect for me!
Eventually, I decided on these Taco Burgers. I find that we become stuck in a bit of a rut when it comes to dinner, I try and make new things, but it's too easy to just continue making things I'm used to making!
We absolutely adore Mexican food here, and who doesn't love a burger? So when I saw the recipe; with guacamole, salsa, sour cream and tortilla chips, I knew that we'd love them!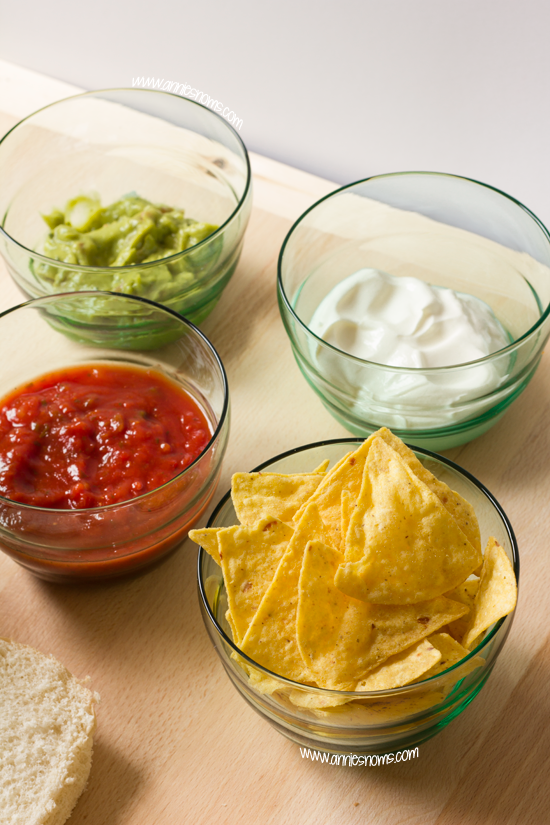 They're really simple to make and you get to take any frustration out on tortilla chips, so it's win win 😀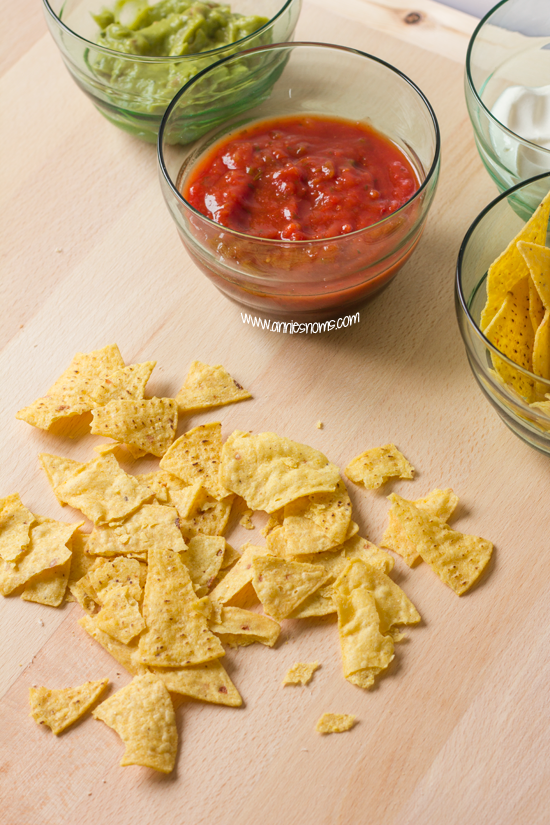 You can have dinner on the table in about 30 minutes, which if you're anything like us, is fabulous; by the time my OH gets home, I want dinner on the table FAST!!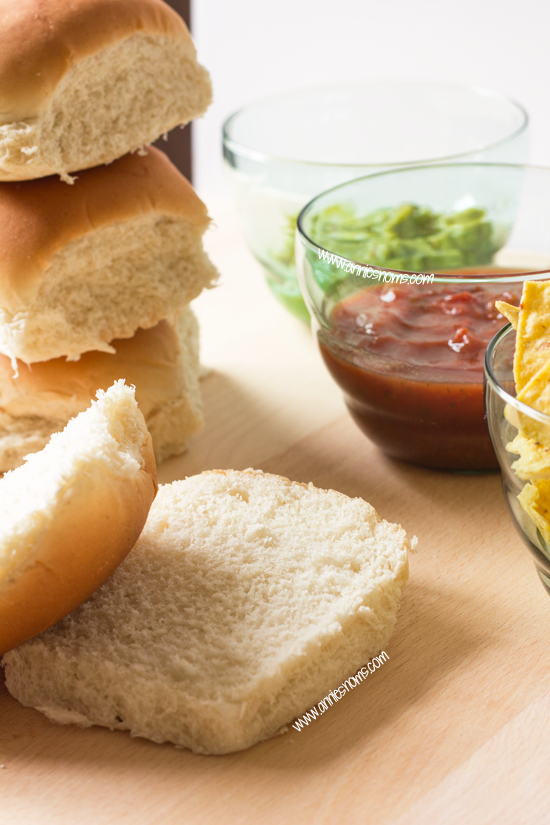 To make the burgers, you just have to throw in some spices and mix with lean minced beef. Shape into 8 burgers, cook them in a frying pan or griddle, then stuff them between layers of bread, guac, salsa, sour cream, cheese and tortilla chips.
Let's assemble that burger…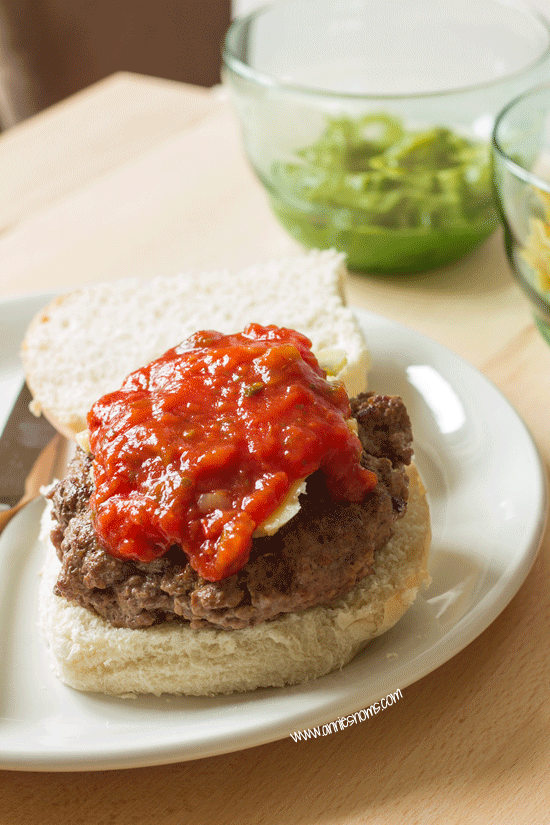 These were delicious! The burgers were juicy and had just enough seasoning. Added to that, the mix of all the toppings and you have one perfect burger, the layers of flavours in one bite are blissful!
You should definitely make these… like NOW! 🙂 I know we'll definitely be adding them to our list of favourite dinners!
Enjoyed this post? Sign up to my weekly newsletter to ensure you never miss a post!
Taco Burgers
Love burgers? Love Tacos? Then, what could possibly be better than a combination of them both?! Juicy beef burgers, lightly spiced and served with guacamole, salsa, sour cream and tortilla chips - pure bliss in every bite!
Ingredients
3

lbs

lean ground/minced beef

8

burger rolls

1

tsp

salt

1

tsp

chilli powder

1

tsp

ground cumin

1

tsp

dried oregano

8

slices

cheddar cheese

Guacamole,

homemade or store bought

Salsa

Sour Cream

Tortilla chips,

crushed slightly

Lettuce,

optional
Instructions
Place the minced beef, salt and spices into a large bowl and mix until all the spices are mixed in with the beef.

Divide into 8 burgers, around 170g/6oz each.

Lightly grease a large frying pan or griddle and place on a low-medium heat*

Cook, flipping as necessary, until cooked through, around 15-20 minutes.

Time to build your burgers! Place the guacamole and lettuce, if using, on the bottom of the bun, place the burger on top, then top with cheese, salsa, sour cream and crushed tortilla chips, finishing off with the top of the burger roll. Repeat for all burgers.

Serve immediately.
Notes
*Unless you have a massive frying pan or griddle, you'll probably have to cook in batches. If this is the case, warm oven to 150C/300F so you can keep the burgers warm. Recipe from Our Eating Habits - http://www.oureatinghabits.com/2014/02/19/taco-burgers/