A vanilla sponge packed with raspberries, layered with a melt in your mouth caramel frosting and more raspberries. A simple cake which is easy to make and sure to please!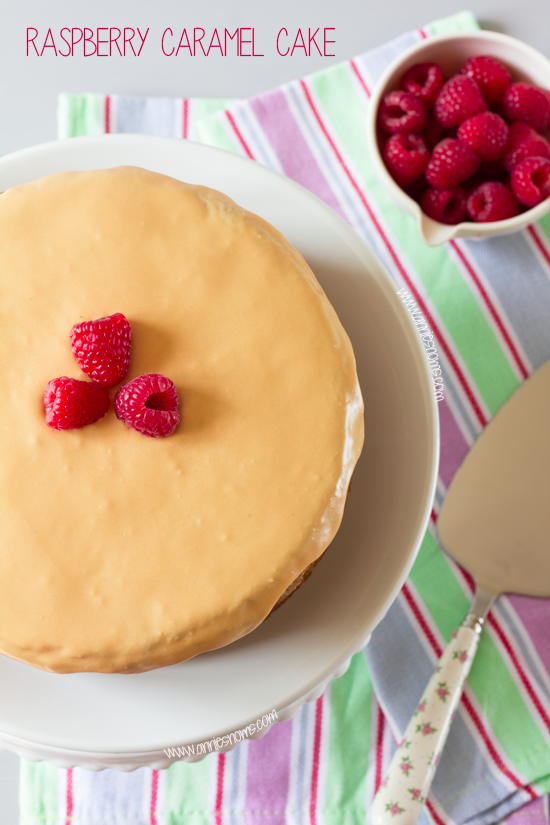 Can we just talk about how beautiful raspberries are for a minute please?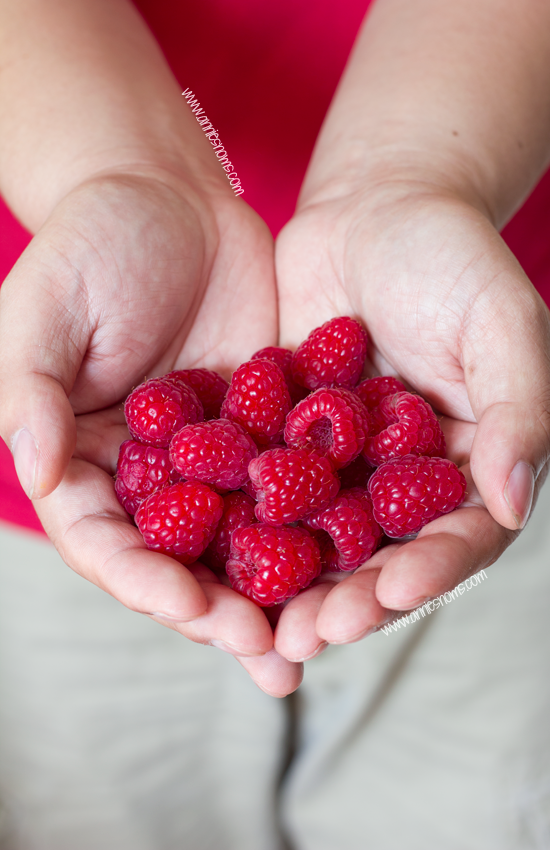 I mean look at them!! (Thanks to my OH for the use of his hands :P)
Little, soft nuggets of slightly tart, slightly sweet deliciousness. I've spoken many a time of how I'm a "berry person" and raspberries come so, so close to my all time favourite, strawberries.
I wish berries were in season all year! I know we can get them year round in the supermarket now, but they taste better when they're in season, these ones are actually really local as well. I had some from Spain the other week and they didn't really taste of much, I was quite disappointed!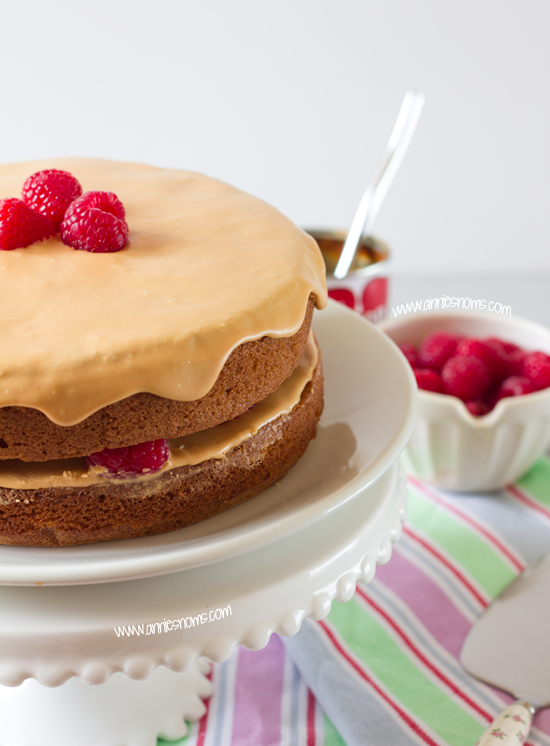 Now I've got that out of my system, let's talk cake. I'd never tried or even thought about raspberry and caramel together until I read my latest copy of BBC Good Food magazine.
I came across a raspberry caramel ombre cake, thought about the flavours and how they could compliment each other and then decided that I had to make my own version ("sans" ombre effect) for my Dad's upcoming birthday.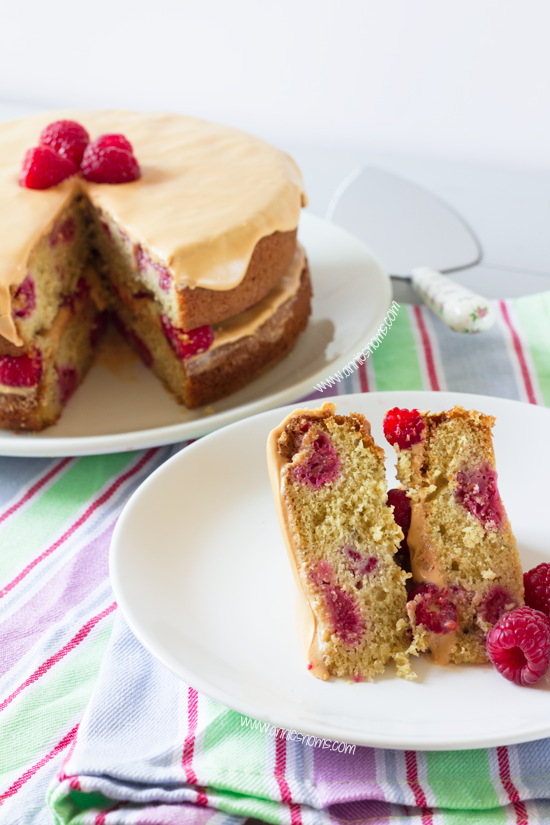 I looked through all the cake recipes I've written and through a few cookbooks, including the wonderful Fannie Farmer Baking Book
. Then I got to work writing my own recipe.
As always with recipe developing, things change along the way, but I finally ended up with this delicious vanilla sponge cake packed with beautiful raspberries. It's softer than my Strawberry Shortcake, but that's exactly what I wanted: it works perfectly with the bursts of berries you get every so often.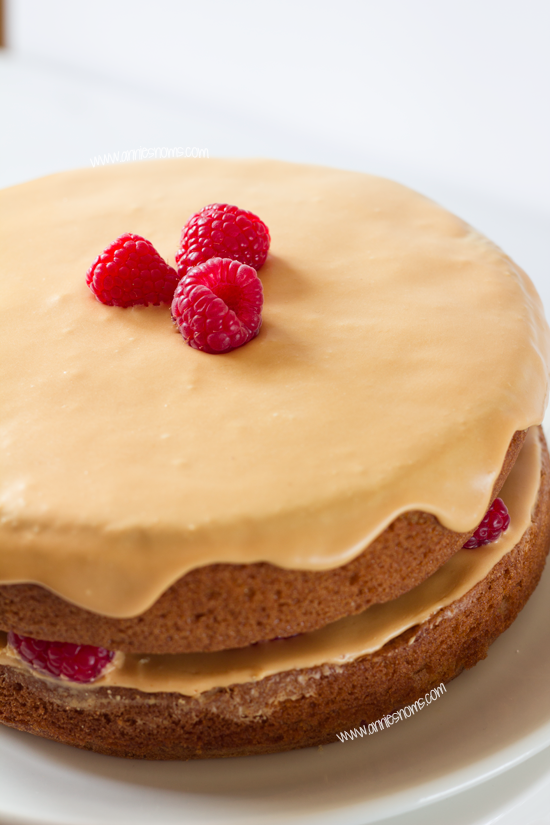 (Side note: that drizzle of frosting over the edge? A complete accident because my kitchen was getting really hot!!)
I also wanted to make sure this cake had a good taste to it and wasn't just a bland afterthought to the raspberry and caramel flavours, so I added 2tsp vanilla extract. This works wonderfully with the caramel and compliments the slight tartness of the raspberries.
I'd never made a caramel frosting before, but I decided to just test out a few ingredients and it turned out perfectly! I knew I didn't just want to spread caramel onto the cake, thinking that it would overpower the cake, I wanted a frosting which would just melt in your mouth. To create this glorious topping, I mixed caramel with a stick of butter and 2 cups of icing sugar. Give it a pinch of salt and there you have it! 🙂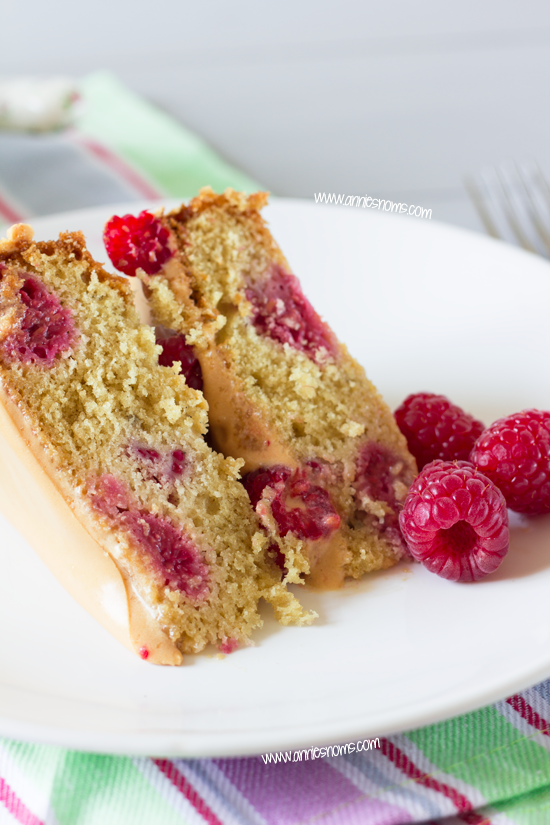 Most of all, I wanted to create a simple, but beautiful cake which combined 2 flavours I hadn't worked with before.
Another plus? You don't have to slave away for hours in the kitchen, building and covering a cake, which sounds too much like hard work in this heat!
Enjoyed this post? Sign up to my weekly newsletter to ensure you never miss a post!
Raspberry Caramel Cake
A vanilla sponge packed with raspberries, layered with a melt in your mouth caramel frosting and more raspberries. A simple cake which is easy to make and sure to please!
Ingredients
For the cake:

2

cups

plain flour

2

tsp

baking powder

1/2

tsp

bicarbonate of soda

1

stick (113g) unsalted butter or margarine*

3/4

cup

caster sugar

1/2

cup

light brown sugar

2

eggs

2

tsp

vanilla extract

1/2

cup

milk,

I used skim

1 1/2

cups

fresh raspberries

For the frosting:

One 14oz/397g can of Carnation Caramel

(or any other thick caramel not an ice cream sauce though!)

1

stick (113g) unsalted butter

at room temp

2

cups

icing sugar,

sifted

Pinch of salt

1/2

cup

fresh raspberries,

plus extra to garnish if desired
Instructions
Preheat the oven to 180C/350F and grease and line two 8 inch round cake tins.

Measure out the flour, baking powder and bicarb into a medium sized bowl and mix together briefly. Set to one side.

Place the raspberries into a medium sized bowl and then take a spoonful of flour out of the measured ingredients and toss the raspberries in it. (This will stop the raspberries sinking).

Place the butter and sugars into a large bowl or the bowl of a stand mixer and mix on med-high for 2-3 minutes until light and fluffy.

Add in the eggs and vanilla, scraping the sides down as necessary and mix until well incorporated, about 1 min on med-high speed.

Add in the milk and flour mix and mix on low-med until light and smooth.

Add in the raspberries and fold in gently by hand.

Divide the batter between the two cake tins and smooth over with the back of a wooden spoon/spatula.

Place in the oven for 30-35 mins until golden brown, springy to the touch and an inserted skewer into the centre comes out clean.

Leave to cool in the tins for at least 30 minutes, before transferring to a wire rack to cool completely.

Once cool, make the frosting: Place the caramel, butter, icing sugar and salt into a large bowl or the bowl of your stand mixer and beat on med-high until light and fluffy, 2-3 mins*.

Take one cake layer and place on a cake stand/plate/cake board. Spread a good layer of frosting onto the cake and, smooth with a spatula. Sprinkle the 1/2 cup of raspberries over the top. (reserving 3 for garnish if you want).

Turn the second cake layer bottom side up and place on top of the frosted cake layer. Spread another layer of frosting over the top (and sides if you want) and garnish with a few raspberries, if desired.

Cake will keep in the fridge, covered for 2 days.
Notes
*Normally I wouldn't advise the use of margarine, but I prefer the resulting cake, it's more moist and tender. If you want to use butter, use unsalted and add a pinch of salt. *This recipe makes a lot of frosting, I was going to frost the middle, top and sides, but then decided to only do the middle and top, so if you want to do the same as me, halve the frosting recipe. Recipe by Annie of Annie's Noms