A soft and tender mango loaf cake given an extra zing with a fresh passion fruit glaze. Easy to make and the ideal crowd-pleaser. It's also perfect with your afternoon tea!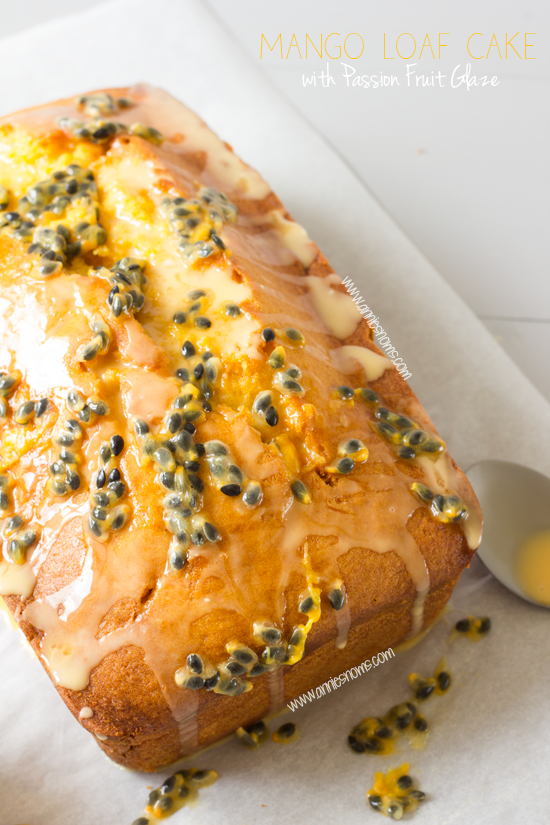 I'm a little funny when it comes to mango.
When it comes to fruit, I love them whole, not messed about and not artificial, berries, apples, bananas… anything. Except mango it seems.
I really don't like fresh mango, I've tried it many times, my boyfriend adores it and has repeatedly tried to get me to eat it, but I just don't like it and I can't even put my finger on why!
However, mango juice, purée, pulp, that's a whole different story! I totally don't get myself sometimes.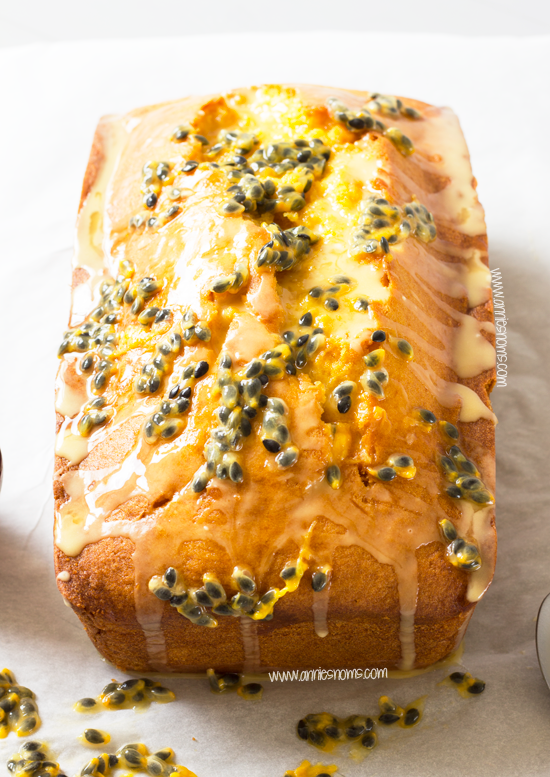 I decided recently that I needed to make a Mango cake.
I really want to vary the recipes I share with you guys and I'm very aware that I share a lot of berry recipes. Yes, they're in season and I know lots of people love them, but I tend to forget about other fruits. For that I apologise. 🙁
I want to challenge my own tastes and how I can work and meld flavours together, even if they're not my favourite.
As it turned out, I loved this cake.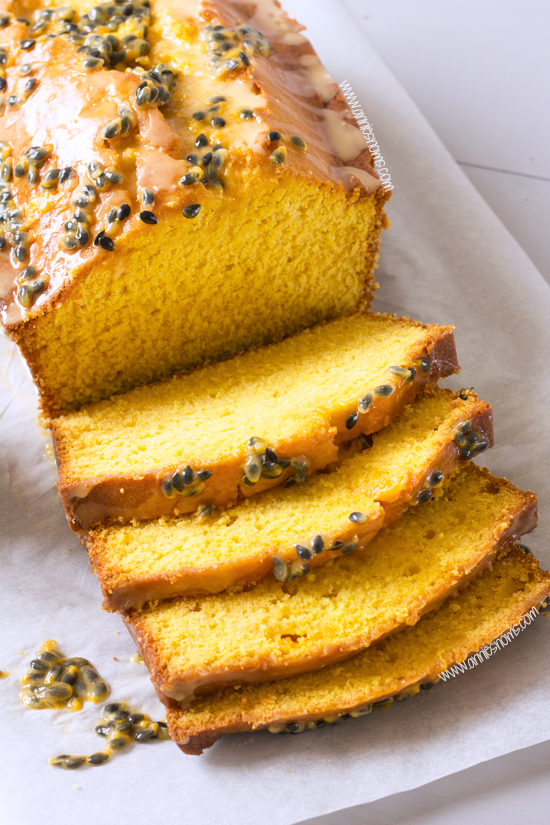 There's a gorgeous Mango and Passion Fruit juice I drink so I knew that the sweetness of the mango would contrast perfectly with the sharpness of the passion fruit. However, I didn't want the passion fruit to overwhelm the mango, so I decided against adding it into the cake itself.
By just adding a hit of passion fruit on the top and allowing it to sink into the top layer of the cake, the passion fruit compliments the mango and means you get some mouthfuls with and some without. Since the mango is the more delicate flavour I think this balance is perfect!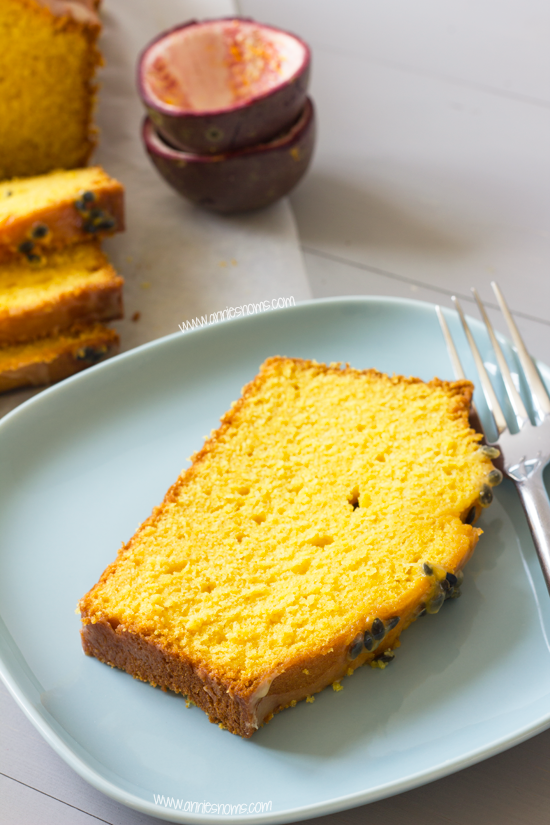 I developed a loaf cake recipe which would result in a soft and tender cake, it almost melts in your mouth; I didn't want a cake which could be even slightly dry or crumbly as I knew it wouldn't work with the mango.
This really is the perfect cake to enjoy with a cup of tea! Actually, nobody needs an excuse to eat cake… just dive in!
This cake made me appreciate mango and I now want to explore what else I can make with it! I might even try fresh mango…
I was so surprised by how much I loved it and my boyfriend loved it too. I sent it into work with him and needless to say, none came back!
So, if you have a tin of mango purée or pulp laying around and you've been wondering what to do with it, make this cake!
Enjoyed this post? Sign up to my weekly newsletter to ensure you never miss a post!
Mango Loaf Cake with Passion Fruit Glaze
A soft and tender mango loaf cake given an extra zing with a fresh passion fruit glaze. Easy to make and the ideal crowd-pleaser. It's also perfect with your afternoon tea!
Ingredients
For the cake:

1 1/2

sticks (170g) unsalted butter/margarine

1

cup

caster sugar

3

large eggs

1/2

tsp

vanilla extract

2 1/2

cups

cake flour

2

tsp

baking powder

Pinch of salt,

only if you're using unsalted butter

1

cup

tinned mango purée/pulp

For the glaze:

3

passion fruits

1/2

cup

icing sugar

sifted
Instructions
Preheat oven to 160C/325F and grease and line a 2lb loaf tin.

Place the butter and sugar into a large bowl or the bowl of your stand mixer and beat until light and fluffy, about 2 minute on med-high speed.

Add in the eggs and vanilla extract, scraping down the sides as necessary, mix on med-high until well incorporated and smooth, around 1 minute.

Add the cake flour, baking powder and salt if using, mix on low-med until smooth.

Add in the mango purée/pulp and mix on low-medium until well incorporated, light and smooth.

Pour the cake batter into the lined loaf tin and level it off with a spatula/wooden spoon.

Place in the oven for 65-70 minutes until risen, golden and an inserted skewer into the centre comes out clean.

Leave to cool in the tin for at least 1 hour before transferring to a wire rack.

Once cool, make the glaze: Using a medium sized bowl, scrape the insides of the passion fruits into a sieve and use the back of a spoon to separate the juice from the seeds. Place seeds in a separate bowl, you can either discard them or use them as a garnish.

Add 1/2 cup sifted icing sugar into the passion fruit juice and mix until smooth and glossy.

Slowly spoon glaze all over the cooled cake and garnish with passion fruit seeds if desired.

Cake will keep in an airtight container, at room temp, for 3 days.
Notes
Recipe by Annie of Annie's Noms