Have some cookies laying around which need "jazzing" up? With 2 more ingredients you can have these Banoffee Sandwich Cookies! Fresh banana, toffee and chocolate chip cookies = gooey, chocolatey heaven!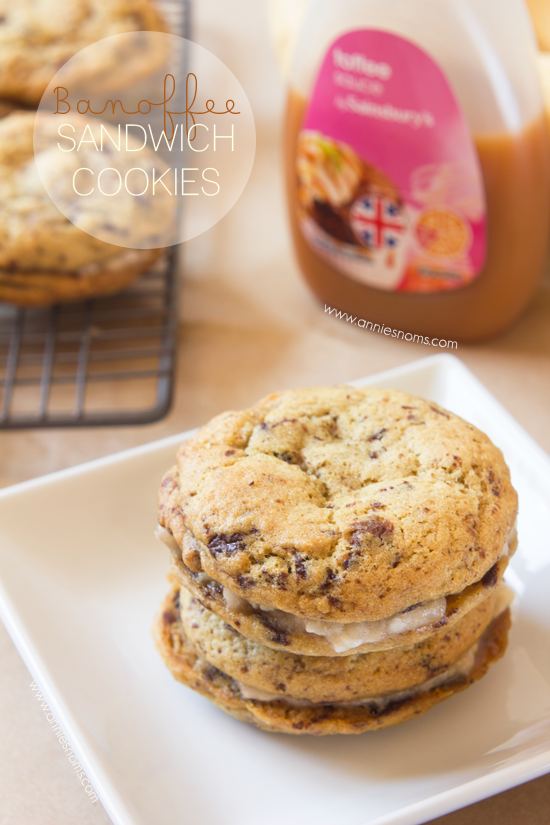 I'm going to come right out and say that I made a mistake when I was making these…
I ummed and erred about whether or not to post them and finally decided I should, because I redid them and they worked much better, so I've put the new way into the recipe instructions!
And… I was quite happy with the styling of the photos. I know that's not reason to post something, but for me styling is the hardest thing, I totally don't get it sometimes, so I'm really glad they worked when I made them again!
Fear not, us food bloggers are human and make mistakes too!
I had how these would look and taste really clearly in my head. I'd mash the banana, mix with a little toffee and get right to sandwiching that goodness together… simple right?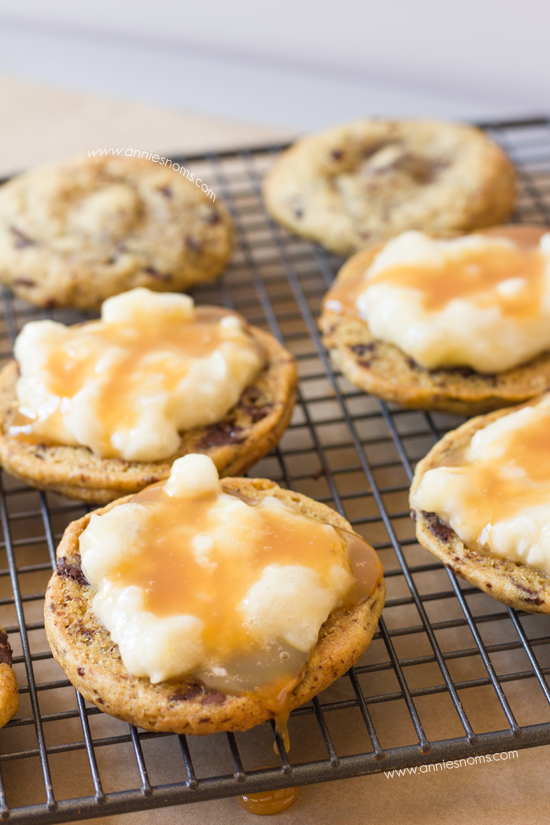 Hmm… mashing the banana was a mistake. Even though it looks pretty in the photo, mashing the banana makes it too wet, and whilst it's a really good glue for the sandwiches, it makes the cookies soggy and nobodies got time for soggy cookies 🙁
Soft and chewy, yes, but wet and soggy? Definitely not.
So, the second time I made them I sliced the bananas and used the toffee as the "glue".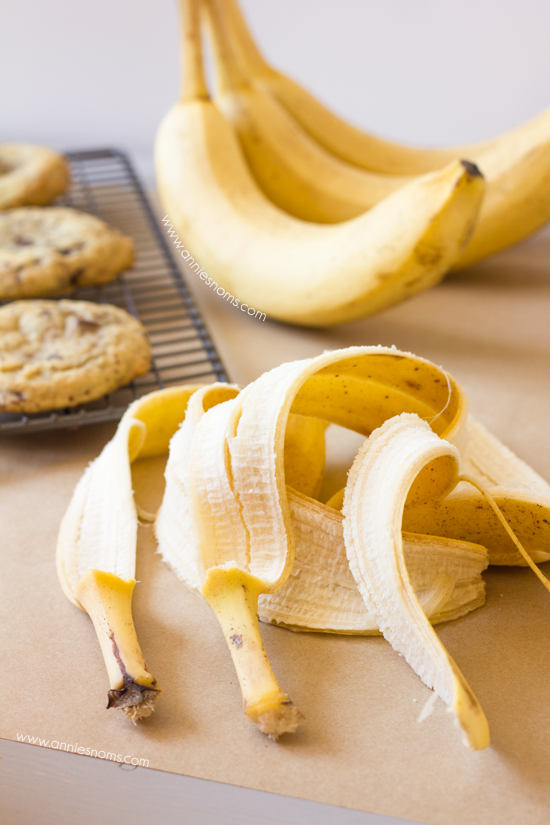 This worked much better! So if you're using store bought cookies, you can literally have this sticky, fresh, chocoaltey goodness in about 2 minutes.
I used my recipe for Perfect Chocolate Chunk Cookies which meant it took a bit longer, but still if you have cookie dough in the freezer or some laying around, you could still make these super quickly!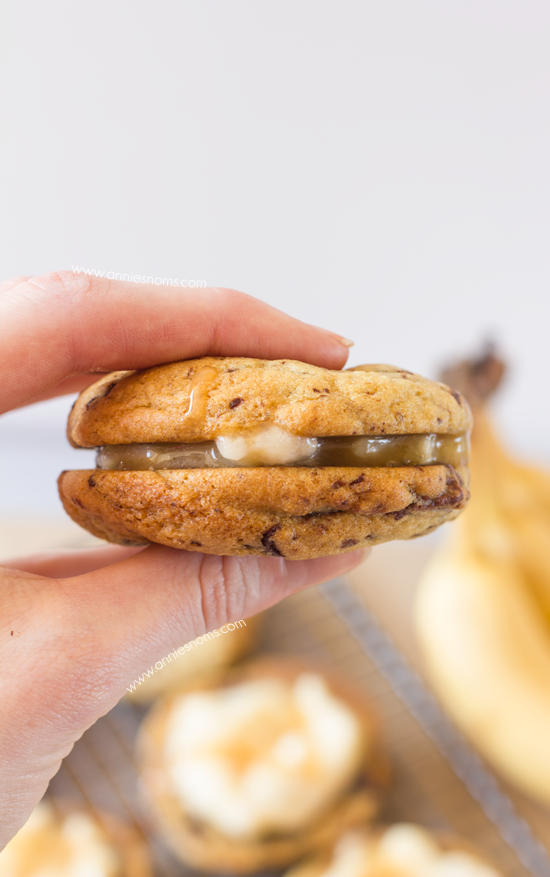 Banana and toffee are flavours I just love to use together, I've said before how I don't like artificial banana, but if it's fresh it's just delicious and mixed with sticky, sweet toffee? Even better.
I'd been wanting to develop a new Banoffee recipe for a while and these came to me one day last week when I was sat writing ideas for my eCookbook. I was in a really inspired mood and coming up with all kinds of things I want to make and I just thought "What if I cram 2 cookies with banana and toffee? That would be amazing!"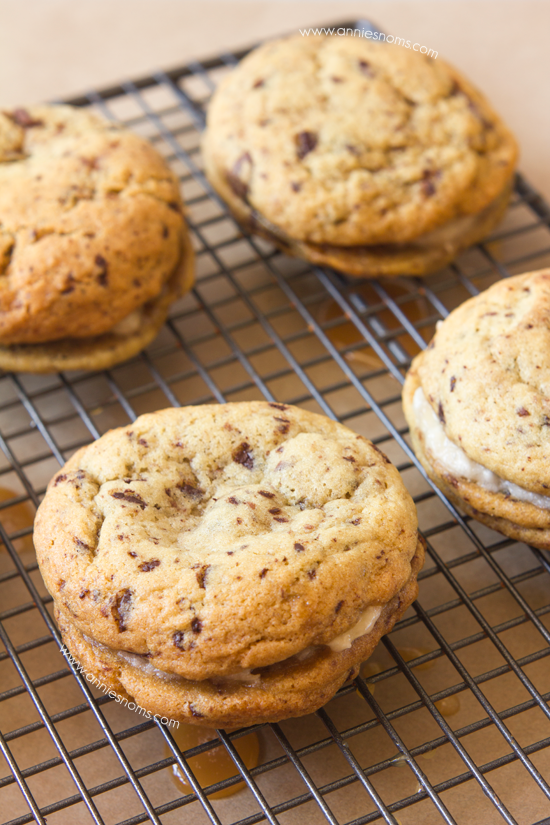 It totally was.
So, forgetting my initial mistake of making them soggy they were every bit as delicious as I'd imagined in my head!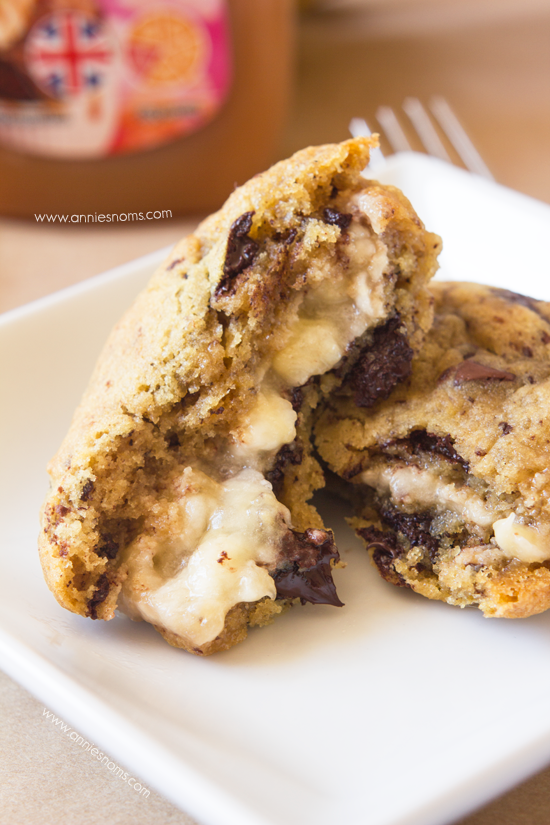 Look at the oozing chocolate! I always prefer to use chunks in my cookies as you get those pockets of melted chocolate which add an extra dimension to your average cookie, but even with chocolate chips the hit of chocolate with banana is perfect, I think I need to make more chocolate and banana recipes too!
There are many different textures going on here, the soft banana, slightly chewy cookie, sticky toffee… all together it really packs a flavour punch!
So, grab some cookies, a ripe banana and some toffee and whip up some of these sandwich cookies now! You won't regret it 😀
Enjoyed this post? Sign up to my weekly newsletter to ensure you never miss a post!

Banoffee Sandwich Cookies
Have some cookies laying around which need "jazzing" up? With 2 more ingredients you can have these Banoffee Sandwich Cookies! Fresh banana, toffee and chocolate chip cookies = gooey, chocolatey heaven!
Ingredients
24

Homemade or store bought chocolate chip cookies

1

large banana,

sliced into at least 12 pieces*

1/4

cup

thick toffee sauce,

plus extra to drizzle, optional (as thick as you can find)
Instructions
Spoon 1tsp of toffee onto the bottom of 12 cookies, spread to level, but leave a gap around the edge.

Place slices of banana over the toffee, if your banana is big enough, you'll only need 1 slice per cookie, if not put a couple of slices on to cover the cookie.

Take one of your plain cookies and sandwich together with the banana covered one; repeat until you have 12 sandwich cookies.

Drizzle some extra toffee sauce on the top and dig in!

Due to the fresh banana in this recipe, the sandwich cookies are best eaten the same day.
Notes
*I mashed the banana to make these and realised after that I should have sliced them as they were too soggy with mashed banana. I remade them with sliced banana and they worked much better!