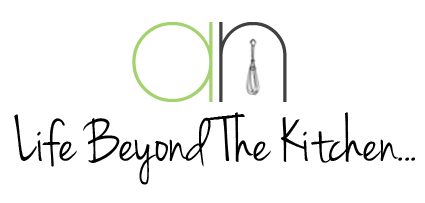 Happy Friday friends!
It's been a pretty hard week for me, health wise, which has meant it's been pretty quiet. I've just been plodding round the house, baking and writing recipes. I've had more bad days than good this week and I'm trying really hard to stay positive, but it's so hard when every day I feel ill and am in pain 🙁
I like to think I'm a pretty positive person, but being ill all the time is definitely draining. I could possibly be at the start of a really long journey to find out what's wrong with my tummy, I need to find the strength to keep going on. I want answers quickly, but I'm just not sure they'll be that easy to find.
All of this is on top of the issues I already have, my back still hurts all the time, my knees, my hips… I try and keep fit and flexible so my back is strong, but getting up in the morning and being in pain instantly is hard. I'm 23, I should be jumping out of bed in the morning, instead I seem to have the body of a 60 year old.
On Tuesday, I had a blood test…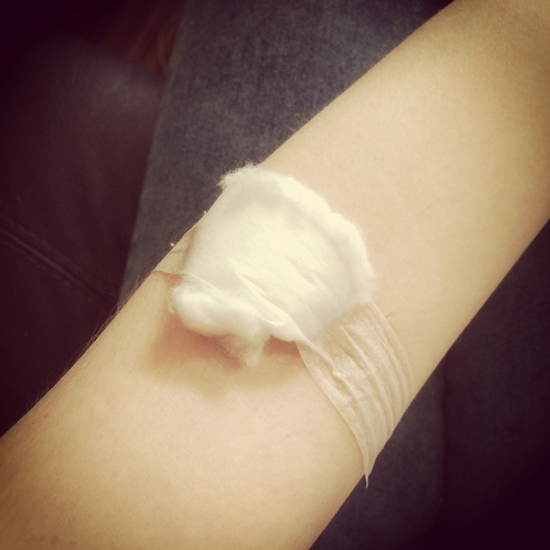 I have to admit, I'm a complete wuss when it comes to needles. I'm terrified, I work myself up thinking about it for days beforehand. The thing is I know it doesn't hurt, but the thought of a needle in my skin makes my head spin and me feel sick, even writing this is making me feel funny!
And blood? No chance of me dealing with that without fainting.
I do have a slight tendency to faint after blood tests, so having a nice nurse who lets me lie down is a real plus, mostly the nurses at my surgery are lovely, but once the nurse wouldn't let me lie down and was really quick and short with me which didn't help how anxious I was already feeling 🙁 Oh well, the lady on Tuesday was lovely. She was so gentle, let me lie down with my eyes shut and I also had my boyfriend there to hold my hand. I know it sounds a bit silly, I'm an adult, it's just a blood test, but I don't do it on purpose, I'm genuinely that scared of needles!
I should get my results next week and then I have an appointment with my Doctor to discuss the next steps…
Last Saturday was a good day and I developed the most amazing brownie recipe for my eCookbook.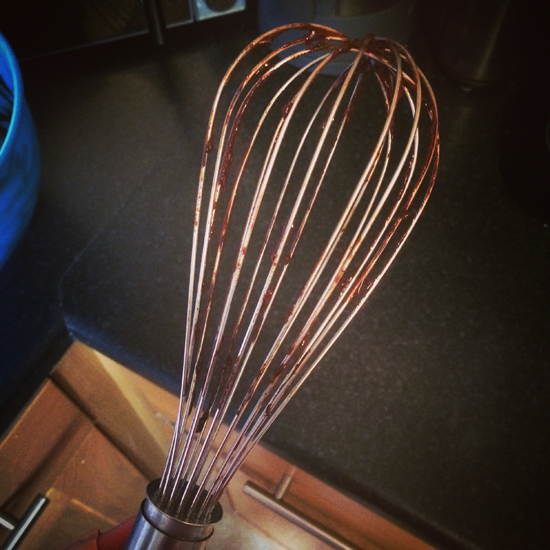 I made sure to lick that whisk real good…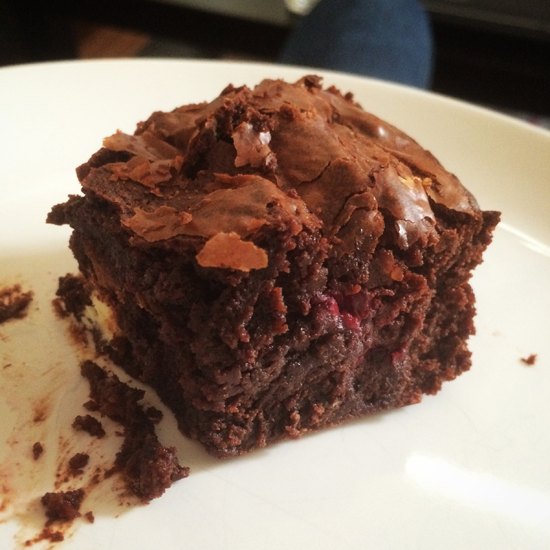 As you can see, pure fudge!! :O
Cakey brownies are not allowed in my house! These brownies are intense, three types of chocolate and raspberries are inside, they have to be the best brownies I've ever made in my life!
I've been trying to get back into eating dinner again, I'm still keeping it pretty plain, but not living off of rice cakes! We are loving noodles with salmon at the moment…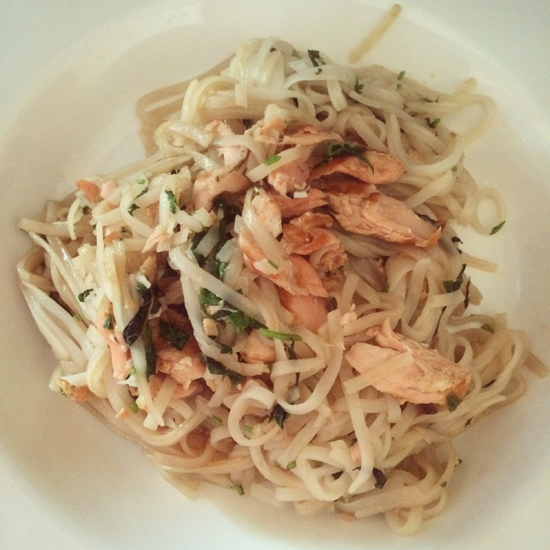 These noodles are cooked with mint, coriander and a little soy sauce, then pan fried salmon is flaked into them… one quick, healthy and delicious dinner!
I did have time this week to break my +4 lens filter though…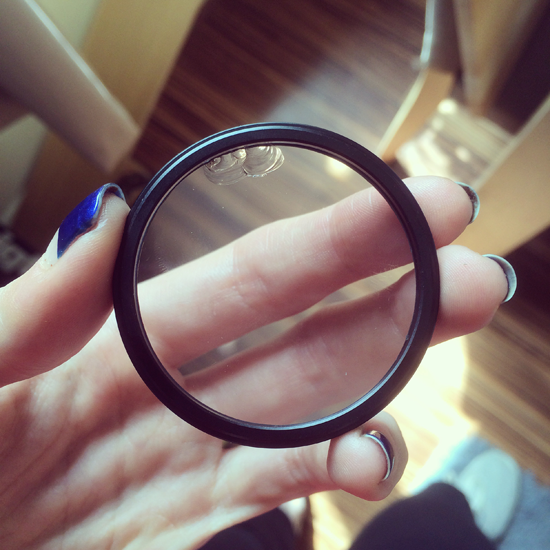 A lot of profanities came out of my mouth. The +2 and +4 filters are the ones I use the most and it just had to be the damn +4! ARGHHHHHHHHHHHHHHHHHHHHH
I even thought beforehand "I must be careful not to drop this" as I was photographing a drink, then it slipped right out of my hand! So clumsy, it's untrue 🙁
Here's what I've been making this week…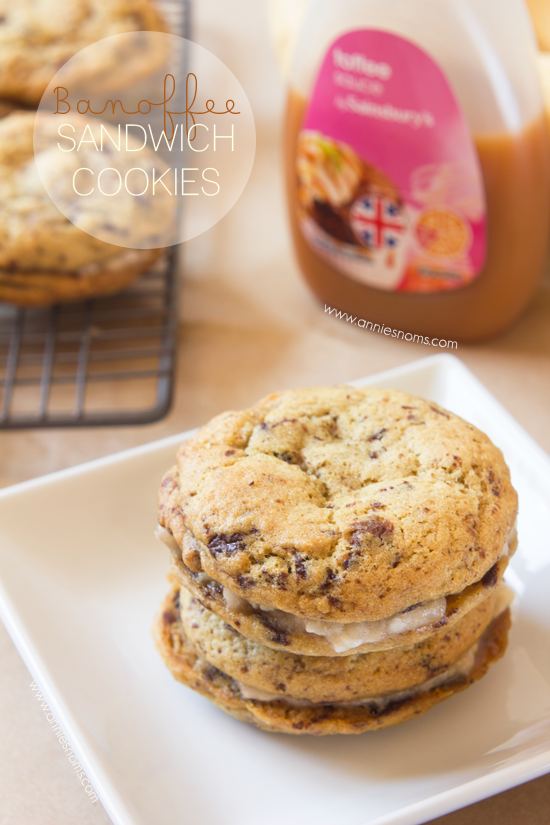 Blackcurrant and Lime Yoghurt Ice Pops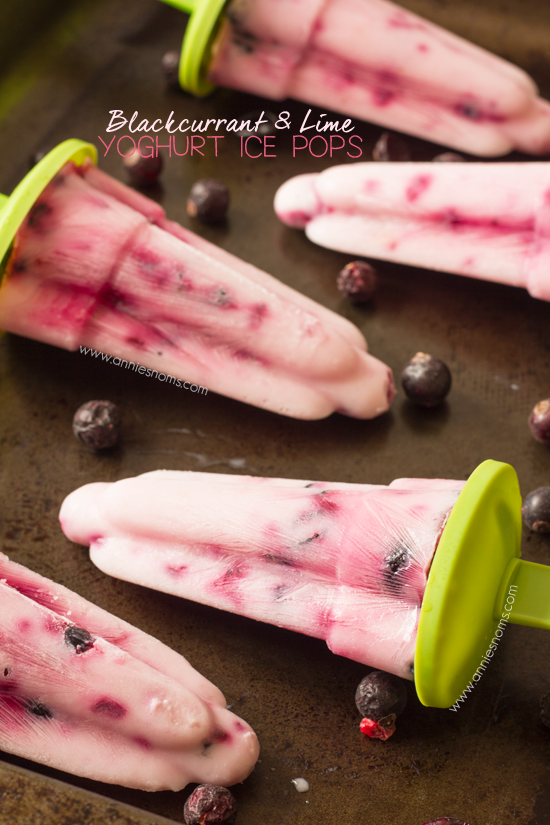 What have you been up to this week?
Enjoyed this post? Sign up to my weekly newsletter to ensure you never miss a post!