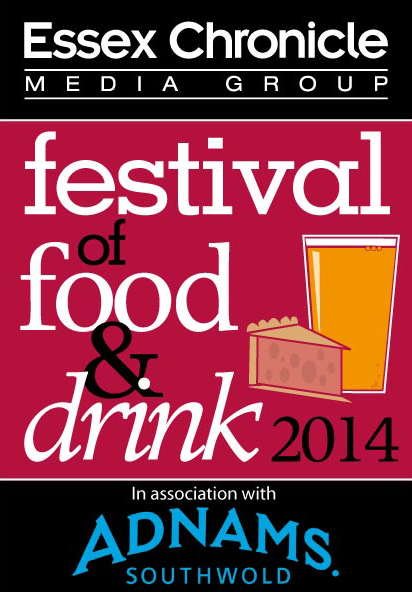 A slight change in the schedule today! This is so that I can bring you a write up of our visit to the Essex Food Festival! 
We kept talking about going last year, but somehow missed it. However, this year there was no missing it, we booked our tickets weeks ago and I was so looking forward to celebrating good, local food!
It was held at the gorgeous Cressing Temple Barns which reminded me just how pretty Essex is. I'll always remember the first time my best friend came to visit us, she was like "I can't believe Essex is so green!!!"
Where I live is nothing like TOWIE! My boyfriend is Essex born and bred and he sounds nothing like the people on TV, he sounds just like me and I'm from Hampshire!
Anyway, back to the visit. I was having a really rough week and had been really ill all Saturday, so I was worried we wouldn't be able to make it. Luckily, I felt slightly better on Sunday morning, so we headed off to the festival! The weather was lovely, I'd heard it was meant to rain, but it held off for our visit!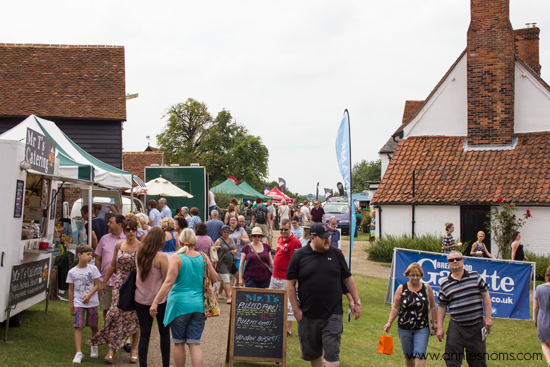 Being the foodie that I am, I couldn't wait to eat my way round the festival! There were over a hundred Exhibitors, with every type of food you could imagine. Cheese, sausages, curry, marshmallows, muffins, pizza, ice cream, local fruit, cured meats…. the smells were just amazing!
We started off with a walk around to get our bearings and see what was around. We stopped off at Spice Queen and they explained about their wonderful spice mixes. We also got to try a Chicken Curry, Potatoes in tikka mix and a fresh Chickpea curry. Their ethos is to make homemade curry easy to make at home. They're not like take away curries, these are fresh, tasty curries, but they're still super easy!
I do enjoy making curry from scratch, but at the moment it's too hot to slave over the hob for hours, so I'm really looking forward to using the spice mixes! We got some to try of course! Chicken Tikka, Chicken Curry and Chicken Fajita. In fact, we're having the fajitas for dinner tonight!
Next, it was off to The Bean Shack. I tried a Creme Brulee coffee, which was lovely; not too sweet, but you got a good hit of vanilla and caramel. They do loads of different types and flavours of coffee, including Banoffee and Caramel Fudge Twist. I wish I could have tried the Caramel Fudge one! We may have to order some to try in the future.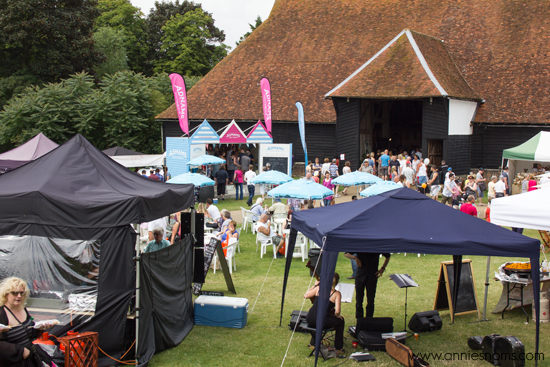 We'd already seen on the website that Dulci Bella Marshmallows were going to be there and we were both excited to try some! Oh my God, I'm not even sure how to put into words just how delicious they are!! They are melt in your mouth, soft, pillow-y marshmallows, just heaven.
Also, they are beyond cute! Each marshmallow is individually piped and then filled with fruit or caramel. You heard that right: FILLED MARSHMALLOWS!!! 😀
I've currently gorged my way through a caramel one, passion fruit, lemon meringue pie and strawberry. I need more of these marshmallows in my life.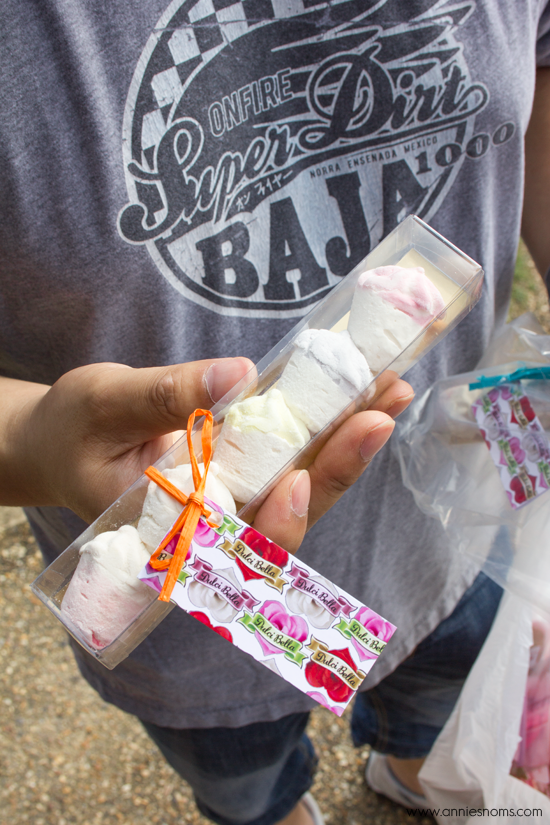 We are both massive cheese fans, so naturally, we ended up at Drummonds Cheese. I've never seen such a fabulous variety of cheeses. I think I tried about a million and we bought a delicious, soft and smoky cheese, a cheese packed with caramelised onions (my favourite – just mouth watering!) and a strong, creamy cheddar.
They have spring onion cheeses, really hot and spicy ones (I wasn't brave enough!) and good old mature Cheddars. We'll definitely be ordering more, the block of smoky cheese is almost gone already…
I came across this sign at the south African food stall and just had to take a picture!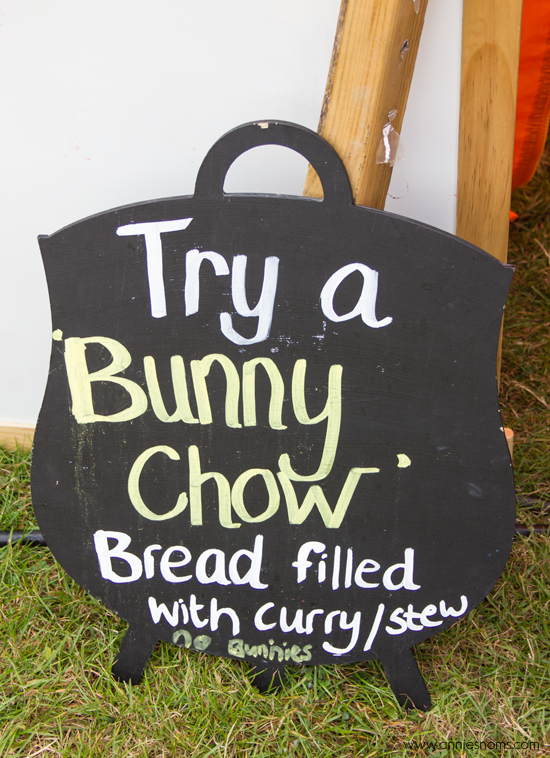 I actually lost count of the amount of things we tried, fruity drinks, smoky sausages, sausages with bacon in – BACON my friends, muffins, pizza, chips… I left feeling like I didn't need to eat for a week 🙂
After walking round the stalls, we headed off to watch Jo Wheatley make a yummy chocolate cake. I'm not sure how many of you have watched Great British Bake Off, but in this house we are obsessed! Jo won it in 2011 and has gone on to write 2 cookbooks, of which I own (and love) both!
We really enjoyed watching Jo, she was funny and refreshing with lots of handy tips for us bakers!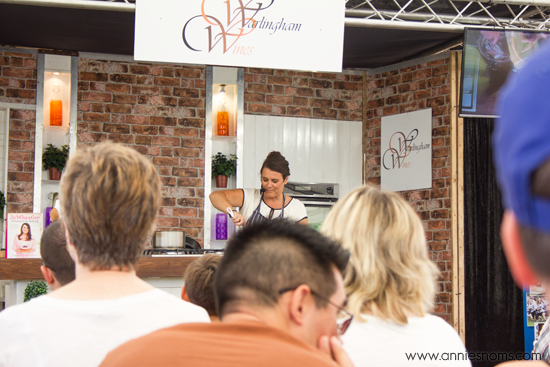 (Apologies for the rubbish photo, I didn't want to stand up randomly in the middle of a demo!)
After watching Jo, we were both starving so headed off to find some lunch. We were totally spoiled for choice! We eyed up The Crepe Crusaders, The Duck Truck, Nom Catering (which I, of course loved the sound of as I'm a fellow "Nom") and The Waffle Works.
Eventually we decided on Baytree Pizza and Cheeky Italian. The lure of some good Italian food was just too powerful!
Baytree specialise in wood fired pizza; they are made to order and take only 90 seconds to cook! A perfect speedy lunch, we went for a cheesy garlic bread pizza and a pepperoni one.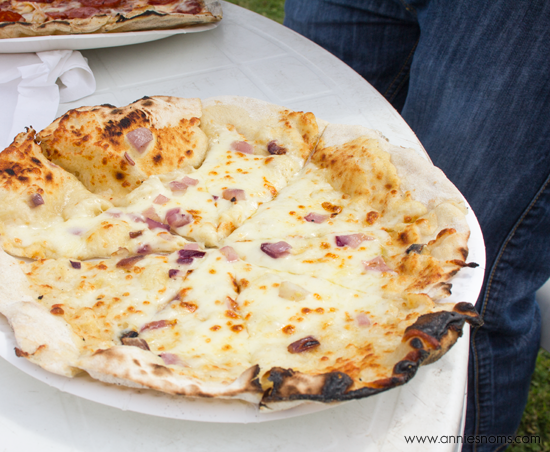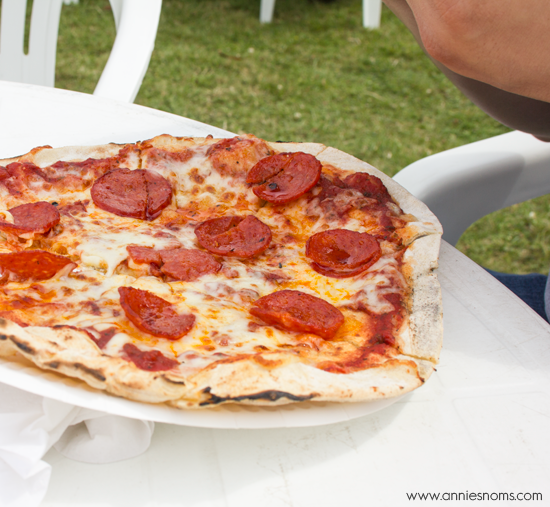 Uhhh, they were delicious. The pepperoni was sliced thickly and had the most amazing flavour, mixed with the cheese, fresh, crisp dough and tomato, it was divine!
The garlic bread pizza immediately caught my eye because it had onions on it too! I wasn't disappointed, it was mix of sweet onions and a touch of garlic, all finished off with lots of good cheese!
To go with our pizza, we needed fries. These Italian Fries from Cheeky Italian were truly amazing; they were tossed in a wonderful mix of herbs which just added to the perfectly crisp fries.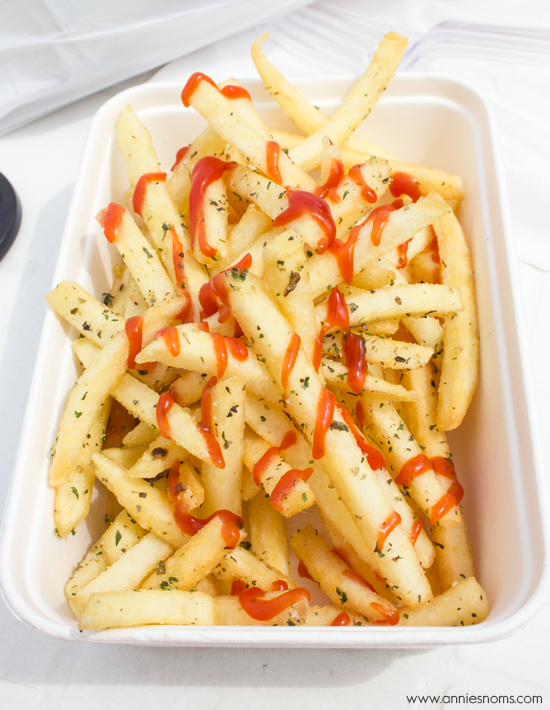 So there we have it, a food lover's dream day, good food, friendly stall owners and lovely weather! It was such a wonderful day and I've found so many local companies I'm sure to order from again!
Essex really does have so much to offer, ignore what you see on the TV and come and visit! We are already looking forward to The 2015 Food Festival!
I'll be back to recipe posting next Tuesday – I'm working on a Skinny Cherry Cheesecake Smoothie to share with you!
Enjoyed this post? Sign up to my weekly newsletter to ensure you never miss a post!