These granola bars are packed with juicy dried blueberries and sweetened with honey, perfect for breakfast on the go! Easy to make and super satisfying, you'll never buy granola from the store again!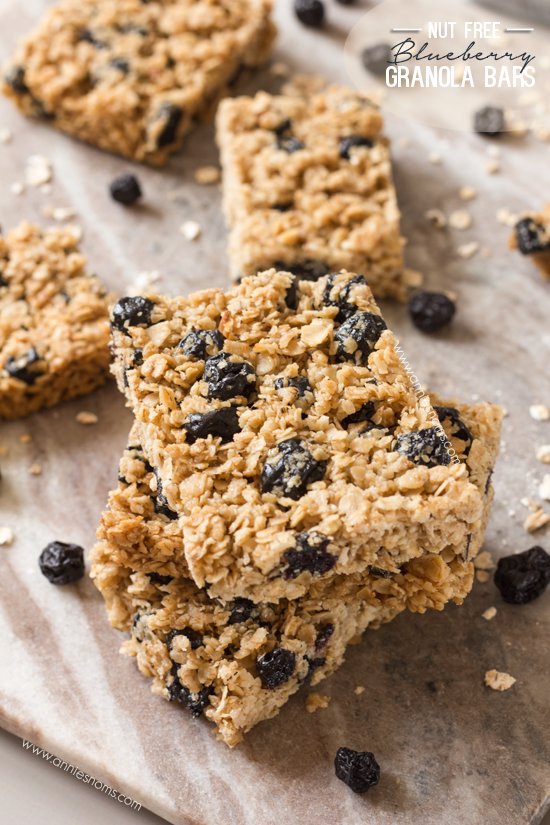 I contemplated calling these "Back to Basics Granola Bars". If you've been reading for a while, you'll know I've started a mini series focusing on base recipes which then allow you to develop them into loads of different things.
It's just that Granola is soooooo versatile! You can add seeds, fruit, chocolate chips, nuts… The flavour combinations are endless!
Another brilliant thing about this recipe? It's nut free! I love granola, but in the supermarkets all granola cereals and bars seem to have nuts and since I'm allergic, that's not cool!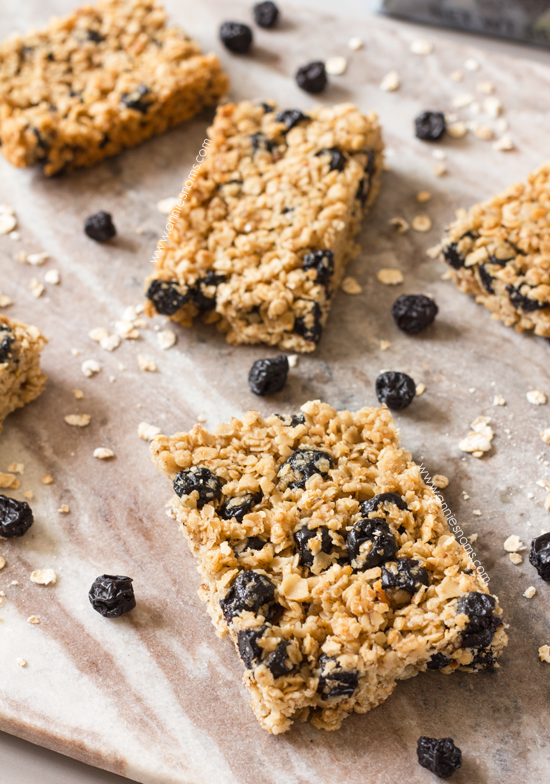 I'd also like to apologise for the ugly photos. I didn't realise just how ugly granola bars were!!
I think I spent about 2 hours trying to move them around, change which one was at the front, use different props, move them to a plate… I just couldn't make them look good!
However, don't let my non-existent photography skills make you think these aren't good though, I polished off 3 whilst photographing them 🙂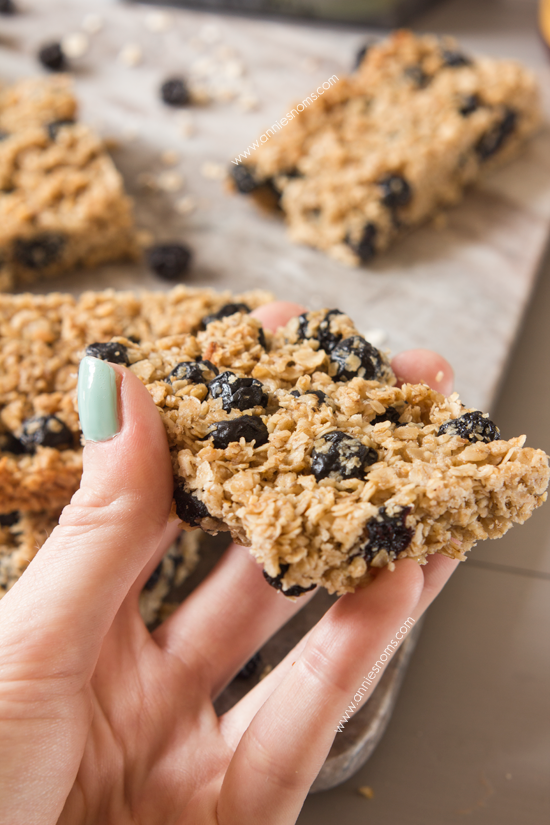 Also, when my boyfriend got home, he hugged the container they were in and said "mine" !!! 😀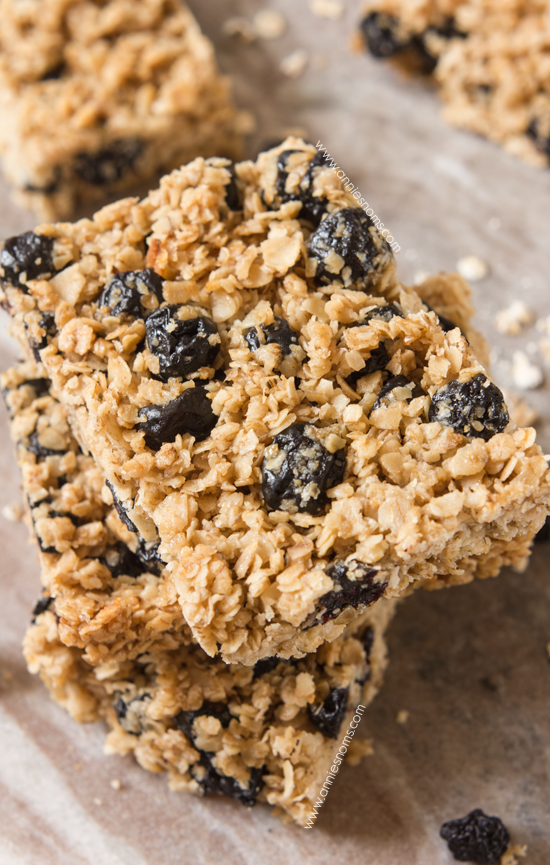 These take about 5 minutes to mix together, you just need a bowl and wooden spoon. No mixers, no pile of bowls waiting to be washed up, just quick and simple!
I used rolled oats, runny honey, vegetable oil, dried blueberries a little vanilla and just 1tbsp of light brown sugar. This is, without doubt, the best granola I've ever had!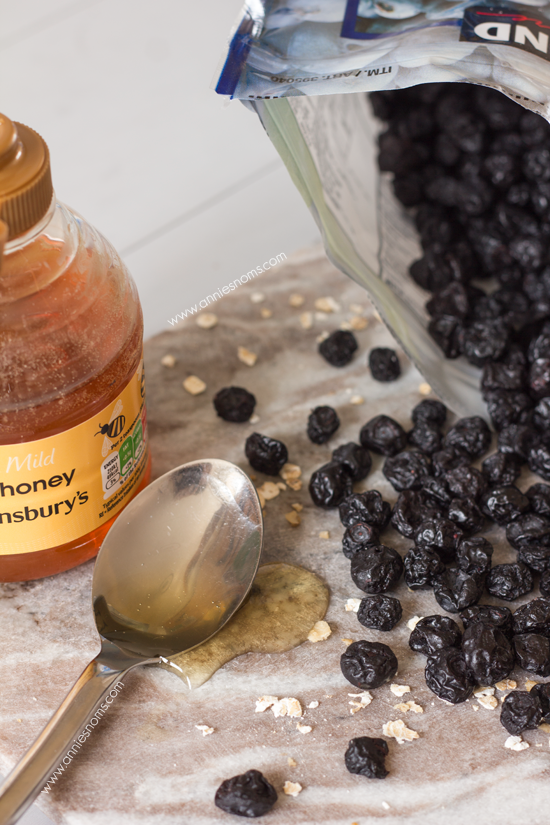 The honey compliments the slight tartness from the dried blueberries and the sugar just takes the edge off of the honey to stop it being overpowering. I tried these with and without the sugar, and they were definitely better with.
Although, if you just love honey, then by all means leave the sugar out! I'm not a honey lover, I like a slight hint, but nothing too strong 🙂
I was worried that these may be very crumbly without butter; in other granola recipes I've made, I've had them basically fall apart, but the oil and honey worked perfectly together. The honey acts as the glue and the oil gives them a moistness and helps them become gorgeously golden in the oven.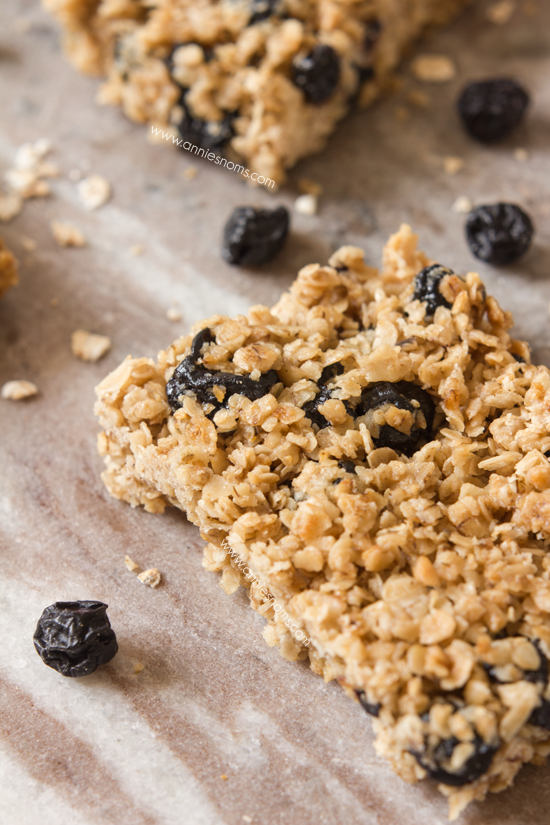 These are some of the simplest granola bars ever; I thought about adding pumpkin seeds and sunflower seeds, but I was craving plain oats and fruit this time!
These are also perfect for breakfast on the go! I mean I just gorged my way through them no matter what time of day, but come next week, I might be taking my own advice because…. I've taken on a part time job!
I'll talk about it more tomorrow in my Life Beyond the Kitchen Post, but it's freelance work which I can mostly do from home, so it won't compromise my blogging schedule. I wouldn't have taken it on if I thought for one minute it would have a negative effect on me growing my blog and doing what I love. However, it's great to have a bit of guaranteed income, as everyone knows blogging can be a little up and down!
Enough about work! You need these granola bars in your life, they stay chewy and soft for days and have the most amazing flavour I've ever tasted in a granola bar! This has become my new go-to granola recipe!!
Enjoy 🙂
Enjoyed this post? Sign up to my weekly newsletter to ensure you never miss a post!

Nut Free Blueberry Granola Bars
These granola bars are packed with juicy dried blueberries and sweetened with honey, perfect for breakfast on the go! Easy to make and super satisfying, you'll never buy granola from the store again!
Ingredients
2

cups

rolled oats,

not quick cook

3/4

cup

dried blueberries,

or any other dried fruit

1/3

cup

chocolate chips,

nuts, seeds etc. optional

1

tbsp

light brown sugar,

optional

5

tbsp

vegetable/sunflower oil

1/4

cup

runny honey

1

tsp

vanilla extract
Instructions
Preheat oven to 160C/325F and grease and line an 8x8 inch square pan.

Place oats, blueberries, chips/seeds if using and sugar into a large bowl and stir until combined.

Add in oil, honey and vanilla extract and stir until all the oats are coated in oil and honey.

Tip into greased pan and level with a spatula or your (very clean) hands.

Place in the oven for 30-35 minutes, until lightly golden and it feels slightly crisp to the touch.

Leave to cool in the pan completely, then slice into 9-12 bars.

Bars will keep in an airtight container, at room temperature for 4 days.
Notes
Recipe by Annie of Annie's Noms