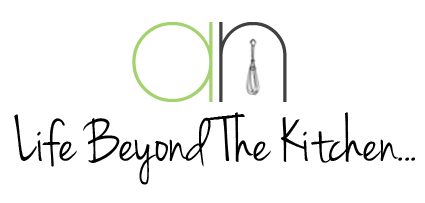 OMG how is it August already?!?!
It's not even funny anymore how fast this year is going. I'm a little guilty of wishing away the first half of the year as I couldn't wait to be done with Uni, but I've already been finished for 2 months, I graduate next month!! :O
I've ordered my robes and had my dress bought and in the wardrobe for a while, all set! The only thing I do need is some control underwear. Taste testing all the things I make has given me a slight paunch which does not look good in my figure fit dress!
Any of you guys have any recommendations for control underwear?
In other news, I got myself a part time job as a freelance Interior Designer! It just sort of happened, my OH's work need someone to do CAD drawings for them and help move people around, so I'm going to be doing the CAD drawings, I have my first meeting on Monday and I'm feeling nervous and excited!
Since it's freelance, apart from client meetings, I get to work from home, meaning I can still develop recipes and blog. I wouldn't have taken the job if I thought I would have to stop doing what I love! It's not going to be a regular job, I may have this job and then nothing for a few months unless I find clients elsewhere. But hopefully I'll get some more work in the future, it's nice to know I'll be having some money coming in again 🙂
However, I'm now in panic mode as I have no shoes and I'm not entirely sure I have any clothes to wear. I mean I have a black pencil skirt and some tops which I could tuck in, so guess that's fine, but I really have no shoes which are appropriate, going shopping tomorrow to try and sort that out! Everything I've seen online is either too high or not in my size. I don't want towering heels, I'm 5ft 11 haha!
Health wise, I've been feeling a lot more like myself! I am SO happy about this, I was getting more and more upset about constantly feeling so bad, but a change of medication seems to have settled things a bit. Not 100%, but it's an improvement!
Here's what else I've been up to: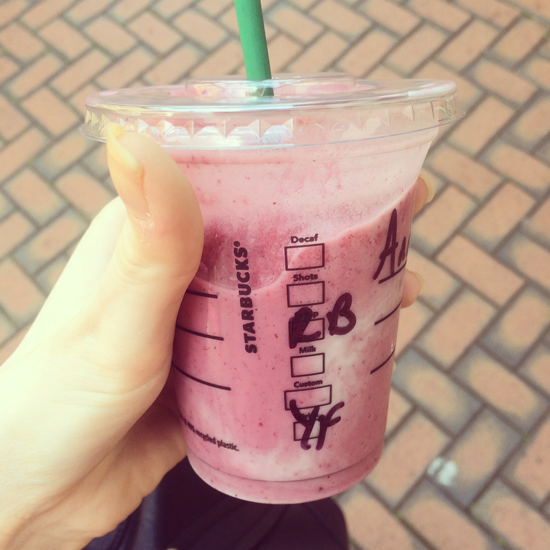 I saw an advert for Starbucks' new yoghurt Frappucino's and just knew I had to go try one. I had the Red Berry one and loved it! Now I'm craving more!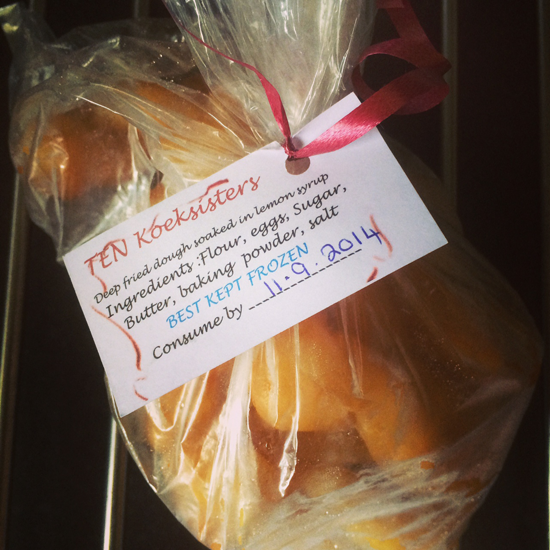 A Biltong Direct shop opened near us recently. It sells South African food and I have fallen in love with Boerewors and Droewors! However, these Koeksisters caught my eye last week. They're fried dough sticks which have been soaked in lemon syrup. They're ready cooked and frozen so you can either eat them frozen a bit like an ice cream or let them defrost and enjoy them chilled from the fridge.
They are delicious!!! Sweet and soft, but with a slight crisp on the outside. I tried them frozen and chilled and both ways are yummy! It was lovely to have a frozen one on a baking hot day, I'll definitely be buying some more!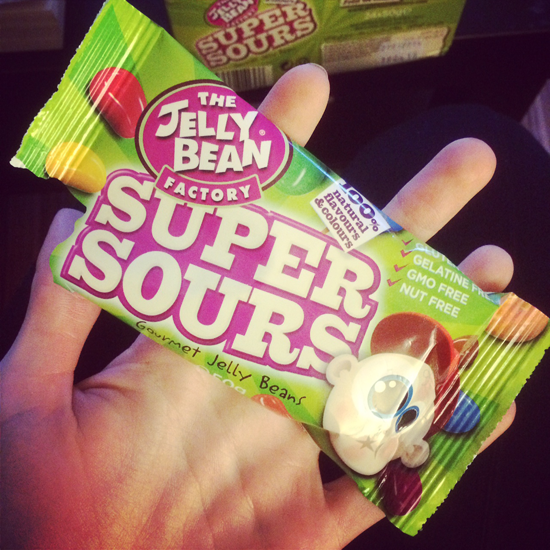 I also tried these Super Sour Jelly Beans. Sometimes I'm a little funny about jelly beans as I don't like all the flavours and find it difficult to distinguish between them. However, they're are 9 fruit flavours in these and being a lover of sour sweets, they're amazing. Really quite sour, but the more sour the better for me!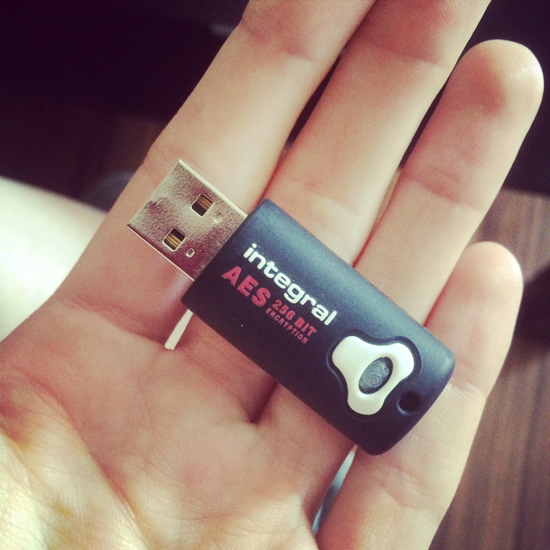 Strange picture, but I'll explain. My OH left this in his pocket and I found it later on in the tumble dryer. Needless to say it had been washed and dried, so was incredibly clean!
I much prefer it when I find £1 coins in the washing machine… amazingly we put it in the laptop last night and it still works!!! 😀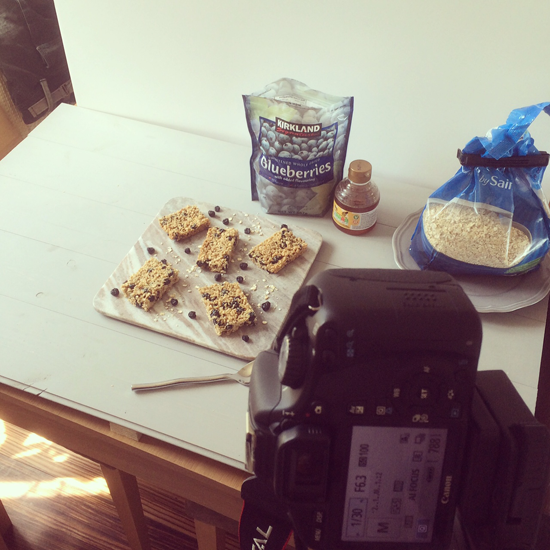 It's been another busy week in the kitchen! I guess it's the same for all blogger's – sometimes you just don't "feel it" when photographing. For my Cherry Cheesecake Smoothies I was really happy with the styling and resulting photographs. However, I found the Blueberry Granola Bars much harder to get right. I'm not 100% happy with the photos, but I spent hours trying to get my set up right and I just couldn't.
Makes me frustrated as I always want to be the best that I can be at everything I do! But I have to realise that I'm not going to get every shot 100% perfect, every time I shoot it's a work in progress and I learn something new.
Any tips for good food styling?
Here's what I made this week:
Skinny Cherry Cheesecake Smoothies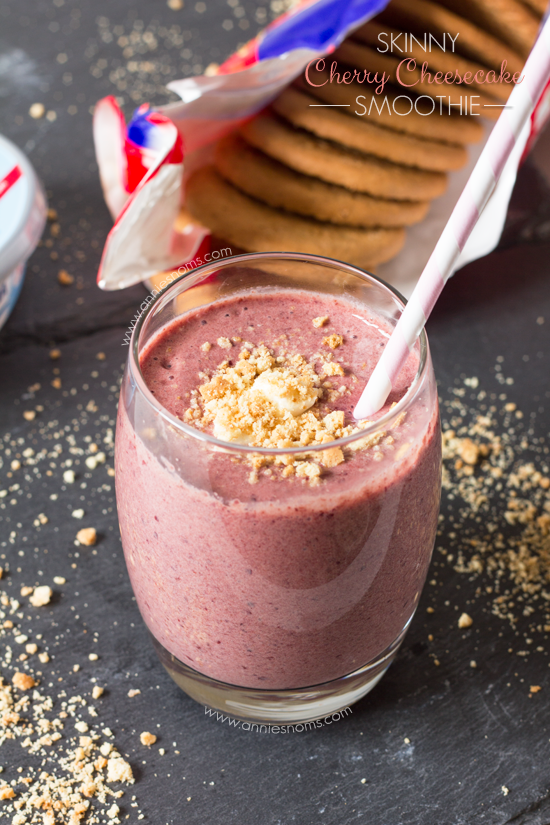 Nut Free Blueberry Granola Bars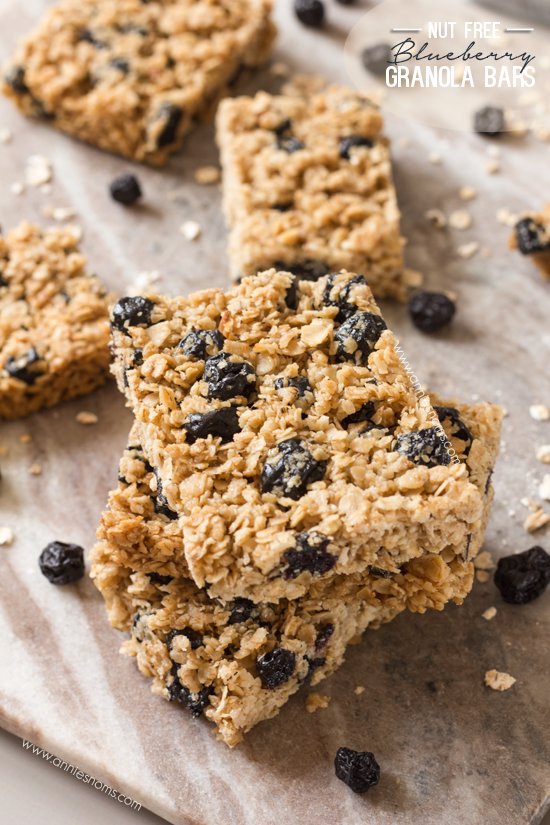 That's it for this week, hope you all have a great weekend!
Enjoyed this post? Sign up to my weekly newsletter to ensure you never miss a post!