A super easy tart made with shop bought puff pastry slathered in sweet cream cheese and covered in the most delicious Summer berries! The perfect way to use up all your berries.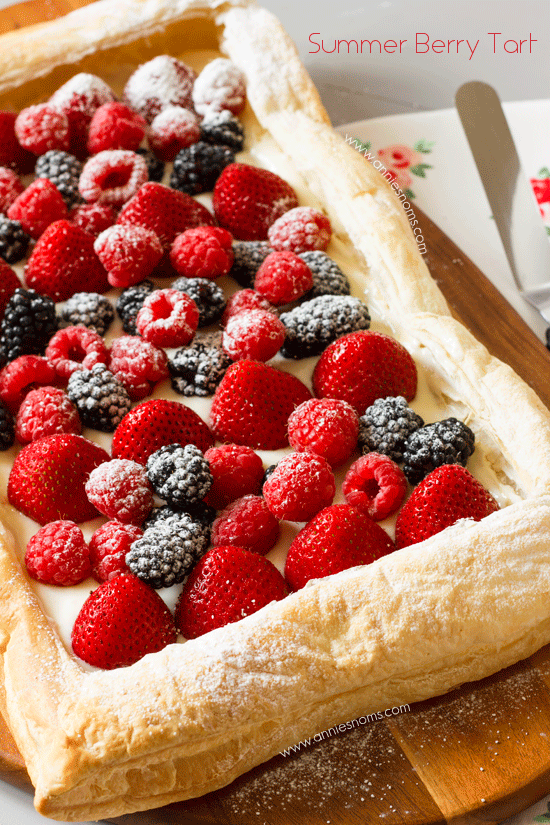 Hands up if you have a ton of berries you need to use!
Me too, so I whacked a sheet of puff pastry in the oven, slathered it in sweet, vanilla cream cheese and then covered it in berries. the result? This beautiful, easy, soft, flaky, creamy, berry tart!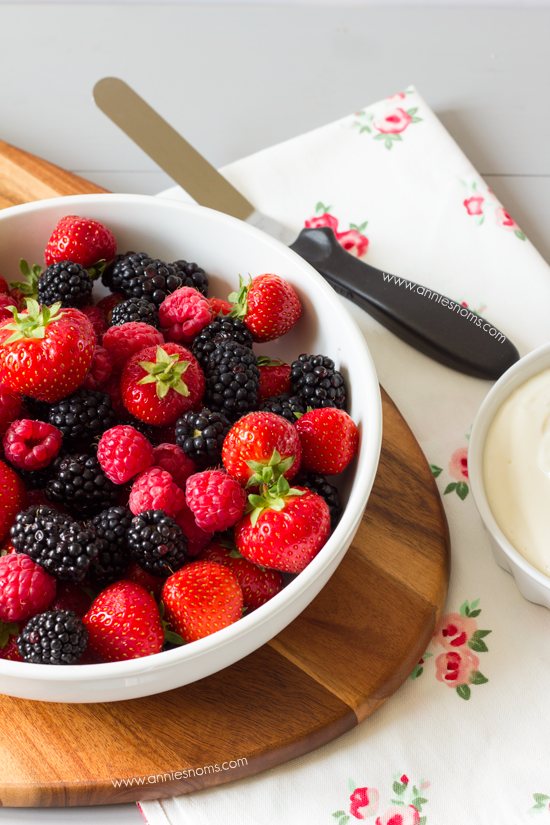 I must say I'm quite proud of myself as I've definitely been exploring other flavour combinations and not just using berries this Summer. However, the lure of raspberries, blackberries and strawberries together was just too much to handle, so yesterday, I was up to my ears in berries!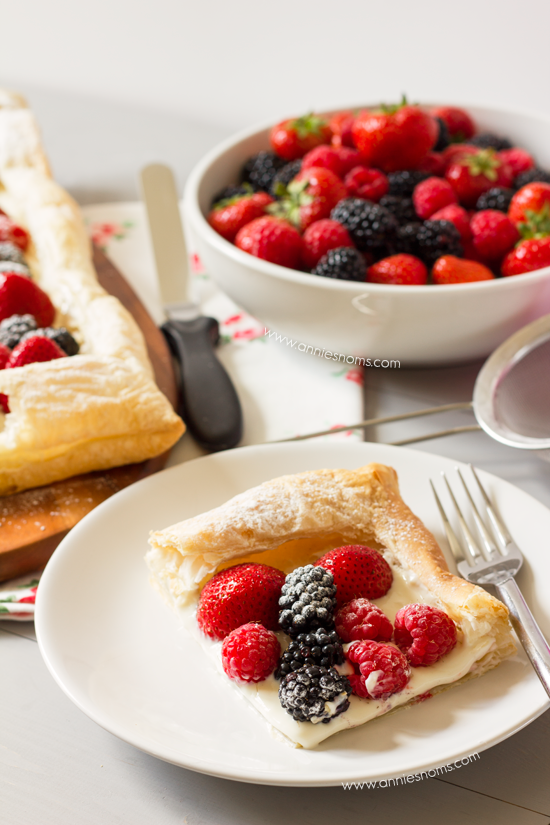 Also, why had I never used ready rolled puff pastry until yesterday?? Life changer.
Now, I like making pastry and I'll happily make a choux or a shortcrust. However, life is just too short to make puff pastry, so buy away. 😉
I used to get a block and then roll it out myself, but it's still hot and I had my first work meeting yesterday so I was running short on time, cannot believe how easy it is; open it, unroll it, bake it. That's' it.
You know me, all for easy as long as it's tasty 🙂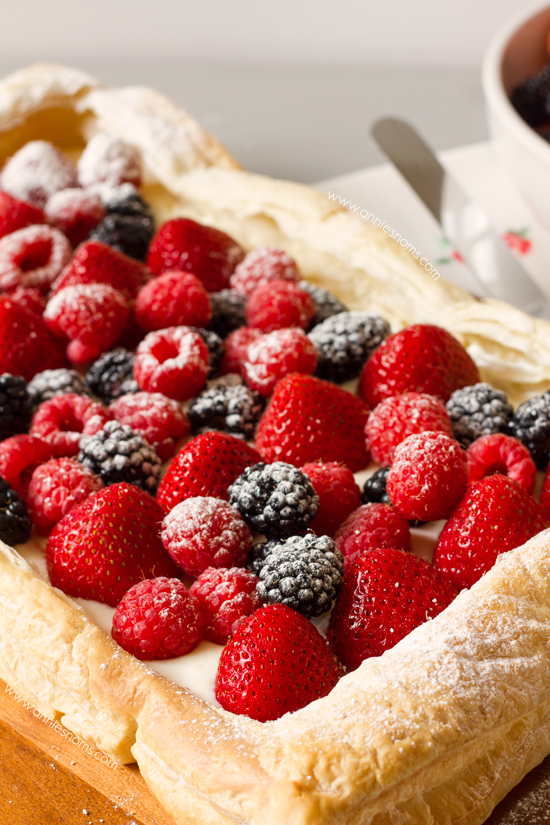 To make the tart, I scored around the edge of the pastry sheet and poked holes with a fork in the middle of the sheet, this is so the edges puff up and the middle doesn't.
Then it was into the oven for 15 minutes to become a glorious flaky, golden tart shell. Once it was cool I mixed some light cream cheese with a little icing sugar and vanilla to make the most amazing filling and then covered it in berries. A little sprinkle of icing sugar just finishes it off.
This is one of those recipes you will make again and again, it's a total crowd-pleaser and looks like you slaved away in the kitchen for hours.
Don't worry, it can be our little secret that it actually takes next to no time. The hardest part is waiting for the pastry to cool.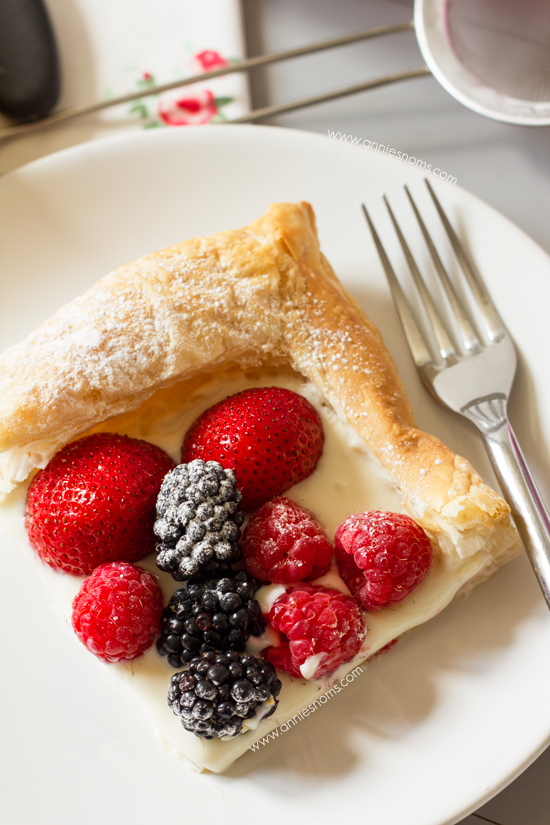 I don't do small servings as you can see… But in reality this would easily slice into 12.
In each slice you get a myriad of flavours and textures; the crunch from the pastry along with all of those layers then a hit of sweet, creamy filling and the mixture of tart raspberries, sweet strawberries and juicy blackberries, heaven in a slice!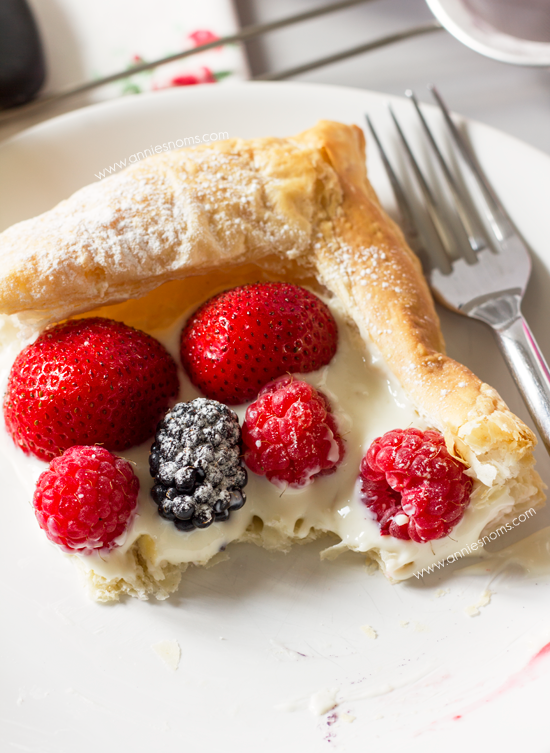 We all know that fork is just there as a prop, it's so good you'll have to dive right in with your fingers. I won't judge 🙂
It was almost impossible to photograph the slice with just that little corner missing. I wasted no time polishing the rest off once the camera was put away… yea the healthy eating starts tomorrow… or maybe the next day, I'm making S'mores bark tomorrow.
Basically, you should just go make this tart now. It is pure perfection and the pictures do it no justice!
Enjoy 🙂
Enjoyed this post? Sign up to my weekly newsletter to ensure you never miss a post!

Summer Berry Tart
A super easy tart made with shop bought puff pastry slathered in sweet cream cheese and covered in the most delicious Summer berries! The perfect way to use up all your berries.
Ingredients
1

(375g/13.5oz) sheet ready rolled puff pastry

1

cup

light cream cheese,

I used Philadelphia

1/4

cup

icing sugar,

sifted

1/2

tsp

vanilla extract

3/4

cup

fresh blackberries

3/4

cup

fresh raspberries

16

large strawberries

(probably around 2 cups. I wanted them lined up symmetrically)

A little icing sugar for garnish,

optional
Instructions
Preheat the oven to 200C/400F and line a baking tray. Place ready rolled pastry onto your tray and score a rectangle into the pastry, 1-2 inches from the edge. Poke the middle of the pastry with a fork.

Place in the oven for 12-15 minutes until risen, puffy and golden. Leave to cool completely*

Once cool, place the cream cheese, icing sugar and vanilla into a medium bowl and beat until light and smooth, about 1 minute on medium speed.

Pour onto cooled pastry and smooth with a small spatula.

Cover the cream cheese with fresh berries. (You can tip them on randomly or line them up, I'm a little OCD with symmetry!).

Dust with icing sugar if desired. Tart will keep in an airtight container, in the fridge for 2 days.
Notes
*If the middle has risen a little poke it with a fork again as soon as it comes out of the oven, this will release the moisture and it will flatten out. Recipe by Annie of Annie's Noms