This easy, kid-friendly recipe for bark marries the famous S'more flavours with the caramel flavours of dulce de leche. There's no scrimping on toppings here! Every inch is packed with crackers, marshmallows and dulce de leche; a truly satisfying treat!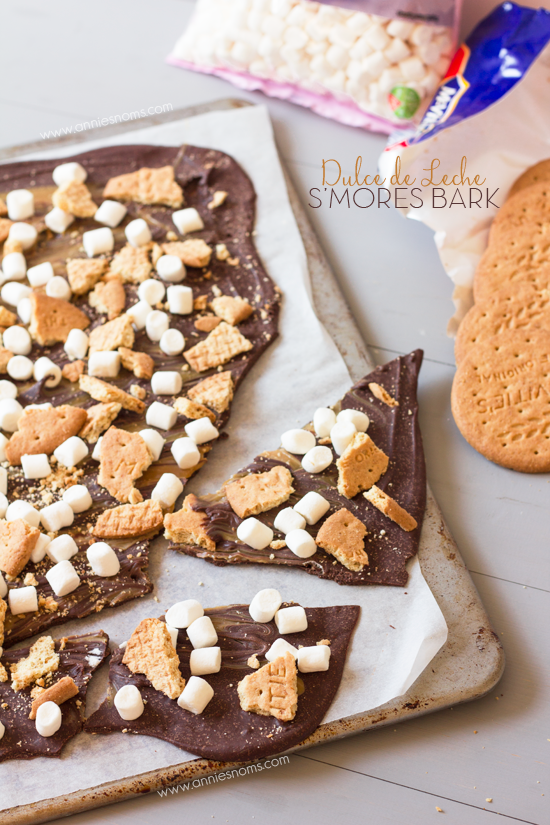 Apparently it's National S'mores Day on Sunday.
I had no idea when I decided to make this bark, but hey-ho normally I miss these things, so at least I'm contributing this time! 😀
Now let me tell you about this bark. When I smoothed that melted chocolate over a piece of parchment and covered it in biscuits and marshmallows I seriously wanted to face plant it.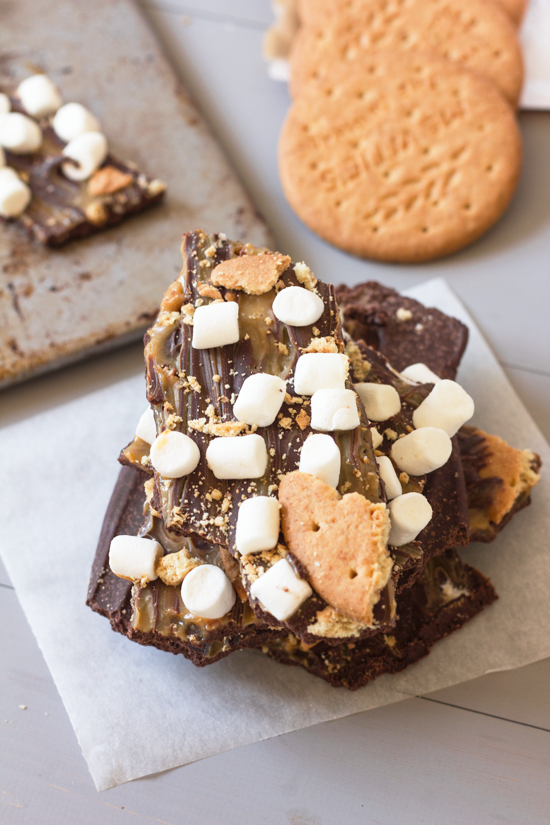 I mean look at it. There is nothing better than rich chocolate, crunchy crackers and soft pillow-y marshmallows.
In fact I love marshmallows so much, I had to take this photo of my hand with my very un-manicured nails… no I don't know why either.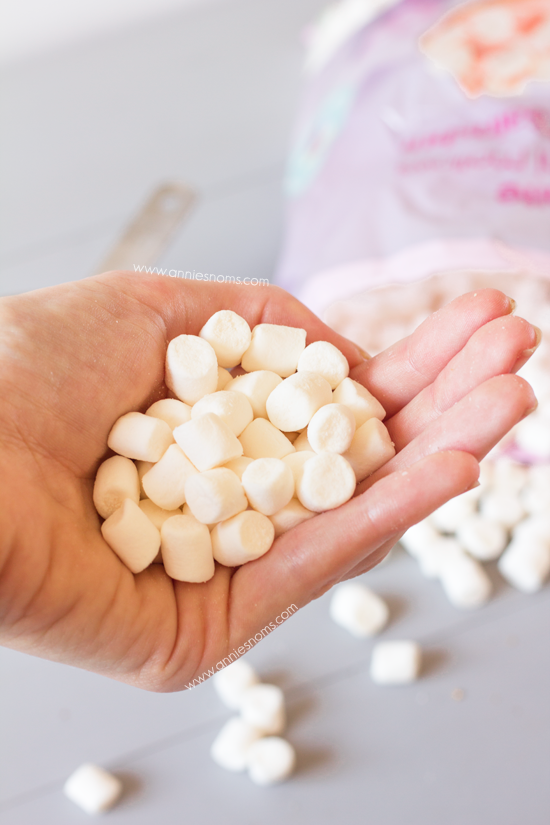 So, the idea came for this because I was like "Well, everyone love S'mores, but how could I make it better?"
Sometimes, you just shouldn't mess with a classic. But this is not one of those times. Dulce de Leche makes everything better!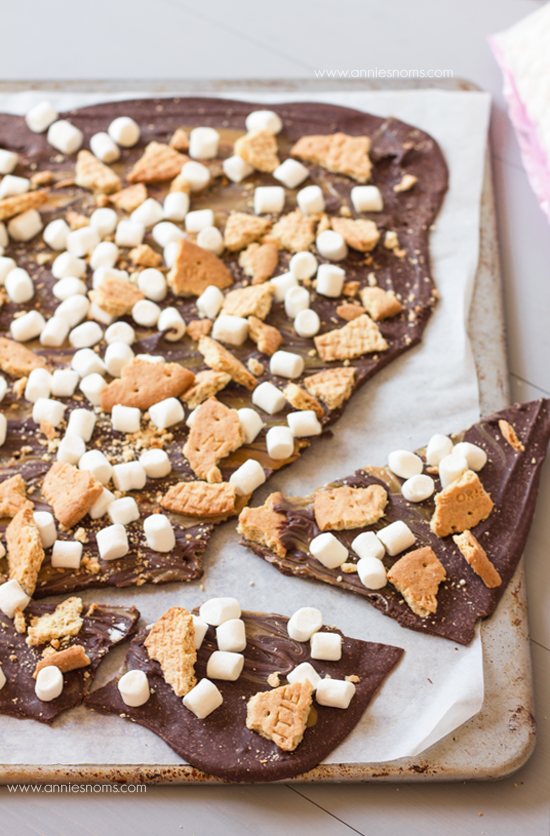 If you've never tried Dulce de Leche, you are seriously missing out. I was fairly late to the party, but now I'm a convert. And it's super easy to make yourself!
All you need is a can of condensed milk and a big pan of water! Poke a couple of holes in the top and then place it in the pan and boil for 3-4 hours. 3 hours for soft (that's what I did) or 4 hours for a thicker Dulce de leche.
Then you have to try and not eat the whole tin in one go. I'm a little like this with Biscoff too.. Once I start, I just can't stop. Spoon-mouth, spoon-mouth x1000.
This is why I will never have a surfboard stomach.
Managing to eat a whole piece of bark whilst photographing these is another reason… thank God for Spanx.
Anyway, bark is one of the easiest and most satisfying things to make. You just need melted chocolate and then to go wild with toppings.
For this bark, I mixed dark and milk chocolate. This was because I wanted a balanced flavour, not too bitter and not too creamy. I prefer milk chocolate if I'm eating a bar of chocolate, but with marshmallows and Dulce de leche this would have been way too sweet if I'd used all milk chocolate.
Side note, is it just me who thinks melted chocolate tastes better than a bar? I mean it's the same product, I just think melted chocolate is utterly irresistible!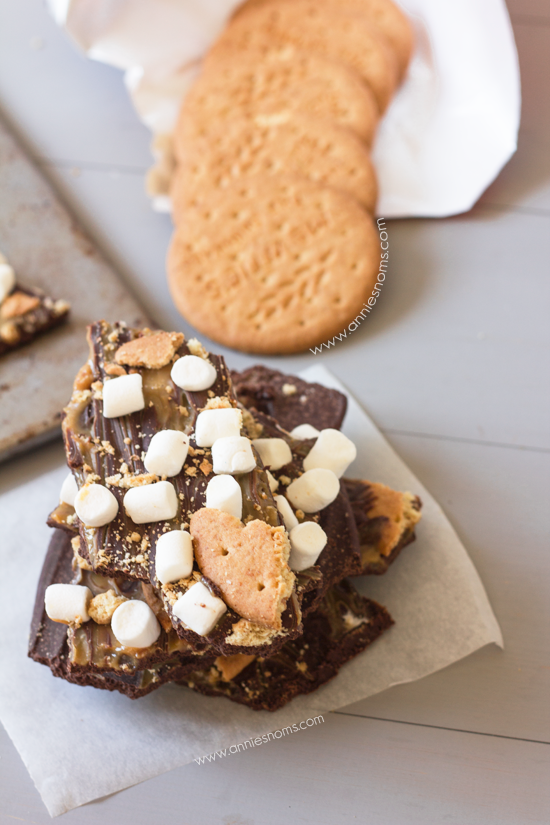 Once I spread the melted chocolate over a lined baking tray, I swirled in 1/3 cup of Dulce de leche. This creates a lovely contrast. Some bites are all chocolate and topping, whilst others are full of everything. Sprinkle a cup each of cracker bits and marshmallows and you have this amazing bark!
Then you just have to try not to keep picking at it whilst it's setting like I did 🙂
Enjoy 🙂
Enjoyed this post? Sign up to my weekly newsletter to ensure you never miss a post!

Dulce de Leche S'mores Bark
This easy, kid-friendly recipe for bark marries the famous S'more flavours with the caramel flavours of dulce de leche. There's no scrimping on toppings here!
Ingredients
8

oz

milk chocolate

8

oz

dark chocolate

1/2

tsp

vanilla extract

1/3

cup

homemade or store bought Dulce de leche

1

cup

digestive biscuits/graham crackers,

broken up (measure after breaking)

1

cup

mini marshmallows
Instructions
Line a baking tray with grease-proof paper or a silicone mat.

Break the milk and dark chocolate into a large heatproof bowl and microwave in 30 second increments, stirring in between, until all the chocolate is melted. Alternatively, you can set the bowl over a saucepan with an inch of simmering water in to melt.

Add in the vanilla extract and mix until combined.

Pour the melted chocolate mix onto the lined tray and spread in an even layer.

Spoon the Dulce de leche onto the chocolate and swirl into the chocolate with a toothpick or skewer.

Sprinkle marshmallows and biscuits/crackers over the melted chocolate.

Place in the fridge until set, about 2 hours.

Once set, peel away from lined tray and break into pieces.

Bark will keep in an airtight container, in the fridge for 4 days.
Notes
Recipe by Annie of Annie's Noms