Love cinnamon rolls, but short on time? Now you can have all the elements of a roll in a super easy twist! Puff pastry is slathered in melted butter and sprinkled with cinnamon and sugar then baked until golden; from oven to plate in 20 minutes!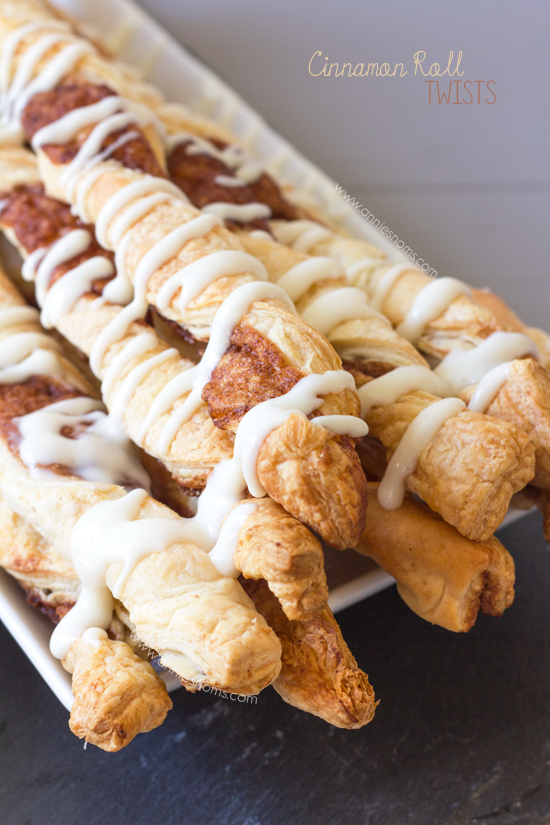 Are you eating boring cereal right now?
Well, if you have some puff pastry to hand, a little sugar and some cinnamon then you could be eating one of these in 20 minutes.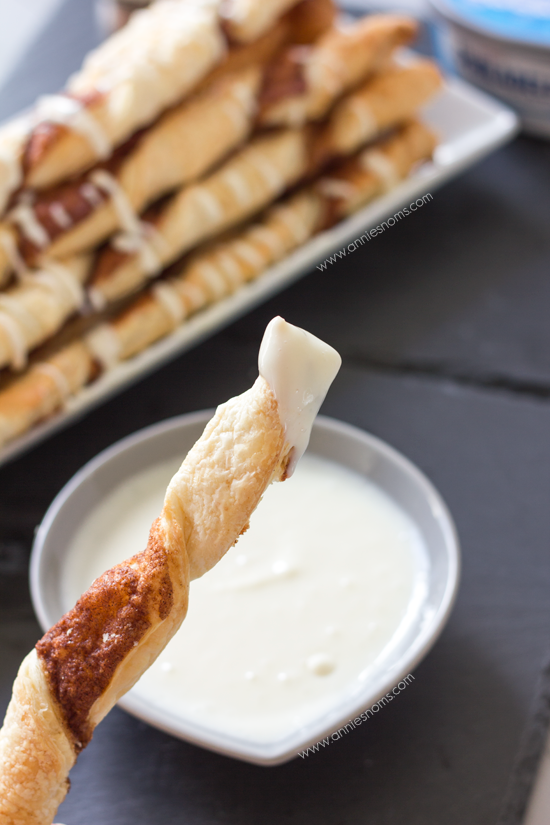 All hail the Cinnamon Roll Twist. Yea, it's a thing.
I love a cinnamon roll as much as the next person, but sometimes I want the sweet, spicy flavours and I want them NOW.
As you can probably tell with my recently posted Summer Berry Tart and 30 Minute Strawberry Rolls, I'm having a slight love affair with puff pastry.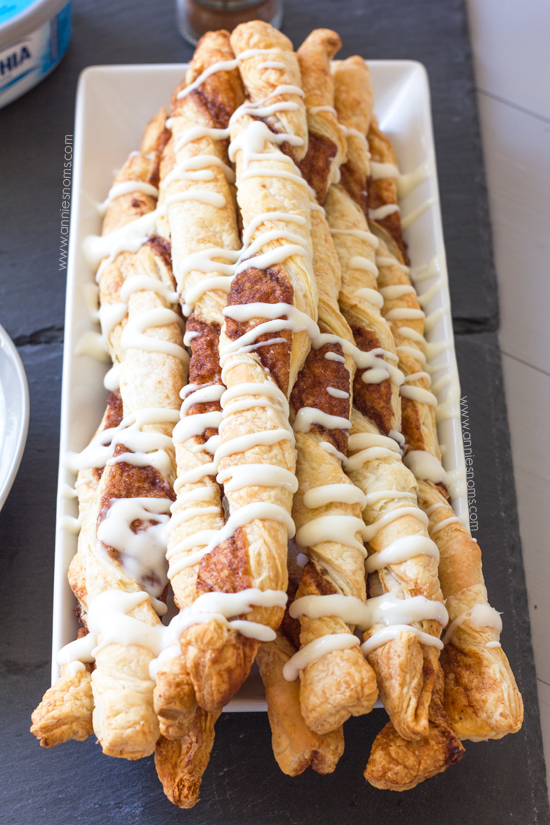 It's just amazing. One day, I swear I'll get round to making some myself, but that will be more for the experience, because everyone knows it's OK to buy puff pastry, but not OK to buy shortcrust, that sh*t is a breeze to make with a food processor…
Back to these twists. I love cheese (bear with me) and in the IKEA café you can get these amazing cheese sticks, they're not the hard cheese straws you get in the supermarket, they are soft and gooey and have loads and loads of gloriously flaky layers.
Literally heaven… 😀
So, somehow me thinking of cheese made me want to make a cinnamon roll into a puffy, flaky twist. I mean, I can't actually explain how my brain connected the two, but hey, yummy things happened because of it!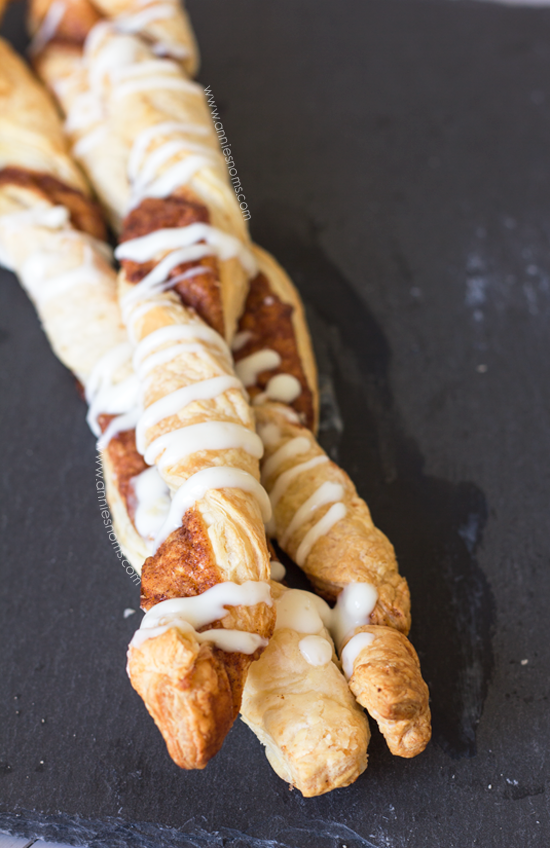 All I did to make these twists, was open a packet of ready rolled puff pastry, brush melted butter onto it, sprinkle cinnamon and sugar on and then slice it into 12 strips. Twist away then bake for 10-15 minutes. Done.
They're never going to be the most pretty things to make, but who cares when they taste so good?!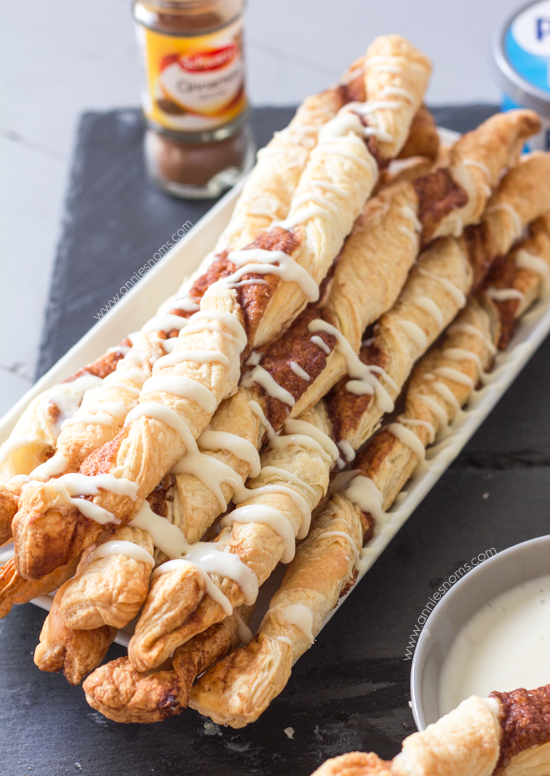 To make these even more like cinnamon rolls, I made a sweet and creamy cream cheese dip. Because I am a dipper and every meal needs a condiment. (I'm the girl who has half a bottle of ketchup with dinner every night)
Ready, steady, dip!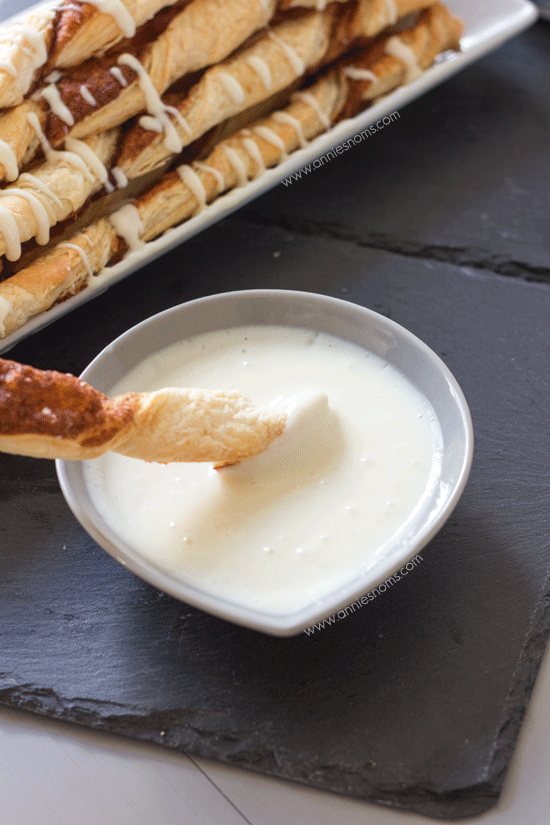 So there we have it, highly addictive cinnamon roll twists: just try and eat one!
Enjoy 🙂
Enjoyed this post? Sign up to my weekly newsletter to ensure you never miss a post!

Cinnamon Roll Twists
Love cinnamon rolls, but short on time? Now you can have all the elements of a roll in a super easy twist; from oven to plate in 20 minutes!
Ingredients
375

g

(12oz) sheet ready rolled puff pastry

2

tbsp

butter,

melted and slightly cooled

3

tbsp

light brown sugar

3/4

tsp

ground cinnamon

1/2

cup

light cream cheese

1/4

cup

icing sugar,

sifted

1/4

tsp

vanilla extract

1

tbsp

milk
Instructions
Preheat oven to 200C/400F and line 2 baking trays.

Place light brown sugar and cinnamon into a small bowl and stir until combined. Leave to one side.

Place ready rolled pastry sheet onto a cutting mat and brush melted butter all over.

Sprinkle the cinnamon mix all over the pastry and press slightly with the back of a spoon, just to make sure it's stuck.

Slice into 12 strips, about 1 inch thick, but this will depend on the size of your sheet.

Take either end of the strip and twist; twist one hand away and the other towards until the twist meets in the middle.

Place twists on baking tray, 6 to a sheet with 2 inch gaps between them.

Place in oven for 10-12 minutes until risen, puffy and golden.

Leave to cool on the trays completely.

Once cool, place the cream cheese, icing sugar and vanilla into a medium sized bowl and beat on med-high speed until light and creamy, about 1 minute. Add in 1/2tbsp milk and beat until combined. If required, add the other 1/2tbsp and mix. You want a consistency which will pour, but isn't so thin it won't stick to anything.

Either drizzle over the twists or place in a small bowl to dip the twists in.

Twists will keep in an airtight container, at room temperature for 2 days, dip will keep covered in the fridge for 2 days.
Notes
Recipe by Annie of Annie's Noms