These soft and chewy granola bars are packed with dried mango and pineapple, the perfect flavour combination for tropical fruit lovers! They are super easy to whip up and make a satisfying breakfast on the go.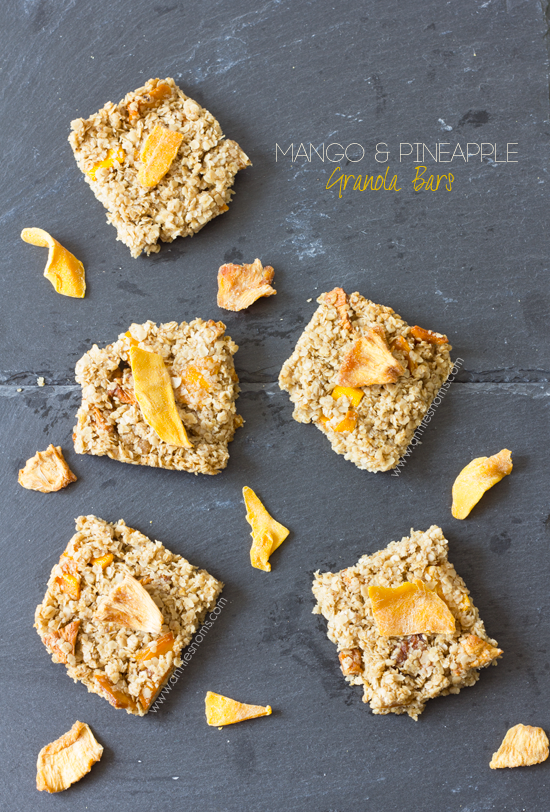 I know, I know, another granola recipe…
But they're just too good not to share 😉
And these ones incorporate my favourite dried fruits: mango and pineapple.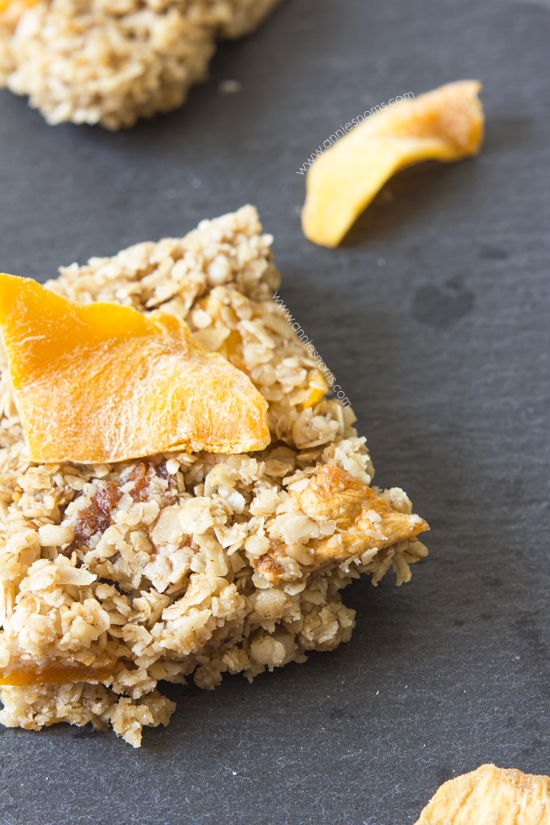 I can't get enough pineapple at the moment, I love it, fresh as well as dried, but fresh would have made these bars soggy, so I went with dried. It just has the most amazing flavour and it's slightly chewy as well… amazing!
However, I'm really funny with mango. I don't like fresh mango… but then I made this Mango Loaf Cake with mango purée and loved it??? Still can't just slice one up and eat it though. I'm a weirdo.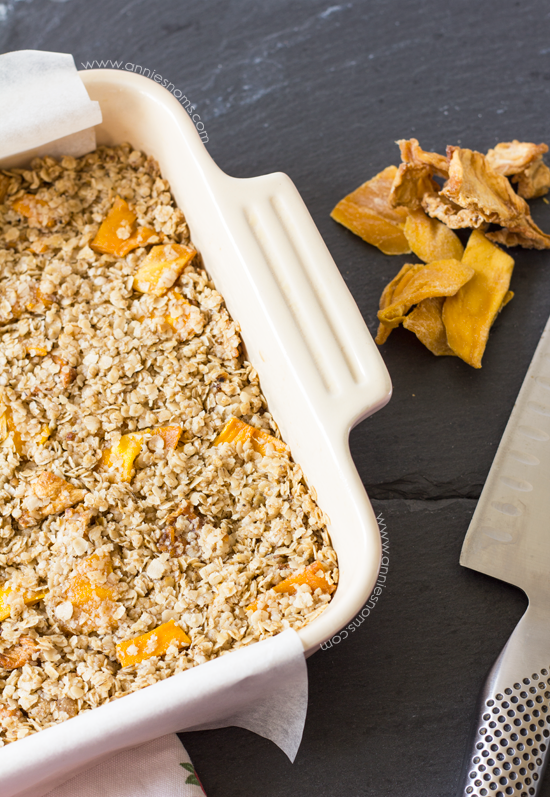 It seems in UK supermarkets that the variety of dried fruits available is increasing, thank goodness! It used to be hard to find dried pineapple, then I found Urban fruit, but then that was only stocked in some stores – arghhhhh!!
A food blogger's nightmare right there.
If you haven't tried the combination of mango and pineapple then you seriously need to and these granola bars are the perfect way to try it! They're ready in under 40 minutes and are combined with chewy oats and sweet honey.
In the past, I probably would have thought that mango and pineapple would cancel each other out as they're both quite sweet, but they don't! They compliment each other perfectly, I think mango tastes a little like peaches, so with the sweetness of the pineapple, you get a little tang as well as the sweetness!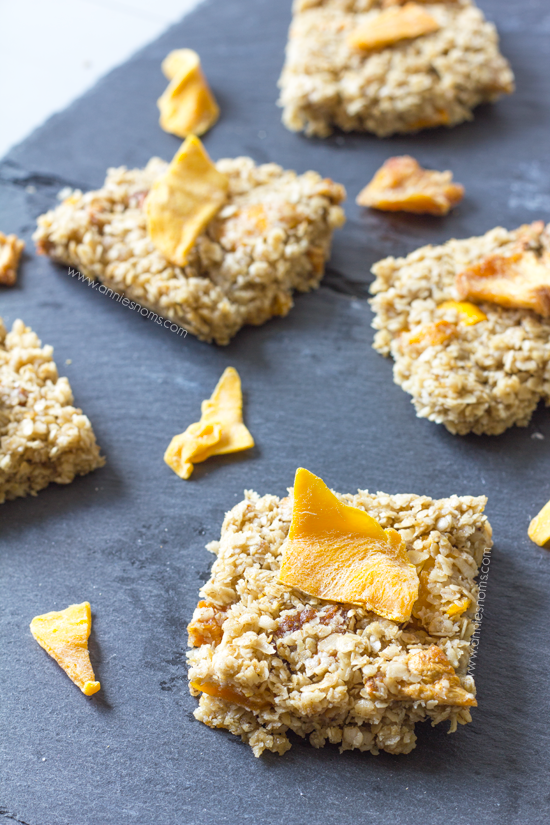 Again, I've made these nut-free because every damn granola I find in the store always has nuts and I'm allergic 🙁 But another thing I love about granola is its versatility. You can add any nuts, seeds or dried fruits you want and even some chocolate if you feel like having chocolate for breakfast…
Side note – I found an e-card which says chocolate is from cocoa, which comes from trees, therefore it's salad. So funny and I'm inclined to use it as justification next time I eat cake for breakfast!! 😀
So, if you want soft, chewy, sweet, fruity granola bars, perfect for breakfast or elevenses then make these now!
Enjoy 🙂
*IMPORTANT NOTE* – I'm going to be trying to incorporate US cup and UK weight measurements for my recipes as I get a lot of emails asking for the recipe with grams. Since most of my readership is in the US, I've been baking in cups for years. However, I grew up baking with grams. I am a little anxious about converting as I know it could completely skew the recipe if I get something wrong, so please bear with me and let me know if something doesn't work out right, I'm a beginner at this converting stuff!
Enjoyed this post? Sign up to my weekly newsletter to ensure you never miss a post!

Mango and Pineapple Granola Bars
These soft and chewy granola bars are packed with dried mango and pineapple, the perfect flavour combination for tropical fruit lovers!
Ingredients
2 1/2

cups

(225g) rolled oats

not quick cook

1/2

cup

(60g) dried mango,

chopped into little pieces and measured after chopping

1/2

cup

(60g) dried pineapple,

chopped and measured after chopping

1

tbsp

light brown sugar

3

tbsp

runny honey

1/2

cup

(110ml) vegetable oil

1/2

tsp

vanilla extract
Instructions
Preheat oven to 160C/325F and grease and line an 8x8 inch square pan.

Place oats, chopped fruit and light brown sugar into a large bowl and stir until combined.

Place the honey, oil and vanilla extract into a jug and lightly beat with a fork.

Pour liquid measurements into dry and stir until all the oats are coated with the wet mix.

Tip the granola mix into your lined pan and spread until level, either with the back of a spoon or your hand.

Place in the oven for 30-35 minutes until golden and slightly firm to the touch.

Leave to cool in the pan completely.

Once cool, slice into 9-12 bars. Granola bars will keep in an airtight container, at room temperature, for 4 days.
Notes
Recipe by Annie of Annie's Noms