Homemade cherry jam is layered in moist and tender chocolate muffins to create this sweet and rich mini treat!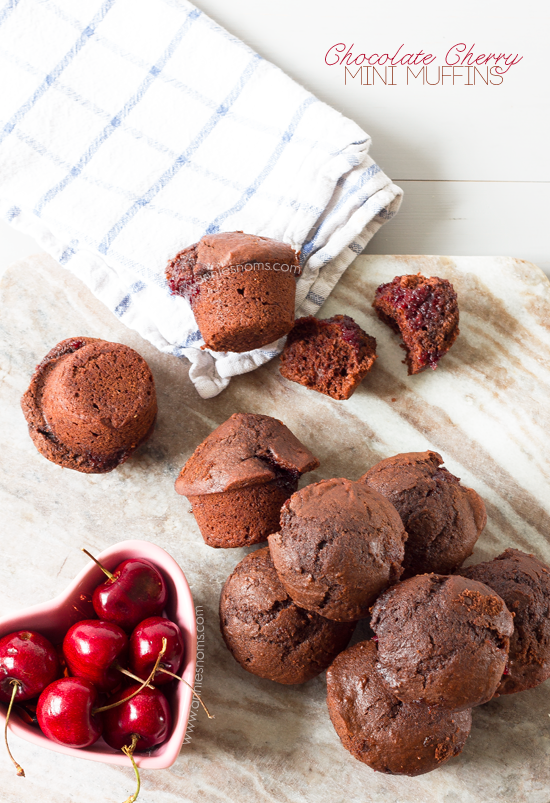 Confession: These were meant to be Chocolate Cherry Mini Doughnut Muffins.
However, in my infinite wisdom, I filled the trays level and they ended up being muffins instead. Although I'm sure you don't mind… means you get a bigger muffin and more chocolate… 😉
I also made my own jam for the first time and it was phenomenal. You totally need it in your life along with these muffins.
They're kind of ugly, but ugly things usually taste out of this world – meatloaf, chilli, mac and cheese…. all delicious and comforting and all ugly as heck. Obviously there are some fabulous bloggers who seem to have almost godly talent with a camera, but if I took a picture of mac and cheese, it wouldn't look like something you'd want to eat!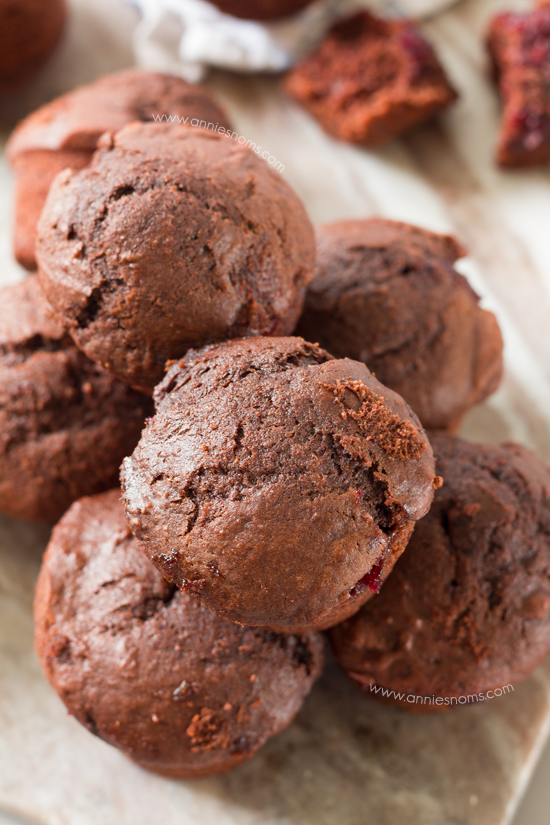 I never realised it was so simple to make jam. I know there are ones where you have to cook them for ages, but this was a quick, 10 minute jam and it tasted soooo much better than shop bought. It was sweet, tart, sticky gorgeousness!
And I mixed it with the most delicious chocolate muffins I've ever made.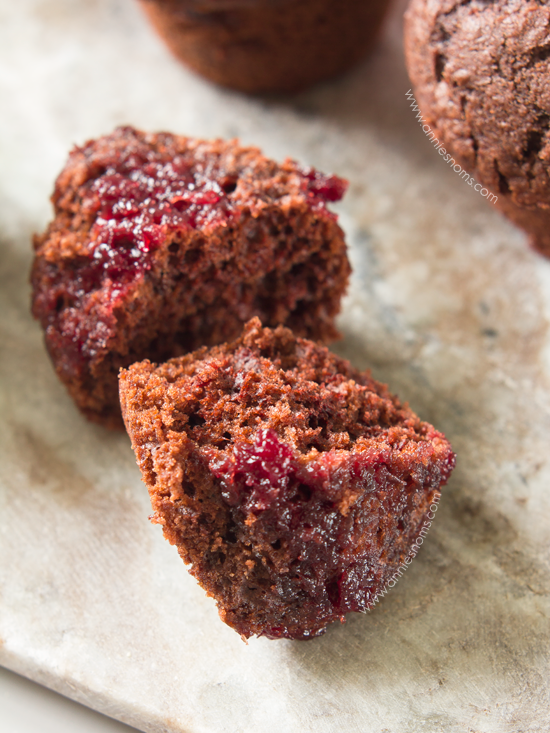 Now, as soon as you start taking flour out and putting cocoa into a recipe, it tends to make things a little dry. Usually to compensate I use oil or butter. However, to make these rich and decadent I used some melted chocolate as well and used less butter.
So, these are kind of a cross between brownies and muffins and since I called them muffins you can have them for breakfast right? 😛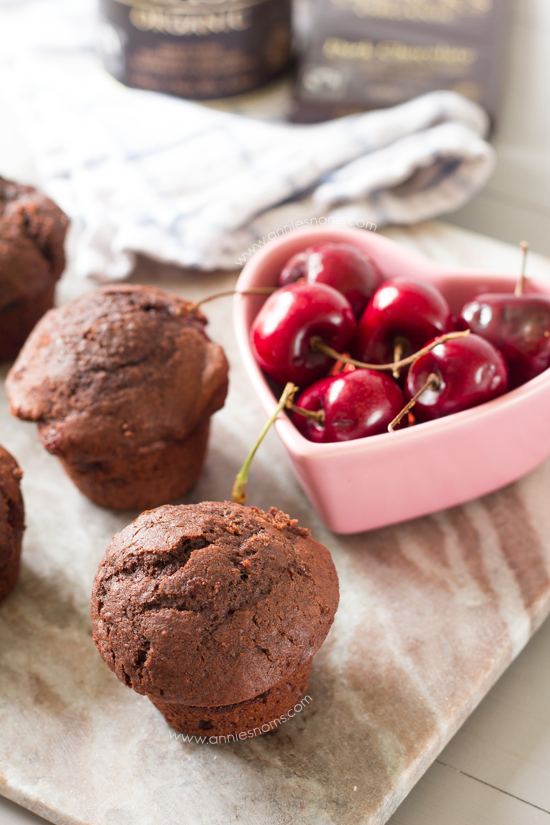 Cherries are also at their best at the moment, so I didn't need too much sugar in my jam, just 1/4 cup. All you have to do is halve and pit 1 and 1/2 cups of cherries and bubble them up with the sugar and some water until you have a thick, sweet, oh-my-god-it-looks-like-I-killed-someone coloured jam 🙂
Of course, if you have a jar of cherry jam to hand then you can sub that – it will make things quicker, however, I would obviously encourage you to make your own!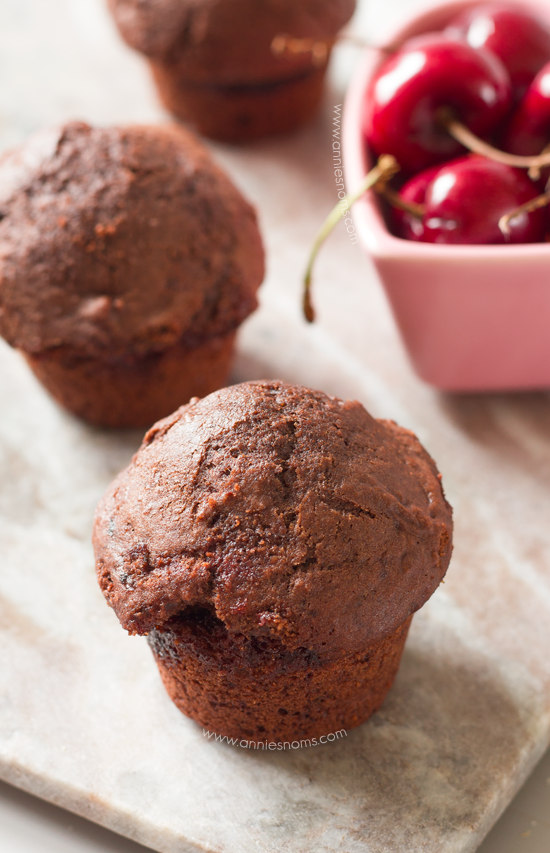 Cherry and chocolate just makes a fabulous combination and these muffins are rich, yet light – I definitely didn't want to develop a muffin which leaves you feeling sickly and bleurgh afterwards!
And let's face it, mini things are always much cuter than normal sized things 😉
Enjoy 🙂
Enjoyed this post? Sign up to my weekly newsletter to ensure you never miss a post!

Chocolate Cherry Mini Muffins
Homemade cherry jam is layered in moist and tender chocolate muffins to create this sweet and rich mini treat!
Ingredients
For the muffins:

1/4

cup

(44g) dark chocolate chips

1/2

stick (56g) unsalted butter

2

cups

(280g) plain flour

1/4

cup

(25g) cocoa powder

1/2

cup

+ 1tbsp (130g) caster sugar

1

tsp

baking powder

1/2

tsp

bicarbonate of soda

1

large egg

1/2

tsp

vanilla extract

2/3

cup

(160ml) milk,

I used skim

For the jam:

1 1/2

cups

(235g) halved and pitted fresh cherries;

my cherries were quite big, so you may need more/less

1/4

cup

(55g) caster sugar

1/4

cup

(60ml) water
Instructions
Make the jam first: Place all ingredients into a medium sized pan and place on a medium heat, stirring occasionally.

Bring the mixture to a boil and then boil for 10-12 minutes until reduced and thick. It will be quite gloopy and should stick to the back of your spoon.

Leave to cool whilst you make the muffin batter: preheat oven to 180C/350F and grease 15-18 holes in a 24 hole mini muffin tin.

Place the chocolate chips and butter into a heatproof bowl an microwave in 20 second increments, stirring in between until melted. Leave to one side.

Place the flour, cocoa powder, sugar, baking powder and bicarb into a large bowl and stir briefly to combine.

Place the egg, vanilla extract and milk into a jug and beat lightly. Pour into the dry ingredients and mix until just combined. Add in the melted chocolate and butter and stir until combined, don't be tempted to over mix the batter otherwise your muffins will be rubbery!

Use a hand blender to blitz the cooled jam until smooth.

Place around 1tbsp of muffin mixture into each greased hole. Place around 1/2tsp of jam on top of the muffin mixture and use the spoon to push it into the mixture a little.

Top the jam with a scant tbsp of muffin batter, each hole should be very nearly filled level.

Place in the oven for 12-15 minutes until risen and an inserted skewer into the middle comes out clean.

Leave to cool in the pan for at least 20 mins before transferring to a wire rack to cool completely.

Muffins will keep in an airtight container, at room temperature, for 4 days.
Notes
Recipe by Annie of Annie's Noms *I use this site to convert my measurements from cups to grams.