This salad combines the amazing flavours of chicken, bacon and avocado with tomatoes and salad leaves. Finished off with a homemade dressing, this is one salad which won't leave you hungry!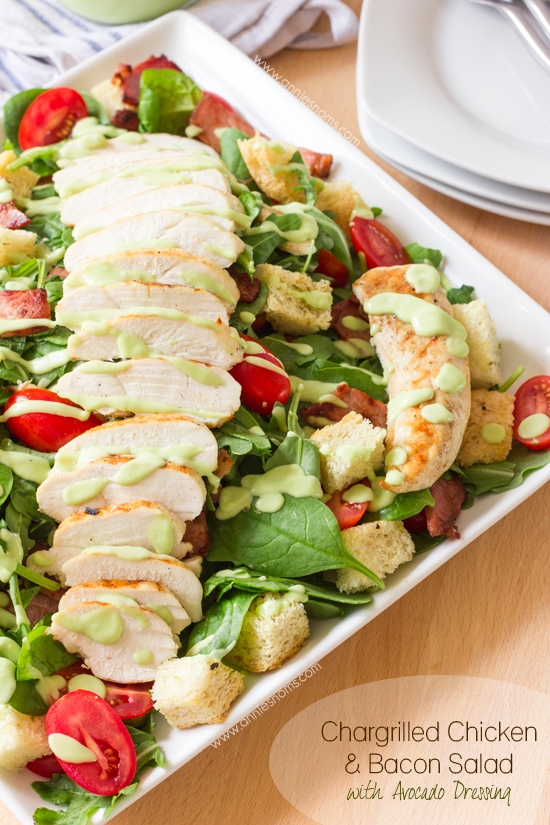 This is a post in conjunction with the Sainsbury's SO Organic Project. I was compensated for the ingredients, but all opinions are my own. This post is very photo heavy, if you just want the recipe, scroll down to the bottom of this post!
You have no idea how excited I am to be bringing you this recipe today!
A few weeks ago I received an email asking if I wanted to participate in a project for Sainsbury's (If you're in the US, Sainsbury's is one of the big 4 supermarkets in the UK). I had to pinch myself a few times, but then I realised it really was real and of course I wanted to participate!
The challenge was to make a meal for 4 using only Sainsbury's SO Organic and store cupboard ingredients.
I immediately got started on some brainstorming of ingredients I could use. That is one of my favourite steps in the whole process – the creative bit at the beginning where I'm just writing whatever comes to mind and trying to think of something amazing to make!
I knew that I wanted something light, but not a dish which would still leave you hungry, so I needed some bulk to it. However, it's still quite warm here and I, for one, did not want to be slaving away in a hot kitchen for hours 😀 Enter this salad…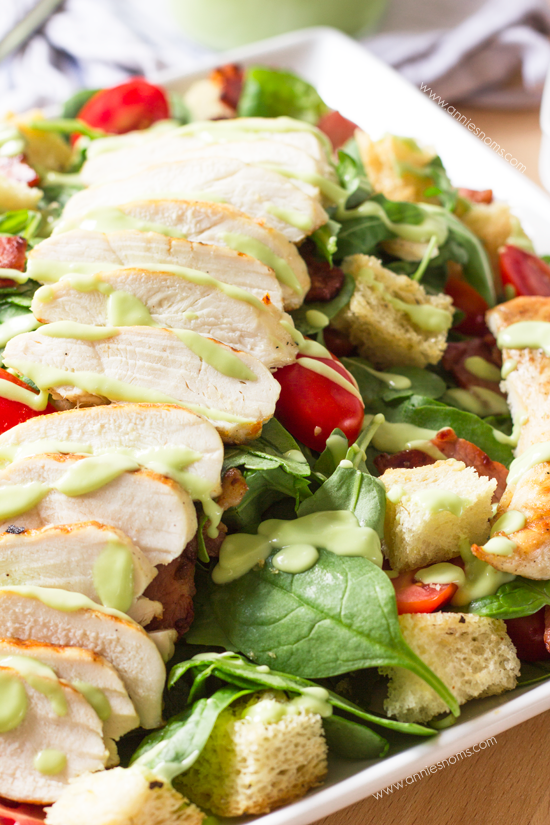 Now, as I'm sure you're aware I'm trying to give more consideration to what I eat due to some gastro problems, so the opportunity to make a meal using organic ingredients really appealed as the food is guaranteed not to have been near any chemical fertilisers.
We always shop in Sainsbury's and I use nothing but free range and their Taste the Difference range, but I didn't have much experience with their organic range, having only tried some of the vegetables before.
Having now worked with and tried some organic meat and a wider variety of vegetables, I'm definitely going to consider changing what I buy as they were both delicious. The bacon was some of the best we've ever had and the chicken breasts were tender and juicy.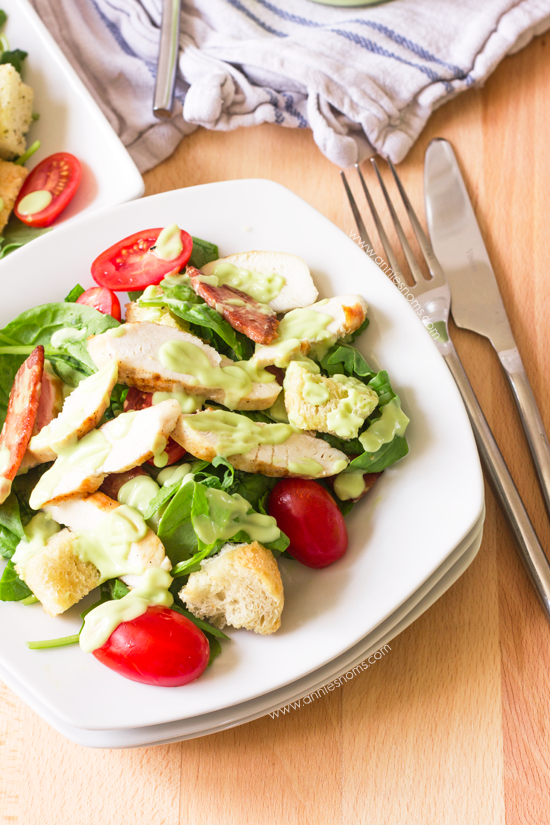 I think we can all agree that salads need a dressing and after looking down the condiment aisle I just couldn't find what I was looking for, so decided to make my own using SO Organic Avocados and Garlic. It was the first time I'd ever made an avocado dressing myself and it certainly won't be the last. 😉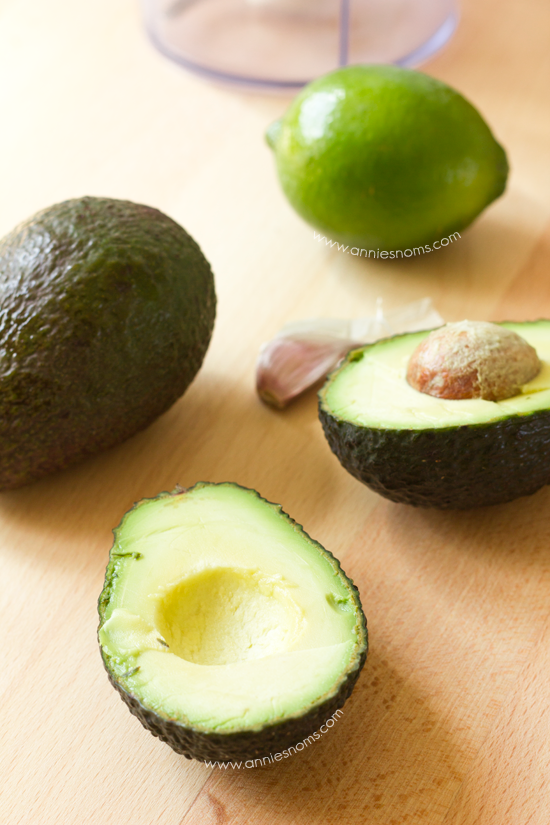 I sometimes find dressing recipes are incredibly oily which I really don't like, so in my recipe I only used a little oil and instead thinned it out with some water. That doesn't mean I watered down the flavour, there are 2 avocados in there and it is delicious creamy. You most definitely cannot tell it's a "light" recipe!
It is also the easiest thing ever to make. Place all the ingredients (bar some of the water) into a blender and blitz until smooth, light and creamy. Ta-da! A creamy, tangy dressing which adds a final burst of flavour to the finished dish.
Making it from scratch also meant I kept my store cupboard ingredients to a minimum, this is an incredibly fresh recipe!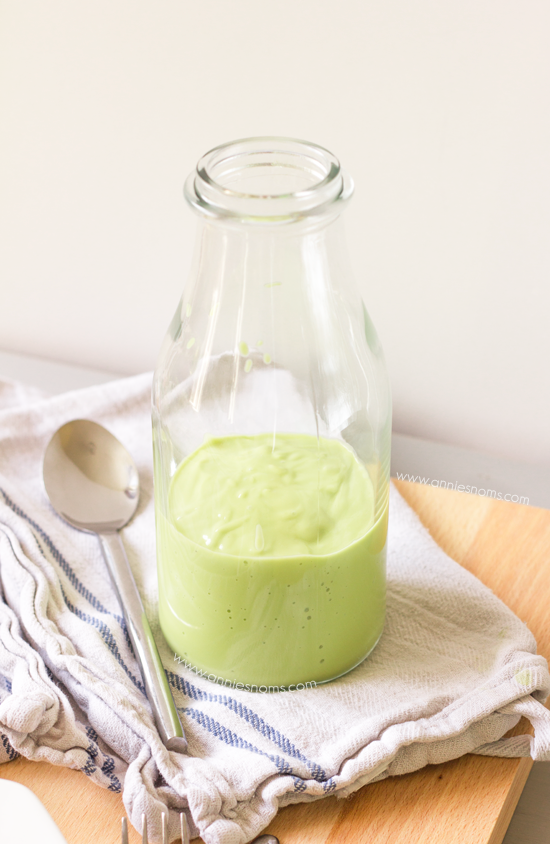 Now onto the rest of the ingredients in this salad:
Wild rocket (arugula) is mixed with spinach and dotted with sweet plum tomatoes and homemade croutons. Strips of juicy bacon are then added with chargrilled chicken breast slices and the whole dish is finished off with my Avocado dressing – don't be worried that there's too much going on in this salad, all the flavours work in harmony and you get the most amazing textures and tastes in every bite.
The best thing? This was a salad I ate and enjoyed 100%. I will definitely be making it again – that really is saying something because I'm normally a bit of a salad dodger!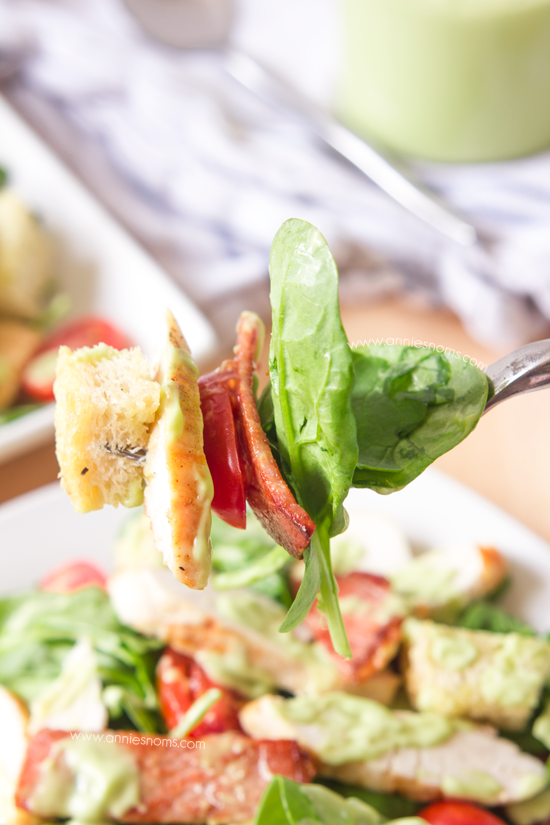 There are quite a few elements to this dish, but it still only takes 45 minutes to make a meal for the whole family. Of course, you can make it even quicker by buying a salad dressing and croutons, (Sainsbury's have some salt and pepper ones) but I'm having a love affair with homemade croutons at the moment, so I obviously had to make some to add some crunch to this dish!
You won't believe how easy it is to make seasoned, crunchy, golden croutons from scratch.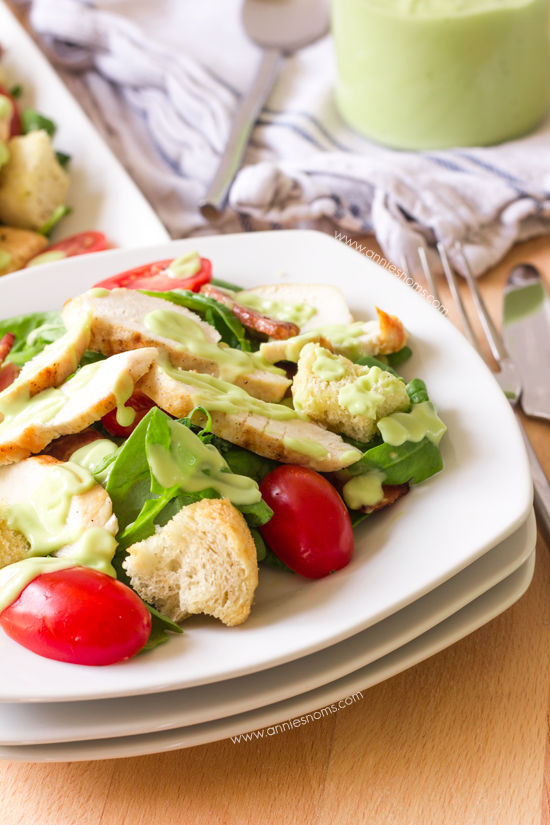 All you need is 4 slices of day old bread some salt, pepper, Italian seasoning (or any seasoning of your choice) and a drizzle of olive oil. Bung them in the oven and watch the magic happen!
I totally admit that once they come out of the oven I can't stop picking at them. It's a miracle any made it into the finished dish because I ate about 4 million whilst prepping the salad.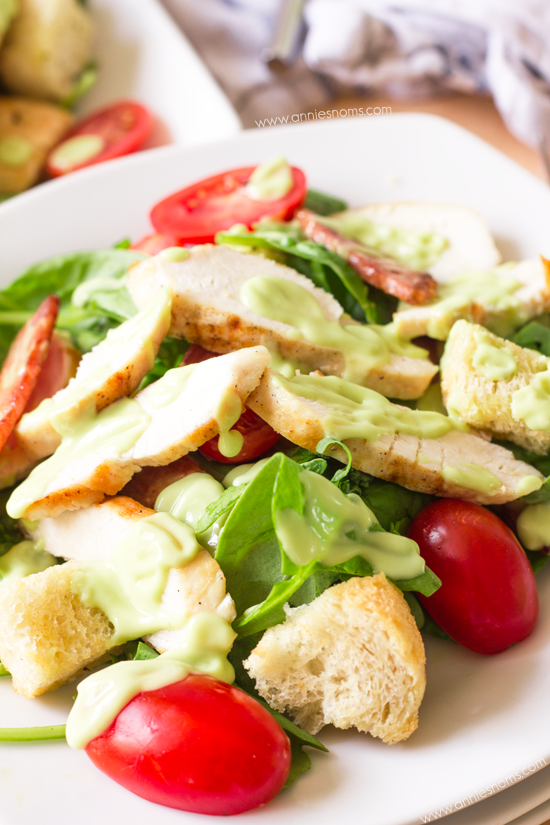 I actually find it hard to put into words just how divine this dish is. It's meaty and crunchy, sweet and peppery, light and creamy…. just go make it now!!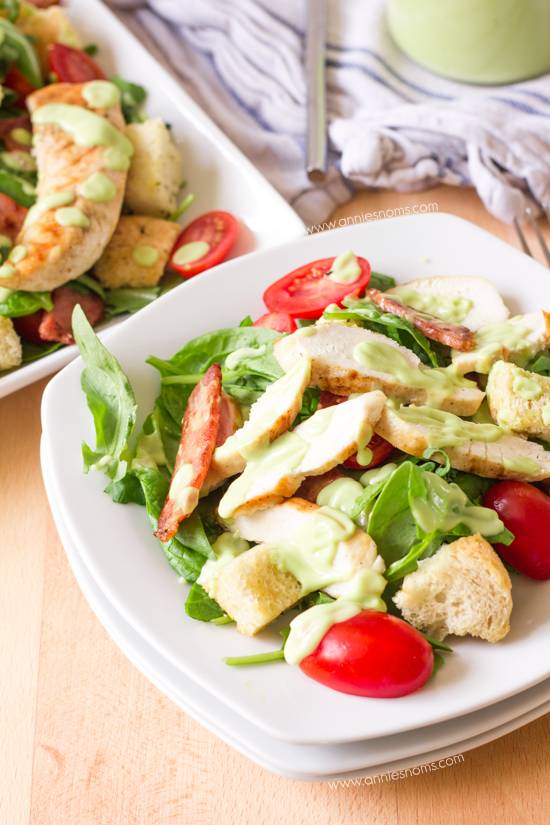 The opportunity to develop a recipe for Sainsbury's has just been amazing, I've loved every minute of it and hope that you'll all go and try the Sainsbury's SO Organic range and make it for yourself!
Seriously…. NOW!!! 😛
Enjoy 🙂
Enjoyed this post? Sign up to my weekly newsletter to ensure you never miss a post!

Chargrilled Chicken and Bacon Salad with Avocado Dressing
This salad combines the amazing flavours of chicken, bacon and avocado with tomatoes and salad leaves. Finished off with a homemade dressing, this is one salad which won't leave you hungry!
Ingredients
For the croutons:

4

slices

of day old bread,

cut into 1 inch cubes

1

tbsp

olive oil

1/2

tsp

Italian seasoning

Salt and pepper to taste

For the avocado dressing:

2

small or 1 large SO Organic Avocado

1

clove

small SO Organic garlic

60

ml

(1/4 cup) olive oil

120-140

ml

(1/2 cup) water

1

lime,

juiced

Salt and pepper to taste

For the salad:

70

g

(2.5oz) bag of SO Organic Wild Rocket

160

g

(6oz) bag of SO Organic Young Spinach

225

g

(8oz) pack of SO Organic Baby plum tomatoes,

halved

2

SO Organic Chicken breast fillets

Salt and pepper to season

Drizzle of olive oil

6

slices

SO Organic dry cured unsmoked bacon

Homemade or by Sainsbury's Black pepper and sea salt croutons

Homemade or shop bought Avocado dressing
Instructions
To make the croutons: preheat the oven to 160C. Place the cubes of bread onto a large baking tray and drizzle with olive oil. Toss until the oil coats all of the cubes. Sprinkle with Italian seasoning, salt and pepper and toss again to cover all the cubes.

Place in the oven for 25-30 minutes until golden and crisp. Whilst they're cooking prepare the rest of the dish.

To make the avocado dressing: Slice the avocados in half and scoop out the flesh, discarding the stone and place in a food processor/mini chopper.

Add the clove of garlic, olive oil, lime juice and half of the water, blitz until smooth and creamy. Taste the mix and then season to your liking. Add remaining water 1tbsp at a time until desired consistency is reached, you want to be able to pour the dressing. Transfer to a jar or bottle to serve.

To make the salad: Place a large frying pan on a medium heat. Butterfly the chicken breasts and season with salt and pepper. Drizzle a small amount of olive oil onto both sides of the breasts and place on the griddle pan until cooked through, 5-6 minutes on each side.

Place another large frying pan on a medium heat and cut the bacon into strips. Cook until crisp, 5-6 minutes.

Once cooked, place kitchen roll on a plate and put the chicken and bacon strips on to drain.

On a large serving platter place spinach and rocket and toss the two together to mix.

Layer up the salad with croutons, tomatoes and bacon.

Slice the chicken breasts and place slices over the top of the salad.

Drizzle or spoon avocado dressing over the finished salad.

Serve immediately, avocado dressing will keep in an airtight container in the fridge for 2 days.
Notes
Recipe by Annie of Annie's Noms