I'm saying goodbye to Summer with these peaches and cream cupcakes. A soft, fresh peach cupcake with a burst of jam inside, topped of with a light as air whipped cream frosting make these a truly decadent treat!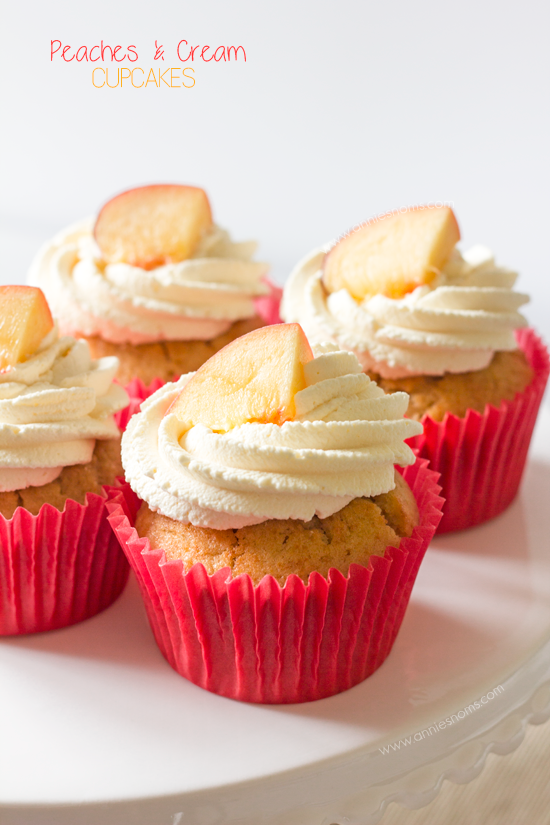 I think it's finally time to wave goodbye to Summer 🙁 I mean, I'm kinda excited that I get to crack open the pumpkin, but I have loved all the fresh berries and daylight!
The day the Pumpkin Spice Latte comes back to Starbucks will be a happy day. I may even dance around the shop.
The weather has been growing steadily worse and it was actually cold enough for a coat this morning! That may have been because I left at 5am, but it's definitely time to revert back to hot coffee.
Anyway, since I'm a baker, I had to send Summer off in style of course… and it's my OH's birthday today so, cupcakes!
By the time you read this, he'll have opened a Talking Minion figure to finish off his collection and hopefully his work colleagues will have found these cupcakes as incredible as we did!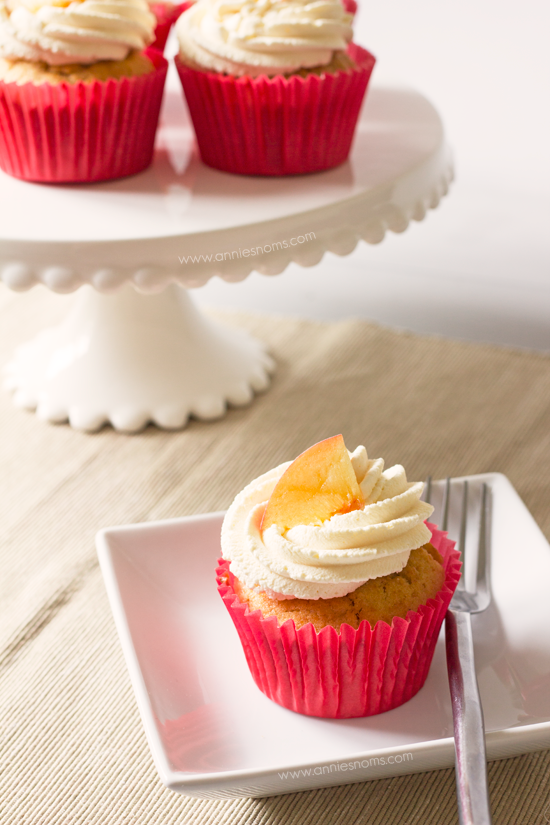 Now, cake.
I've been thinking of making some peach cupcakes for a while, however, I didn't know exactly how I wanted to do them and actually I still ended up changing what I initially made as I didn't think they were "wow" enough!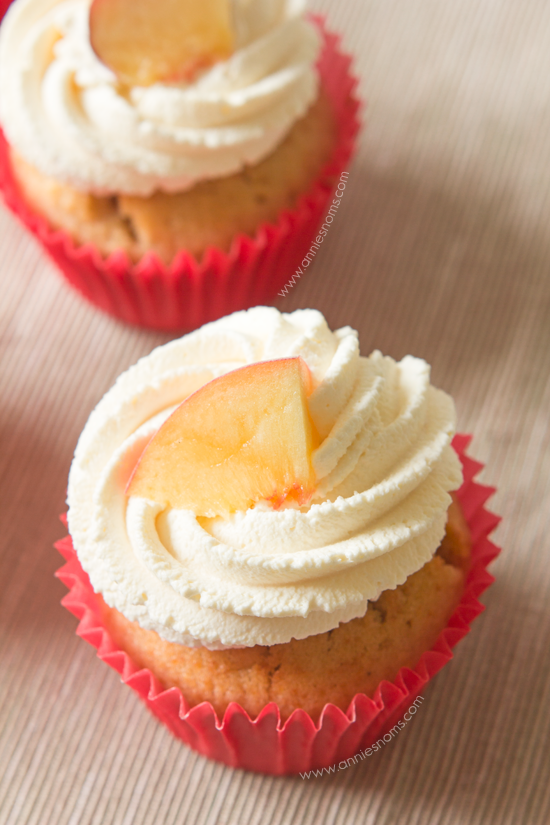 I developed quite a few variations of this recipe before deciding these were the ones. I tried more or less peach, double cream and cream cheese frosting, a vanilla cupcake with a core of peach coulis… the list goes on!!
However, I finally decided on these – a sweet cake with fresh peach puree baked in. Once they were cool I made little holes in the centre and filled them with peach jam, just to give a small burst of flavour.
I used this new piping nozzle I got – it's like a long pointed injector for cupcakes – there was something about injecting peach jam and seeing it ooze out the top which was just so cool!! I'm fairly sure I got mine from Lakeland, but this nozzle is similar.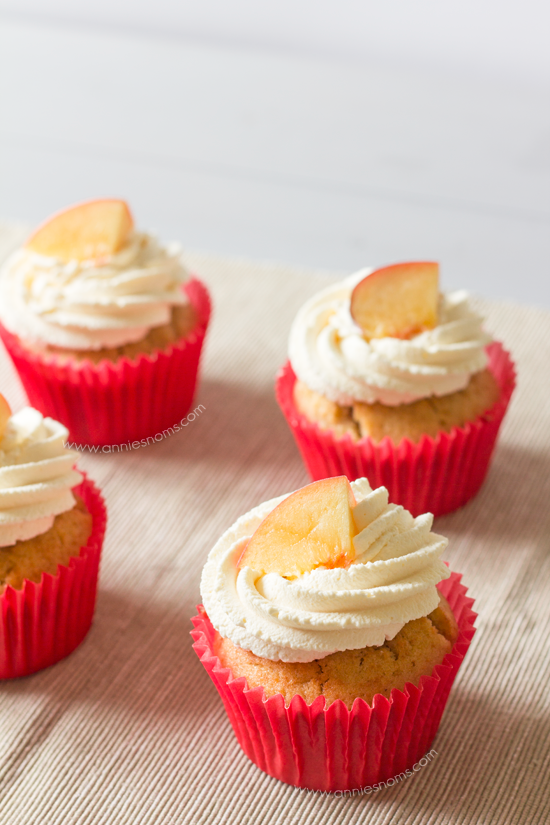 To finish these glorious creations off I whipped some double cream with a touch of vanilla and some icing sugar. I mean, if you'd have left me with the bowl of frosting and a spoon, I don't think there would have been much left – it is heavenly! A bit like soft serve ice cream!
Woah, I just had an image in my head of ice cream sandwiched between two cupcakes. Ohmygod I think I might need to make some. I just know they'll be hideously messy, but sometimes the best things are and you've just got to dive right in with your fingers. Chips for example, sorry no time for a fork, must shovel into mouth right now.
OK, so you just got a glimpse inside the mind of a food blogger, it's like having 10 million tabs open all. the. freaking. time. and I never stay on one line of thought long, hence why I take a notebook everywhere!!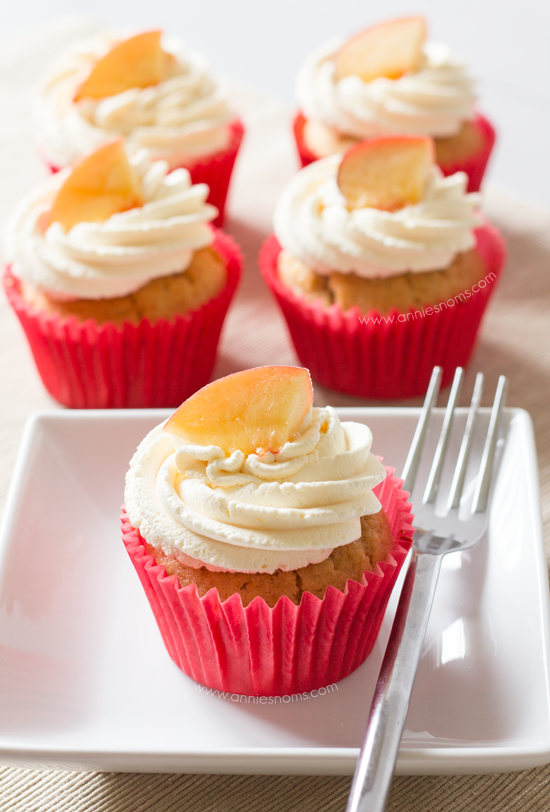 Back to these cupcakes… I took my infamous Perfect Vanilla Cupcake recipe and changed it up a bit.
I reduced the amount of sugar as I knew that my ripe peaches would sweeten the batter up and I didn't want it to be sickly sweet. I also got rid of the milk, the pureed peaches were by far runny enough with the eggs to make a thick and creamy batter and if I'd added any milk it could have resulted in a very loose batter which would have baked up horribly.
Learn from my mistakes – in the past I've used milk and another liquid ingredient and have ended up with a hideous mess! Not even an edible one. I mean most of the time, if it comes out really ugly and there's no saving it for photos, it tastes good, but they just turn out like a soggy sponge.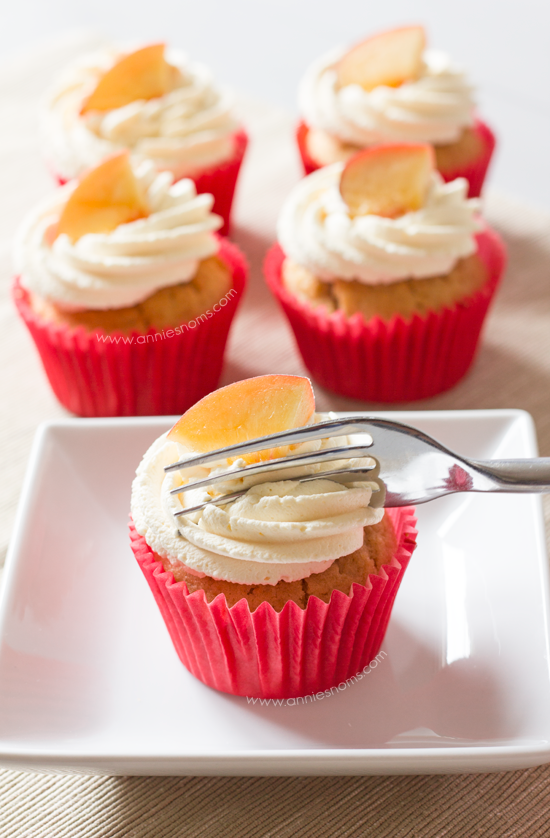 Definitely no soggy sponges here. We're talking light, soft, perfect crumb texture cupcakes. Hence why my Vanilla cupcake recipe became practically the most popular recipe ever on this little site 😀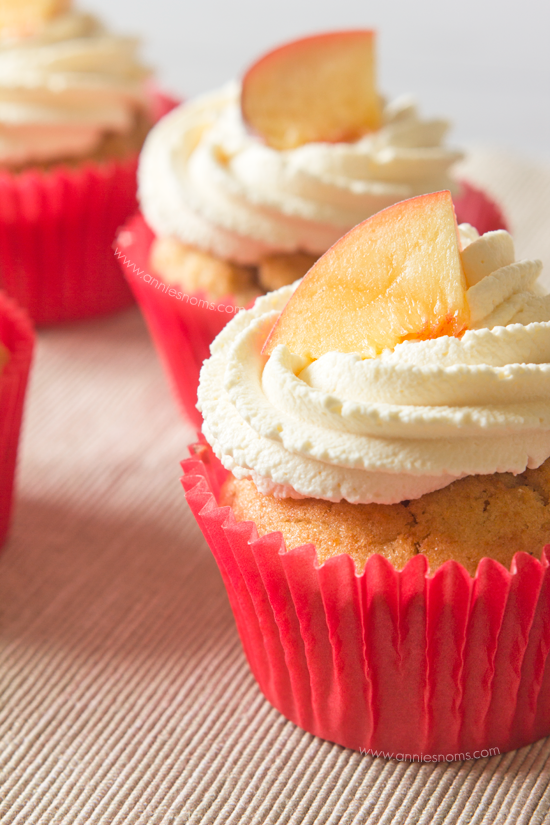 These are definitely cupcakes I want to make again. I tend to find peaches a little hit and miss, as they're such a delicate flavour. However, with a light cake and a creamy frosting it totally works.
And that little burst of jam? The "cherry" on the top 😉 If I'd have taken a normal cupcake plunger to them the jam would have totally overwhelmed any of the peach in the cupcake and we do not want that peeps – these are all about the dainty and delicate!
However, using the injector (totally just felt bad-ass saying I use an injector LOL!) means that you just get a small little hit of flavour in the middle.
So, if you're ready to say hello to all the pumpkin and apple, but want one final Summer flourish, I highly suggest you make these cupcakes. Or maybe if you just like peaches. And cake. 😀
Enjoy 🙂
Enjoyed this post? Sign up to my weekly newsletter to ensure you never miss a post!

Peaches and Cream Cupcakes
A soft, fresh peach cupcake with a burst of jam inside, topped of with a light as air whipped cream frosting make these a truly decadent treat!
Ingredients
For the cupcakes:

1

stick (113g) unsalted butter/marg

1/2

cup

(100g) caster sugar

1/4

cup

(50g) light brown sugar

2

eggs

1/2

tsp

vanilla extract

2

tsp

baking powder

1 1/2

cups

(210g) plain flour

Pinch of salt,

ONLY if you're using unsalted butter

3/4

cup

(180g) fresh peach purée;

this was 3 peaches for me*

1/4

cup

(80g) peach jam/conserve;

it depends how big you make the holes in the cupcakes as to how much you need., May be less than 1/4 cup

For the frosting:

1 1/2

cups

(360ml) double cream

1

tsp

vanilla extract

1/4

cup

(30g) icing sugar

1/2

fresh peach,

cut into 6 slices and then halved for garnish, optional
Instructions
Preheat oven to 180C/350F and line a 12 hole cupcake tray.

Place the butter and sugars into a large bowl or the bowl of your stand mixer and beat until light and fluffy, about 2 minutes on med-high speed.

Add in the eggs and vanilla, scraping sides as necessary and mix on medium until well incorporated, about 1 minute.

Add in the baking powder, flour and salt, if using, and mix on low until well combined.

Add in the peach purée and mix on low until well combined.

Divide the batter between the liners, 3/4 full.

Place in oven for 18-22 mins, until risen, golden and an inserted skewer into the centre comes out clean.

Transfer to wire rack immediately. If you leave them in the tray they can get greasy and the liners will peel away from the cupcakes.

Once cool, using a 1 and 1/2 inch piping nozzle/doughnut filling nozzle or small knife, make a small hole in the centre of each cupcakes, make sure you make the hole almost all the way through the cupcake.

Pipe jam into each hole until level with the top, then make the frosting. Place all frosting ingredients into a large bowl and whisk on medium speed until light and fluffy, you want it just a little firmer than soft peak, so it will hold its shape when you pipe it.

Pipe frosting onto each cupcake and garnish with half a peach slice.

Cupcakes will keep in an airtight container, in the fridge for 2 days.