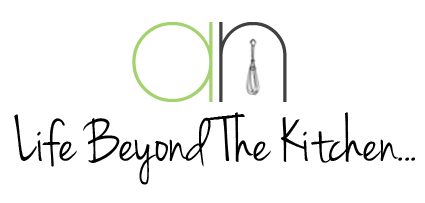 Good afternoon! It's high time for another Life Beyond the Kitchen post! I apologise for being a bit lax the last couple of weeks, but I haven't really been up to much apart from work!
Of course… I did graduate, but that was a few weeks back now and honestly? I've kind of forgotten about it. I wasn't really up for it anyway, I've blanked the whole Uni thing as it was so bad in the last few weeks. It feels bizarre that I was basically in a bubble for the first 5 months of this year and I was wishing my life away, when normally I enjoy each and every day!
The only thing I was looking forward to at graduation was having a catch up with my friends! And I guess it's kind of cool to say I'm actually qualified in something!
There is one picture from graduation that I just HAD to share! It about sums me up and how much of a klutz I am! 😀
It would have been so typical of me to have to walk around with flowers on my bum all day!!!
I was also incredibly lucky to get two extra tickets to the ceremony as the standard was for 2 and I felt awful because I obviously wanted Mum & Dad there, but I wanted my brother and partner there too. I didn't want to choose between family members!
Literally as soon as we could apply for extra tickets I did and thank the Lord I got them, so all 4 of them could sit and watch the ceremony 🙂
Afterwards we rushed straight back to ours to change. I cannot even begin to tell you how nice it was to take all the control underwear off and get in a pair of jeans!!
Once we were all comfortable again we went for a meal – I was so looking forward to it as we'd been to this place before and they had the most amazing tear and share cheesy garlic bread. However, it was painful! It took 3 hours to have a meal.
Now I know you can have a meal for 3 hours, but that would be through choice, talking with food etc. We had to wait over an hour for starters, then between main and dessert was another 40 minute wait. It took more than half an hour to get the bill, the card machine broke, then the guy disappeared for another 25 minutes to get another machine. We were joking he'd actually gone to make the machine and was writing the receipt by hand.
Anyway, we can laugh about it now!
OH and I tried a new face mask over the weekend and it was hilarious! I love a good face peel, there's just something satisfying about peeling it all off… I know I'm weird. Anyway, it was "The black peel off mask" by a company called Avojo. I didn't realise it was a black mask though, so when I opened it I was like :O – once it was on I couldn't stop laughing at myself in the mirror!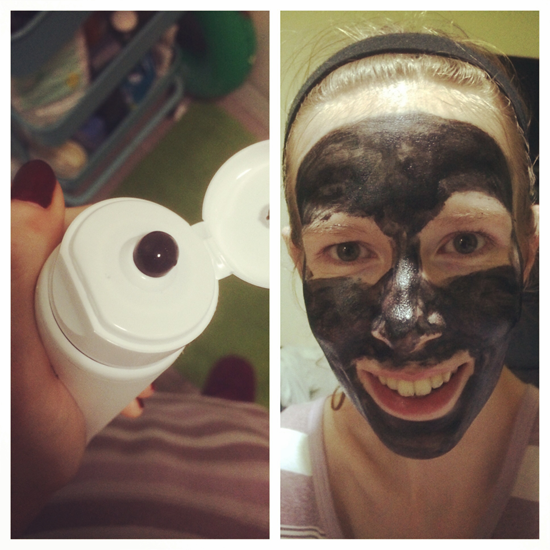 This week I found a wonderful seller on Etsy who makes jewellery with tiny hand made food charms – I wanted to buy everything, look at this freaking awesome bracelet, it's beyond cute!!!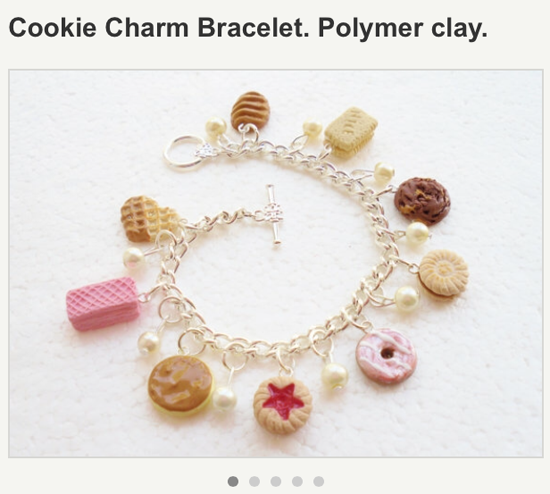 I highly suggest you go check out GiraffesKiss!! I wish I was more arty, but honestly the only creative thing I can do is bake, so I am in awe of this lady's talent, I so wish I could make anything more than a blob with polymer clay!
My darling boyfriend decided to try his hand at coffee decorating. You know when you get a pretty leaf in the top of your coffee?
This was what I got…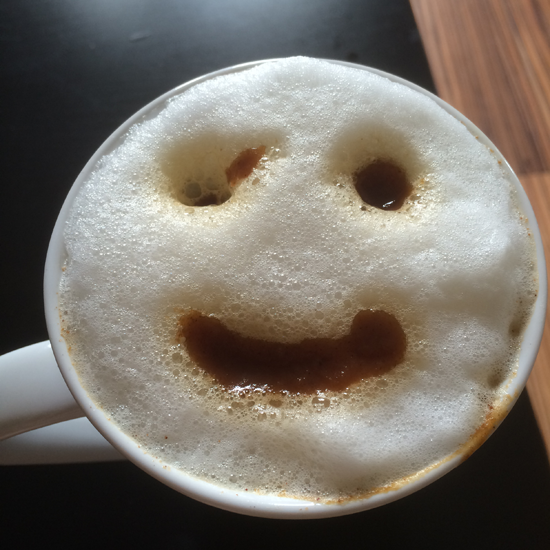 Bless him, it was funny and made me smile, so I guess that's all that matters!!
I also took delivery of this gorgeous book. Swoooooooooon!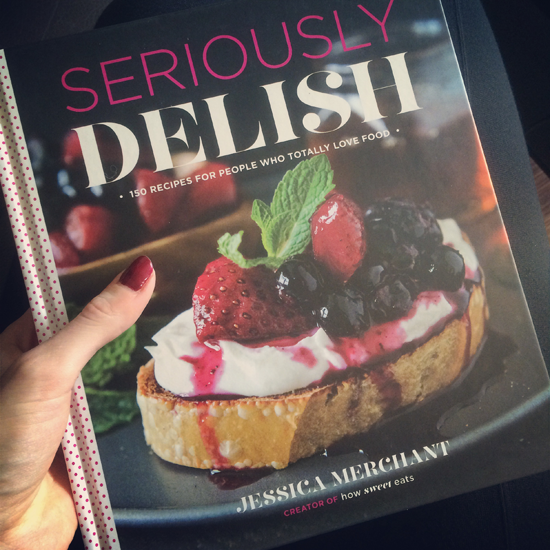 I'm sure you all know Jessica from How Sweet Eats but if you don't then her blog is a MUST read! So is her first cookbook. I was so excited for the postman to come and I wasn't disappointed. The book is totally gorgeous and I want to make alllll the things.
I've never known someone so passionate about food, it's just wonderful. This is the first cookbook that I've ever actually read from cover to cover! I can't wait to get in the kitchen with it 🙂
Poppy had to go to the vets last week for a check up. She's had an inflamed eye for a few weeks, so the vet gave us eye drops… well that was always going to be entertaining.
The first couple of days, I managed to fool her into letting me do it without much fuss. I'd hide the tube of drops, then make a fuss of her before just going for it! Then… she got wise to it. So all the time since, she has flung her head around, stayed still until you're just about to squeeze then moved, run away, hidden her head under her bed, covered her face with her paws… the list is endless.
One morning in particular, I got so close three times before she moved, so it ended up on the floor and on her nose!! Just had to take a photo of her sweet face – even though she was being a pain, she was still cute! 😀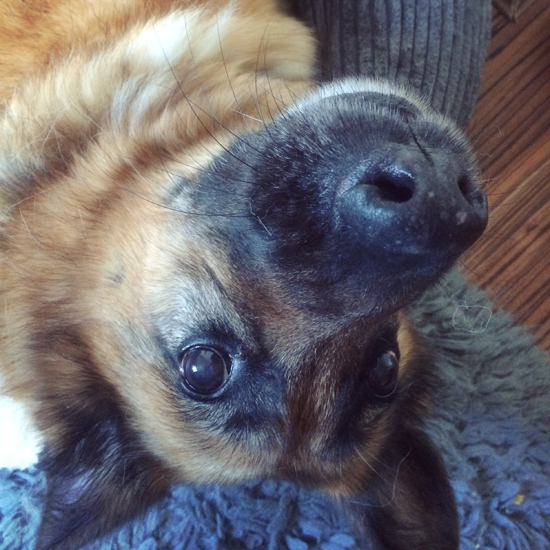 I must say, I'm quite glad we don't have to do it anymore and her eye is all cleared up!!
On a completely different note, I want to thank you all from the bottom of my heart for sticking by me this week, we've had some problems with the site; on Monday it went down, so we decided to switch hosts to someone who had better capacity for all the images/visitors etc that this site has. We did the main move overnight, as I knew there wouldn't be so many people visiting.
However, the site was kind of in limbo all Tuesday and I couldn't even log on! Imagine being locked out of your own site!! It was, in fact, a blessing in disguise as it forced me to have a much needed day off, but it was still super annoying! I thought it was fixed by Tuesday afternoon, but then certain pages were having issues… oh the joy of moving.
Long story short, I'm 99% sure it's all fixed now so hopefully there'll be no more hiccups. As ever, if you find an error please let me know as it's quite hard to double check every single post to check it works properly!
And don't forget you can now sign up for weekly newsletters!
Here's what I've been making this week:
Bacon and Roasted Garlic Guacamole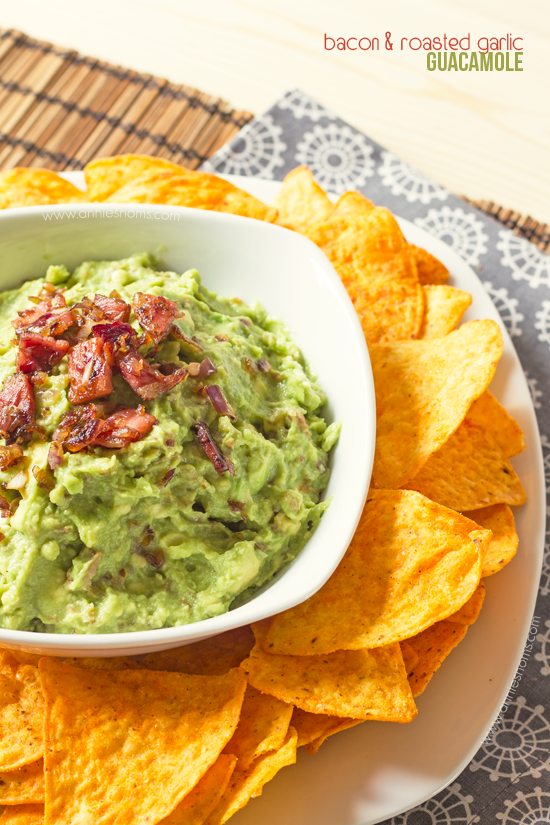 Pumpkin Coffee Syrup {with a homemade Pumpkin Spice Latte!}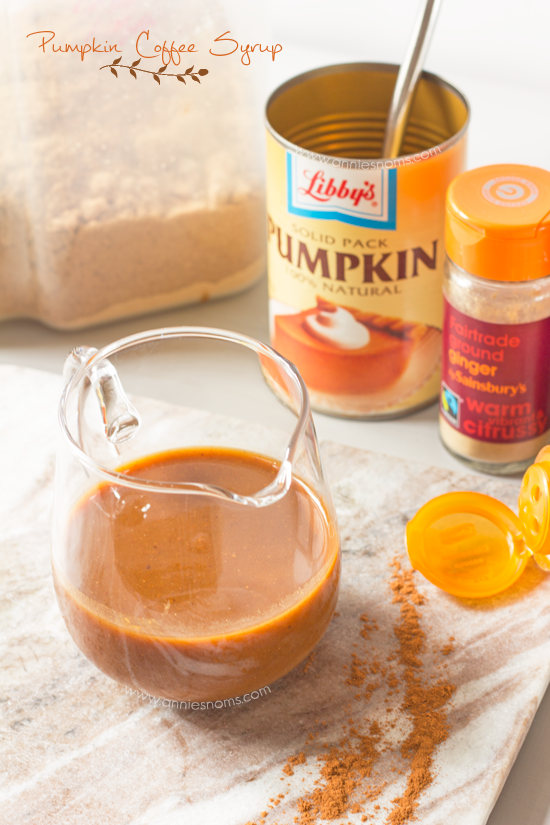 Until next week…