These cinnamon raisin overnight oats are full of flavour and so easy to make, no cooking required! Spicy cinnamon and juicy raisins compliment the earthy oats, made creamy by some natural yoghurt and milk – the perfect way to start your day!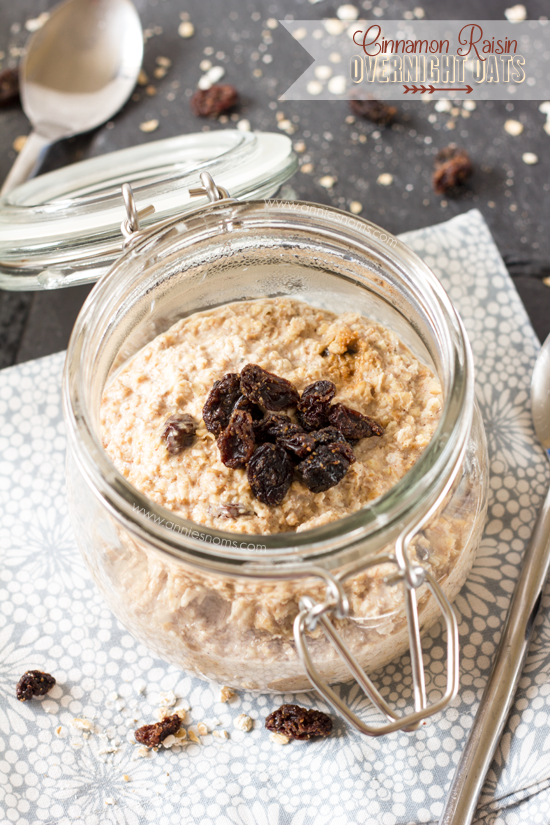 Considering this is a recipe post for oats, I'm going to let you into a secret:
I don't normally like oats.
However, after I made these Cinnamon Raisin Overnight Oats? I'm all over them! Sweet, juicy, spicy and creamy – these have finally started my love affair with oats!
Let me explain. I'm not good with warm breakfasts, unless it's toast. I just can't take something stodgy and warm that early in the morning. Which is so strange because I am like the stodge queen! I can easily eat half a loaf of bread, suet dumplings with just a bit of gravy, pie crusts (I eat the filling and save the crust for last as it's the best) and any number of other stodgy foods.
But porridge? No. And with a sprinkling of sugar? Yuk!
I don't even know why – I've been trying porridge periodically over the years as I really wanted to like it! I know that porridge is meant to be a really good start to the day, balanced, nutritious and good at keeping you full until lunch, but I just couldn't manage it no matter how many times I tried to force myself.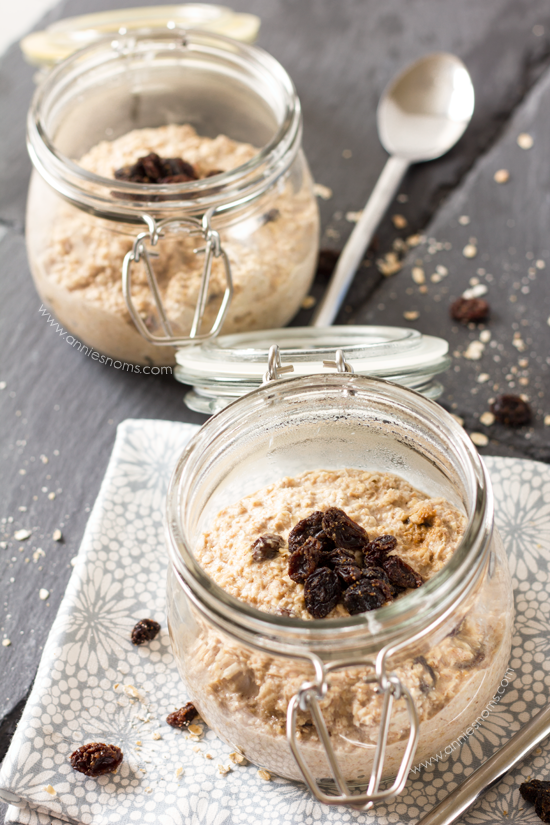 Then I started seeing loads of recipes for overnight oats from fellow bloggers: Pumpkin Chocolate Chip Cookie Overnight Oats, Brownie Batter Overnight Oats and Cinnamon Roll Overnight Oats and I started thinking that maybe if I can make my oats basically like dessert, then maybe I'd like them.
I was so right.
Literally, these are the best oats in the world. Although I'm not sure the whole healthy one serving thing worked because they were so good I ate both servings in one day… Whoops.
I was nice and full though… 😉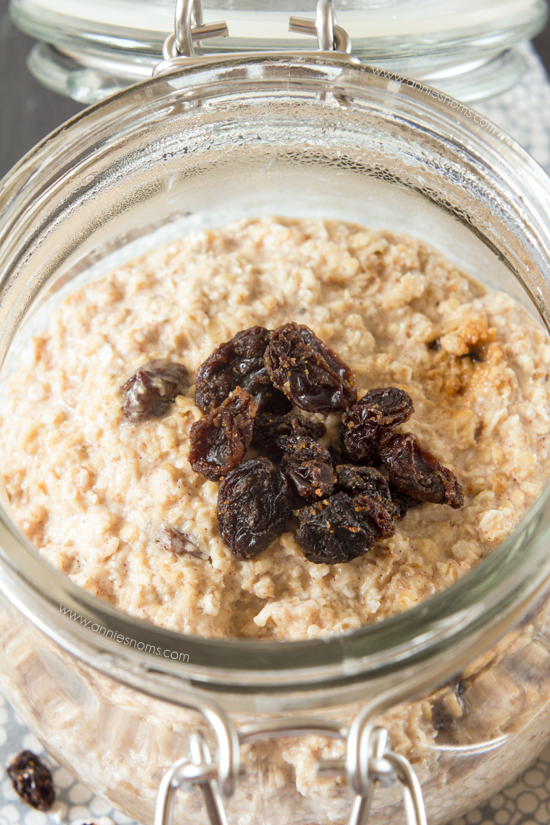 These are like your favourite Oatmeal and raisin cookie with a touch more cinnamon. And we all know how much I love cookies. If I can fool my taste buds into thinking I'm eating cookies for breakfast then I'm all in!
I made them extra creamy by adding in a little low fat natural yoghurt along with skimmed milk. The combination of the two really worked; I think all yoghurt would have made them too heavy and thick, but all milk would have made them too runny – so I definitely found it best to combine the two.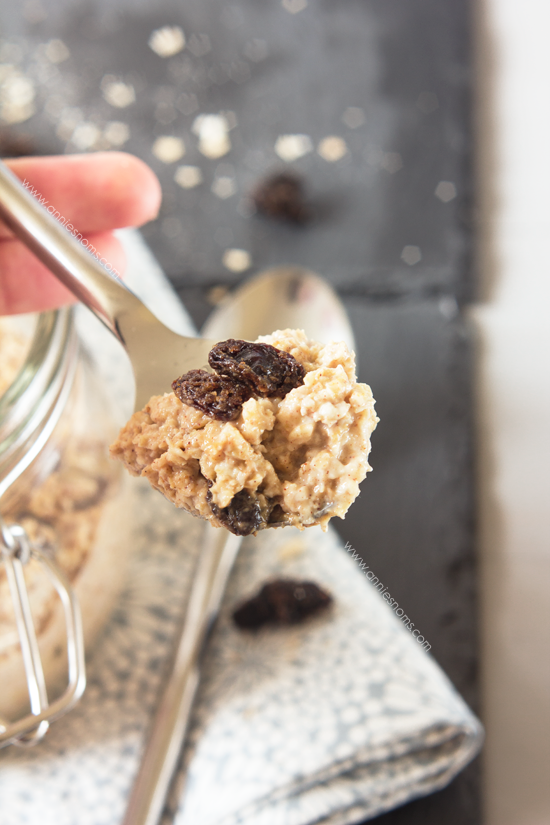 In with the yoghurt and milk, I added 3/4 teaspoon of cinnamon and a heaping 1/3 cup of raisins. When I first jotted down the outlines of the recipe I put down 3/4 cup raisins as most of the time if I read a recipe with chocolate chips, I find that there aren't enough chips for my liking. However, when it came to adding the raisins in 1/3 cup was absolutely perfect. It gives you the perfect balance between oats and raisins.
Now, there was one thing I ummed and erred about before making a decision. Sugar, honey or sweetener? I thought that honey would add a flavour note that I didn't want and it also could taste a little funky with the tang of the yoghurt.
Then I thought that, even though I like sweet things for breakfast, I don't want to start the day coating my teeth in loads of sugar. So, I decided on sweetener. There's only 3 tablespoons in this recipe and, along with the cinnamon and raisins it's the perfect amount, not too sweet and not too bland. 🙂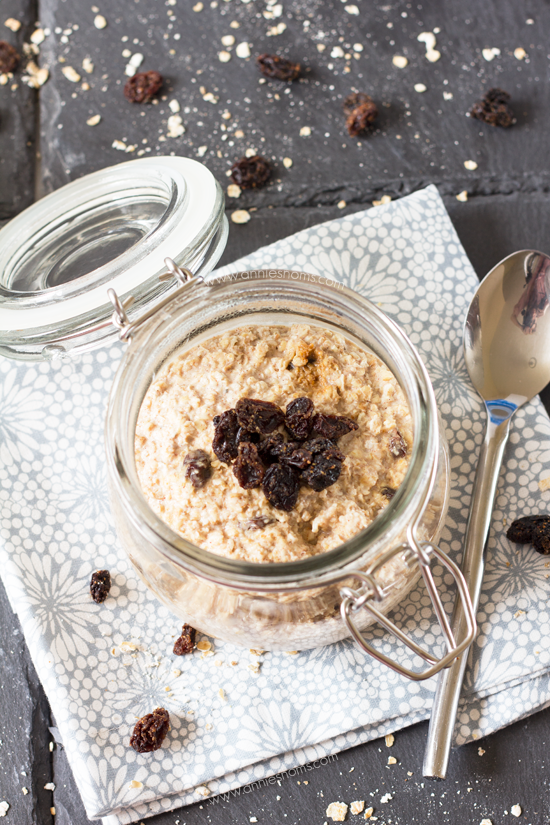 I absolutely love how simple these are to make and the fact they are creamy without having to be cooked. Until I started seeing loads of recipes for them, I'd never thought that by putting oats and milk in the fridge magic would happen overnight!
It's also great knowing that breakfast is already prepared and I can just grab and go when I have another day of running round like a headless chicken ahead of me (i.e. most days).
Now I've made and fallen in love with these oats, I just have to make more variations. I think I'm going to be half human, half oats by the end of the month. 😀
Enjoyed this post? Sign up to my weekly newsletter to ensure you never miss a post!

Cinnamon Raisin Overnight Oats
These cinnamon raisin overnight oats are full of flavour and so easy to make, no cooking required! Juicy raisins compliment the earthy oats, made creamy by some natural yoghurt and milk - the perfect way to start your day!
Ingredients
2

cups

(160g) rolled oats,

not quick cook

3/4

tsp

ground cinnamon

3

tbsp

sweetener,

such as Truvia

1/3

cup

(66g) raisins,

heaping

1/2

cup

(123g) low fat natural yoghurt,

(greek yoghurt would work too)

1

cup

(240ml) milk,

I used skim (almond, soy, rice etc would all work too)
Instructions
Place the oats, cinnamon, sweetener and raisins into a large bowl and stir until combined.

Add in yoghurt and milk and mix until well combined.

Either decant into a jar/container, or cover the bowl with clingfilm before placing in the fridge for at least 3 hours, overnight if possible.

Serve with extra raisins or nuts/seeds, if desired.

Overnight oats will keep in an airtight container, in the fridge, for 2 days.
Notes
Recipe by Annie of Annie's Noms