This is the most divine Brioche pudding you will ever taste! Sweet maple syrup is poured over buttered brioche, white chocolate chips are sprinkled over before the whole pudding is covered in cinnamon custard and baked until golden. The perfect pudding for a crowd, every bite is jam packed with flavour!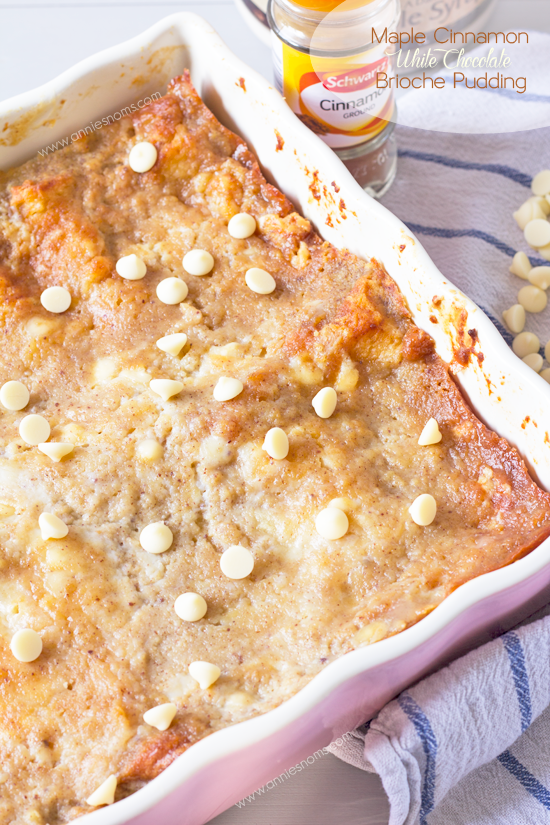 First of all, I have to apologise for these hideous photos. Bread pudding is ugly.
BUT stick with me because this is the best bread pudding EVER!
Maple syrup, cinnamon custard, white chocolate, buttery brioche, all layered up and baked until bubbly and golden. Sometimes ugly is the only way to go 😉
Also, ignore the fact I'm basically showing you the same photo but at different angles… I took about a million photos, sliced up, with cream, in the pan…
The slices on the plate… my God there was no hope.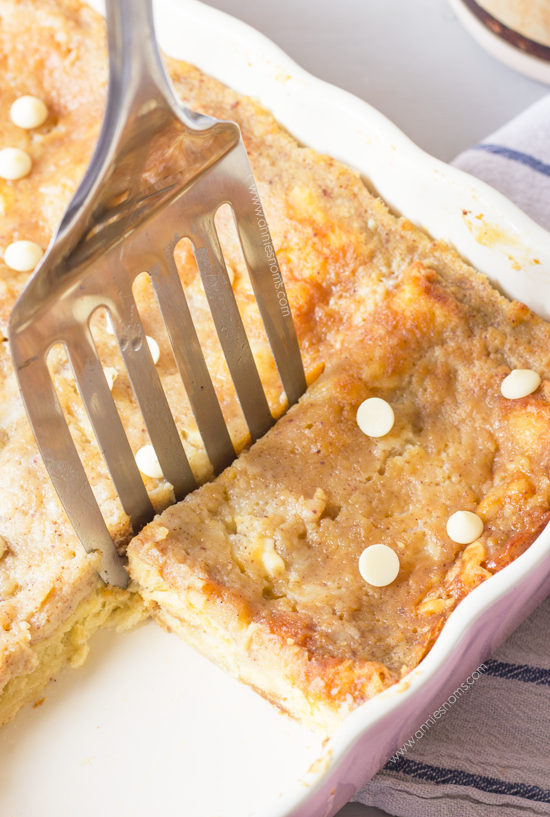 I totally sat staring at the photos for this going "What the HECK am I going to do with them?!" I almost scrapped posting the recipe completely.
But you know what? I'm not perfect – I find food styling hard, food photography doesn't come that naturally to me. As much as I am a perfectionist, I'm trying to be a bit more relaxed as I'm just making myself ill with stress and how much I have to do.
So, I decided to post these anyway because even though the photos don't do it justice, it's a great recipe for brioche pudding and I would hate to not share something which I honestly think is brilliant, just because I don't like the photos!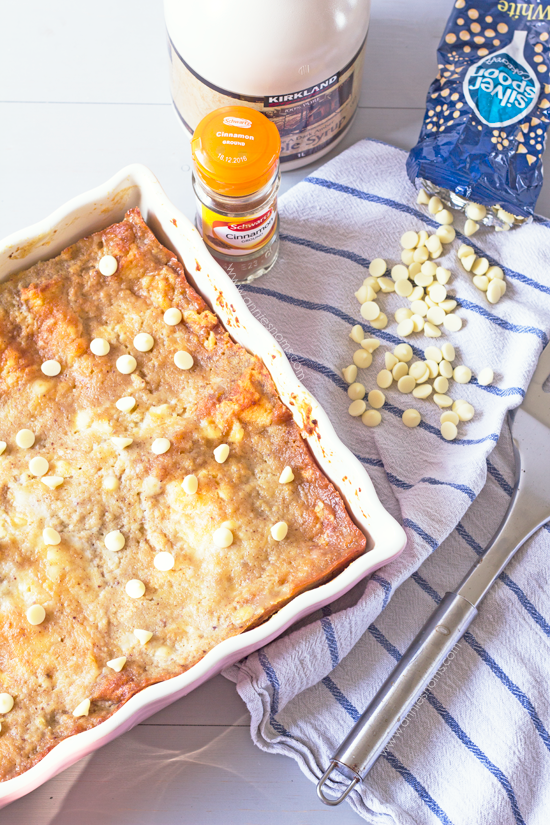 We absolutely loved this, the cinnamon custard was a complete experiment, but it worked so well, it's fluffy and light and when you get that with a hit of maple syrup, it's just like Autumn in a bite.
It's a little off putting when you see the custard cooking as there are brown lumps in it, but keep whisking and it does come together and the brown lumps become pretty little flecks in the custard 😉
Side note: Yours will totally look better than mine because when I took the custard off the heat, I'd obviously had it on slightly too long and it went… a bit thick – yours will fall into all the gaps and coat all the buttery brioche much better than mine 😀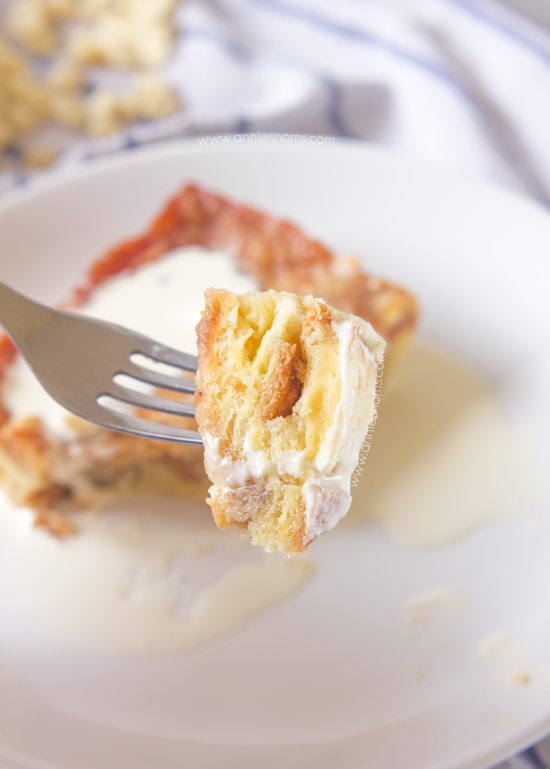 Although there are a few elements to this dessert, it's all pretty simple and once it comes together you just have to bung it in the oven and leave it to work its magic!
To begin with you have to butter both sides of your soft, pillow-y brioche slices and roll them up before placing them in a 9×13 inch pan.
Pour sweet, sticky maple syrup all over and then sprinkle with white chocolate chips. You can pour the custard straight on at this point, but I left the maple syrup to soak in for 10 minutes, in order to get all the flavours throughout the whole pudding.
To finish off pour the smooth, spicy custard all over and spread until all the nooks and crannies are filled… try not to just eat the custard with a spoon like me… it's a miracle any made it on the brioche.
Put that baby in the oven and watch it turn into golden, bubbly perfection.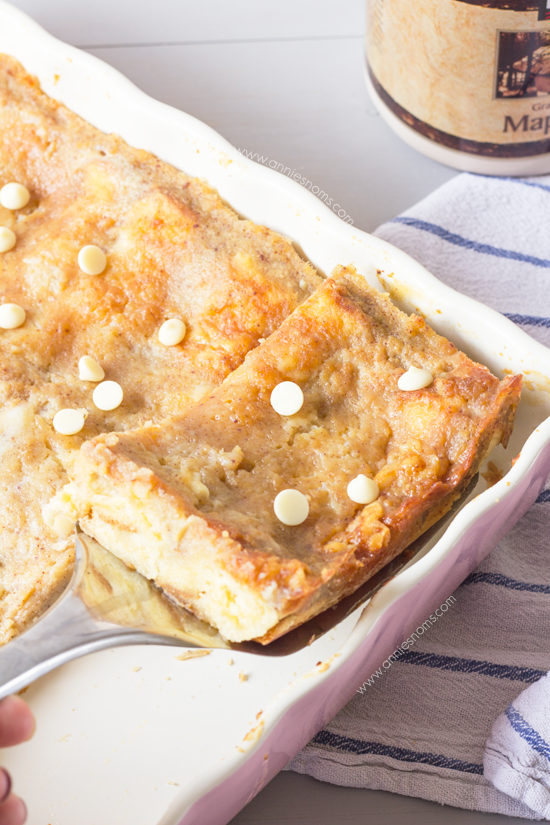 Soft, fluffy, sweet and spicy; there's a complete explosion of flavours in every single bite 😀
I've said it'll serve 10-12, but who am I kidding?! It's so good you'll want enormous slices – in this house I bet it would barely serve 6!!
So, I'm off to bake some cookies which hopefully will photograph well and I'll be back to not-so-embarrassing photos next week!
Enjoyed this post? Sign up to my weekly newsletter to ensure you never miss a post!
Maple Cinnamon White Chocolate Brioche Pudding
This is the most divine Brioche pudding you will ever taste! Sweet maple syrup is poured over buttered brioche, white chocolate chips are sprinkled over before the whole pudding is covered in cinnamon custard and baked until golden.
Ingredients
For the custard:

1

cup

(240ml) milk,

I used skim

1

cup

(240ml) double cream

4

large eggs

1/4

cup

(50g) caster sugar

3/4

tsp

ground cinnamon

1/2

tsp

vanilla extract

For the pudding:

1

loaf Brioche

sliced (mine was 400g)

1

stick (113g) unsalted butter,

at room temperature

1/2

cup

(120ml) maple syrup,

NOT flavouring/essence

3/4

cup

(132g) white chocolate chips,

divided
Instructions
For the custard: place the milk and cream into a medium sized saucepan and place on a low/medium heat. Bring to a simmer, but do NOT boil. Once simmering, remove from the heat and leave to cool for 10 minutes.

Whilst the cream is cooling, butter both sides of your brioche slices and roll each slice up loosely.

Place into a greased 9x13 inch pan, in a level layer. Pour maple syrup over the brioche and sprinkle with 1/2 cup white chocolate chips. Leave to one side for maple syrup to soak into bread.

Place the eggs, sugar, vanilla extract and cinnamon into a large bowl and whisk until smooth.

Very gradually pour your cooled cream and milk into your egg mixture, stirring continuously. (If you add it too quickly you could scramble the eggs)

Once all the milk and cream are incorporated with the eggs, transfer the mix back to the saucepan and return to the heat. Stir continuously until you feel the mixture thickening, 5-8 minutes. DO NOT boil!

Once thickened (it will coat the back of your spoon) remove from heat immediately and continue stirring for 20 seconds.

Pour over the brioche and smooth with the back of a spoon, making sure the custard falls into all the gaps in the bread. Leave to one side whilst you preheat the oven to 160C/325F.

Place in the oven for 35-40 minutes until golden, puffy and the custard is set - it should have a small amount of wobble in the middle. Leave to cool for 15 minutes before sprinkling remaining white chocolate chips over the top.

Leave to cool in the pan completely.

Slice into 10-12 and serve with cream/custard/maple syrup.

Brioche pudding will keep in an airtight container, in the fridge for 3 days.
Notes
Recipe by Annie of Annie's Noms