This is no ordinary chocolate fudge cake, it's a showstopper! A rich, soft cake is perfectly complimented by sweet, glossy peaks of meringue and drizzled with homemade sticky, salted caramel sauce. Chocolatey and with that perfect contrast between sweet and salty, what is there not to love?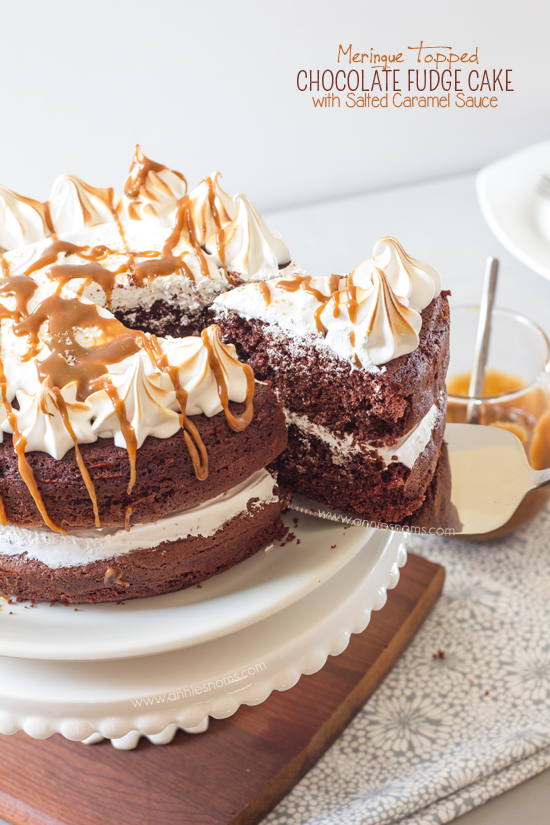 Oh my gosh, did I find out how reliant on electricity I am yesterday!
(We'll get onto this awesome chocolate fudge cake in a minute! Honestly mind-blowing)
I'd just finished cleaning and hoovering the house and had sat down to watch a bit of TV when everything suddenly went off. At first I was like "Oh I wonder what's tripped" – so I checked the board, tried flipping all the RCDs, then trying lights, sockets etc. and then the main switch for the house…
Nada.
Then I started wondering if it was just our house or if the neighbour's had no power either, so I started garden stalking. This is a thing people… I had a little window open and was walking round like stealth waiting to see if anyone mentioned anything.
It's amazing how many people go outside or start walking their dogs when they have no power.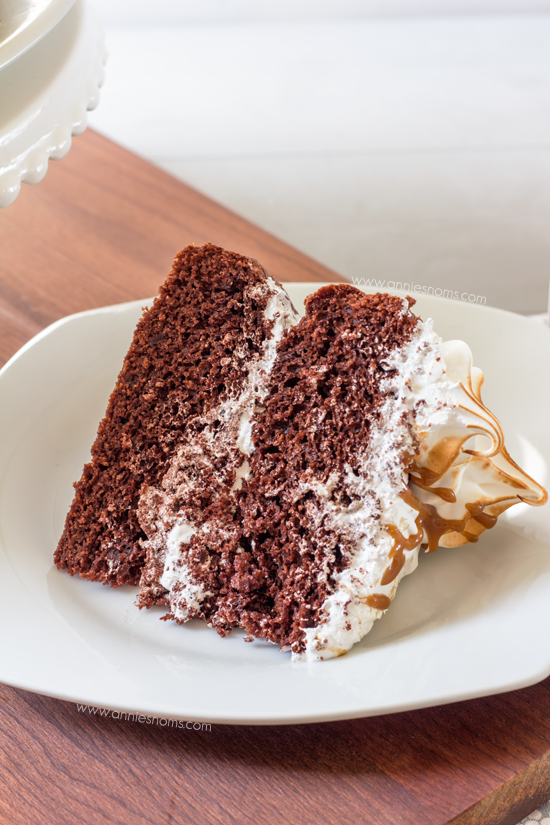 Eventually I heard two of my neighbour's talking over the fence saying they had no power, so I knew I wasn't alone in the dark ages. I managed to get enough 3G signal to tweet UK Power Network and they were absolutely brilliant with getting back to me and trying to troubleshoot.
It transpired that a "3rd party" had severed the power cable for the street – that's pretty final… no switching it back on after 5 minutes.
It had already crossed my mind that it may be the workmen over the road, turns out it was! So then we were told that it would be at least 4pm before we had power. That became 18:30…
What do you do when you can't even get on Twitter on your phone?!?!?!?!
We honestly have the WORST coverage at our house, barely any phone signal or 3G.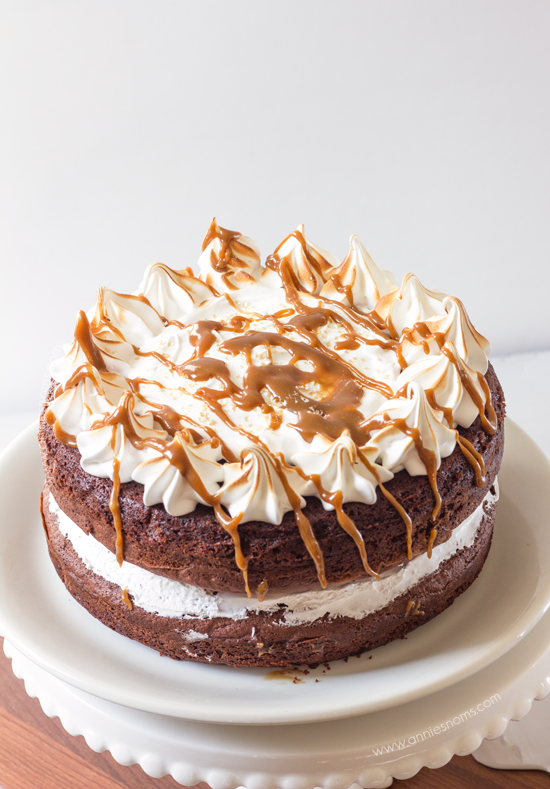 It's a good job I like reading, because that was all I could do. Then I fell asleep and started having dreams about the electricity coming back on…! 😀
When it got dark, it was a whole other ball game. It looked like I was about to hold a seance with all the candles. And cooking by candle light is not cool.
When it finally came back on, I had almost forgotten what it was like to be able to turn a light on. So, yea things on the social media front were quiet yesterday, which I have to apologise for!
Thank the Lord it's all fixed for today, because this cake is just mind-blowing and you definitely need it in your life!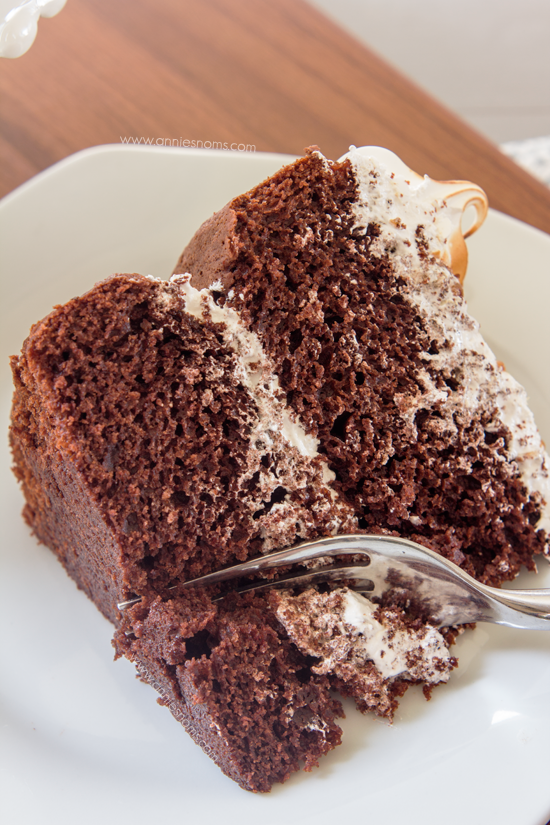 It was my Mum's birthday last Friday and we were meant to be going over on Sunday, so I decided I wanted to make a chocolate cake which was quite frankly, a bit over the top! Unfortunately Mum was ill, so we didn't go over, but we're going this weekend instead, so I'll make this cake again!
It did mean OH could take the cake to work and let me tell you, it went down a storm!! I got a plate of crumbs back… Which is always nice as a baker! They all think I should go on the Great British Bake Off next year… I'm not convinced. I hate having people watching me, I go bright red and blotchy.
And I don't like being told what to do…
I developed my new favourite chocolate fudge cake – I used sour cream and a mix of cocoa and melted chocolate, because if you just substitute some flour for cocoa powder you can end up with a dry ol' cake!
I also decided to use oil instead of any butter as I feel with chocolate cakes, you really want them as moist as possible, nobody wants to choke on cake crumbs!
This is such a simple chocolate cake recipe, it's almost impossible to mess up, which is obviously brilliant because nobody has time to make 5 cakes because they're all like rocks. 😉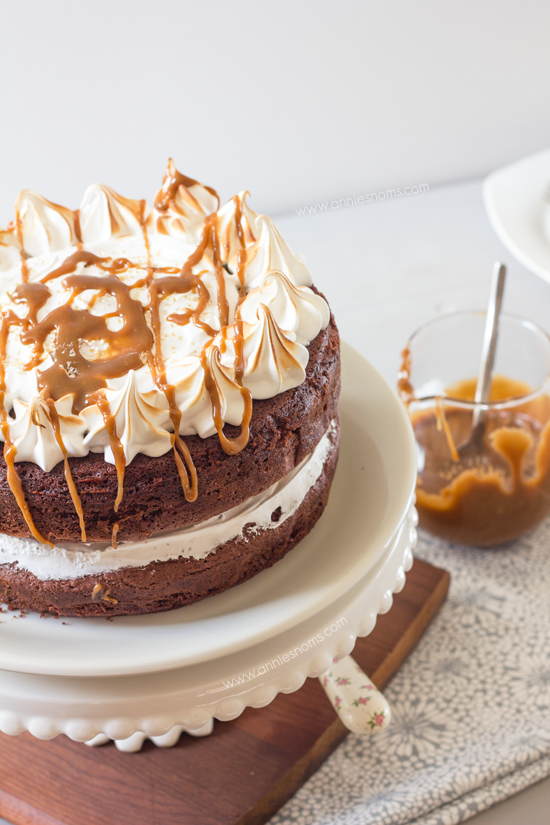 I was debating what kind of frosting to make, but then I thought that peaks of meringue, lightly browned with a cooks' blow torch would look so cool and perfectly compliment the rich cake! There's just the slightest crunch when you bite into the top layer of meringue and then it completely melts in your mouth, just heavenly!
It takes a while to make the meringue frosting, but with a stand mixer it's an absolute breeze as you just have to stand and watch! It's a little more arduous with a hand mixer, but still so much easier than doing it by hand.
You have to beat the egg whites with sugar and a little water in a large heatproof bowl over a saucepan of simmering water until the sugar dissolves, then once you've removed it from the heat, you have to continue beating the mixture until the bowl feels cool to the touch and you have gloriously thick and glossy meringue 🙂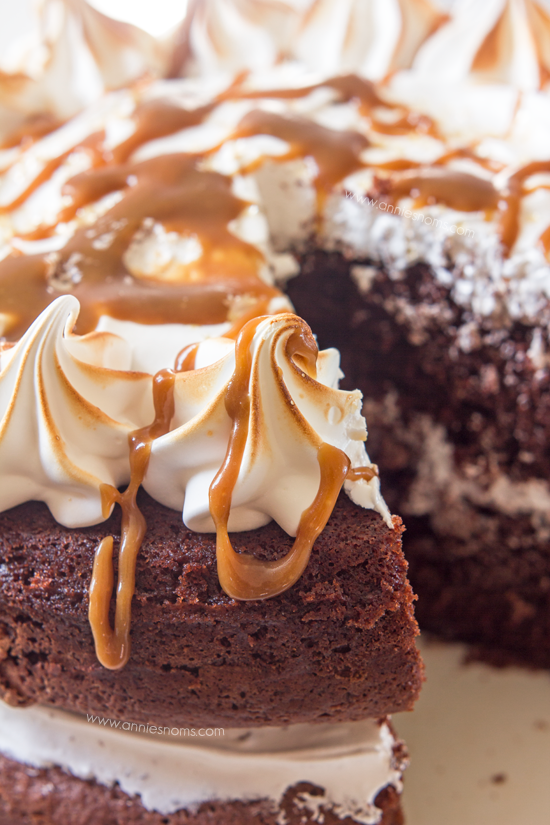 Of course, you don't have to pipe the meringue, it would look equally amazing if you smoothed the meringue over and then just used the spatula to create a few rough peaks 🙂
For the salted caramel sauce, I used a recipe from Created by Diane. Totally embarrassing, but true; this is the first time I've ever made caramel! But now I've seen that I don't blow the house up, I'm keen to make more!
All in all this cake marries chocolate with caramel and meringue perfectly; honestly one of the best combinations I've ever had in my life. The salted caramel adds an extra hit of flavour and that salty contrast that everyone loves! The meringue is like marshmallows, just melting as soon as it hits your tongue.
Don't be scared by the seemingly long list of ingredients and steps, this really is pretty simple to make and it doesn't have to look perfect! I purposely left the edges plain – a "naked" cake if you will, it's meant to look homemade, that's what makes it look so inviting! I try not to create recipes that no one can replicate in their own kitchens, what's the point!?
I want to show you that everyone can make things that will blow you away with flavours and textures, but not take hours to make – this cake took around 2 hours to make, (total time is longer as you have to wait for the cakes to cool completely) which really isn't long in the scheme of things. The Lego cake I made for my brother back in March took 15 hours!
Also, pretty much every ingredient is something that you'd have in the kitchen already; for me the sour cream and double cream were the only things I had to buy specially!
So, dust off your cake tins, de-grease your bowls and make this cake, everyone will fall in love with it!! 😀
Enjoyed this post? Sign up to my weekly newsletter to ensure you never miss a post!
Meringue Topped Chocolate Fudge Cake with Salted Caramel Sauce
A rich, soft cake is perfectly complimented by sweet, glossy peaks of meringue and drizzled with homemade sticky, salted caramel sauce.
Ingredients
For the cake:

1/4

cup

(50ml) vegetable/sunflower oil

2

large eggs

1

tsp

vanilla extract

3/4

cup

(150g) caster sugar

3/4

cup

(150g) light brown sugar

1 3/4

cups

(245g) plain flour

1/4

cup

(25g) cocoa powder,

sifted

1

tsp

baking powder

1/2

tsp

bicarbonate of soda

Pinch salt

3

oz

(85g) dark chocolate,

melted and slightly cooled

1

cup

(240g) sour cream

Homemade or shop bought salted caramel sauce

For the meringue:

3

large egg whites

1

cup

(200g) caster sugar

3

tbsp

water

Pinch cream of tartar
Instructions
Preheat the oven to 180C/350F and grease and line two round 8 inch cake tins.

Place the oil, eggs, vanilla and sugars into a large bowl or the bowl of your stand mixer and beat until smooth and well combined, 1 minute on med-high speed.

Add in the flour, cocoa powder, baking powder, bicarb and salt and mix until just combined.

Add in the melted chocolate and mix on low until well combined.

Add in the sour cream and mix on low-medium for 30 seconds-1 minute until well incorporated and smooth.

Divide the cake batter between the two cake tins and level with a spatula/wooden spoon.

Place in the oven for 30-35 minutes, until risen and an inserted skewer into the centre, comes out clean.*

Leave the cakes to cool in the tins for at least 30 minutes before transferring to a wire rack to cool completely.

Once cool, make the meringue - wipe all bowls, whisks, beaters etc. with a kitchen towel dampened with lemon juice to get rid of any grease. Make sure you use either glass or metal bowls as plastic can affect how big your egg whites get.

Place around 4 cups of water in a large saucepan and place on a medium heat. Bring to a boil and then turn down to simmer.

Place the egg whites, sugar and water into a large heatproof bowl and, using a hand mixer, mix until combined, 10-15 seconds.

Place the heat proof bowl onto the saucepan (make sure the water does not touch the bottom of the bowl) and beat with a hand mixer on med-high speed until the mixture has reached 70C/160F and all the sugar has dissolved, around 10 minutes. The mixture will be past the transparent cloud stage and will be a solid white, but still a little runny.

Once the mix has reached the correct temperature, take off the heat and change to a whisk attachment. Add in a pinch of cream of tartar. Whisk until the bowl is cool to the touch, 15-20 minutes. You want stiff peak - when you remove the whisk the peak will be upright and won't droop over.

To assemble the cake: Level the tops of the cakes with a serrated knife/cake leveler.

Place one cake top side up on a plate/cake board and place just under 1/2 of the meringue onto the cake.

Smooth with an angled spatula, then take the second cake and place it bottom side up.

With the remaining meringue, either spread or pipe it onto the top of the cake. I used a large star nozzle to pipe around the edges and then used a small spatula to spread the meringue in the middle.

Drizzle the cake with the homemade/store bought salted caramel sauce, reserving some for when you serve the cake.

If you have a cook's blow torch, lightly "toast" the meringue on top of the cake, if desired.

Cake will keep covered, in the fridge, for 3 days - take the cake out of the fridge 45 minutes before serving.
Notes
*Chocolate cakes can go from moist to dry incredibly quickly, so if you insert a skewer and there are very few crumbs on it, the cake is done! Recipe by Annie of Annie's Noms