Say goodbye to cakey pumpkin cookies with these Pumpkin Triple Chocolate Chip Cookies! Soft, chewy, lightly spiced and with white, milk AND dark chocolate; these are the only pumpkin cookie recipe you need!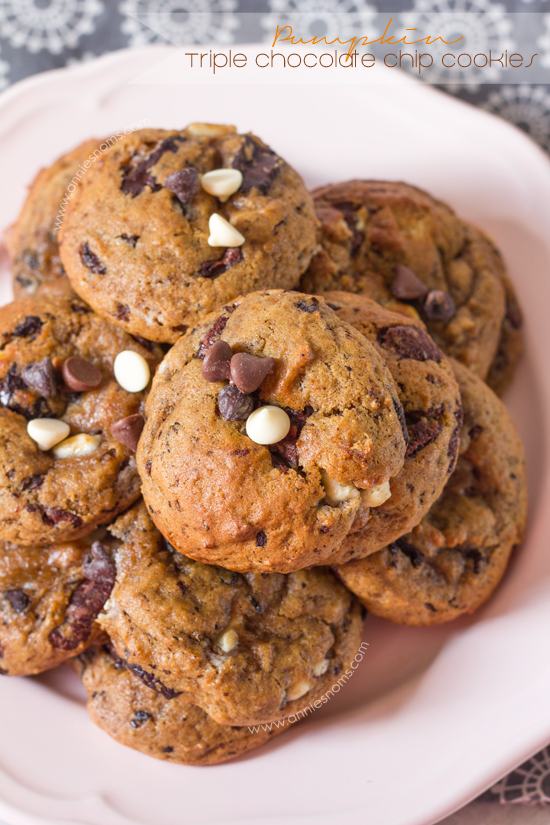 Don't you just hate cakey cookies when you're expecting a chewy, soft cookie?
Me too, so today I bring you my version of the perfect pumpkin triple chocolate chip cookie.
Definitely NOT cakey! 🙂
I mean, there's a time and a place for cakey cookies… if that's what I'm expecting then it's fine, but ordinarily I like my cookies soft and chewy!
Which is why last year, I spent ages developing the Perfect Chocolate Chip Cookie recipe!
I use cornflour to keep them soft and mix plain flour with a little bread flour to ensure a chewy cookie.
Honestly, cornflour and bread flour in cookies was a complete revelation to me – I just knew that I'd created my favourite cookie dough ever when I used the 3 types of flour! And I've never gone back – every cookie dough I make has 3 types of flour in!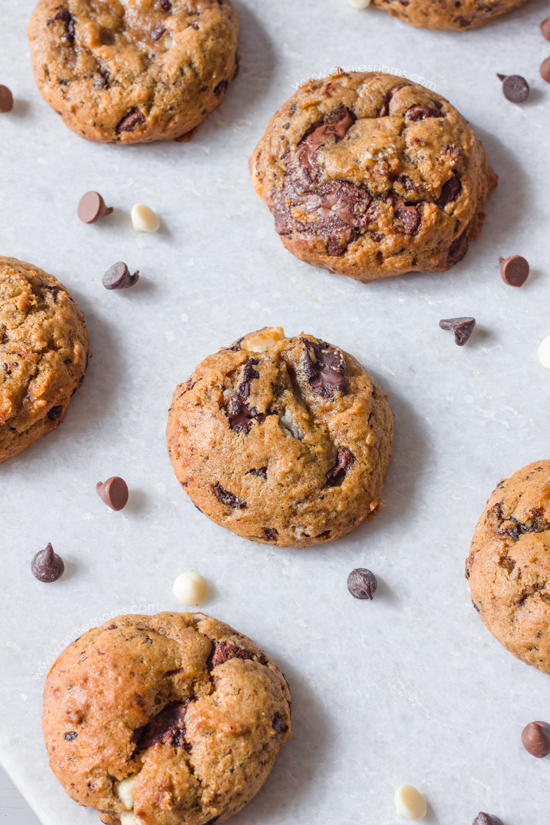 For these cookies, I took out a little butter since the pumpkin adds plenty of moisture.
I also reduced the amount of eggs and flour. We all know pumpkin has a tendency to make things cakey!
I used a ratio of 1/2 the amount of bread flour to plain flour for the winning cookies, and it was perfect. They are absolute chewy perfection! 🙂
Spice wise, there's cinnamon, ginger, cloves and nutmeg with just 1/2 teaspoon of vanilla extract, so you don't get a cookie with an overpowering vanilla flavour.
AND as is normal with my cookies: you get chocolate in every single bite! Who the heck wants a cookie where you get 2 chips?!
Let's talk about that chocolate – use good quality chocolate – it really makes all the difference – taste and texture wise. I use nothing but Green and Blacks in baking as it's smooth and melts really well without burning. It also holds its shape well!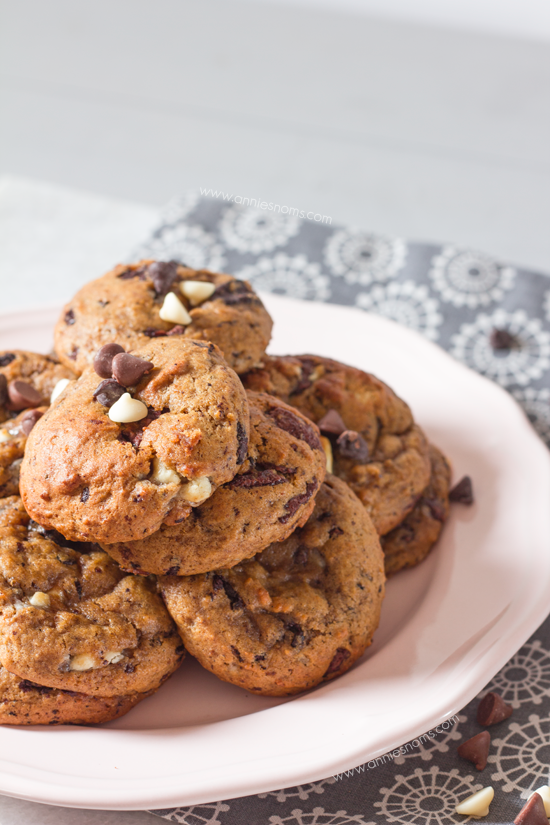 Do you know what? These cookies have been more than a year in the making! I tried to make them 3 times last Autumn and none of them were perfect. I mean, they weren't terrible, but they weren't right.
So when I turned my attention to holiday baking, I promised myself "next year I will get these right!"
It's moments like these when I actually think about the past year and how my knowledge has grown. I don't know about you, but I feel like I'm learning every day, it can be in so many different ways: photography, food styling, baking, recipe developing, blogging, computers, design…. I am like a sponge and I just love absorbing new information!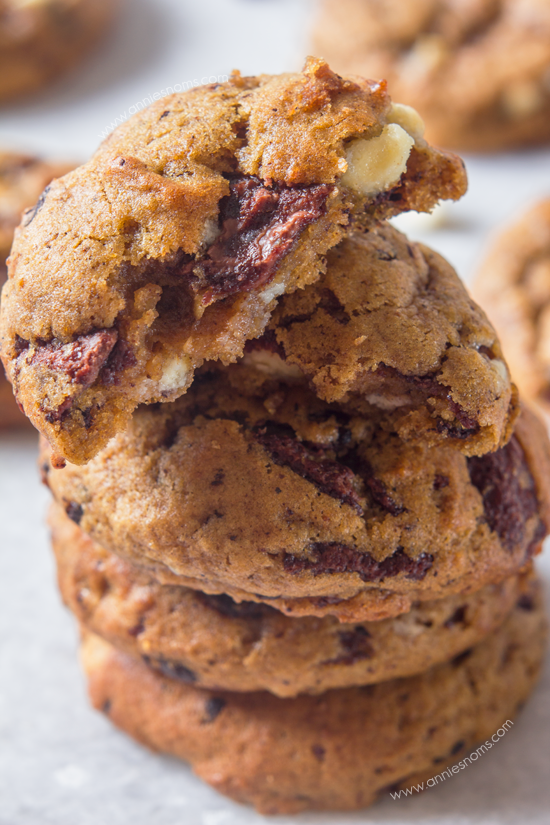 I feel like every day I become a slightly better baker. Each and every time I bake, be it successful or a complete disaster, I learn something new and I love that! I'm so glad I waited and tried these again, they were soooooooo worth it! 😀
Just look at all that oozy chocolate… swoon!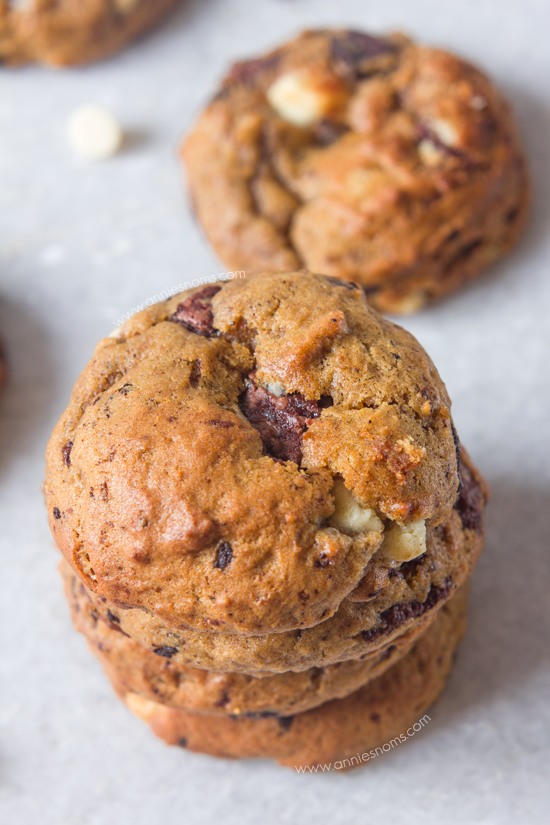 I can't even begin to tell you how in love with these cookies I am. They have to be some of my favourites ever and I am a complete cookie addict!!
Seriously, go make these cookies and fall in love with soft, chewy, chocolatey, spicy, pumpkin cookies!
Enjoyed this post? Sign up to my weekly newsletter to ensure you never miss a post!
Pumpkin Triple Chocolate Chip Cookies
Say goodbye to cakey pumpkin cookies with these Pumpkin Triple Chocolate Chip Cookies! These are the only pumpkin cookies you need in your life!
Ingredients
1

cup

(140g) plain flour

1/2

cup

(70g) bread flour

1

tbsp

cornflour

1

tsp

ground cinnamon

1/2

tsp

ground ginger

1/4

tsp

ground cloves

1/4

tsp

ground nutmeg

Pinch salt

1

tsp

bicarbonate of soda

1/2

tsp

baking powder

1/4

cup

(45g) dark chocolate chips

1/2

cup

(90g) milk chocolate chips

1/2

cup

(90g) white chocolate chips

3/4

stick (85g) unsalted butter,

at room temperature

3/4

cup

(150g) light brown sugar

1/4

cup

(50g) caster sugar

1

large egg

1/2

tsp

vanilla extract

3/4

cup

(180g) pumpkin purée,

NOT pumpkin pie filling
Instructions
No need to preheat the oven yet, this dough needs to chill.

Place the flours, spices, salt, bicarb and baking powder into a large bowl and stir briefly until combined. Add in the chocolate chips and toss until they're coated with flour. Leave to one side.

Place the butter and sugars into a large bowl, or the bowl of your stand mixer and beat until light and smooth, about 2 mins on med-high speed.*

Add in the egg and vanilla extract and mix until well combined, scraping sides as necessary.

Add in the pumpkin and mix until well combined, mixture may look a bit split, this is fine.

Add in the flour and chocolate mix and mix on low until a dough forms, about 30 seconds.

Tip the dough into a medium sized bowl and cover with cling film. Place in the fridge for at least 6 hours, overnight if possible.

Once chilled, preheat the oven to 180C/350F and line 2-3 baking trays.

Using a 1.5tbsp cookie scoop place dough balls 2 inches apart and press each ball ever so slightly, so they don't roll off.

Place in the oven for 9-11 minutes, until risen, puffy, slightly golden around the edges, but still soft in the middle.

Leave to cool on the pans for at least 30 mins before transferring to a wire rack to cool completely.

Cookies will keep in an airtight container, at room temperature, for 5 days.
Notes
*Due to the ratio of butter to sugars, this will not go fluffy as is normal in cookie baking, it will be quite thick, but smooth! Recipe by Annie of Annie's Noms