These Honey Spice Streusel Muffins are just perfect for your breakfast! Soft, sweet and spicy with the added crunch of a streusel topping. Yoghurt makes these muffins tender and soft, whilst the honey sweetens and adds a tang which is perfectly complimented by the spices; an Autumnal taste sensation!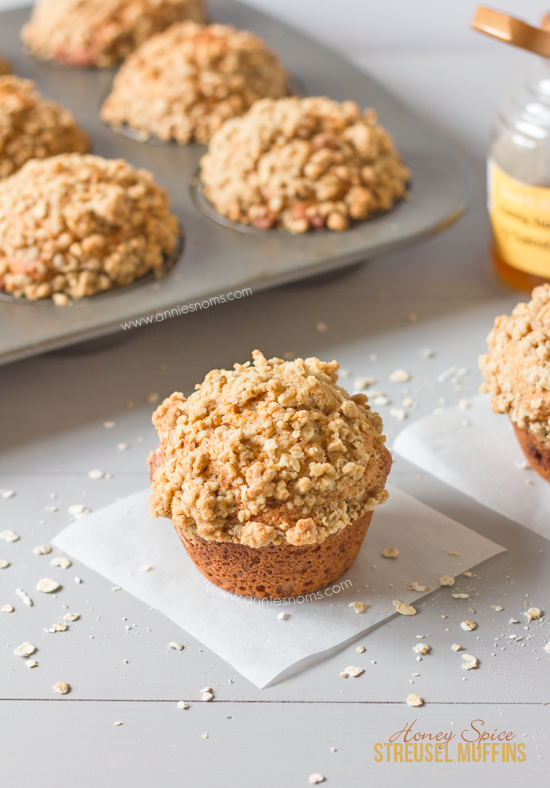 Muffins for breakfast anyone?
I thought so, which is why I made you these, soft, tender, spicy and sweet muffins.
They are out of this world tasty!
And the streusel topping? Totally ramps these up from normal muffins to amazing muffins. The crunch is the perfect contrast to the soft muffin.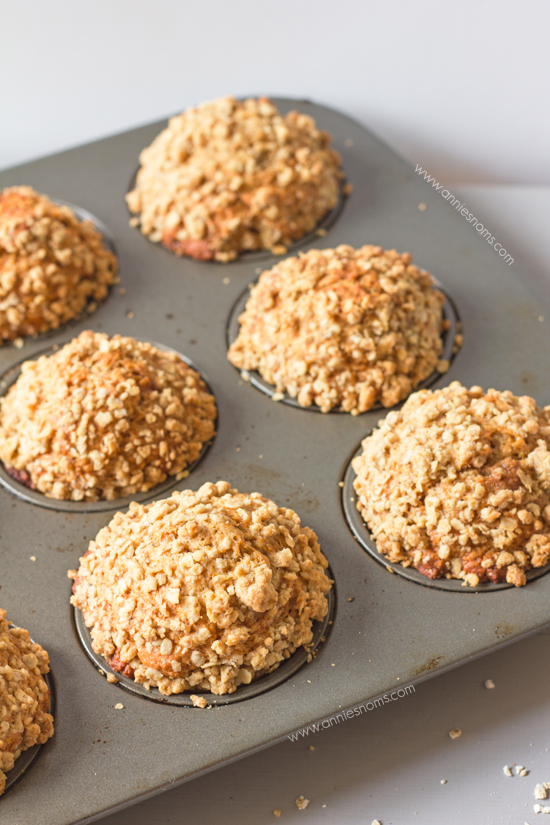 But first, I need a rant.
We went food shopping last week (2nd October) and do you know what?
As we walked in we were confronted by two huge aisles full of Christmas stuff. Are you kidding me?! It's October!
I love Christmas as much as the next person, but I want to walk into the shops right now and see Halloween stuff. Our supermarket had one crate of pumpkins by the door and 4 Halloween shaped cake molds.
But, you could buy all kinds of reindeer candle holders…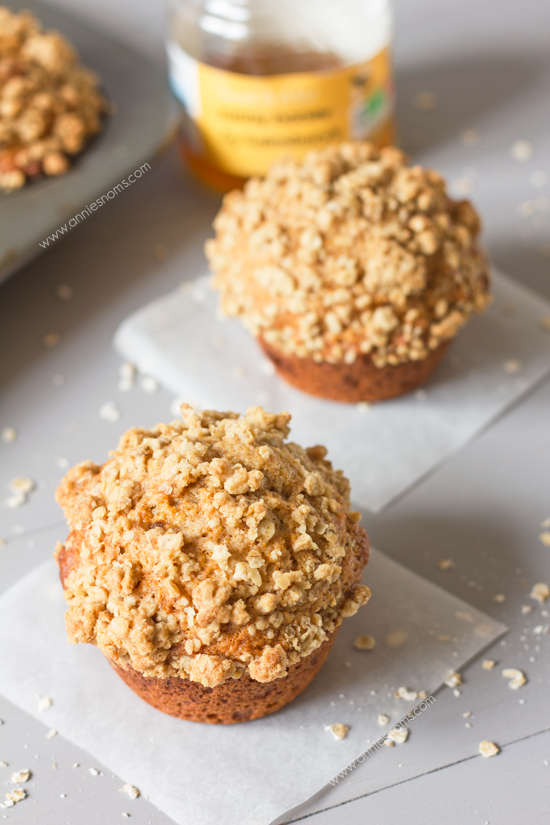 I know we have to plan and some people like picking up the odd biscuit box with their weekly shopping to spread the cost, but it's just a bit too much, too soon.
It's only just officially Autumn and my head is well and truly into pumpkin, apples, Halloween sweets, Autumnal sprinkles and spiced punch.
I almost feel like I need to apologise for these muffins and the Halloween bark I'm sharing on Thursday. If the shops had their way, I'd be making mince pies.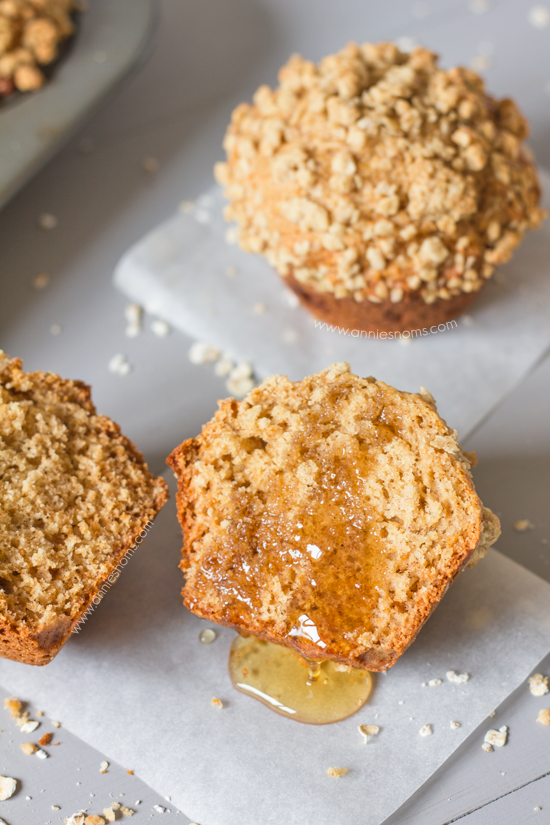 But then I realised, there should be no apologies for muffins this good! 😀
And the bark I made? It's so fun!
You know, I like to keep it balanced here – muffins for the grown ups, melted chocolate you can throw sweets at for the kids… although I won't tell when you end up having as much fun as the kids making it 😉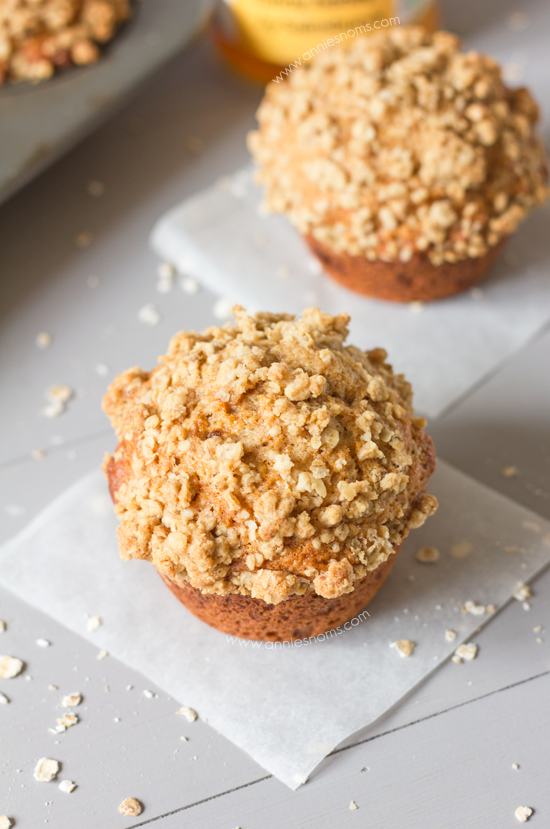 OK, rant over. Back to muffins…
I used yoghurt for the first time in these and I'll definitely be doing it again, it makes them tender and adds moisture. Also it kinda makes me feel like they're healthy 🙂
I've heard before how yoghurt can make things a bit dense. I guess if you added too much then you would end up with a big clump of doughy muffin, but along with the honey, eggs and butter, it works really well with these particular muffins – no dense crumb in sight!
I tweaked my base muffin recipe and omitted the buttermilk and oil, switching in yoghurt and honey.
I did keep the stick of melted butter in though as I really think it adds an extra something. Without it I fear they'd have been too dry. However, because they're predominantly for breakfast, I didn't want them to be loaded with fat which could make you feel pretty heavy and bleuuuurgh before your day is even underway, so the honey and yoghurt lightens things up a bit.
Sugar wise, there's 1/2 a cup – that's all you need with the honey and they are plenty sweet enough. My spices were cinnamon, cloves and ginger and I kept the amounts quite small as I find honey is a very delicate flavour and it would be easy for it to be completely overwhelmed by the spices!
Warmed and with a little butter and honey, they are the perfect breakfast for a crisp, Autumn morning!
Enjoyed this post? Sign up to my weekly newsletter to ensure you never miss a post!
Honey Spice Streusel Muffins
These Honey Spice Streusel Muffins are just perfect for your breakfast! Soft, sweet and spicy with the added crunch of a streusel topping.
Ingredients
For the streusel topping:

1/2

stick (56g) unsalted butter,

left at room temp for 10 minutes

1

cup

(80g) rolled oats,

not quick cook

1/4

cup

(35g) plain flour

3

tbsp

light brown sugar

For the muffins:

1

stick (113g) unsalted butter,

melted and slightly cooled

1/3

cup

(115g) runny honey

1

tsp

vanilla extract

2

large eggs

1/2

cup

(123g) natural yoghurt,

you can substitute Greek yoghurt

2 1/2

cups

(350g) plain flour

1/2

cup

(100g) light brown sugar

2 1/2

tsp

baking powder

1/2

tsp

bicarbonate of soda

Pinch salt

3/4

tsp

ground cinnamon

1/2

tsp

ground ginger

1/4

tsp

ground cloves
Instructions
Preheat the oven to 190C/375F and grease a 12 hole muffins tin.

Make the streusel first: place all ingredients into a medium sized bowl and rub together until combined and crumbly. You're looking for very coarse breadcrumb size with some larger lumps. Leave to one side.

Pour melted and slightly cooled butter into a jug, then add honey, vanilla and eggs. Beat lightly until combined. Leave to one side.

Place the flour, sugar, baking powder, bicarb, salt and spices into a large bowl and stir until combined.

Add in the butter and honey mix and stir briefly. Add in the yoghurt and then stir until the batter is combined and smooth. Don't be tempted to beat/over mix as your muffins will be rubbery.

Divide between the muffin holes, filling them level (I use a heaping 2tbsp cookie scoop).

Spoon streusel topping on each muffin* and press lightly into the muffin mix, so it doesn't all fall off!

Place in the oven for 13-15 minutes, until risen, golden and an inserted skewer into the centre comes out clean.

Leave to cook in the pan for 10 minutes, before transferring to a wire rack to cool completely.

Serve either at room temp, or warmed with a little butter.

Muffins will keep in an airtight container, at room temp, for 4 days.
Notes
*You may have some streusel topping leftover. Why not spread it over a baking tray and bake until crunchy? It's really addictive! Recipe by Annie of Annie's Noms