These Candy Overload Magic Bars are the perfect way to use up your Halloween candy! An Oreo base is topped with condensed milk, shredded coconut and a myriad of candy creating a soft gooey, chocolatey magic bar!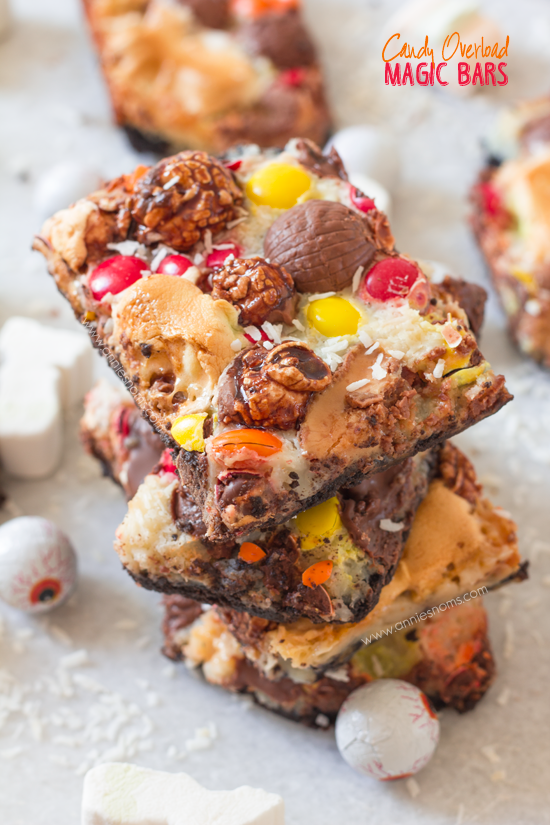 Holy yum. These bars are something special!
I've seen so many Magic Bar recipes and I've been wondering what all the fuss was about. Then I saw they had nuts and I was like "Argghhh crap".
Then I decided that I'm not one to follow rules, so made my own version sans nuts.
And now I understand what all the fuss is about. 🙂
Although, I have come to the conclusion that they are very ugly.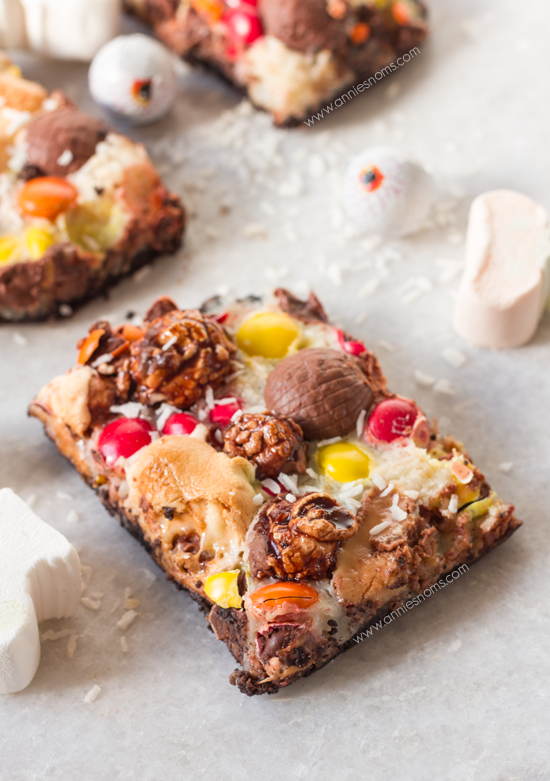 These are so gooey and full of flavours! I'm a little funny with coconut, but along with the chocolate and condensed milk they add another dimension to what I imagine would still be an awesome bar.
I am going to admit something now: I can eat condensed milk by the spoonful. I can't even describe why or what it is about it, but I just adore it! It's smooth, thick, sweet and sticky…. so much goodness in a tin.
I'm not even lying when I say I have 10 tins in the cupboard. I try and use it at every opportunity, it adds gooey, sticky layers to a wide variety of baked goods and I can't get enough!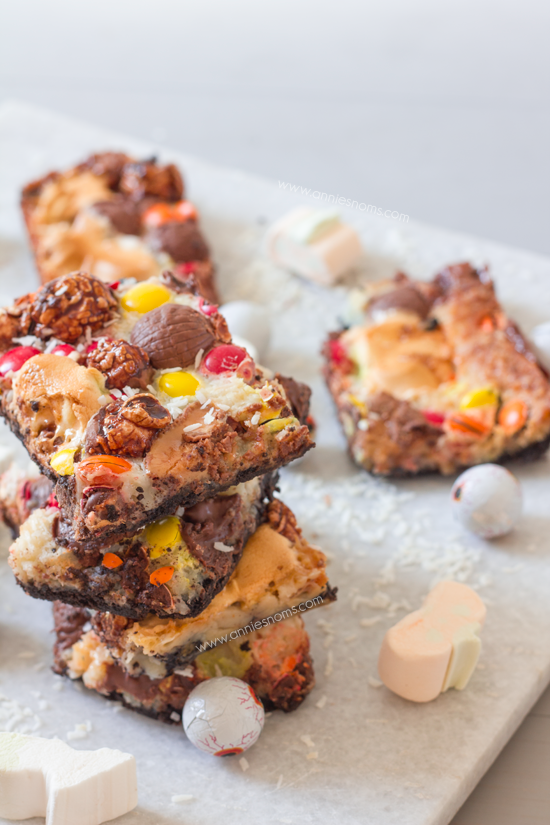 Now, with most of the magic bar recipes I've seen, they have a graham cracker (digestive biscuit) base, but because I figure you've probably got Oreo's leftover from Halloween too, I blitzed up those bad boys and made a rich, chocolatey base.
And, since I decided I wasn't going to follow the magic bar rules, I wanted to go all out!! 😀
On top of the base, I poured condensed milk and then sprinkled over the shredded coconut. If you can, get sweetened coconut. My supermarket didn't have any, so I added a little sweetener to mine because I found it flavourless without and wondered what the point of putting it in would be if I couldn't taste it!!
Now, you can go crazy with toppings. I chose Milky Ways, (in the US – 3 Musketeers) Pumpkin marshmallows, chocolate eyeballs, chocolate covered popcorn and M&M's to add some crunch. You'll notice in this picture all the M&Ms are blue, green and brown. Yes, I'm that person who picked out all the red, yellow and orange ones for my magic bars because I thought they were more "Halloweeny"
#foodbloggerproblems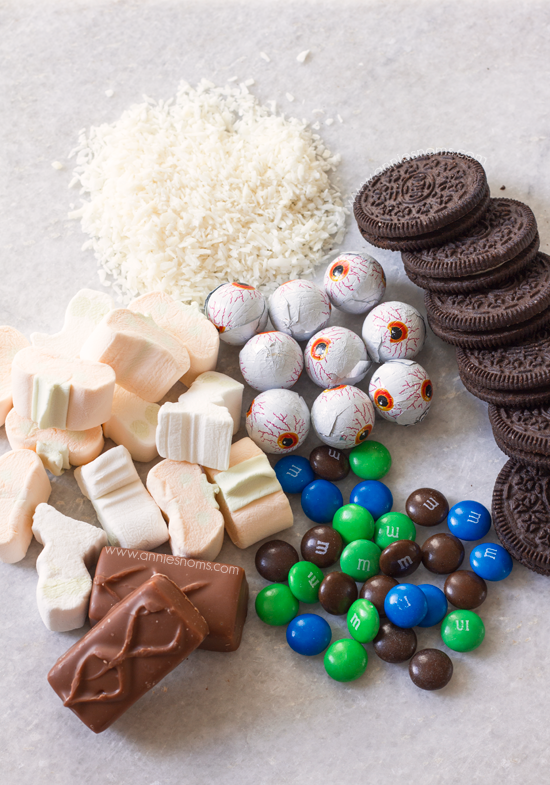 Obviously it would be way cooler in the chocolate eyeballs actually looked like eyeballs when you opened them, but this is what we have to deal with in the UK. Just an eyeball piece of foil. 🙁
They do go incredibly melty and oozy though, so… maybe I can forgive them.
Is it just me who thinks chocolate is 10 times better when it's melted?
It doesn't actually make sense, it's the same product, but melting it? God, it makes it even more addictive.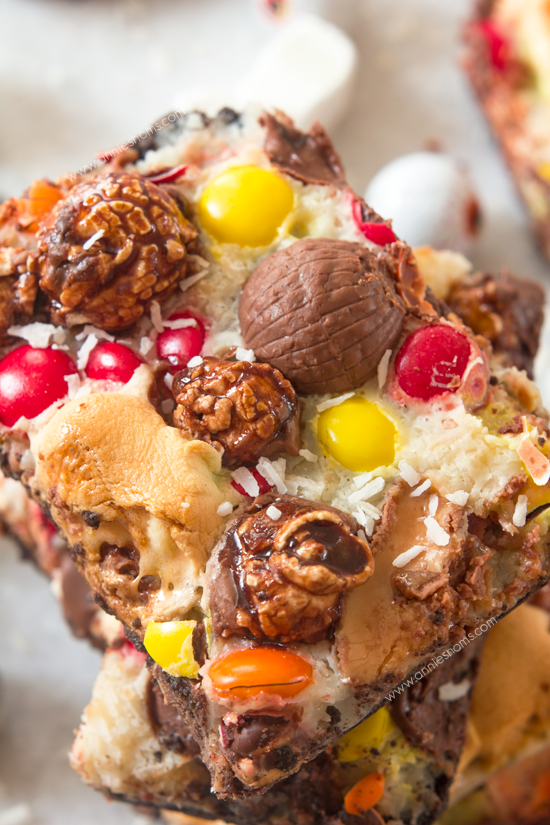 Once you've baked these babies up into golden, bubbly gorgeousness, you will want to face-plant the pan, but I am here to be the bearer of bad news, you should let them cool completely before digging in.
Sorry.
Once cooled, they are soft, chewy, gooey, crispy, crunchy, chocolatey, marshmallow-y HEAVEN!
I sound like a crazy person (OK, more than just sound) but these are honestly so good! The popcorn stays crunchy, as do the M&Ms – the eyeballs stay solid on the outside, but when you bite into them they just ooze melted chocolate, the marshmallows melt into soft, stringy goodness and then you get little bits of coconut.
Even writing out all the flavours and textures is sending my head into a spin.
I can't urge you enough to go and make these bars, I now completely understand what all the fuss is about and I can't wait to make eleven million different flavour combinations.
Do you know what? Maybe I'll even make some semi-traditional ones too, although still without nuts (I'm allergic.)
Enjoyed this post? Sign up to my weekly newsletter to ensure you never miss a post!
Candy Overload Magic Bars
These Candy Overload Magic Bars are the perfect way to use up your Halloween candy! An Oreo base is topped with condensed milk, shredded coconut and a myriad of candy creating a soft gooey, chocolatey magic bar!
Ingredients
1

stick (113g) unsalted butter,

melted and slightly cooled

2

cups

(240g) Oreo crumbs,

blitzed in food processor (just over one sleeve of Oreo's)

14

oz

can of condensed milk

1

cup

(95g) shredded sweetened coconut

3/4

cup

(150g) milk chocolate eyeballs,

or other solid chocolate rounds

1/2

cup

(85g) M&Ms

1

cup

(50g) Pumpkin and ghost shaped marshmallows - or mini marshmallows;

I got my shaped marshmallows from Sainsbury's

1/2

cup

(25g) chocolate covered popcorn

1/2

cup

treat size Milky Way bars,

chopped
Instructions
Preheat the oven to 180C/350F and grease and line a 9x13 inch pan.

Pour melted butter over Oreo crumbs and stir until all the crumbs are coated. Tip into greased pan and press into the pan until level, either with your hands or a spatula.

Pour the condensed milk all over the base, make sure it's level by smoothing with a spatula.

Sprinkle shredded coconut all over the condensed milk.

Sprinkle chocolate eyeballs, M&Ms, marshmallows, popcorn and milky ways over the coconut and condensed milk, then press them into the mix lightly.

Place in the oven for 22-25 minutes, until golden around the edges and bubbling in the centre.

Leave to cool in the pan completely, before slicing into 16-24 bars.

Magic bars will keep in an airtight container, at room temperature for 4 days.
Notes
Recipe by Annie of Annie's Noms