They may be a mouthful to say, but these Oreo Funfetti Marshmallow Cookies are the perfect combination of rich, crunchy biscuits, soft, chewy marshmallows, colourful funfetti and my famous cookie dough. Perfect for Halloween or just because you want cookies!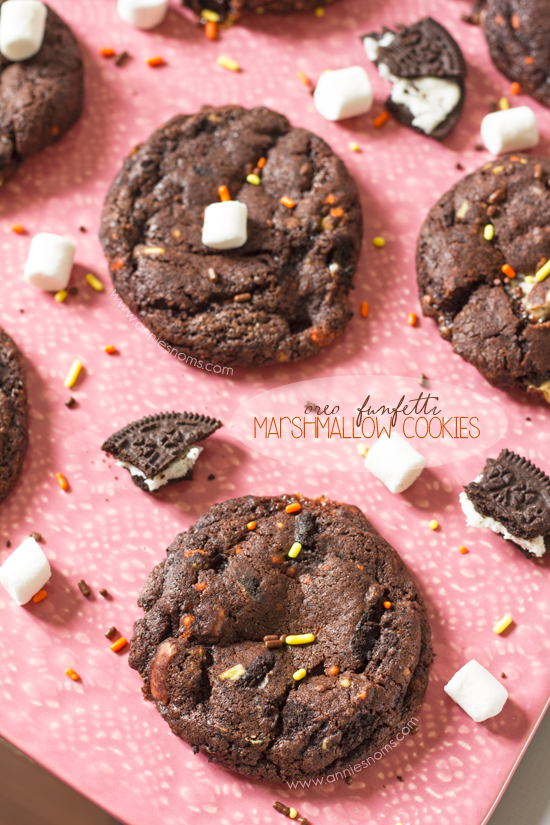 Before I talk about these awesome Oreo Funfetti Marshmallow Cookies, I have to talk skin.
Am I the only one who still has skin like a teenager even though I'm an adult?
It's sooooooooooo annoying! 🙁
I do everything I can to calm it down, I have a strict cleansing regime every single day and I must say it's definitely been better since I changed to Origins, but I dream of having clear skin!
It doesn't help that the weather is changing, my skin is ultra sensitive to changeable weather! In Summer it seems to get oily, in Winter I get dry spots which are just really sore and scabby 🙁
I drink loads of water, have a diet which is low in fat, exercise every day, take antibiotics for it, do masks and exfoliate, don't wear make-up often to let it breathe… – this does keep it pretty OK, but this morning I got up, looked in the mirror and just thought UGH. I've got massive red spots on my chin and around my nose again!
Does anyone have any other remedies they've found work? I guess I can't complain too much as I was pretty much "pizza face" at school and it doesn't look like that anymore, but it still gets to me!
Anyway, let's talk amazing, rich, chocolatey cookies.
These are literally the most decadent, fudgy cookies ever.
The secret?
Melted chocolate in the batter…. totally works.
I was a little worried that the chocolate would make the dough really sticky and hard to work with, but it didn't. It was probably one of the most firm dough's I've made, which made it super easy to shape with the cookie scoop!
(I do have to admit that when editing the photos I realised I hadn't done any of the inside of the cookie and only had like 3 different angles. Whoops – I can only say that I shot these last Thursday when trying to schedule posts and pack for the weekend, sorry!)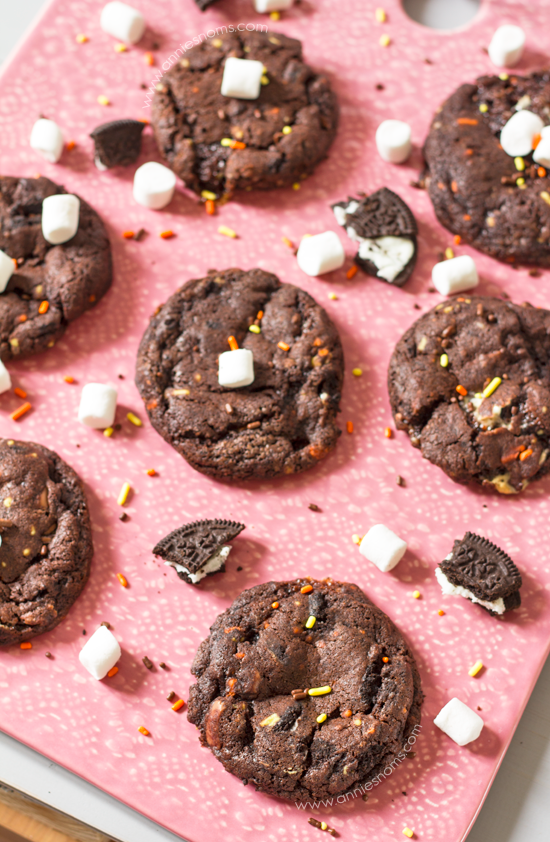 The reason I wanted to add melted chocolate was because I find that if you just add cocoa powder to a dough it can turn out pretty dry and crumbly.
I did not want dry ol' cookies, you definitely don't either – so by adding the chocolate, it made the dough more pliable and the cookies more fudgy, so double win!
Along with my three flour cookie dough (see here for why I use 3 flours). These cookies turned into soft, chewy, flavour bombs with added texture from the Oreo's!
Man, I love my job. Being out in the kitchen with an abundance of ingredients and my imagination is by far the best part!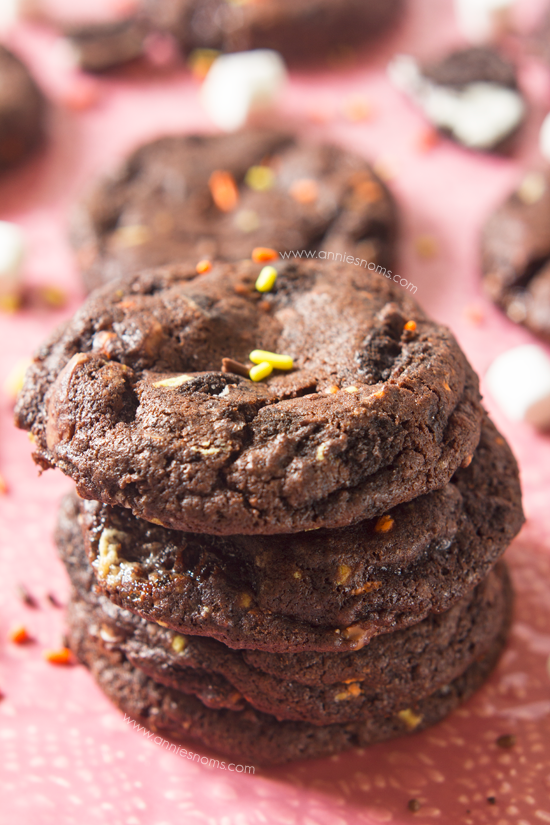 So, the other ingredients to make these cookies: crushed up Oreo's, mini marshmallows and Autumn coloured sprinkles. Fun, crunchy and tasty 😀
Kids will love them, but I reckon us adults will love them more. Hide some away and eat them when the kids are in bed, I won't tell 😉
The marshmallows go all gooey and stringy, the sprinkles add some colour and the Oreo's add some crunch to contrast with my soft and chewy cookie dough. I also added some milk chocolate buttons in for good measure.
'Cos you know – you can never have enough chocolate! 😀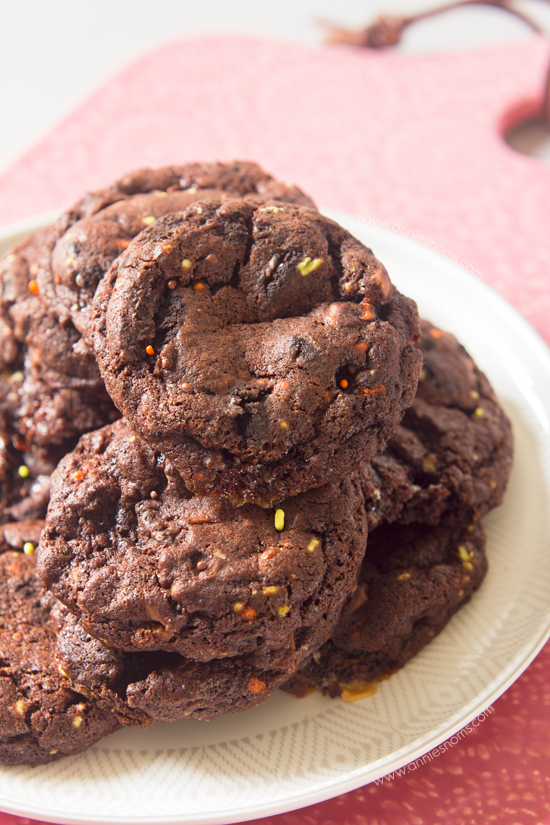 I'm going through a bit of an Oreo phase. I cannot get enough! There's just something about those sweet, crumbly, rich little round biscuits!! (See Candy Overload Magic Bars and Double Chocolate Halloween Bark)
I just so wish that we got cool flavours in the UK – I keep seeing pumpkin spice ones and I almost drool, I SO want to try them!!
Anyhow – these might be slightly Halloween-y, but honestly, I just think they'd be amazing year round! Even with "normal" coloured sprinkles, they'd still look pretty awesome!
Go make this cookie dough with melted chocolate NOW and be amazed by how rich and fudgy they are!!
Enjoyed this post? Sign up to my weekly newsletter to ensure you never miss a post!
Oreo Funfetti Marshmallow Cookies
They may be a mouthful to say, but these Oreo Funfetti Marshmallow Cookies are the perfect combination of rich, crunchy biscuits, soft, chewy marshmallows, colourful funfetti and my famous cookie dough.
Ingredients
1

cup

(140g) plain flour

1/2

cup

(50g) cocoa powder,

I used Green and Blacks

1/3

cup

(45g) bread flour

1

tbsp

cornflour

Pinch salt

1

tsp

bicarbonate of soda

3/4

cup

(45g) mini marshmallows

3/4

cup

(85g) crushed Oreo's

about 8 Oreo's

1/3

cup

(60g) Autumn coloured sprinkles

1/2

cup

(70g) milk chocolate buttons,

halved

1 1/2

(170g) sticks unsalted butter,

at room temperature

2

large eggs

1/2

cup

(100g) caster sugar

1/2

cup

(100g) light brown sugar

1

tsp

vanilla extract

1/4

cup

(33g) dark chocolate chips,

melted and slightly cooled
Instructions
No need to preheat the oven yet, this dough needs to chill.

Place the three flours, cocoa powder, salt and bicarb into a medium sized bowl and stir until combined.

Add in mini marshmallows, crushed Oreo's, sprinkles and chocolate buttons and stir until all are covered in flour.

Place the butter and sugars into a large bowl or the bowl of your stand mixer and beat until light and fluffy, 2 mins on med-high speed.

Add in eggs and vanilla, scraping sides as necessary, and mix until well combined and smooth, 1 min on med-high speed.

Add in melted chocolate and 1tbsp of the flour mix and mix on low until combined.

Tip in the rest of the flour mix and combine on low until a dough forms.

Tip dough into a medium sized bowl, cover with cling film and place in the fridge for at least 6 hours, overnight if possible.

Once chilled, preheat the oven to 180C/350F and line 3 baking trays.

Using a 1.5tbsp cookie scoop, place dough balls on trays, 2 inches apart. Flatten dough balls ever so slightly with your hand to stop them rolling off.

Place in the oven for 9-10 minutes, until risen slightly, soft in the middle, but a little drier around the edges*.

Leave to cool on the trays completely.

Once cool, cookies will keep in an airtight container, at room temperature, for a week.
Notes
*It's slightly harder with dark chocolate cookies to tell when they're done as they don't go lightly brown! As the light of the oven hits the cookies, look to see if they are risen and have a slight sheen - this means they're done. If they're still very shiny in the middle, they're not there yet! Recipe by Annie of Annie's Noms