Everyone needs a good Oatmeal Raisin cookie recipe and this is my version. Soft, chewy, packed with oats, juicy raisins and made with three types of flour, these cookies stay perfectly soft for days – if they last that long!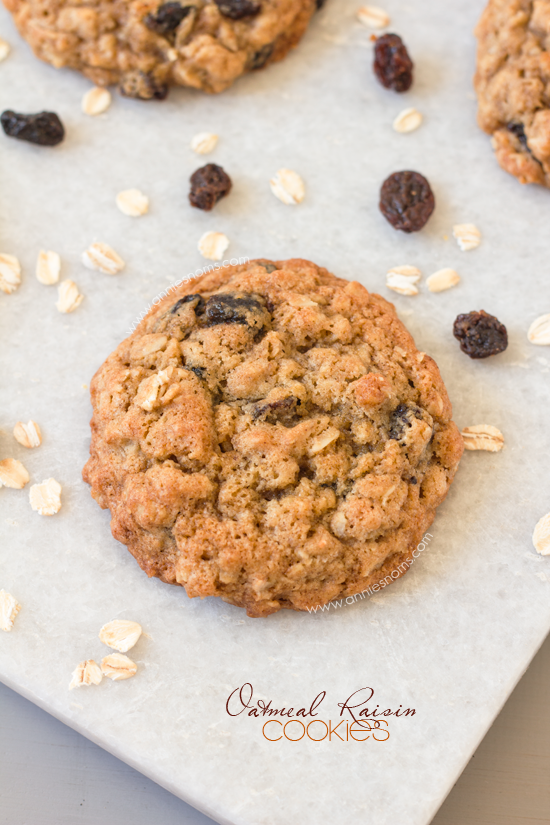 Welcome back to my "Back to Basics Week!"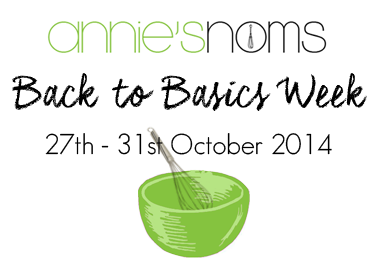 Today, I'm sharing my all time favourite Oatmeal Raisin cookies 🙂
Yes, more cookies.
I know, I know. What can I say?
I'm a cookie addict…
But these are mind blowing. My OH bit into one of these and went "you nailed it!".
He doesn't even like oatmeal raisin cookie most of the time, but he has eaten about 20 million since I developed the final recipe. 😉
Me on the other hand? I ADORE Oatmeal Raisin Cookies! I know people say when they get a cookie thinking it's chocolate chip and then it's raisin it pees them off, but for me I'm pleasantly surprised when it's raisin.
Oh well, if people don't like raisins, it means more for me! 😀
You know how I am with phases of food…
There was the granola and yoghurt breakfast for 2 years, then the pumpkin bread, then brioche for 6 months, then toast and paté… Now it's these Cinnamon Raisin Overnight Oats – CANNOT get enough!
Anyone else get obsessed with a certain food and then eat it every single day without fail?
I did it with berries and natural yoghurt for lunch too. However, the shops decided that I stop that phase as it suddenly cost £12 for a kilo of strawberries. I know berries are seasonal, but in this day and age I'm used to being able to get things year round.
I don't like being forced to change my lunch, I like to take the decision myself!
#controlfreakproblems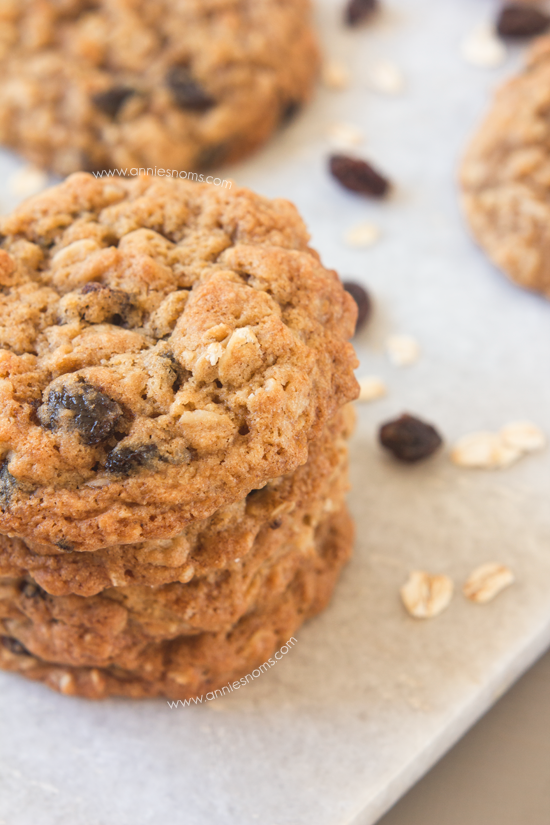 Now, let's talk about these cookies!
Don't you just hate it when you get a cookie and there are like 2 chips or raisins in it?
I call that a "cook-" – it's obviously not a real cookie, because those babies are meant to be packed with add ins.
Which is exactly what you get with all of my cookies.
I have trust issues because of cookies being called a certain thing and then being basically all dough, no chips.
Maybe I should sue under the trades description act.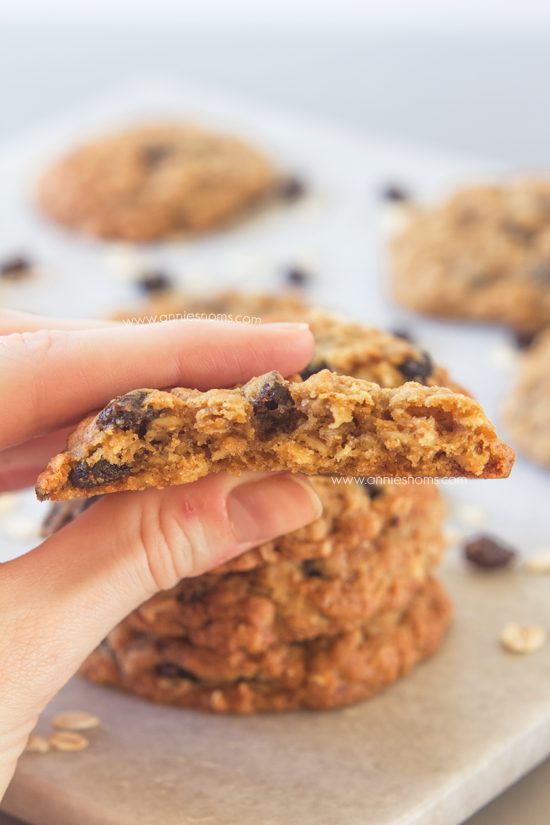 There's a whole cup of raisins in this recipe and, along with 2 cups of oats, it means you get raisins and chewy oats in EVERY SINGLE BITE!
There's also plenty of vanilla in there and just a little cinnamon. I love cinnamon as much as the next person, but these are Oatmeal Raisin cookies and I didn't want the cinnamon to overpower the star ingredients.
I adjusted how much flour I used because of the amount of oats in this recipe. I was slightly worried that the dough wouldn't set up right and would be sticky and hard to work with, but leaving it to chill for 2 hours meant the oats absorbed some of that moisture and it was an easy dough to work with. 🙂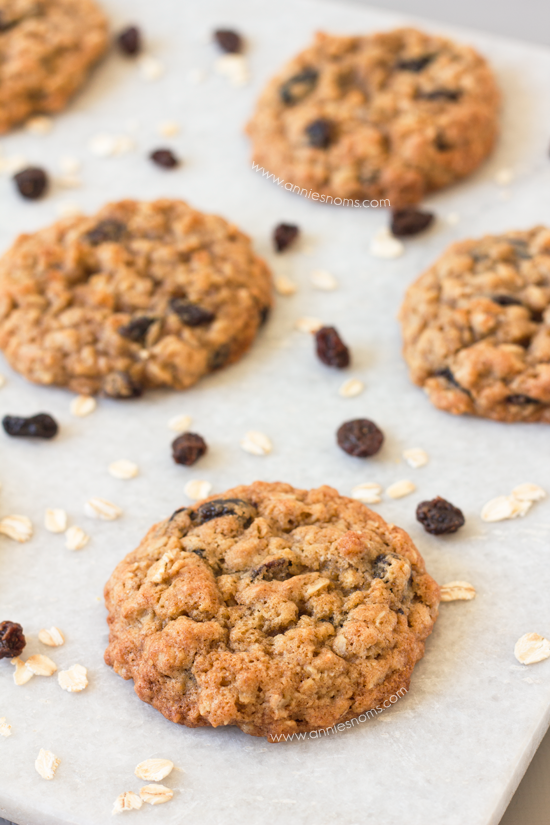 Now, normally I just use bicarb (baking soda) in my cookies, but I like a slightly puffy oatmeal raisin cookie, so I used 1/2tsp baking powder along with the bicarb. This worked perfectly, no flat cookies here!
As always, there are three types of flour in my recipe. You wouldn't believe how many different cookie dough's I've made in the last 3 years to finally get the perfect ones.
I've tried all plain flour, half bread – half plain, plain and cornflour, 1tsp cornflour, 1tbsp cornflour…
None of them were that perfectly soft, chewy middle I adore with a slightly crisp edge, until these.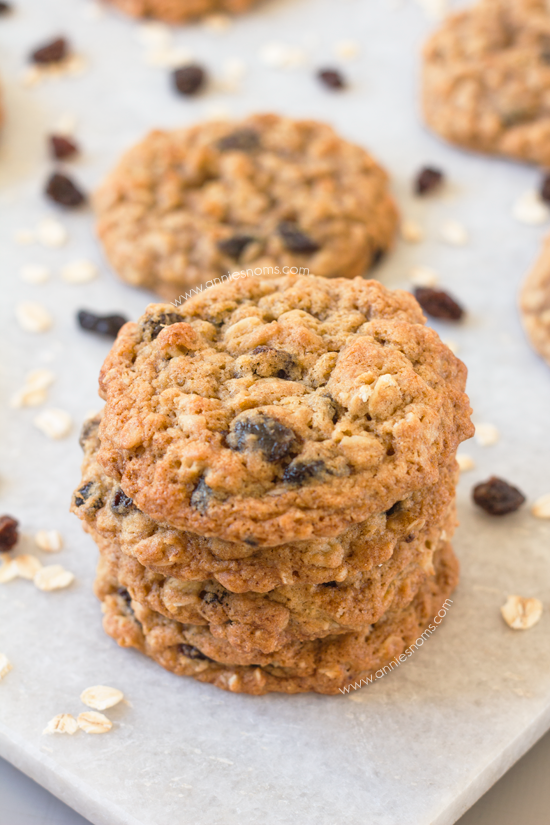 Let me tell you friends, when you find that perfect recipe, guard it with your life and never forget it. Perfect cookies are like gold dust, but once you have them, keep them!
Since these are part of my back to basics week, I guess I should tell you how to switch them up… 😉
You can add chocolate chips, cinnamon chips, butterscotch chips, cranberries, sultanas, nuts, seeds… all would work perfectly with the earthy oats and soft dough. The only other change you'd need to make is the amount of cinnamon, but that's completely down to your taste buds 🙂
I'm really loving the idea of a chocolate oatmeal cookie… I mean, chocolate always makes things better, right?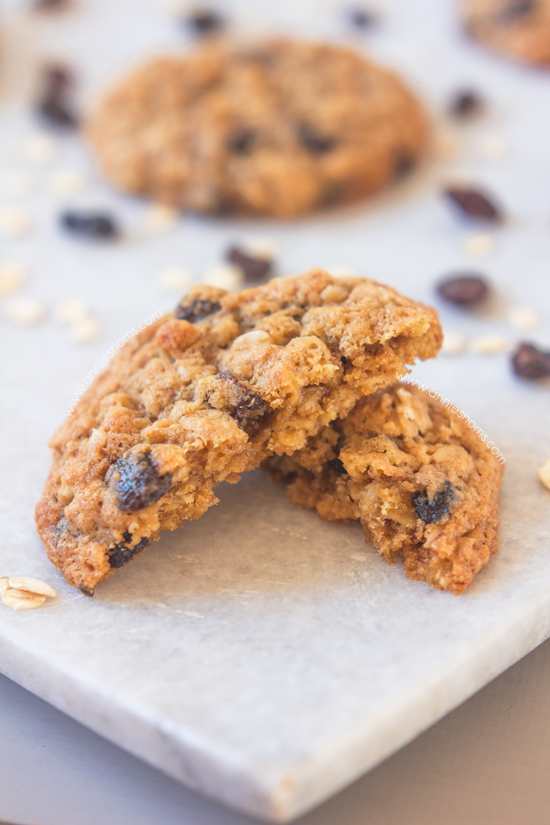 BUT – Don't be scared by the seemingly long list of ingredients, they're all cupboard staples!
You definitely need these awesome cookies in your life, however dangerous! You'll suddenly realise you've eaten 5, when you only planned on eating 2.
Enjoyed this post? Sign up to my weekly newsletter to ensure you never miss a post!
Oatmeal and Raisin Cookies
Everyone needs a good Oatmeal Raisin cookie recipe and this is my version. Soft, chewy, packed with oats, juicy raisins and made with three types of flour, these cookies stay perfectly soft for days - if they last that long!
Ingredients
1

cup

(140g) plain flour

1/2

cup

(70g) bread flour

1

tbsp

cornflour

2

cups

(160g) oats

not quick cook

1

cup

(165g) raisins

Pinch salt

1

tsp

bicarbonate of soda

1/2

tsp

baking powder

1/2

tsp

ground cinnamon

1 1/2

sticks (170g) unsalted butter,

at room temperature

1/2

cup

(100g) caster sugar

3/4

cup

(150g) light brown sugar

2

large eggs

2

tsp

vanilla extract
Instructions
No need to preheat oven yet, the dough needs to chill!

Place the flours, oats, raisins, salt, bicarb, baking powder and cinnamon into a medium sized bowl and stir to combine, make sure the raisins are coated in flour. Leave to one side.

Place the butter and sugars into a large bowl, or the bowl of your stand mixer, and beat until light and fluffy - about 2 mins on med-high speed.

Add the eggs and vanilla extract, scraping sides as necessary, and mix on medium speed until well combined and smooth.

Tip in the flour mix and mix on low until a dough forms.

Tip the dough into the bowl you measured the flour in and cover with cling film. Place in the fridge for 2 hours.

Once chilled, preheat oven to 180C/350F and line 2-3 baking trays and, using 1.5tbsp cookie scoop, place dough balls 2 inches apart. Flatten them ever so slightly so they don't roll away!

Place in the oven for 10-12 minutes, until risen and slightly puffy. They should be slightly golden around the edges and soft in the middle.

Leave to cool on the trays completely.

Once cool, cookies will keep in an airtight container, at room temperature, for a week.
Notes
Recipe by Annie of Annie's Noms