These Chocolate Chip Pumpkin Spice Overnight Oats combine rich cocoa, pumpkin and spices to create a no-cook breakfast which will leave you totally satisfied and wanting more!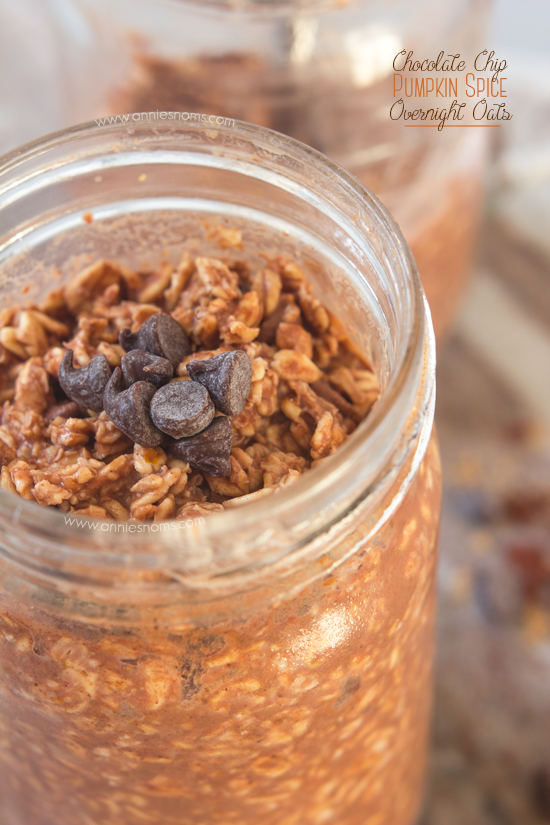 It's totally OK to have chocolate for breakfast, right?
Don't answer that. Of course it is. 😉
Life is hard; sometimes you just need chocolate.
I've spoken before about how I have problems with warm, stodgy breakfasts, what I love about overnight oats is that you can eat them straight from the fridge if you don't want warm porridge.
I mean, you'd think with it being freezing outside I'd want a warm breakfast, but no, I still can't deal.
Enter my latest combination: Chocolate Chip Pumpkin Spice Overnight Oats.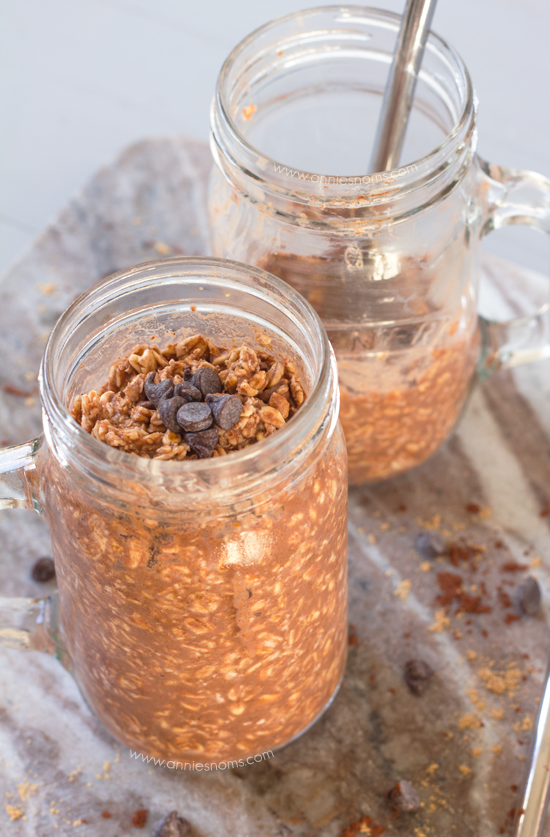 Oats, milk, pumpkin, spices, cocoa, sweetener and 2 tablespoons of chocolate chips.
See, only 2tbsp – so it's not like you're eating a piece of fudge cake for breakfast (man, that would be good!) – just enough to give you that happy chocolate feeling! 😀
They also add a nice contrast to the soft oats, they soften slightly having been soaked in the milky oats, but add a nice bite.
Now, let's talk about pumpkin. Everyone knows it's all about the spices.
I wouldn't take a spoon and just eat pumpkin… Who does that?!
BUT, I do love what pumpkin does to baked goods; the colour, the texture, the dense fudgy-ness… Blissful.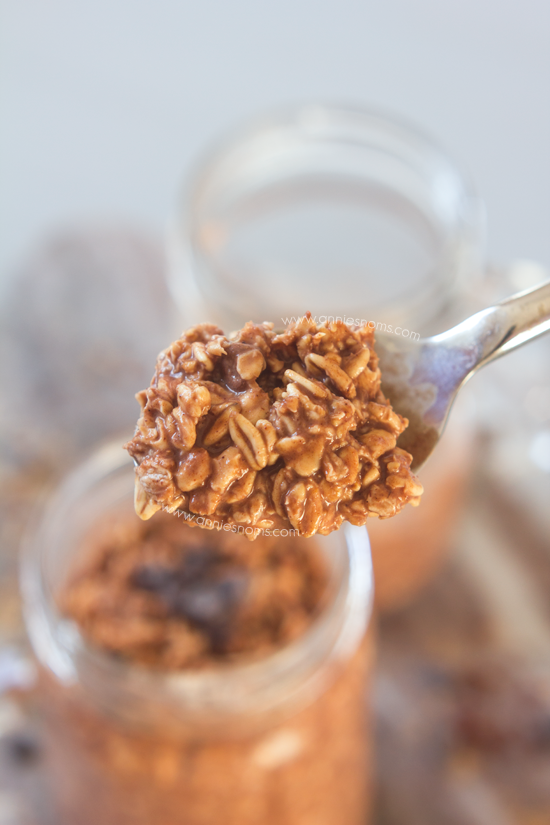 There's 2tbsp in this recipe – it makes the oats creamy and makes them a little thicker – In development, I tried without pumpkin and just had the spices, but it was lacking something. They were just a little too runny.
I mean, most people probably wouldn't notice the minute difference in how thick they are, but I'm a little obsessive.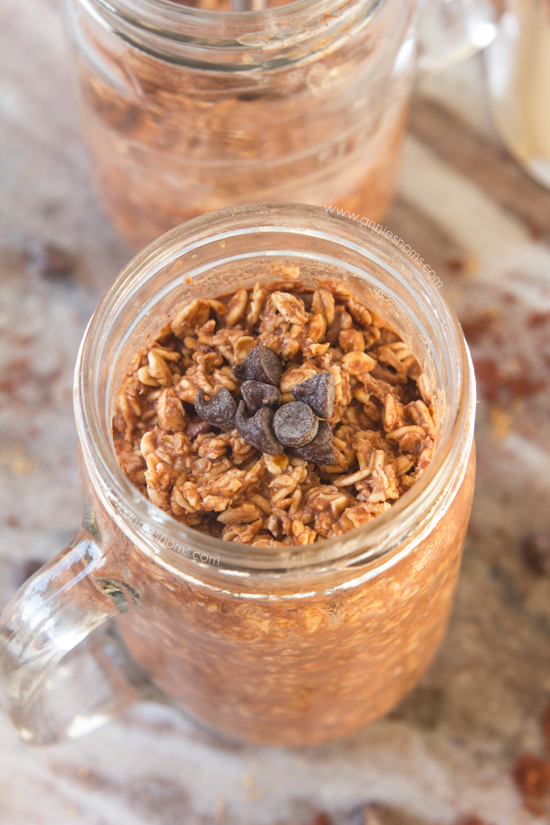 Spice wise – we've got plenty of cinnamon and ginger and a little nutmeg and clove. I don't know if it's just me, but sometimes I find nutmeg and cloves can be a little bitter and overpowering, so I try to keep the balance by just adding a little.
All together the spices just work, but it's adjusting the amounts to your personal tastes, so of course, if you like a stronger flavour of nutmeg and cloves then add more 🙂
As you can see, I really liked these oats…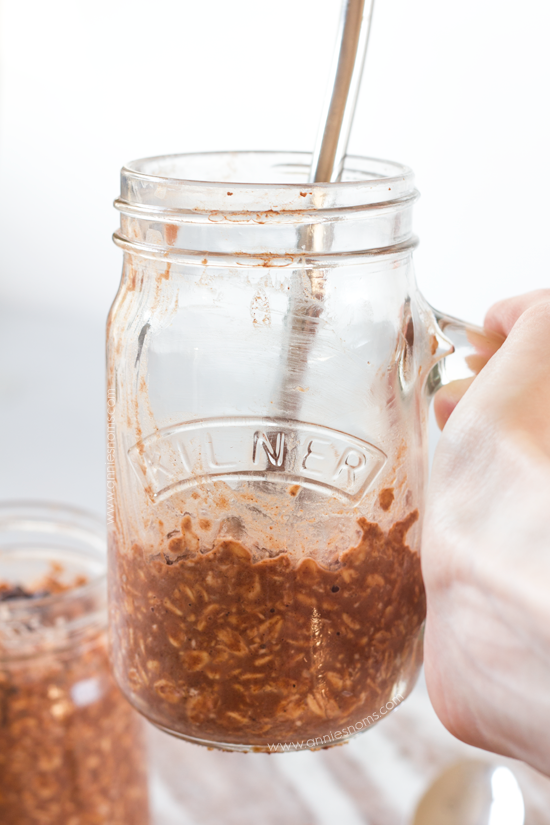 They leave you feeling so satisfied, there's just something about oats which is so comforting.
Also, they are low in cholesterol leaving you to eat loads more eggs… in cakes… Or is that not the point? 😉
Although I'm relatively new to Overnight Oats, I am already a complete convert as I adore how versatile they are. Practically any flavour combination works, the possibilities are endless!
Have you tried my Cinnamon Raisin Overnight Oats yet? Mind blowing.
Anyway, go make these Overnight Oats! It takes 5 minutes to throw together and then you can go to sleep while the oats and milk work their magic overnight 🙂
I don't know about you, but I don't need telling twice to go to sleep, I LOVE my bed!
Enjoyed this post? Sign up to my weekly newsletter to ensure you never miss a post!
Chocolate Chip Pumpkin Spice Overnight Oats
These Chocolate Chip Pumpkin Spice Overnight Oats combine rich cocoa, pumpkin and spices to create a no-cook breakfast which will leave you totally satisfied and wanting more!
Ingredients
2

cups

(160g) rolled or jumbo oats

1

tbsp

cocoa powder

3

tbsp

artificial sweetener,

such as truvia

3/4

tsp

ground cinnamon

1/2

tsp

ground ginger

1/4

tsp

each ground nutmeg and cloves

2

tbsp

dark chocolate chips

2

tbsp

Pumpkin purée

1/4

tsp

vanilla extract

1 1/4

cups

(300ml) milk,

I used skim (almond, soy, rice etc. would all work fine)
Instructions
Place oats, cocoa powder, sweetener, spices and chocolate chips into a medium sized bowl and stir to combine.

Add in pumpkin purée. Place milk and vanilla into a jug and stir briefly.

Pour milk over oat mix and stir until well combined.

Either decant into an airtight container or cover the bowl with cling film and place in the fridge for at least 6 hours, overnight if possible.

Oats will keep in the fridge for 2 days and can be eaten straight from the fridge, or warmed in the microwave for 1-2 minutes.
Notes
Recipe by Annie of Annie's Noms