These apple spice waffles combine a myriad of spices with chunks of dried apple to make a decadent breakfast – they taste like hearty slices of apple pie! Served with cinnamon spiced applesauce, this is a breakfast recipe to die for!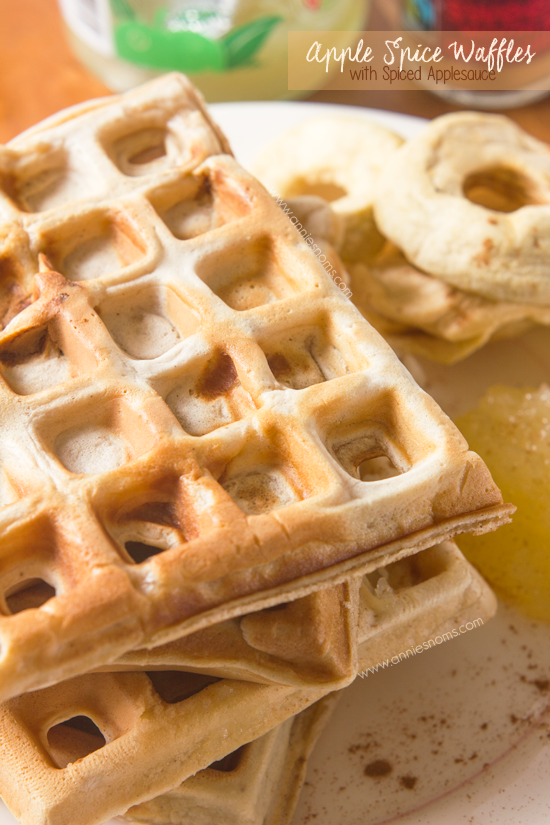 So, let's forget that I'm about 10 years late to the waffle party.
Yea… I JUST got a waffle machine. BUT, I'm now addicted. I'm going to make alllllll the waffles!
I have wanted a waffle machine for ages, but it was one of those things I never got round to buying!
Anyway, I've righted the wrong and now I can share these Apple Spice Waffles with you!
They literally taste like apple pie. 
When they were cooking, the machine started steaming and the most amazing smells started to come out – OH and I were like "OMG, it smells like apple pie!!!!"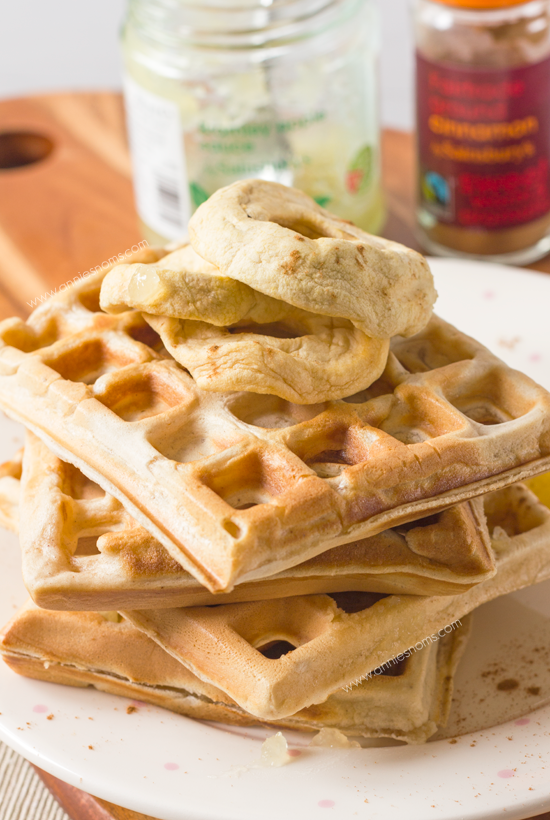 Then I mixed in cinnamon with my applesauce, topped that waffle and ate the whole thing.
Life changing.
I do admit that waffles are kind of hard to photograph though… you'd think with all that symmetry they'd be easy and pretty, but no.
I'm not 100% happy with these, but fooling your taste-buds into thinking you're eating apple pie for breakfast was just too good not to share.
Soft, tender waffles with cinnamon, cardamom, ginger, nutmeg and all spice really pack a punch! 
Then I took my new favourite whole food (dried apple rings) and chopped them up to add in a little surprise!
When you bite into one of these, you get all the very best apple spices and then every so often you get a sweet, soft chunk of apple.
If you haven't tried apple rings, you should; they're totally addictive. You can eat them on their own, stew them in some Apple Spice Punch, use them in loaf cakes… the possibilities are endless!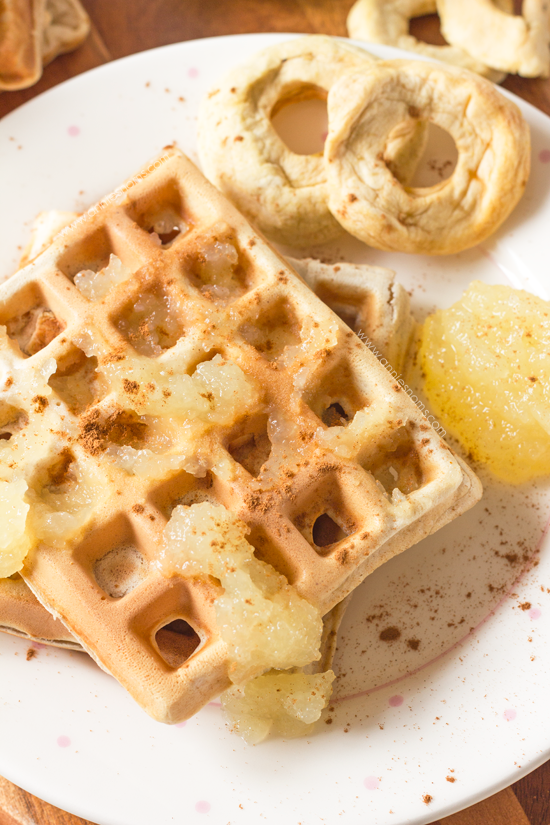 Now, let's talk about the waffle batter. I combined milk, vegetable oil and eggs for my wet ingredients; I didn't want to add lots of fat with butter and I didn't think the tang of buttermilk would compliment the spices – especially the cardamom as that has its own, unique tang.
There's a 1/4 cup of sugar, bearing in mind this recipe makes 8-10 waffles, that means they're not loaded with sugar.
Initial taste tests had OH and I umming and erring about whether I should up the sugar, but once topped with sweet, but tart applesauce they were just perfect.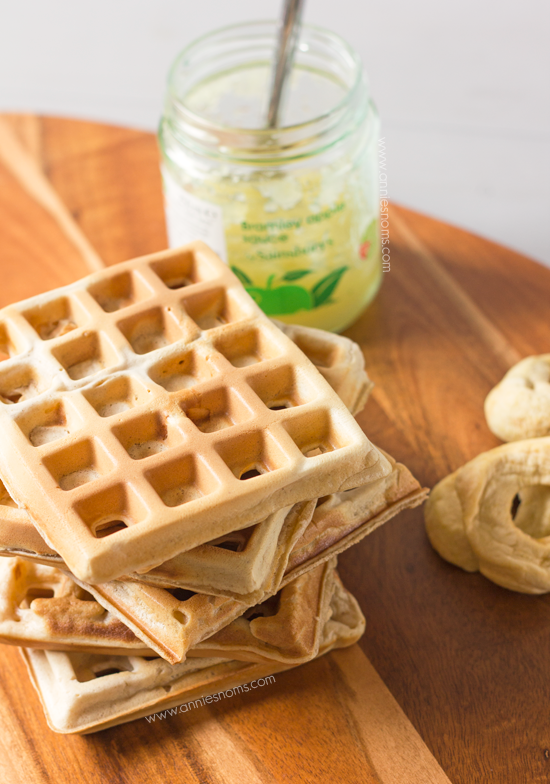 Between us, we totally ate 7 waffles in 10 minutes.
#truth
Actually, let's go back to that applesauce. How to make normal boring applesauce into OMG-awesome applesauce in 10 seconds?
Add cinnamon. Mind-blowing.
So simple, yet so amazing. If you want to feel like you've eaten apple pie for breakfast, but didn't need to bust out your fat pants, then you NEED to make these waffles ASAP!
Enjoyed this post? Sign up to my weekly newsletter to ensure you never miss a post!
Apple Spice Waffles with Spiced Applesauce
These apple spice waffles combine a myriad of spices with chunks of dried apple to make a decadent breakfast - they taste like hearty slices of apple pie!
Ingredients
For the waffles:

2 1/4

cups

(315g) plain flour

1/4

cup

(50g) caster sugar

3/4

tsp

ground cinnamon

1/8

tsp

ground nutmeg

1/2

tsp

ground ginger

1/4

tsp

ground cardamom

1/4

tsp

ground allspice

2

tsp

baking powder

1/4

tsp

salt

1/2

tsp

vanilla extract

1 3/4

cups

(420ml) milk,

I used skim

2

tbsp

vegetable oil

2

large eggs

1/2

cup

(60g) dried apple rings

chopped into small chunks, plus extra to serve (optional)

For the applesauce:

2/3

cup

(160g) applesauce

1/4

tsp

ground cinnamon
Instructions
Preheat waffle maker and grease lightly with oil or butter, if required. Preheat oven to 150C/300F and line a baking tray.

Place flour, sugar, spices, baking powder and salt into a large bowl and stir until combined.

Place vanilla extract, milk, vegetable oil and eggs into a jug and beat lightly with a fork to combine.

Pour wet ingredients over dry and stir until just combined.

Add in the dried apple chunks and stir until they're covered in batter. Don't beat the batter, just stir until there are no large lumps!

Cook in batches, placing 1/3 cup of batter into each section of waffle maker. Cook as per manufacturer's instructions - this was 4 minutes for my machine.

Place cooked waffles onto lined baking tray and place in the oven to keep warm whilst you make the remaining waffles.

Once all waffles are cooked, place applesauce and cinnamon into a small bowl and mix until well combined.

Serve waffles with the applesauce and extra apple rings, if desired.
Notes
Recipe by Annie of Annie's Noms