These Pumpkin Cheesecake Bars have a sweet, spicy, soft filling and are married with the most amazing Biscoff Cookie Crust! Perfect for those cheesecake cravings when you're on the go!
My blog has been entered into the Blog Awards 2015 – I'd be so grateful if you could take a minute to vote for me!
You know that song All about the Bass? 
As I was making these bars I couldn't stop humming it to myself!
It was driving me mad as I find it so annoying! And actually it's not just about the base here, the cheesecake is pretty darn amazing too. 🙂
But, more about that in a minute. Let's talk tripods.
I've asked for one from OH for Christmas and I know he's been researching, as have I. My question is, what one do you love? Is it a Manfrotto? SliK? Vanguard….?
I've read that Manfrotto is very popular, but then I've read that some people find it a little flimsy. We're looking to spend around £100-£130 and once you get to the height I need (2m) the Manfrotto one's go up quickly!
Elsewhere, I've read that the SliK's are quite sturdy and I think I've found one I like in the 700DX, but on each site I go onto, it states that it can go a different height. I've seen 2.25m, 1.75m, 1.95m… Do any of you know for definite how tall it goes?!
If it goes 1.95m then that's fine, I can give a little in my request for 2m, but if it's 1.75m then it won't be tall enough for overhead shots.
Since I started this blog, I've been using a cheap one from Jessops. I didn't even buy it, it was my OH's before we got together. It's seen me through pretty well, but it's pretty lightweight, doesn't go very tall and isn't quite straight, so I have to push the camera down slightly to shoot which isn't great if I'm also standing on a chair because it won't go tall enough haha!! 😀
Basically any of your views would be greatly appreciated!
Now, I promised cheesecake… 😀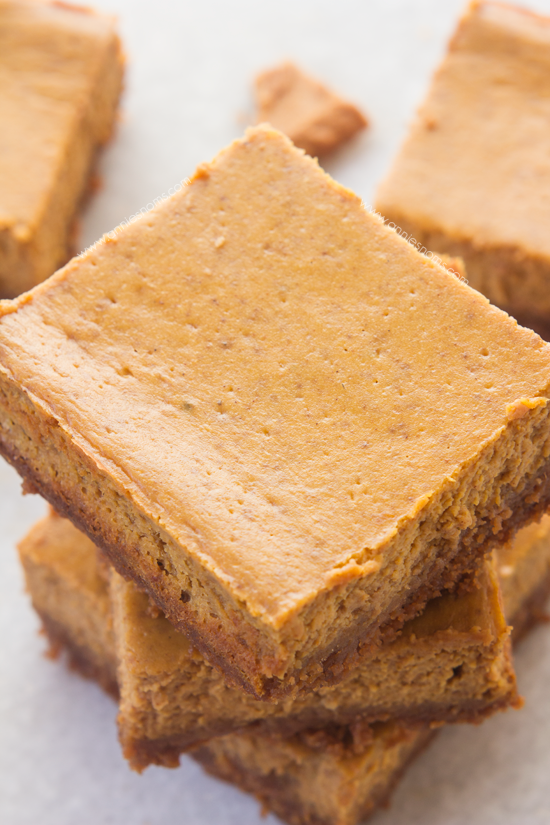 These are so full of flavour, they are simply wonderful, smooth and spicy. I used full fat cheese because, honestly, life is too short for low fat spread, unless it's on toast.
There's a whole cup of pumpkin purée in here along with some light brown sugar, eggs and spices.
I was originally going to use caster sugar as I like the texture it gives to cheesecake; you just know you're going to get a smooth cheesecake if you use caster.
However, I absolutely adore the flavour of light brown sugar alongside pumpkin, it adds an extra note of caramel-ly goodness which also worked perfectly with the Biscoff base!
Cheesecake is one of my favourite things as you can make so many different flavour combinations. I have a thing about sweet and savoury going together usually, like chocolate spread on toast is a no-no, but with cream cheese and sugar it just totally works.
And it's so easy! Simply beat the cheese, spices and sugar together until smooth, add in the eggs, vanilla and pumpkin, beat until smooth and then pour that baby over your crust and bake until it sets. 😀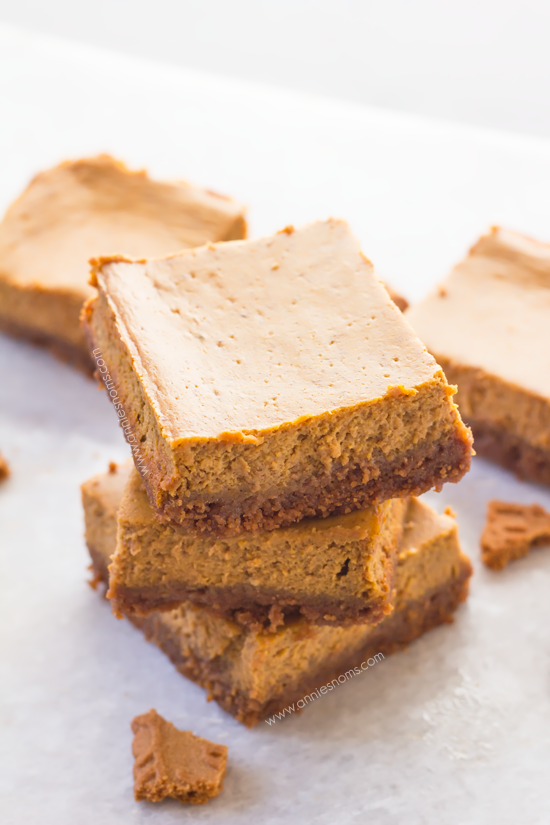 Sometimes I like to make a traditional cheesecake, but cheesecake bars mean you can have cheesecake anywhere.
And I don't know about you, but when a craving hits, I have to sate it immediately. 😉
I'm the world's worst at picking at things as soon as they come out of the oven.
Pretty much any photo you see on this blog of a whole dish is taken from an angle to crop out the missing corner that I scoffed down whilst being too impatient to let it cool! 🙂
#foodbloggerproblems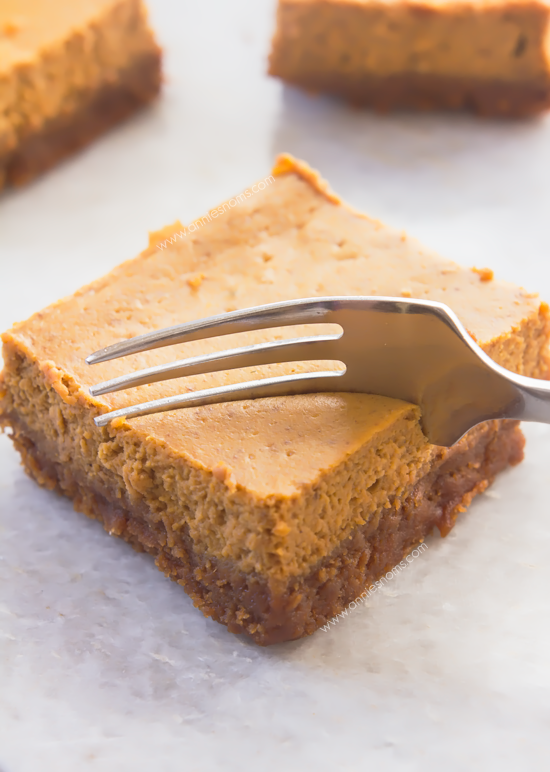 Now, that base. I absolutely love Biscoff spread, if you haven't tried it, you are seriously missing out! However, this is the first time I've used the actual biscuits in a recipe.
You know what? I had to have the biscuit and spread side by side and taste each one, just to double, triple check that they're not messing with us and the spread is some kind of mix of different things – it's a tough job, but someone had to do it. 😉
Good news friends, they really are both amazing and the spread does taste like the biscuits!
In fact, I may have dipped my Biscoff biscuit into the Biscoff spread. Double Biscoff hit: win-win.
Testament to how velvety smooth these bars are, this happened when I put the fork through the cheesecake… 😉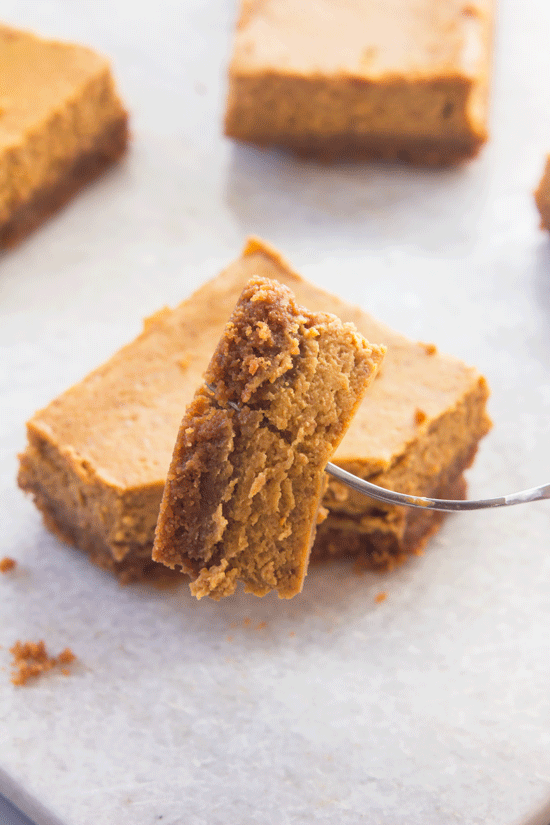 I do love a plain digestive base with my cheesecake, but with this recipe, I wanted to take it to another level. I first decided I liked the whole pumpkin/caramel combo when I made this Pumpkin Bread the other week.
It's heavenly. The spices with the pumpkin cut through the sweetness of the caramel and because Biscoff is slightly spicy as well, you get a double hit. Biting into one of thees bars is like pure bliss.
The cheesecake just melts in your mouth and the biscuits keep their crunch to give a little contrast.
If you do one thing this week, make these bars. Pumpkin/Biscoff is a totally mind-blowing flavour combination.
Enjoyed this post? Sign up to my weekly newsletter to ensure you never miss a post!
Pumpkin Cheesecake Bars with Biscoff Cookie Crust
These Pumpkin Cheesecake Bars have a sweet, spicy, soft filling and are married with the most amazing Biscoff Cookie Crust! Perfect for those cheesecake cravings when you're on the go!
Ingredients
For the crust:

2

cups

(240g) Biscoff biscuit crumbs,

measured AFTER crushing

3/4

stick (85g) unsalted butter,

melted and slightly cooled

For the cheesecake:

8

oz

(225g) full fat cream cheese

1/2

cup

(100g) light brown sugar

3/4

tsp

ground cinnamon

1/2

tsp

ground ginger

1/4

tsp

each ground nutmeg and cloves

Pinch salt

1/2

tsp

vanilla extract

2

large eggs

1

cup

(240g) pumpkin purée,

not pie filling
Instructions
Preheat the oven to 180C/350F and grease and line an 8x8 inch square pan.

Place the Biscoff crumbs (either crush them in a Ziploc bag with a rolling pin or place them in your food processor to blitz them in seconds!) into a large bowl and pour the melted butter over them. Stir until all the crumbs are coated in butter.

Tip the biscuit crumbs into your lined tin and press into the pan until smooth and level. Place in the oven for 10 minutes, until the top is slightly crisp to the touch.

Whilst the crust is baking, make the cheesecake: Place cream cheese, sugar, spices and salt into a large bowl and beat until light and fluffy, about 1 minute on med-high speed.

Add in the vanilla extract, eggs and pumpkin and mix on a medium speed until well incorporated and smooth, about 45 seconds.

Once the crust is baked, pour the cheesecake mixture all over the crust and smooth over with the back of a spoon.

Place in the oven for 25-30 minutes until the edges are slightly firm and the centre is just set, but has a slight wobble if you shake the pan. An inserted skewer should come out clean as well.

Leave to cool in the pan completely, before slicing into 9-12 bars.

Cheesecake bars will keep in an airtight container, in the fridge, for 3 days.
Notes
Recipe by Annie of Annie's Noms