This Pumpkin Pie Oatmeal is pure, hearty comfort in a bowl! Warm, sweet, spicy and filling, it's the perfect breakfast choice for these colder months.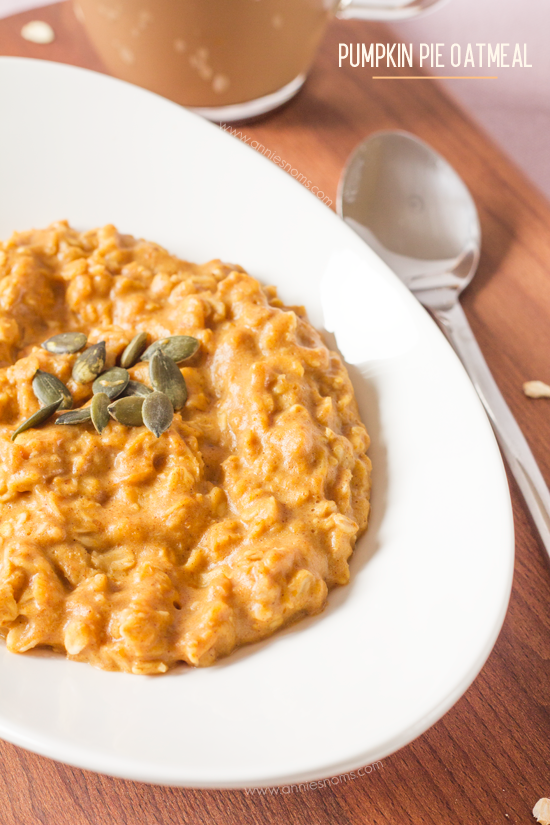 My blog has been entered into the Blog Awards 2015 – I'd be so grateful if you could take a minute to vote for me!
Hello Friends! It's a brand new week and it's also the third week of the month, which means it's Secret Recipe Club reveal day!
This month I was really spoilt for choice! I was assigned Rachel's blog, The Avid Appetite and boy did her About Me page have me chuckling to myself!
Wanna know why? Because 4 years ago, I was the same as Rachel at the start of her relationship "barely able to boil water".
But she, like I, decided that she had to learn to cook and now she is a successful blogger, wife and Mum to her gorgeous daughter Penelope!
We both have a passion for food, (the eating and writing part ;)) and I just knew that I was going to be facing a huge dilemma when it came to choosing just one thing to make for reveal day!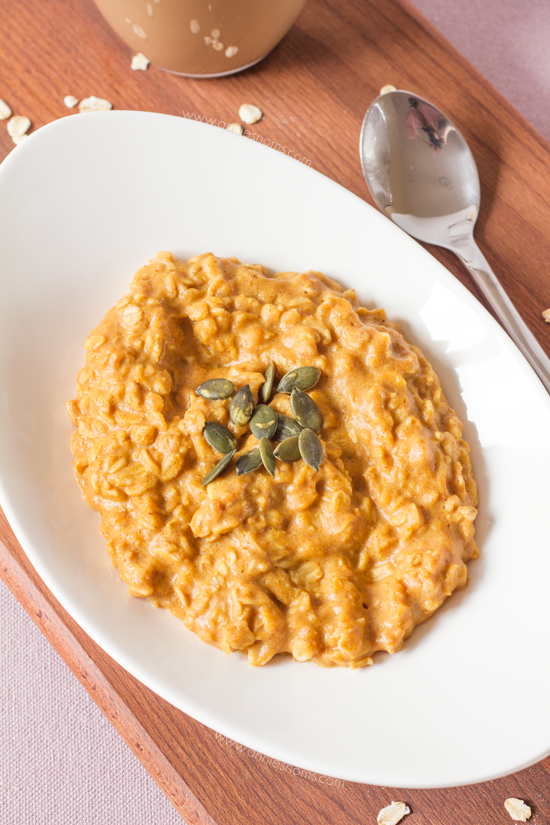 I certainly wasn't wrong there! There was this Ultimate Pizza Dip, Raspberry and Cream Stuffed French Toast, Skillet Chicken Parmesan and this Pumpkin Spice Cake with Honey Frosting.
That's literally just a few of the recipes I loved! There are so many more fabulous recipes on Rachel's blog!
Finally, I decided on this Pumpkin Pie Oatmeal because I felt like I was in a bit of a breakfast rut!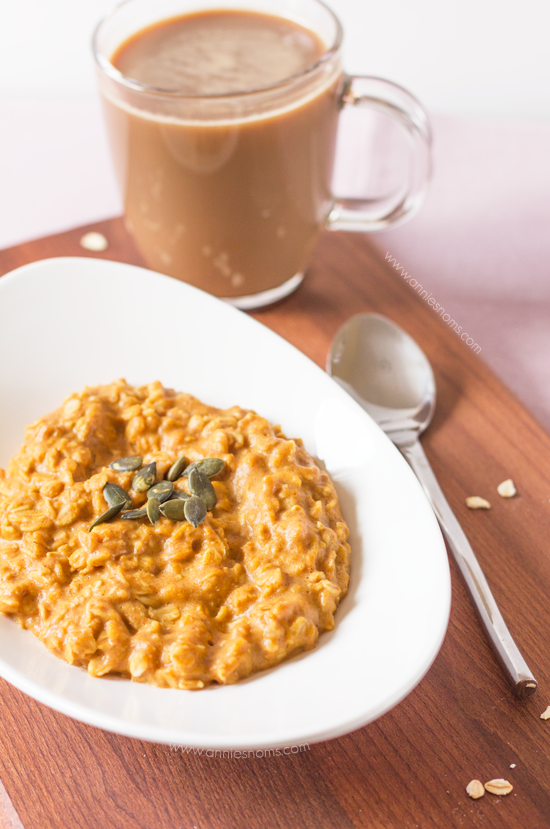 Also because I am utterly in love with pumpkin. And oats at the moment. 😀
I've been experimenting with all kinds of flavours and this immediately became one of my favourites!
It's thick and creamy, with just enough spice. I added a little sweetener and it was just perfect.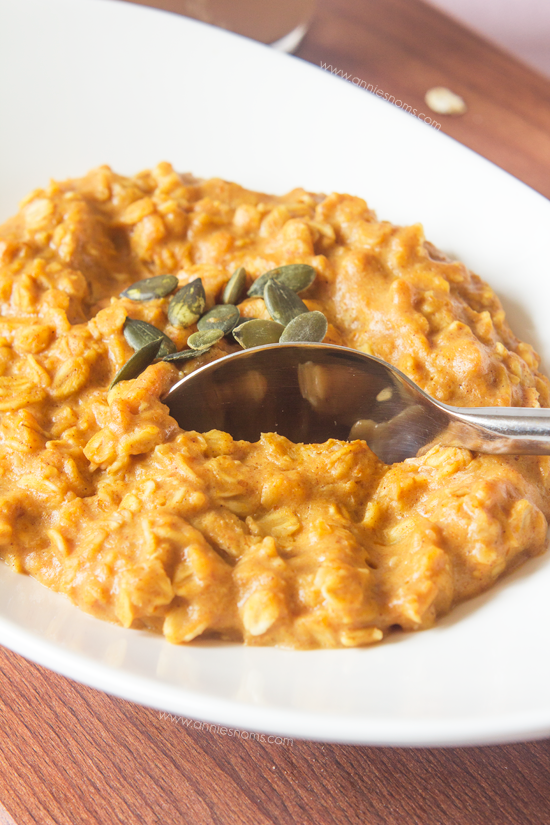 What I love about oatmeal is how versatile it is. This recipe allowed me to choose my own amount of spice and sweetener and it still tasted great. With some things, if you change one thing it ends up being horrible.
I decided to use cinnamon as I didn't have any pumpkin pie spice. Normally I make my own pumpkin spice and I thought about adding ginger, cloves and nutmeg to my oatmeal, but I really fancied just cinnamon!
This has made me want to try more recipes with just that pumpkin/cinnamon combo – it's really delicious and adds a little sweetness to the pumpkin.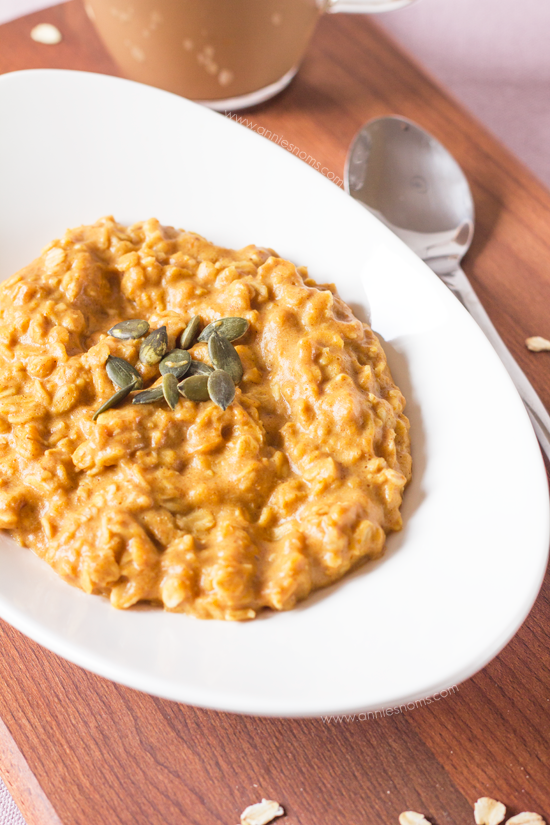 You know what else I loved about this recipe? It only took about 10 minutes to make and then I could just sink my teeth right into it!
I don't know about you, but I don't have time to spend ages making breakfast. Oh and I wake up super hungry EVERY DAY!
I'm definitely not one of those people who can get up and go until noon without eating! I love me some breakfast! 🙂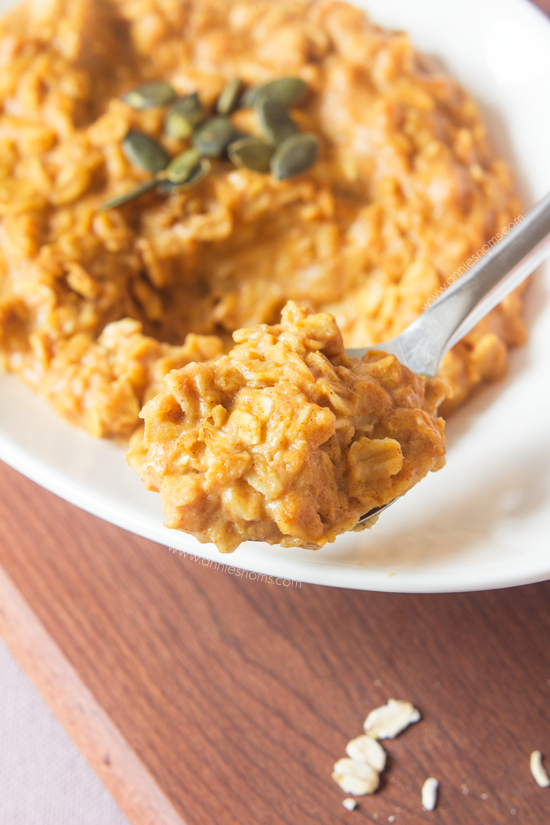 To make this you boil up some milk with a pinch of salt, add in your oats, cook for a couple of minutes before adding in your pumpkin, spice and sweetener.
Then dig in! It will leave you feeling all warm inside and stave off hunger pangs until lunch!
Enjoyed this post? Sign up to my weekly newsletter to ensure you never miss a post!
Pumpkin Pie Oatmeal
This Pumpkin Pie Oatmeal is pure, hearty comfort in a bowl! Warm, sweet, spicy and filling, it's the perfect breakfast choice for these colder months.
Ingredients
1

cup

(240ml) milk,

I used skim, but you can substitute any

Pinch salt

1/2

cup

(80g) rolled oats

1/4

cup

(60g) pumpkin purée

Pumpkin Pie Spice or Cinnamon,

to taste

Sweetener or sugar,

to taste
Instructions
Place the milk and salt into a medium sized pan over a medium-high heat.

Bring to the boil, stirring occasionally so it doesn't burn. Once boiling, add in the oats and stir until they start to thicken.

Add in the pumpkin purée, spice and sweetener/sugar and stir until well combined, cook on low-medium heat for 5 minutes, until thick and creamy.

Serve immediately.