These insanely fudgy Gingersnap Fudge bars combine a homemade gingersnap cookie base with a rich, chocolatey fudge layer. All topped off with more gingersnap dough for good measure! Spicy, chewy, rich – an easy and satisfying bar recipe!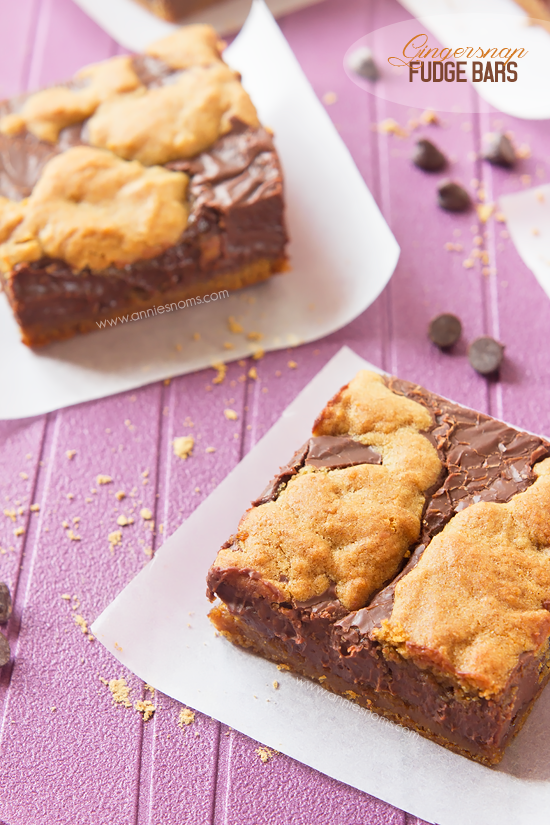 My blog has been entered into the Blog Awards 2015 – I'd be so grateful if you could take a minute to vote for me!
And now for another recipe from my creative mood swing last week!
But first. Can we talk about this weather. I mean, a food blogger's worst nightmare is happening in the UK.
Apparently, we're going to have 3 months of rain. 3 MONTHS. ARE YOU KIDDING ME?!
I'm normally a pretty well organised individual. I like to make a couple recipes, then shoot them and have them ready to go. I have other work going on too, but that's mostly dinner recipes. However, this weekend was a complete wash out. It was so unbelievably dark we had the lights on all day. I had 5 recipes to shoot and I only shot one.
And I was expecting them to be the worst photos in the world. They weren't – I was pleasantly surprised, but thank god for tripods because I could not stand still long enough for that shutter speed…
To be honest, I'm dreading the middle of winter. It already gets dark about 15:30, so on a normal, non-rainy day, I have about 4 hours where it's light enough to shoot.
This week I have 10 recipes to shoot and as I sit here writing this (8am) – I still have all the lights on and it's so dark it's just ridiculous.
So, I've been making dinner for breakfast. Then it's ready to go for whenever I get 5 minutes of light. Not quite sure what I'll do if we get absolutely no light all day… :/
Stroganoff for breakfast anyone?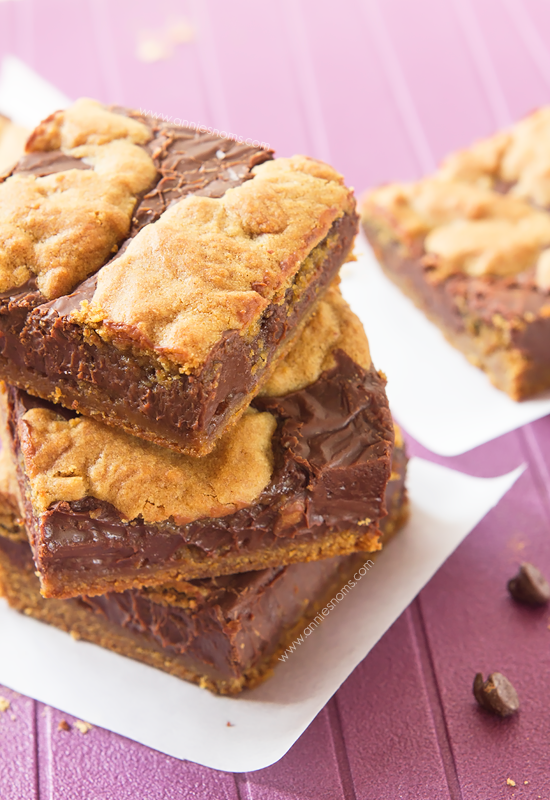 Anyway… these bars.
These are. INSANE.
And I had 15 whole minutes of light to shoot them! 😀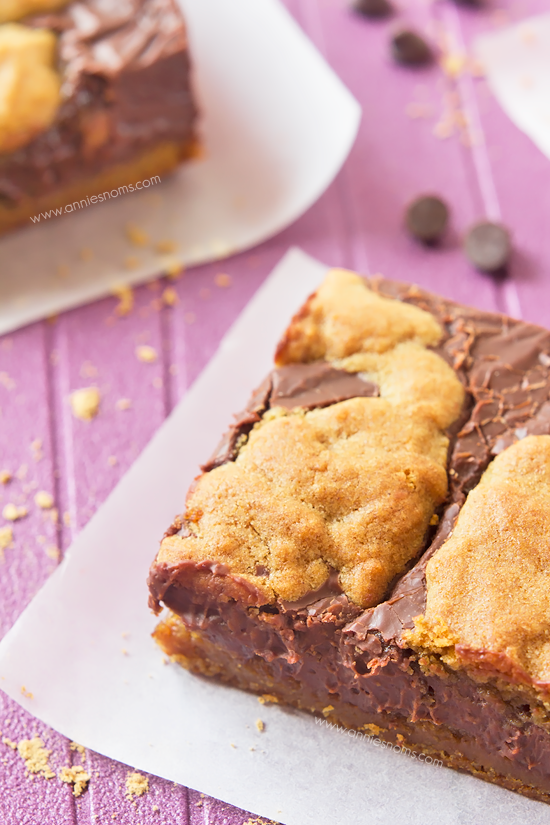 I started with an ultra ginger-y homemade cookie base (no packet stuff here!) then topped it with the most glorious fudgy, rich, sweet, chocolatey filling.
This filling. Man. Condensed milk is literally a miracle ingredient.
It turned plain old melted chocolate into thick, glossy fudge.
I may have put one of these bars in the microwave yesterday for lunch. It was ooey-gooey heaven.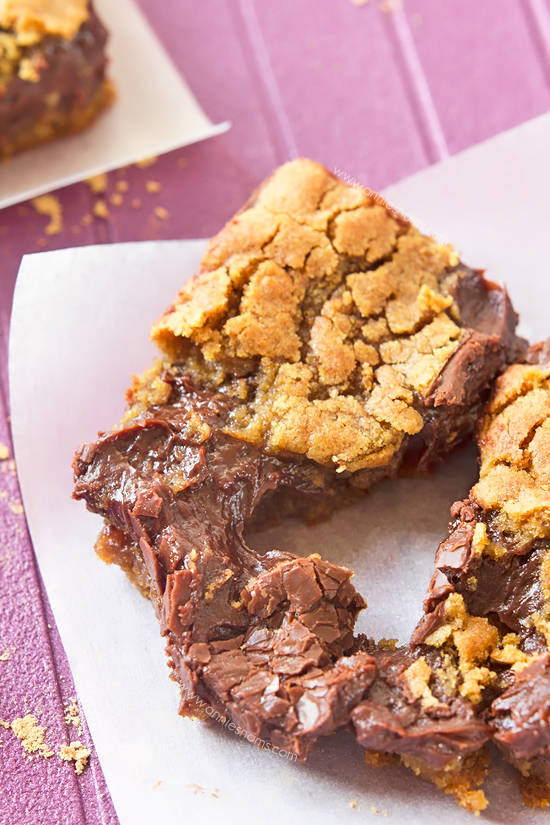 JUST LOOK AT THAT FUDGY GOODNESS!
The ginger and chocolate is such a winning combination. The sweet chocolate mix and spicy ginger are the perfect contrast. I put almost 1tbsp of ginger into this recipe, so you really get that ginger hit – we loved these!
I'm going to have to make this cookie dough again and actually bake it into cookies. They are so chewy it's crazy – they'd make the perfect treat to go with your morning coffee.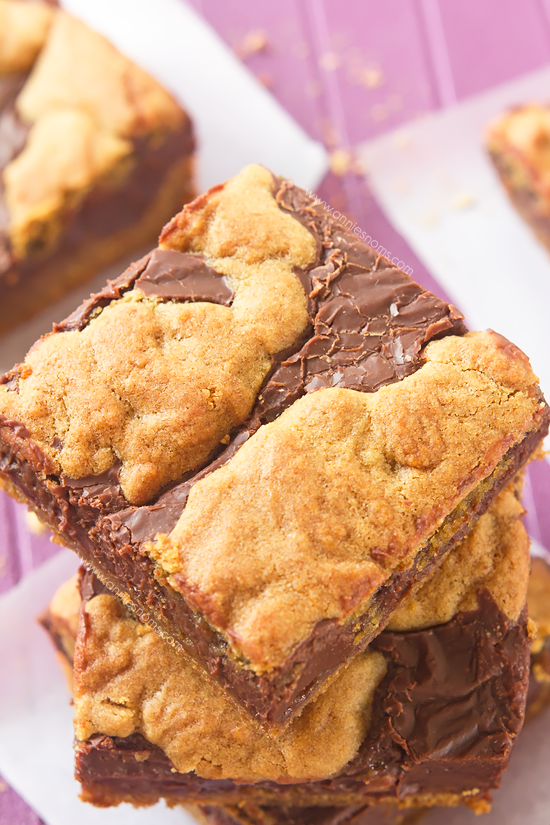 Who am I kidding? They'd make the perfect treat any time. It's a special day for someone somewhere in the world.
This is how I justify my addiction to eating cakes.
Do you know the best thing about these bars?
Because I based the cookie dough on my base recipe – with the use of 3 flours – they stay soft for days.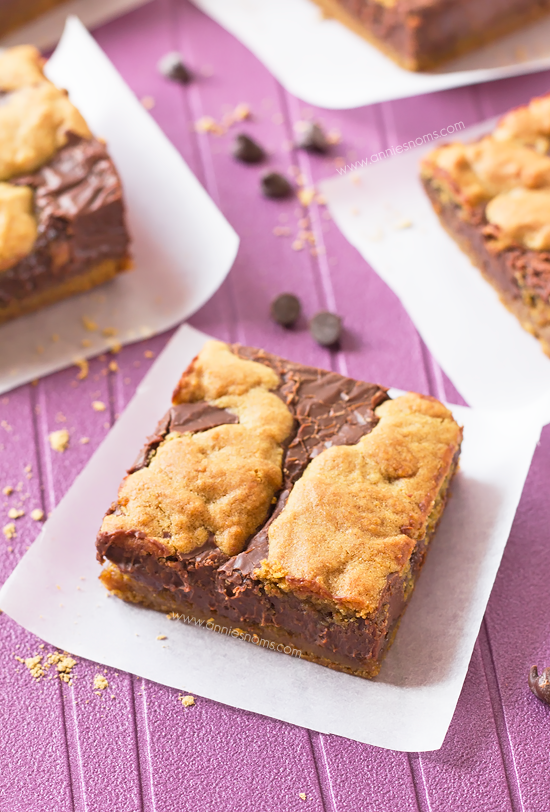 Once the fudge has "set" it stays nice and chewy – and it just melts in your mouth. I didn't want a fudge which properly set and became hard, it would have ruined all that I wanted these bars to be.
To make the filling, I melted some chocolate chips into condensed milk, with a splash of vanilla extract and only cooked it until all the chocolate had melted. There was no added sugar and I didn't need a candy thermometer. I also poured it on as it was without whipping it up – this helped make a smooth, velvety filling.
I baked the cookie base for 10 minutes before pouring the filling on. To top it all off I saved 1/4 of the cookie dough and then crumbled it on top before baking them for 15-20 minutes.
It's important to let them cool properly before trying to remove them from the pan for slicing – when they're warm the fudge filling is ultra soft and gooey, so trying to cut them will make a mess – a tasty mess, but still… 🙂
I obviously ignored my own advice and just dug straight in with a spoon as soon as they came out of the oven – what's that saying? Do as I say, not what I do 😉
I did wait to actually take them out and slice them, but still – I just had to try them as I was expecting so much!
They lived up to all of my expectations. Honestly, MAKE THESE BARS! 😀
Enjoyed this post? Sign up to my weekly newsletter to ensure you never miss a post!
Gingersnap Fudge Bars
These insanely fudgy Gingersnap Fudge bars combine a homemade gingersnap cookie base with a rich, chocolatey fudge layer. All topped off with more gingersnap dough for good measure! Spicy, chewy, rich - an easy and satisfying bar recipe!
Ingredients
For the cookie dough:

3/4

stick (85g) unsalted butter,

at room temperature

3/4

cup

(150g) light brown sugar

1

large egg

1/2

tsp

vanilla extract

1

tbsp

runny honey

1

cup

(140g) plain flour

1/2

cup

(70g) bread flour

1

tbsp

cornflour

2 1/2

tsp

ground ginger

1/2

tsp

ground cinnamon

1/4

tsp

ground allspice

1

tsp

bicarbonate of soda

Pinch salt

For the filling:

14

oz

can of condensed milk

1

cup

(175g) dark chocolate chips

1

tsp

vanilla extract

Pinch salt
Instructions
Preheat the oven to 180C/350F and grease and line an 8x8 inch square pan.

Place butter and sugar into a large bowl or the bowl of your stand mixer and beat until light and fluffy, 2 mins on med-high speed.

Add in the egg and vanilla extract, scraping down sides as necessary and mix on med-high until well incorporated.

Add in the honey and mix briefly until combined.

Place flours, spices, bicarb and salt into a medium sized bowl and stir to combine.

Tip the flour mix into the egg mixture and mix on low until you have a soft dough.

Place 3/4 of the dough into your lined pan and push into the pan with your hands or the back of a spoon until level.

Place the base in the oven for 10 minutes, it will be slightly puffy and ever so slightly coloured around the edges when ready.

Whilst the base is baking, make the filling: place condensed milk, chocolate chips, vanilla and salt into a medium sized saucepan over a low heat and stir continuously until the chocolate melts and everything is smooth and well combined.

Leave to one side until the base is done baking.

Once baked, pour the fudge filling all over and smooth until level with a spoon/spatula.

Crumble the remaining 1/4 of cookie dough over the fudge filling - it's not meant to entirely cover it, so gaps are fine!

Place in the oven for 15-20 (mine took 17 minutes) until the cookie dough is golden brown and the filling is just set, it will be soft and wobble slightly in the middle.

Leave to cool completely in the pan, before slicing into 9-12 bars.

Bars will keep in an airtight container, at room temperature for 5 days.
Notes
Recipe by Annie of Annie's Noms