This Christmas Pudding Granola takes flavour elements from traditional Christmas Pudding and uses them to create a hearty, festive breakfast! Crunchy oats, sultanas, raisins, honey and spices make this truly delicious granola the perfect breakfast for the holidays!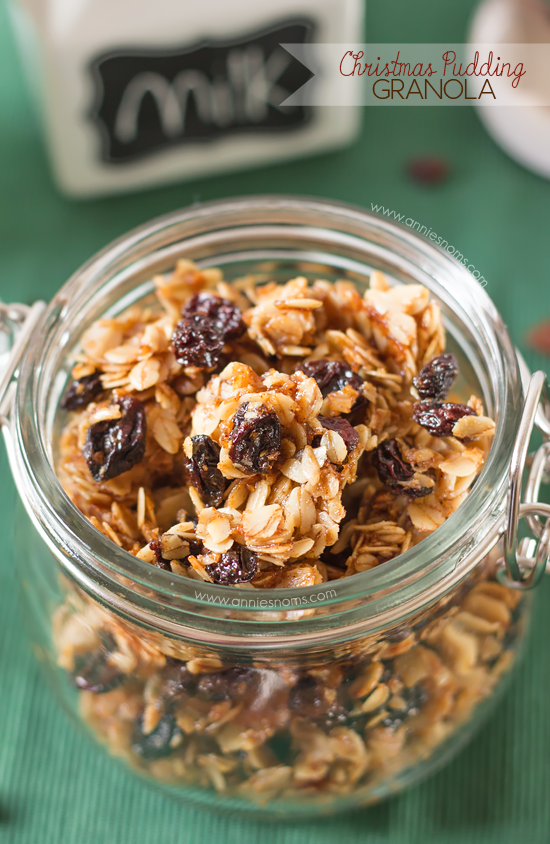 I'm so excited!! We're getting our Christmas tree this weekend and I can't wait to go mad with decorations! This year, for the first time ever, I haven't bought any new decorations – so we're staying with the purple and gold from last year.
To be honest, we have enough decorations from the last few years to decorate 5 trees, but we'll stick to one. I'm not sure OH has the patience for me to choose 5 trees.
He barely copes with one. Is it just me who spends ages finding the "perfect" tree? I just don't want a wonky, uneven tree which is half dead, so he has to un-net all the ones the shop has netted and then I spend about 15 minutes walking round the tree deciding if I like it.
We do this process on about 10 trees. It takes a good 2-3 hours to get the right one and 9 times out of 10 we go back to the first tree!! 😀
Until we got together, OH never really did Christmas as it was just him and the dog. I must say he's adapted incredibly well, but he must love me to put up with my child-like excitement over the holidays!
I couldn't believe that there was someone who didn't "do Christmas" for no reason. What, no tree? No turkey? No chocolate for breakfast? No presents?!
Anyway, this year I'm determined to enjoy every second of Christmas as for the last couple of year's I've been too busy with Uni work to really enjoy it. This year I'm busy with work, but I can't really complain, I get to bake all the things in my kitchen!!
Things like this Christmas Pudding Granola!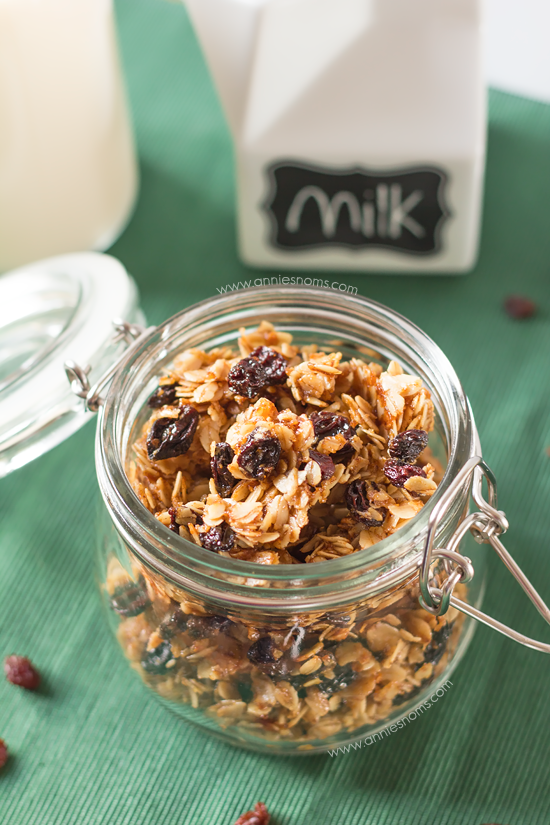 Most Christmas Puddings here have alcohol or nuts in, neither of which I can have, so I usually don't bother. But, for this recipe, I took elements like sultanas, raisins and all spice to make the perfect homemade Christmas-sy breakfast!
Of course you can add in nuts, mixed peel, cranberries etc. if you want, granola is super versatile!
Admission time: this is actually the second batch of granola I've made in 2 days. Did you see this on Instagram? The first batch was a complete disaster, I managed to burn the heck out of it. It was so hard it could have broken teeth and the fruit looked like shriveled rocks.
But then, this is what recipe developing is, so at least it happened to me and not one of you trying to make the recipe!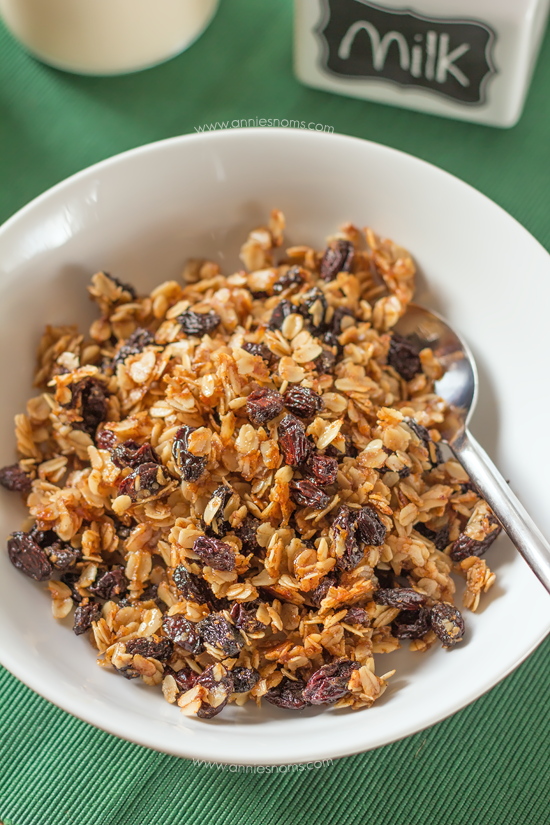 Now, I don't know about you, but I simply adore granola. I'm like a granola monster! However, it shocks me just how much sugar is in store-bought granola. I didn't start looking at packets until recently, now I'm glad I did!
I've always thought homemade granola tastes better, now I know that it's way better for you than store bought as you can control the amount of sugar!
In this recipe, there's a 1/4 cup of light muscovado sugar and 2tbsp of honey which is pretty good considering it makes about 6 servings.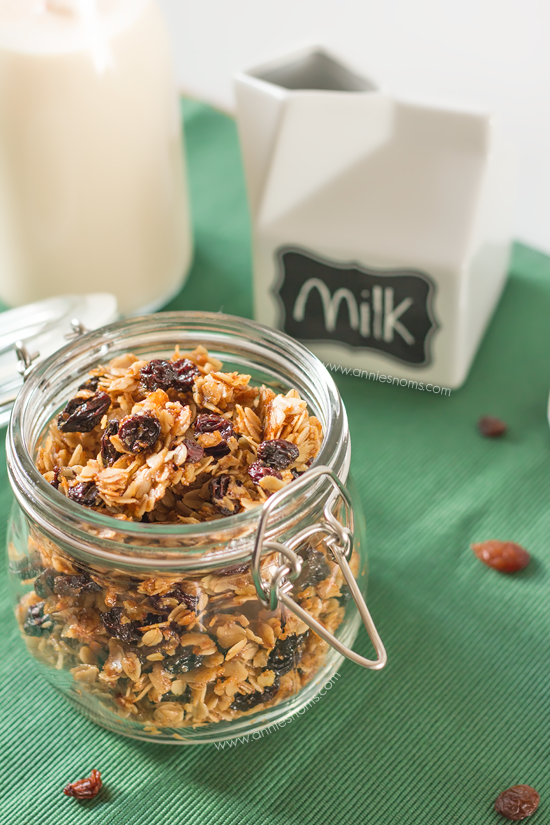 Actually, can we talk about serving sizes?
Apparently a serving of granola is 3tbsp.
Are you kidding me?!
That means I have about 3 servings… oops.
You know another thing I love about homemade granola? How easy it is to make!
One bowl, one spoon, mix it up, spread it on a baking tray, bake until golden, faceplant…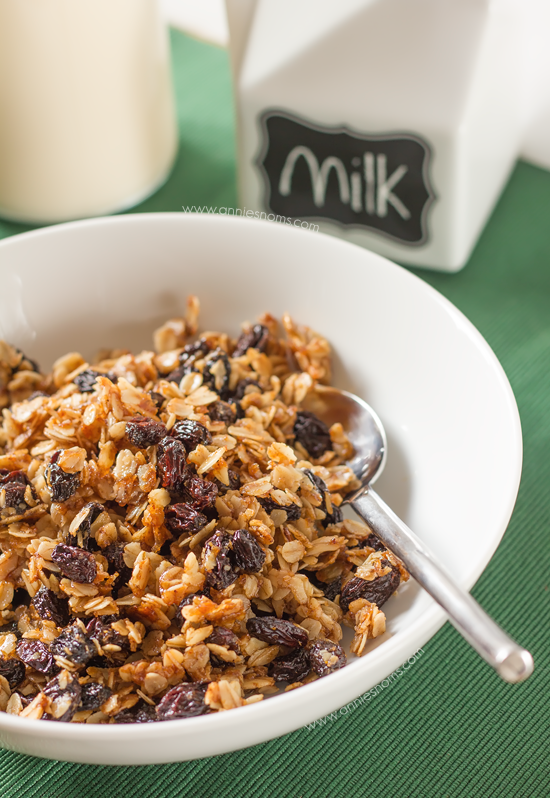 So what is in this festive treat?
Old fashioned rolled oats, juicy raisins and sultanas, cinnamon, allspice and nutmeg, sugar, oil and honey. That's it.
Good stuff for a good breakfast. Or lunch. Or dinner. Breakfast for dinner is a thing right? I mean, am I the only one who has a bowl of cereal for dinner sometimes if I'm home alone?
I don't really see the point in cooking for one… makes me kinda sad…
I used light muscovado sugar as I found it in the Christmas pudding recipes I looked at and I could understand how it's flavour would transform my granola. It has a really rich flavour, more caramel-ly than light brown, although if that's all you have this recipe would still work! 🙂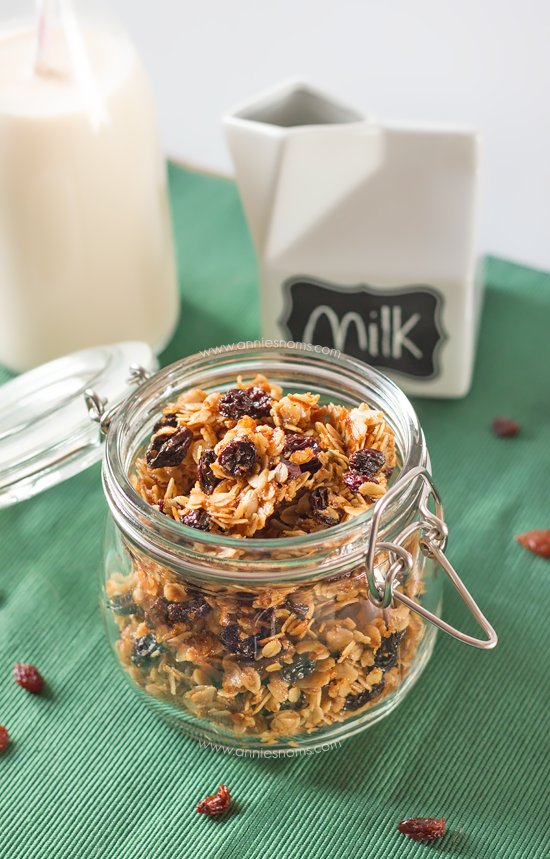 You will absolutely love how Christmas-sy the house smells when this is baking. The spices, the fruit… it's just wonderful. I couldn't stop going out into the kitchen to get a bigger hit of spicy scent.
There is quite a lot of cinnamon in this recipe, but it doesn't overpower all the other flavours. It's perfectly balanced. You get sweet, crunchy oats, then a burst of fruit and the last taste hit is the spice.
The oil and honey ensure you get gorgeous clusters of granola, with the honey adding extra sweetness, and the fruit stays juicy and plump. They looked fit to burst in the oven they got so plump, it was amazing to watch.
Yes, I watch things baking. No wonder I have back problems constantly bending to look in the oven…
This granola is so insanely good I totally won't blame you if you just grab handfuls and run away to eat. We're all friends here and there's no judging 🙂
OK, I'll shut up now and give you the recipe! 😀
Enjoyed this post? Sign up to my weekly newsletter to ensure you never miss a post!
Christmas Pudding Granola
This Christmas Pudding Granola takes flavour elements from traditional Christmas Pudding and uses them to create a hearty, festive breakfast! Crunchy oats, sultanas, raisins, honey and spices make this truly delicious granola the perfect breakfast for the holidays!
Ingredients
2 1/2

cups

(200g) rolled oats,

not quick cook

1/2

cup

(82g) raisins

1/2

cup

(82g) sultanas

1/2

tsp

ground allspice

3/4

tsp

ground cinnamon

1/8

tsp

ground nutmeg

1/4

cup

(50g) light muscovado sugar,

light brown can be substituted

1/2

cup

(120ml) vegetable oil

2

tbsp

runny honey,

mild flavoured

Optional add ins: nuts, mixed peel, cranberries
Instructions
Preheat oven to 160C/325F and line a baking tray with greaseproof paper/silicone mat.

Place oats, raisins, sultanas, allspice, cinnamon, nutmeg and sugar into a large bowl and stir until combined.

Add in vegetable oil and honey and stir until everything is coated in the oil mix.

Tip oat mix onto your baking tray and spread out into an even layer. (If you have piles of granola, they will bake unevenly).

Place in the oven for 30-40 minutes (mine took about 37 mins). Stir every 15 minutes.

Granola is done when oats are golden brown, the mix is starting to dry out and the fruit is still plump, but evenly browned. Mixture will still be soft and easy to move around, but will set up when it cools.

Leave to cool completely before transferring to an air tight container. You can break up larger clusters with a spoon, I like all different size granola pieces!

Granola will keep at room temperature for one month.
Notes
Recipe by Annie of Annie's Noms