This Eggnog Loaf is soft, tender and has a double eggnog hit! Eggnog is baked right into the batter and then poured on top whilst it's still warm. There is also a rich, chocolate cream cheese layer baked into the centre, to add a contrast to the sweet eggnog!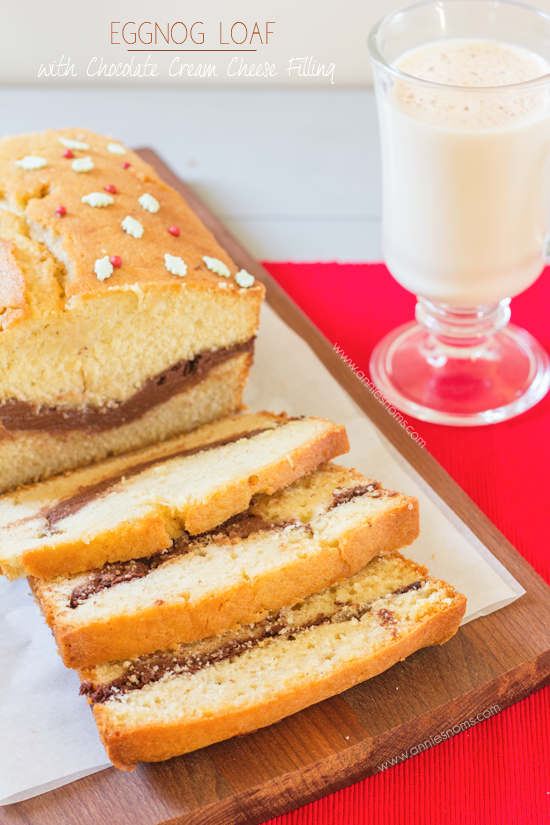 I finally tried Eggnog friends!!
Obviously. Otherwise this recipe wouldn't exist…
Anyway. I've wanted to try Eggnog for years, but we don't get it here – correction – I've seen it once in Tesco in the World food aisle. But it was about £10 for 1 litre.
Sorry, I didn't want to try it that much…
However, I found a recipe online for a booze free version and made plans to make it.
Then I realised I didn't have any cream.
So a few days later, I did actually get round to it and I LOVE IT!
Honestly, who forgets to buy one of the main ingredients?!?!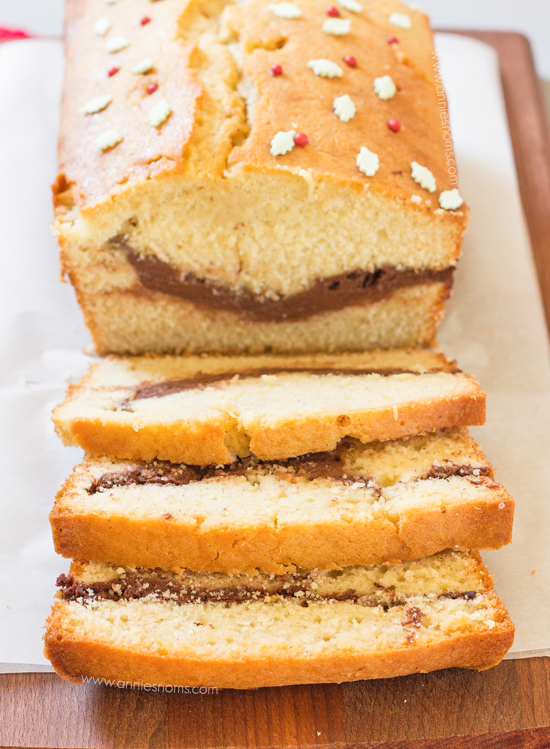 Last week, I spent ages going through the recipes I was planning on making and writing my shopping list; got to the supermarket… realised I'd left it on the sofa.
I'd forget my head if it wasn't screwed on.
Anyway, after numerous trips to the shops for all the stuff I'd forgotten, this loaf was born.
When I was drinking some eggnog, I was thinking of things I could use which would contrast with it, but keep things ultra creamy. So, something with cream cheese seemed the obvious answer!
Then I started wondering how eggnog would taste with a chocolate cream cheese filling – one that's not too sweet at all, and cuts through the sweetness of the eggnog.
I was contemplating swirling the chocolate filling throughout the loaf, but then I decided that I wanted distinct layers, so that you could get a whole mouthful of just eggnog loaf if you wanted and then a little hit of chocolate.
It worked perfectly!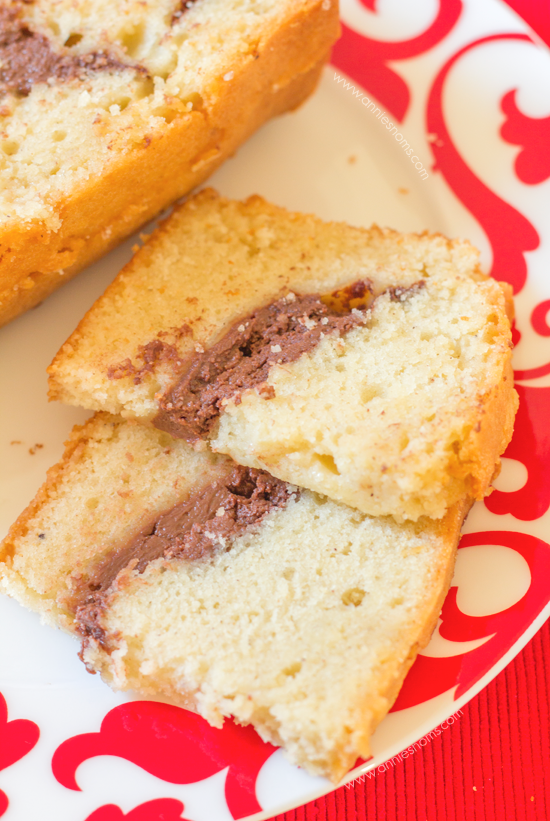 And now I want to make all the things with Eggnog! What do you love making with Eggnog?
I think I might make some fudge and maybe some cinnamon rolls?
I totally get what all the fuss is about with eggnog now!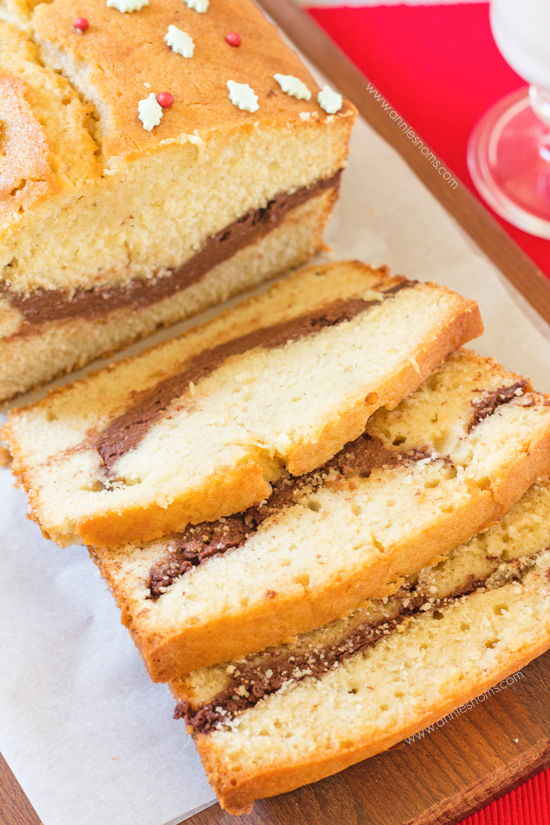 Now, this loaf. It's a simple cake batter with flour, sugar, baking powder, butter, vanilla and then a whole cup of eggnog and a good hit of nutmeg! Nothing fancy, but so Christmas-sy and perfect to have with a cup of coffee in the afternoon!
Or maybe you'd like to have it like me, with a glass of eggnog… Then dunked in the eggnog. Triple eggnog hit! 😉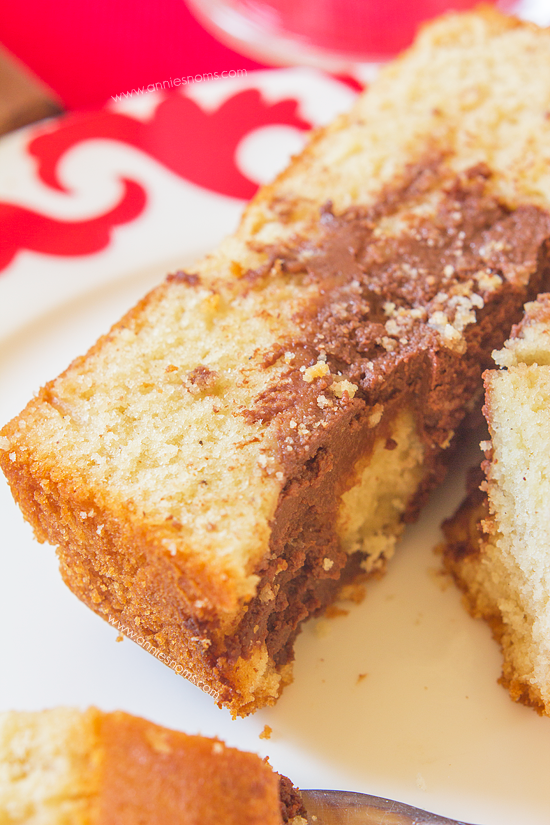 I'm aware I'm pretty strange being teetotal so you can add in 1-2tsp rum extract if you so desire 🙂
This filling – man it's easy. Cream cheese, cocoa powder and sugar. That's it – I use full fat cream cheese, Christmas is not the time for diets, and just a 1/4 cup of sugar. Along with the cocoa powder it makes a rich filling, with a good tang from the cheese and just a little hit of sweetness.
To get the "ribbon" of cream cheese, I placed half my eggnog loaf batter into my pan, smoothed it out and then spread my cream cheese filling all over the batter – you'll notice in my photos, I didn't get a perfectly even filling, but that's OK – this is homemade and looking homemade is no bad thing!
To top it off, I tipped the rest of my eggnog batter over the cream cheese, spread it level then baked it for 60-75 mins @ 160C/325F.
I know some people like to bake loaf cakes at 180C/350F but I truly believe that with a big, dense cake, a longer, slower bake is better – it means you don't end up with a moist centre and dry edges – nobody wants that!
So, if you're looking for an easy, but slightly different twist on an Eggnog loaf, then this cake is definitely for you!!
Enjoyed this post? Sign up to my weekly newsletter to ensure you never miss a post!
Eggnog Loaf with Chocolate Cream Cheese Filling
This Eggnog Loaf is soft, tender and has a double eggnog hit! Eggnog is baked right into the batter and then poured on top whilst it's still warm. There is also a rich, chocolate cream cheese layer baked into the centre, to add a contrast to the sweet eggnog!
Ingredients
For the cheesecake filling:

6

oz

(170g) full fat cream cheese

2

tbsp

Cocoa powder

1/4

cup

(50g) caster sugar

For the cake:

2 1/2

cups

(350g) plain flour

2

tsp

baking powder

1/2-3/4

tsp

ground nutmeg

1 1/2

sticks (170g) unsalted butter,

at room temperature

1

cup

(200g) caster sugar

2

large eggs

1/2

tsp

vanilla extract

1-2

tsp

rum extract,

optional

1

cup

(240ml) eggnog

1/4

cup

(60ml) eggnog for drizzling over the baked cake,

optional
Instructions
Preheat oven to 160C/325F and grease and line a 2lb loaf tin.

Make the filling first: Place cream cheese, cocoa and sugar into a medium sized bowl and beat with a spoon until everything is combined and you have a smooth consistency. Leave to one side.

Place flour, baking powder and nutmeg into a medium sized bowl and stir briefly to combine. Leave to one side.

Place butter and sugar into a large bowl, or the bowl of your stand mixer and beat until light and fluffy, about 2 minutes on med-high speed.

Add in the eggs, vanilla and rum, if using, scraping sides as necessary, and mix on medium speed until smooth and well combined.

Add in the flour mix and mix on low until just combined.

Add in the eggnog and mix on low-medium speed until you have a smooth, well combined cake batter.

Tip 1/2 of the cake batter into your lined tin and smooth until level with a spoon/spatula.

Spoon the cream cheese filling into your pan and spread until you have covered the cake batter.

Tip the remaining cake batter on top of the cream cheese and smooth until level. Tap the tin on the work surface 3 times, just to ensure there isn't loads of air in there!

Place in the oven for 60-75 minutes, until risen, golden and an inserted skewer into the centre comes out clean. - You will get chocolate on the skewer, but as long as that's all you have on there, no cake crumbs then it's done!

Leave to cool for 10 minutes before poking holes in the top of the cake with a skewer and pouring over the 1/4 cup of eggnog.

Then, leave the cake to cool completely in the pan, before slicing into 12-14 slices.

Eggnog loaf will keep in an airtight container, at room temperature for 3 days, or in the fridge for 5 - take out of the fridge 30 mins before serving.
Notes
Recipe by Annie of Annie's Noms