These Cranberry and Ginger White Chocolate Chip Cookies are just perfect for Christmas! With my famous cookie dough, chunks of crystallized ginger, white chocolate and dried cranberries, these marry tart, sweet and spicy together perfectly!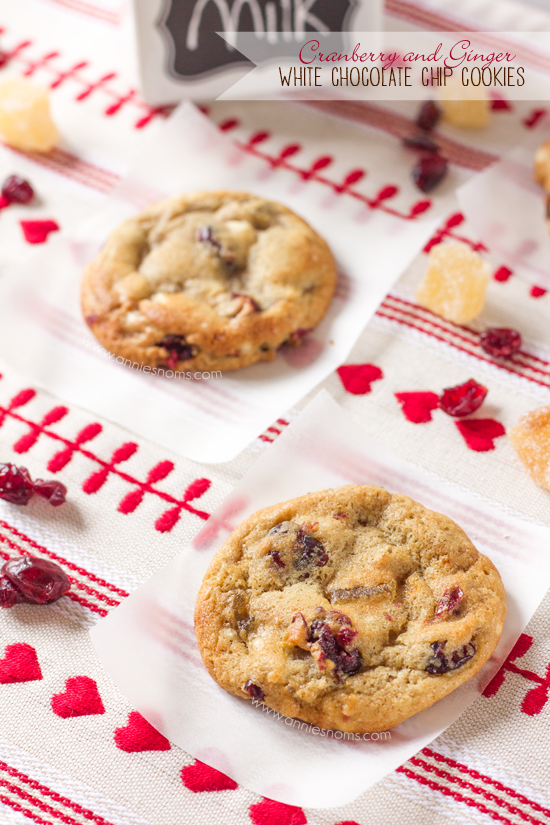 Hello friends!!
I know it's Monday and I don't normally post, but today I'm taking part in The Great Food Blogger Cookie Swap.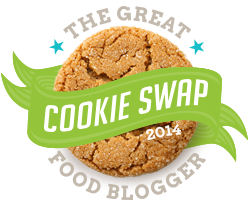 I've wanted to participate for the last couple of years, but either didn't have time or wasn't blogging frequently enough to join in with the fun!
However, this year, since I'm now blogging full time, I couldn't wait to sign up! If you don't know – the Great FB Cookie Swap is run by two of my favourite blogger's ever: Lindsay from Love and Olive Oil and Julie from The Little Kitchen
This is the 4th year of the cookie swap running and it works by each person being assigned 3 "swaps" – so we all get three people to send 12 cookies to and we get 3 people sending us 12 cookies in return.
Basically, cookies everywhere!!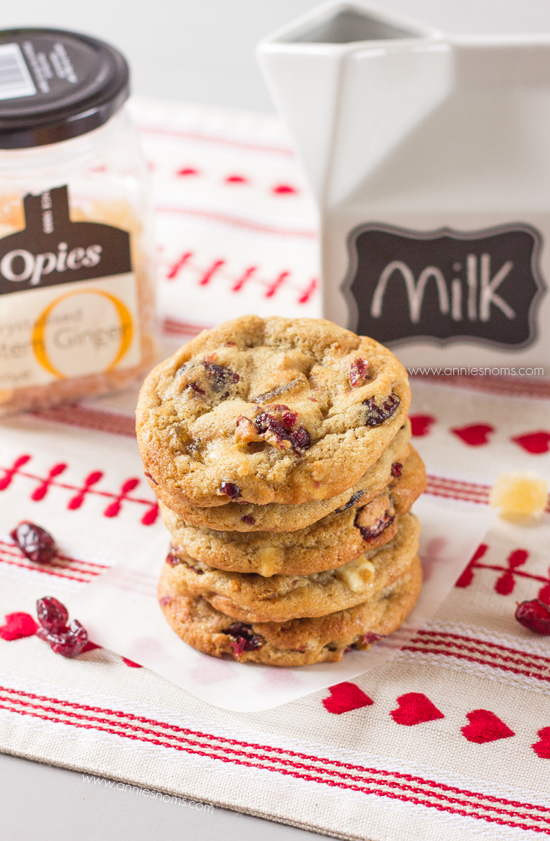 I received some cola gingerbread from Becca's Baking Blog, chocolate buttons from Iris at Whatever Gets You Through The Day and cranberry, ginger and sea salt cookies from Ellie of Roving Lights.
I loved getting such a variety of cookies – and the fact it was a complete surprise. I don't know about you, but when I receive mail and I don't know what it is, I tear into it like an over-excited child to find out what's inside!
Even better, when it's edible…
So, for my three swaps, I decided to make these Cranberry and Ginger White Chocolate Chip Cookies!
I used my famous three flour cookie dough and then added in some chopped crystallized ginger, dried cranberries and chunks of oozing white chocolate.
It was so hard to part with them, I wanted to stuff my face with 10 of them!
I also tried really hard to package them nicely whilst also making sure that they wouldn't arrive in pieces! So I placed them in these cute little organza bags and then loaded my boxes with bubble wrap!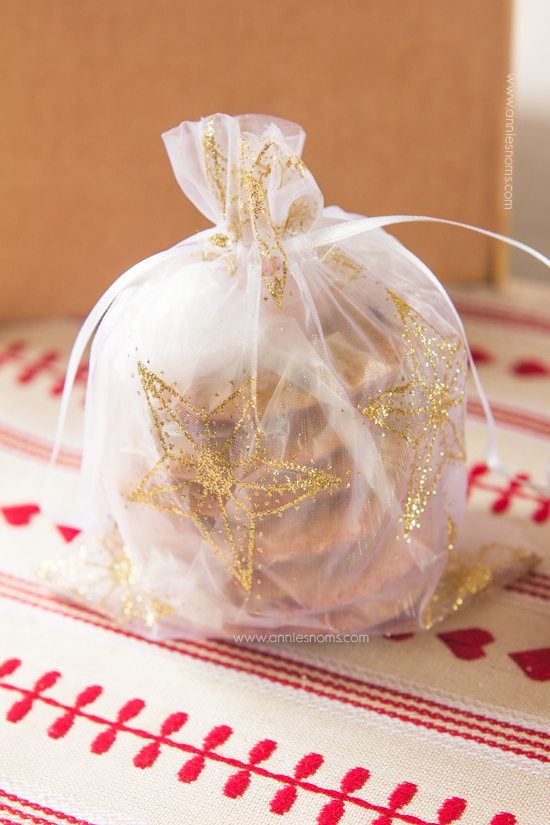 I really hope my swaps enjoyed their cookies as much as I enjoyed making them!
I kind of felt the pressure though! Normally it doesn't matter if you have a few "ugly ducklings" as I just pick out the pretty ones to photograph, but this time ACTUAL PEOPLE were going to be receiving them and I am a perfectionist, so had to try and get them as perfect as possible.
Yes, I stood by the oven for the entire baking time watching, praying, hoping that they turned out right and so that I could pull them as soon as they were ready!
I wish there was some amazing story of how I came up with these cookies, but actually I just sat down and thought "I wonder what cranberry, ginger and chocolate would be like in a cookie"
Then I went shopping and found crystallized ginger and thought "Yes, I want to see how this contrasts with the chocolate and tart cranberries"
Now I am letting my secrets out… I try and plan and sit and write what to make. I love being organised… But most of the time, I've written down what I plan on making, then I suddenly have a creative mood swing and decide there are 5 other things I MUST MAKE NOW.
This is why my "to bake" list is from here to the moon and back. Too many ideas!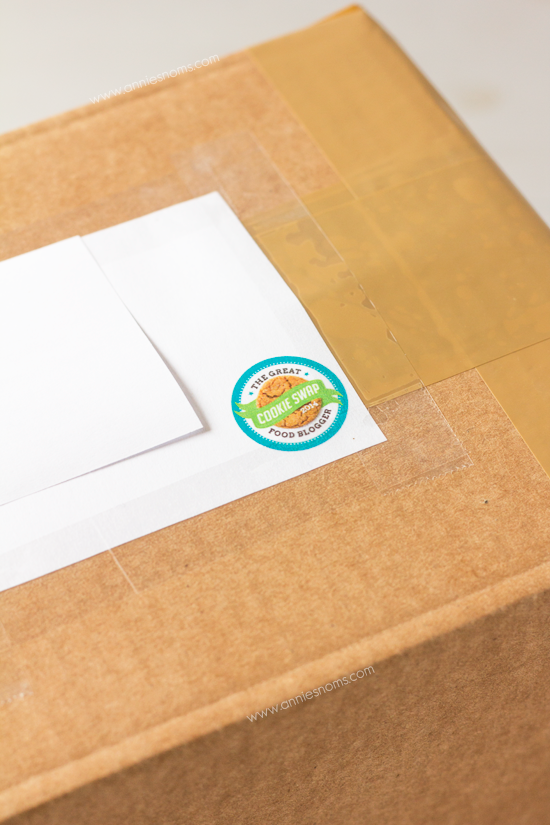 (I packaged my cookies in 8×6 inch boxes, with the cookies in the centre and loads of padding around. For the recipe, I designed my own recipe sheets and then printed out all the labels with the Cookie Swap logo! – If you want my design for recipe cards, just email me!)
Anyway, we thought these cookies turned out great! As you hit a bit of ginger, you got a strong hit of spice, but then the white chocolate and sweet dough balanced it out. Then there's the cranberries… I just adore them.
They add fruity bursts of tartness to the cookies – I think the addition of them makes these cookies perfect!
So, HAPPY COOKIE SWAP DAY and go and make these cookies! If you want to get notifications about next year's swap etc. you can sign up here.
Enjoyed this post? Sign up to my weekly newsletter to ensure you never miss a post!
Cranberry and Ginger White Chocolate Chip Cookies
These Cranberry and Ginger White Chocolate Chip Cookies are just perfect for Christmas! With my famous cookie dough, chunks of crystallized ginger, white chocolate and dried cranberries, these marry tart, sweet and spicy together perfectly!
Ingredients
1/2

cup

(80g) crystallized ginger,

chopped into small pieces

1

cup

(150g) dried cranberries

1

cup

(200g) white chocolate chips/chunks

2

cups

(280g) plain flour

1/2

cup

(70g) bread flour

1

tbsp

cornflour

1 1/2

tsp

bicarbonate of soda

Pinch salt

3/4

cup

(150g) light brown sugar

1/2

cup

(100g) caster sugar

1 3/4

sticks (200g) unsalted butter,

at room temperature

2

large eggs

1/2

tsp

vanilla extract
Instructions
No need to preheat the oven yet, this dough needs to chill!

Place the ginger, cranberries and chocolate chips into a medium sized bowl and stir briefly. Add in the flours, bicarb and salt and stir until all the chocolate etc. is coated in flour. Leave to one side.

Place the sugars and butter into a large bowl or the bowl of your stand mixer and beat until light and fluffy, about 2 minutes on med-high speed.

Add in the eggs and vanilla extract, scraping sides as necessary, and mix until well incorporated, about 1 minute on med-high speed.

Tip in the flour mix and mix on low until a soft dough forms.

Tip the dough into a medium sized bowl, cover with cling film and place in the fridge for at least 6 hours, over night if possible.

Once chilled, preheat oven to 180C/350F and line 3 baking trays.

Using a 1.5tbsp cookie scoop, place dough balls 2 inches apart, flatten dough balls ever so slightly with a clean hand.

Place in the oven for 9-11 minutes, until risen, golden around the edges and still soft in the middle. You want them to have a slight sheen when the light of the oven hits them, not be sunken and greasy looking (that means they're not quite done!).

Leave to cool on the trays completely, then keep in an airtight container, at room temperature for 5 days.
Notes
Recipe by Annie of Annie's Noms