These Candy Cane Fudge Cookies have melted chocolate in the batter to make them super fudgy along with chunks of oozing white chocolate and the refreshing mint flavour of crushed candy canes. The perfect contrast between soft and crunchy, these festive cookies need to be on your bake list!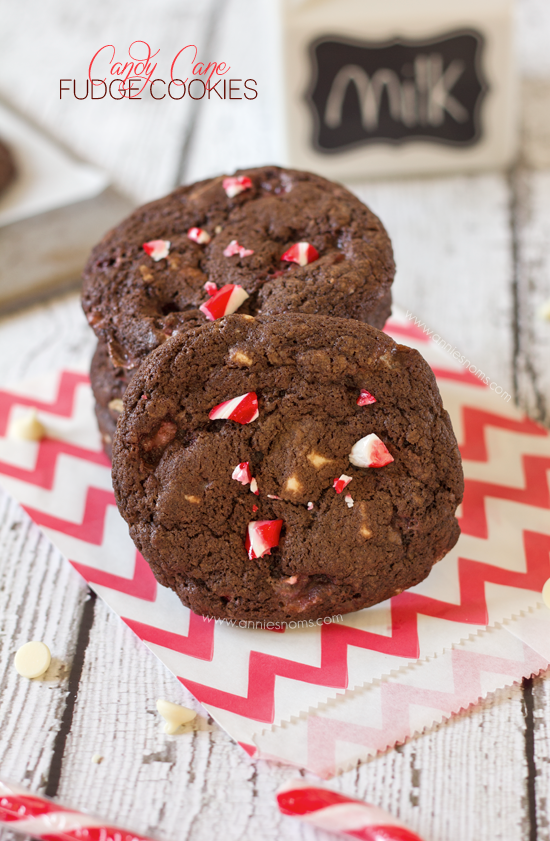 I think I should rename this blog "Annie's Cookie Addiction" – I just can't get enough. There are endless possibilities don't you think!? Literally anything… my mantra is "if a chocolate bar/candy tastes good on its own, it'll taste even better in cookies".
It's the simple things in life 😉
Anyway, I figure that Santa doesn't want the same cookies every year, so I'm giving you lots of ideas for this year!
In fact, I'm sharing another cookie recipe with you next week. Although that one is super quick and easy. Santa will LOVE them! 😀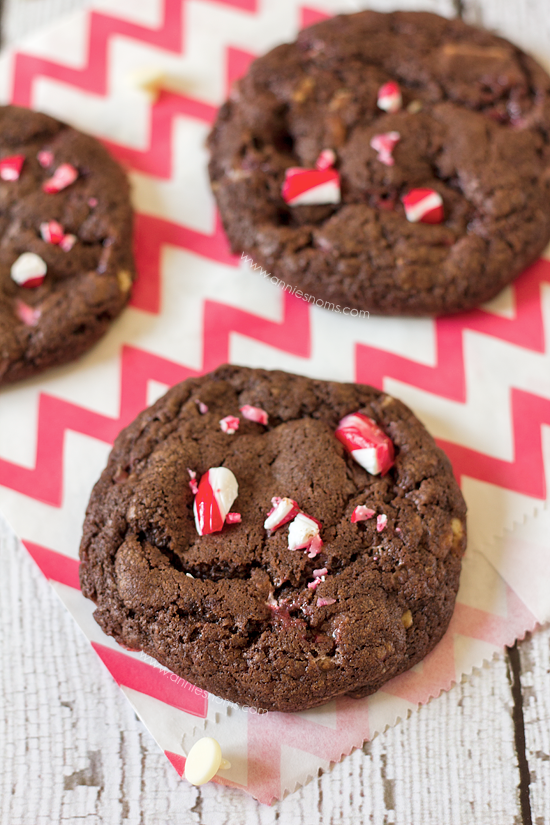 These cookies came about because I had put so much damn effort into finding red and white candy canes (read more on candy-cane-gate here) that I was NOT going to let them go to waste. I have used every single one!
Maybe even eaten a few as well. Don't judge. It's Christmas.
I was going to make a normal cookie dough and then just make Candy Cane White Chocolate Cookies, but I posted a plain cookie dough with white chocolate on Monday and I wanted to make these indulgent.
Also, I love putting melted chocolate into cookies. It is just insane!
It adds a depth to the cookies which cocoa powder alone cannot do. It makes them rich and fudgy, almost like brownies – but slightly crisp around the edges which is exactly how I love my cookies!
There's a 1/2 cup of melted chocolate chips in this dough. I've melted chocolate into dough before with these but that was only 1/4 cup. I wanted to up the fudge factor in these cookies.
I knew when writing the recipe that it might not work, that's just a part of recipe developing – I didn't want a soft, sticky cookie dough otherwise I knew they would spread wayyyyy too much and become thin, crispy blobs. Nobody wants that!
BUT, these worked perfectly! #foodbloggerhappydance!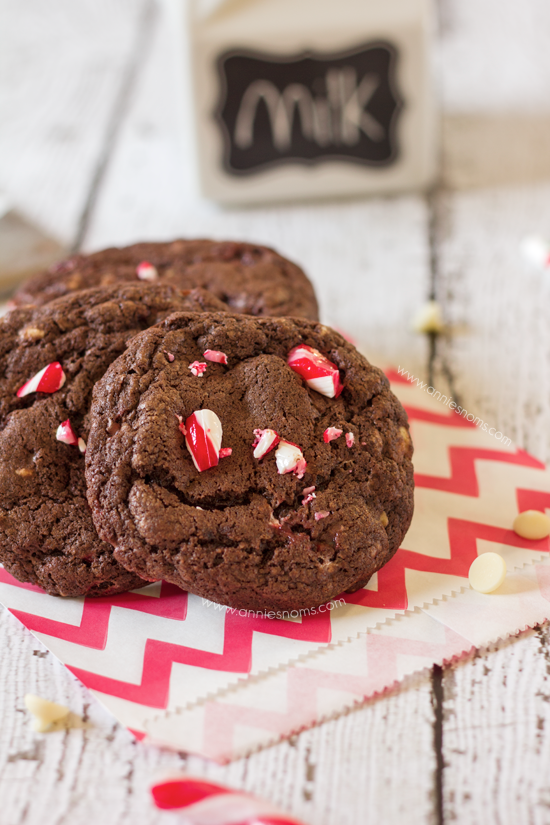 And then I ate 12.
OK, maybe not 12, but it felt like it. I couldn't stop picking. They're just divine.
Soft, chewy, crunchy, minty, then you get an oozing chunk of white chocolate and take off to heaven.
Sometimes when you put candy into baked goods it can burn and become hard, but the candy canes stayed together in these. If there was a tiny piece right on the edge of a cookie it melted a bit, but inside these cookies, there were no problems with burnt candy canes!
To ramp up the mint I also added 1/2tsp of peppermint extract. This was so refreshing, mint chocolate will forever be a winning combination.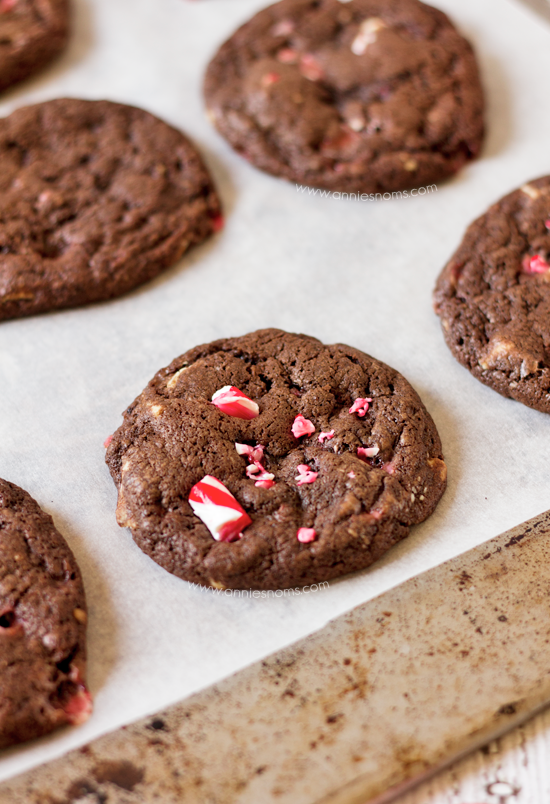 The addition of white chocolate adds a lovely, sweet contrast to the rich chocolate. I think milk or dark chips would have made these a little too much, you wouldn't have been able to define the "layers" if you like – the rich chocolate, refreshing mint etc… with milk/dark chocolate it would have become one flavour with a bit of mint if you know what I mean?
I mean, I find it hard to understand me and I'm in my head, but I try my best to explain!! 😀
My preference for cookies is chunks of chocolate as they become little pockets of melting goodness, but of course you can use chips if that's what you love in cookies – I do admit they look prettier for photos!!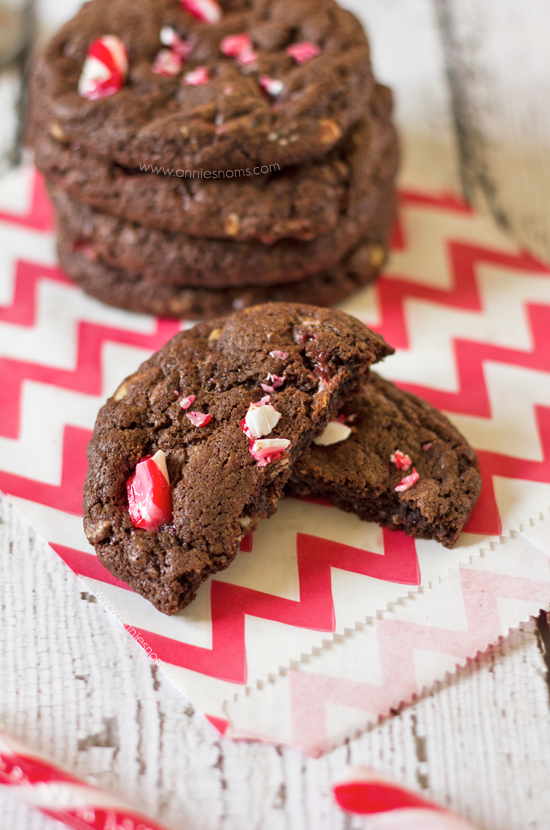 Although… is chocolate ever ugly? It's just a beautiful thing. Life without chocolate would hardly be worth living.
I do have to say that putting the dough in the fridge is a must. It sets up the chocolate and the dough becomes firm and easy to work with.
Basically, you NEED these cookies in your life! They stay soft for day (bread flour and cornflour are the secret) and it's the perfect way to use up candy canes to make cute, festive cookies!
If you eat them all before Christmas Eve, I won't tell Santa if you don't 😉
Enjoyed this post? Sign up to my weekly newsletter to ensure you never miss a post!
Candy Cane Fudge Cookies
These Candy Cane Fudge Cookies have melted chocolate in the batter to make them super fudgy along with chunks of oozing white chocolate and the refreshing mint flavour of crushed candy canes.
Ingredients
1

cup

(140g) plain flour

1/2

cup

(70g) bread flour

1

tbsp

cornflour

1/3

cup

(33g) cocoa powder

1

tsp

bicarbonate of soda

Pinch salt

1

cup

(175g) white chocolate chips/chunks

1/2

cup

(95g) crushed candy canes,

measure AFTER crushing

1 1/2

sticks (170g) unsalted butter,

at room temperature

3/4

cup

(150g) light brown sugar

1/4

cup

(50g) caster sugar

2

large eggs

1/2

tsp

peppermint extract

1/2

cup

(87g) dark chocolate chips,

melted and slightly cooled
Instructions
No need to preheat oven yet, this dough needs to chill!

Place the flours, cocoa powder, bicarb, salt, chocolate chunks/chips and candy canes into a medium sized bowl and stir until combined and all the chocolate is coated in flour. Leave to one side.

Place sugars and butter into a large bowl or the bowl of your stand mixer and beat on med-high speed until light and fluffy, about 2 minutes.

Add in the eggs and peppermint extract, scraping sides as necessary, and mix on medium speed until well incorporated, about 1 minute.

Add in melted chocolate and mix on low until well incorporated.

Add in the flour mix and mix on low until a soft dough forms.

Tip dough into a bowl and cover with cling fillm. Place in the fridge for at least 6 hours, overnight if possible.

Once chilled, line 3 baking trays and preheat the oven to 180C/350F. Using a 1.5tbsp cookie scoop, place dough balls 2 inches apart on the trays.

Flatten dough balls ever so slightly with a clean hand, to make sure they don't roll off!

Place in oven for 9-11 minutes, until risen, puffy and slightly crisp around the edges, but soft in the middle. You may need to bend down to see the way the light hits the cookies, if they are really shiny, they're not quite ready, but if they're kind of matte, with a slight sheen, then they're done.

Leave to cool on trays before storing in an airtight container, at room temperature, for a week.
Notes
Recipe by Annie of Annie's Noms