These Dulce de Leche Thumbprint Cookies are seriously easy to make and dangerously tasty! Crisp, buttery cookie dough is topped with sweet, rich dulce de leche and melted chocolate to create tiny little bites of heaven!
Happy Monday friends!
Today, I'm super excited to be bringing you these insanely awesome and simple Dulce de Leche Thumbprint Cookies and a giveaway for a £40 gift voucher to be spent at House of Fraser!
First, thumbprint cookies. These cookies are just perfect for last minute Christmas gifts and in case you want to make something homemade for Santa, but realised that you only have 3 DAYS LEFT! I'm kind of in the latter camp at the moment. I thought I was super organised, but when I think about how close it actually is, I start panicking and thinking of a million things I should be doing.
The thing is, OH has managed to get time off for the first time ever over Christmas and for me, it's the first time in almost 7 years that I haven't had Uni work or had to go to work, so I'm feeling kind of lazy!
Nevertheless as soon as I think "cookies" I get all excited again and just have to share them with you! 😉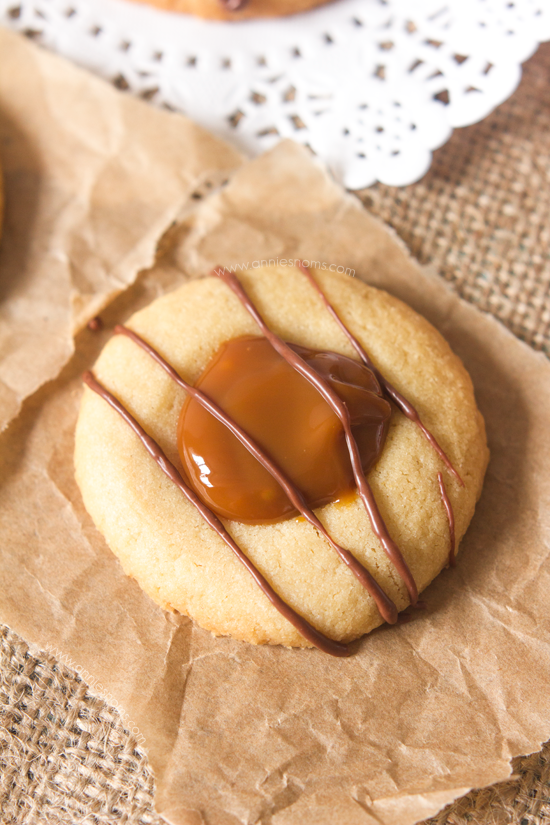 Normally, I make cookie dough with three types of flour and chill the dough overnight. However, with time running out before the big day and a hundred and one other things to plan and do, I needed something which would satisfy my cravings for cookies, but not take forever.
Enter these thumbprint cookies…
I used a full 2 sticks of butter in these and 2tbsp of cornflour; they have a gorgeously smooth texture and a good crisp, bite. Almost like shortbread, only the shortbread I make doesn't have egg yolk in.
The egg yolk adds richness and colour to the cookies and helps everything bind together to create a thick, smooth dough. Basically eggs are magical ingredients.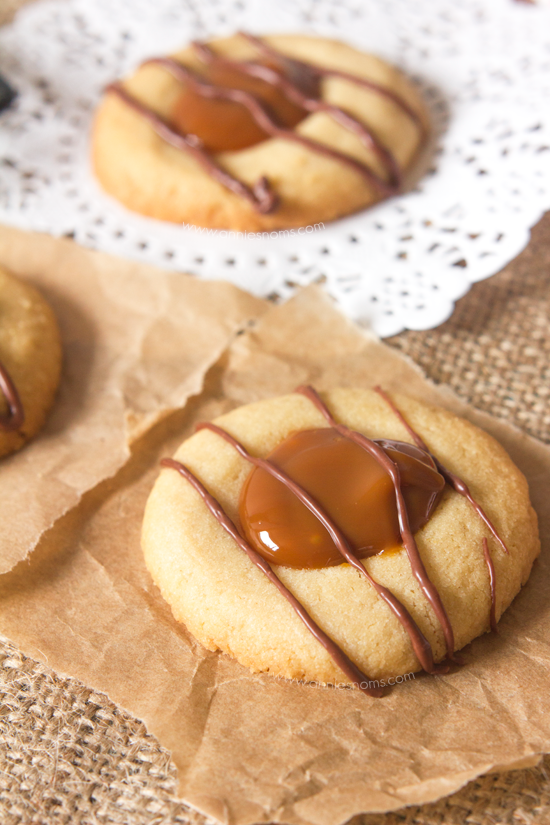 Admission #1: I didn't chill my cookie dough for 15 minutes, I kept going in my head "Yes, I'll chill for 15 mins…. but maybe I don't need to as it's -1C outside… but then I probably should as the kitchen is hot… OK I'm running out of time, I need to just make them"
The moral of this story is to follow your gut instincts. I should have chilled the dough. They spread a little more than I wanted, I mean it wasn't a disastrous mess that just became one giant cookie, but I would have liked them to have a little more height and be more like "bites".
Never mind, you won't make that mistake because I made it for you! 😉
Admission #2: Yes these are called thumbprint cookies, I used my thumb to make all the indentations… then they filled out slightly in the oven and I'll be damned if I'm going to burn my thumb off putting the dents back in the hot cookies, so I used the end of a rolling pin, which wasn't thumb shaped at all… Next time I'll make the holes with a rolling pin to begin with! 😀
Again, you don't have to make that mistake! 😛
Ignoring my stupid mistakes that were only aesthetic really, so most people probably wouldn't care, these are so impressive for such a simple bake! The crunchy, short biscuit along with the rich, sweet caramel goodness which is dulce de leche is to die for.
And then I went and put melted chocolate on them just and it put them over the edge into "out of this world insane-ness"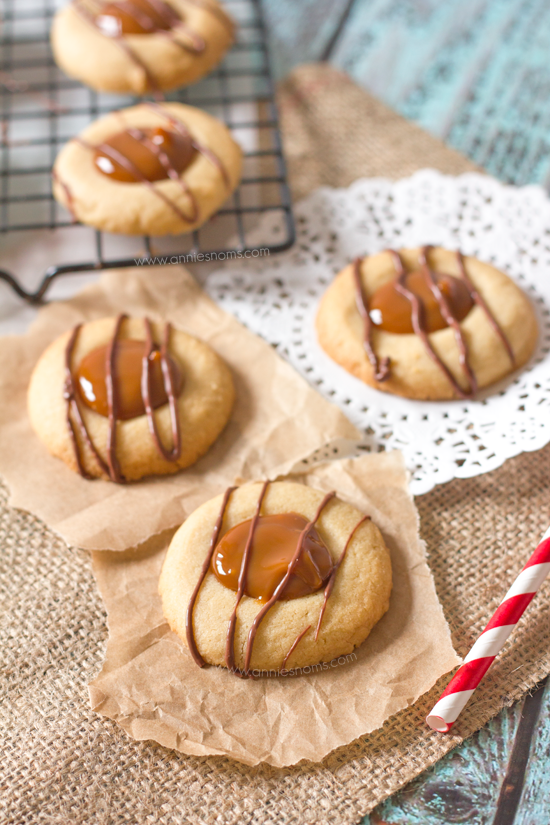 I'm not even sure Santa will get any of these cookies, because OH has already eaten 8 and I'm not far behind him.
Yes, friends OH ACTUALLY ATE MORE THAN ONE.
Those of you who have read this blog for a while will know that that is a huge thumbs up because I live with someone who "doesn't really like chocolate and cake".
"Doesn't really like" What is this?! How can you not like dessert?! Mind you he does like cake more now he has homemade stuff, rather than shop bought, but he still eats one slice, says he loves it and then forgets about it.
I'm sorry, how can you forget about cake? I can hear it calling me from the kitchen…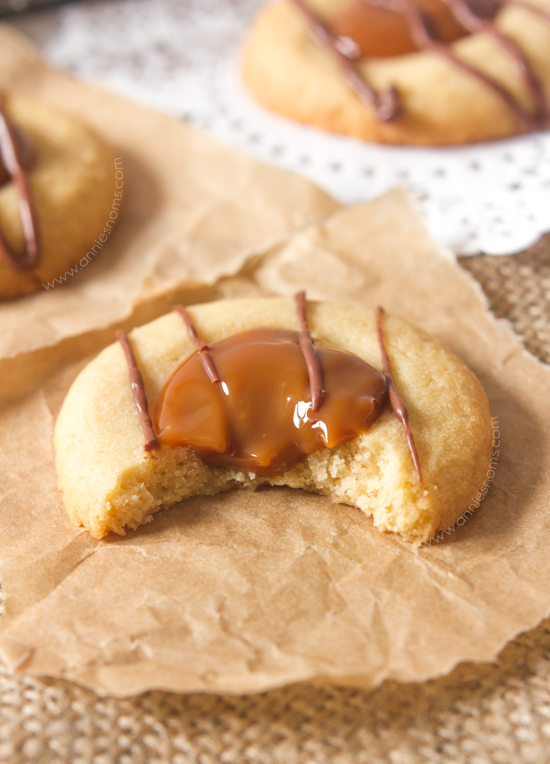 Anyway, if he eats more than two of anything, then they must be downright amazing. And they totally are. They take 10-12 minutes to bake, then they have to cool before you spoon around 1tsp of dulce de leche into the centre of each cookie and drizzle some melted chocolate onto them.
That's it, finished, so you can get back to panic wrapping! 😀
NOW onto the GIVEAWAY!

House of Fraser contacted me to run a competition giving one of you lucky readers the chance to win a £40 voucher to spend in the Home Department at House of Fraser.
I've had a look at their Home department and seriously, there's just so much to choose from I could easily lose 3 hours of my life looking at all the things they sell.
Since, the Christmas sales are coming up, I'm running the competition from today, right through to 31st December – to give you plenty of time to enter!
How to enter:
The only mandatory entry is to leave a comment on this post telling me: what you'd buy from the Home Department at House of Fraser if you won the voucher.
You can tweet about the giveaway once daily to gain an extra entry and then the other options are to like/follow Annie's Noms and House of Fraser on various Social Media sites. 🙂 – these will give you 2 entries into the giveaway!
Terms and Conditions:
*This giveaway is open to anyone in the UK.
*This giveaway will run from 1pm (GMT) on 22nd December 2014 to 12am (GMT) on 31st December 2014.
*The winner will be notified via email.
*Only one entry via blog comment per person.
*You must tweet using the link provided for it to be classed as an entry.
*All social media entries will be verified.
*No alternative prizes will be given.
*Voucher cannot be exchanged for cash.
*Winner will be required to provide their address in order for the voucher to be sent.
*Winner will be randomly generated on 1st January 2015.
Dulce de Leche Thumbprint Cookies
Crisp, buttery cookie dough is topped with sweet, rich dulce de leche and melted chocolate to create tiny little bites of heaven!
Ingredients
2

sticks (226g) unsalted butter,

at room temperature

1/3

cup

(66g) light brown sugar

1/3

cup

(66g) caster sugar

1

large egg yolk

1/2

tsp

vanilla extract

1 3/4

cups

(245g) plain flour

2

tbsp

cornflour

1/2

cup

(160g) Dulce de Leche

2

oz

(56g) milk chocolate,

melted
Instructions
Line 2-3 baking trays with silicone mats or greaseproof paper.

Place butter and sugars into a large bowl, or the bowl of your stand mixer, and beat until light and fluffy, about 2 minutes on med-high speed.

Add in the egg yolk and vanilla extract and mix until well incorporated, scraping sides as necessary.

Add in plain flour and cornflour and mix on low, until a soft dough forms.

Shape the dough into 1 inch balls and place 2 inches apart on your baking trays.

Flatten each dough ball until it's around 1/2-3/4 inch thick and then make an indentation into the middle with either your thumb or the end of a small rolling pin.

Cover trays loosely with cling film and place in the fridge for 15 minutes.

Whilst the dough is chilling, preheat the oven to 180C/350F.

Once chilled, place in the oven for 11-14 minutes until, risen, puffy and golden around the edges, cookies will still be soft in the centre.

Leave to cool on the trays for at least 15 minutes, before transferring to a wire rack if desired.

Once your cookies are cool, take your 1/2 cup of Dulce de Leche and place around 1tsp into the middle of each cookie, you may need more or less, depending on how much your cookie will hold in the middle!

Once all the cookies are filled, place melted chocolate into a small Ziploc bag/piping bag and snip a very small piece of the corner off (you don't want huge, thick lines of chocolate, so it really is the smallest amount of the corner you should remove)

Drizzle melted chocolate over each cookie, straight/diagonally.. whichever takes your fancy! Leave to set before placing in an airtight container. Cookies will keep at room temperature, for 5 days.
Notes
Recipe by Annie of Annie's Noms