These Spiced Cupcakes with their orange filling are a taste explosion in your mouth! The soft spicy cake, contrasts with the citrusy, sweet orange filling perfectly. All finished off with cream cheese frosting and sprinkles!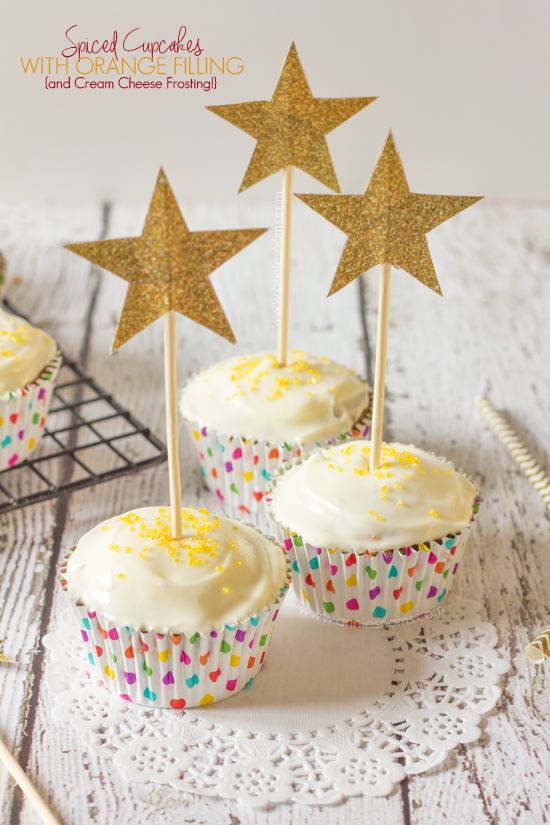 Happy New Year everyone!! I am BACK!
How was your Christmas and New Year? Up until Christmas Eve I was working flat out, so when I did eventually stop I just wanted to sleep! But, I really needed the break, I felt close to burnout. 🙁
OH is still off, so I still feel a little in holiday mode, but back to work it is! Although, I have no idea what day it is… Is it just me? That weird time in-between Christmas and New Year always gets to me! 😀
Anyway, I know your diets probably start today (mine too – definitely over-indulged!) but cupcakes!!
More importantly, spiced cupcakes with an orange filling in the centre and a good old cream cheese frosting on the top!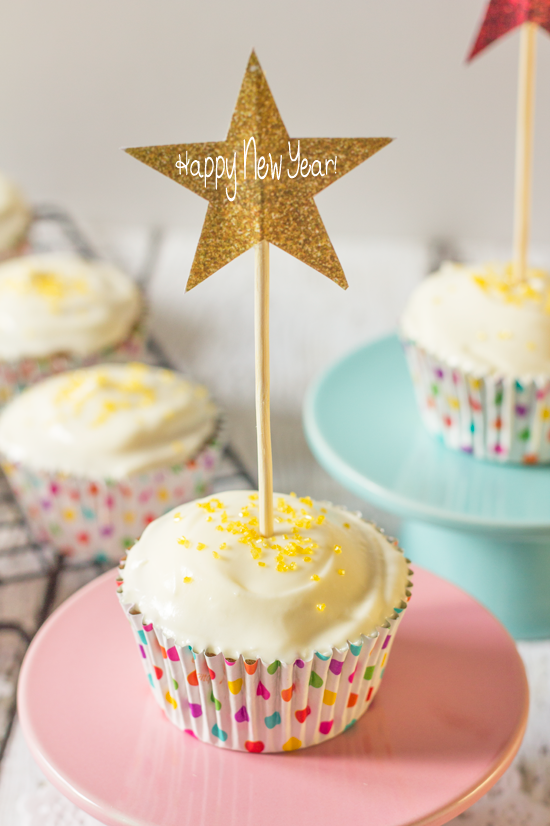 Today, I've teamed up with Oxo to show you how super easy it is to core cupcakes and then frost them with their specially designed cupcake icing knife.
Oh and a rubber based bowl? Genius. Who wants their bowl spinning around when they're trying to do a million things at once and only have one hand! The amount of times I've had bowls fly across the worktop – the Oxo Stainless Steel Mixing Bowl means even the most prolific multitaskers can be whipping up cakes whilst doing other things!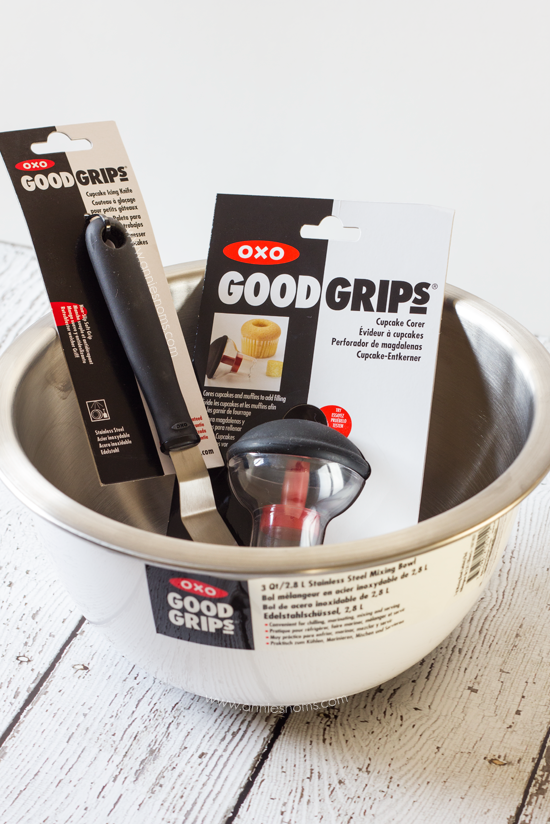 Then there's the simply AMAZING Cupcake Corer! I've used other cupcake corers in the past with little success. They either only pull out half of the core, so you have to attack the rest with a knife, or they don't eject it properly and you end up with cake crumbs.
Tasty, but not much use when you need to top the filling in your cupcake!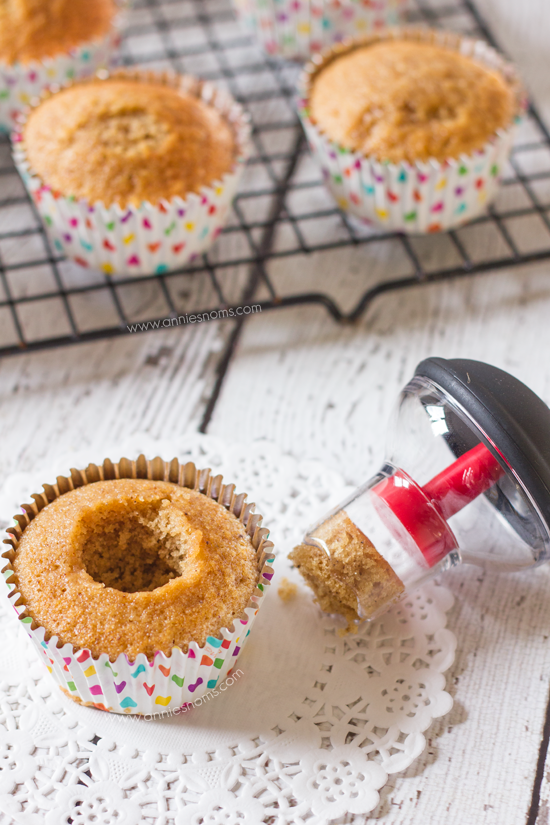 The Oxo Corer is so comfortable to hold and feels sturdy in your hands. Coring a cupcake is now a cinch and something I no longer dread!
It's super easy to use; simply hold the cupcake at an angle, place the corer into the centre of the cupcake and then twist, gently pushing into the cupcake.
Give it a good twist and then watch as the whole middle of your cupcake comes out in one piece! Then simply slice in half to create a top for your filling and eat the other half. Obviously. Baker perks.
You can then fill your cupcakes with any filling you desire – the possibilities are endless! I used Orange Marmalade for these cupcakes with just a touch of sugar to balance out the slight bitterness of the orange peel in the marmalade! 🙂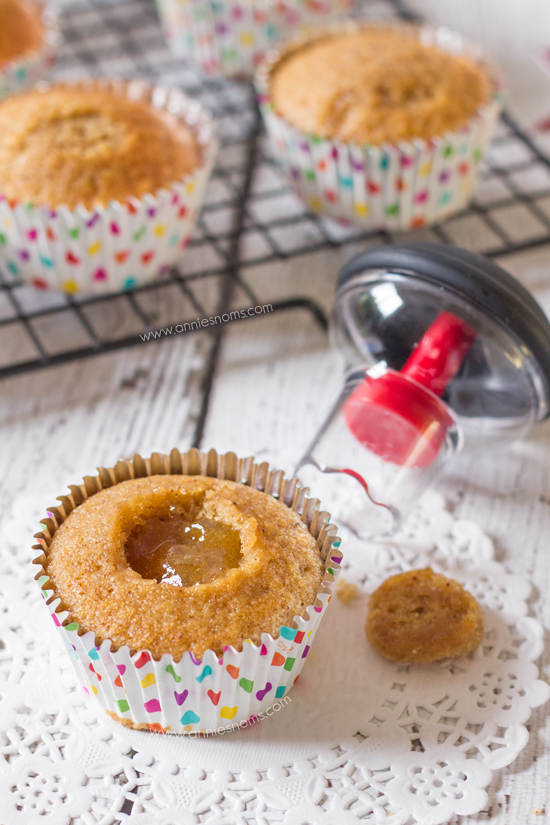 Next, it's time to frost. Now, I normally pipe my cupcakes, but sometimes I want a different look and I spoon it on.
I have other angled spatulas, but the Oxo Cupcake Icing Knife is specifically designed to ice cupcakes, so it's small and the rounded end of the knife is the perfect size to cover the whole cupcake without spilling it down the sides of the liner! Its size means it's also super easy to spin the cupcake round and smooth the icing on!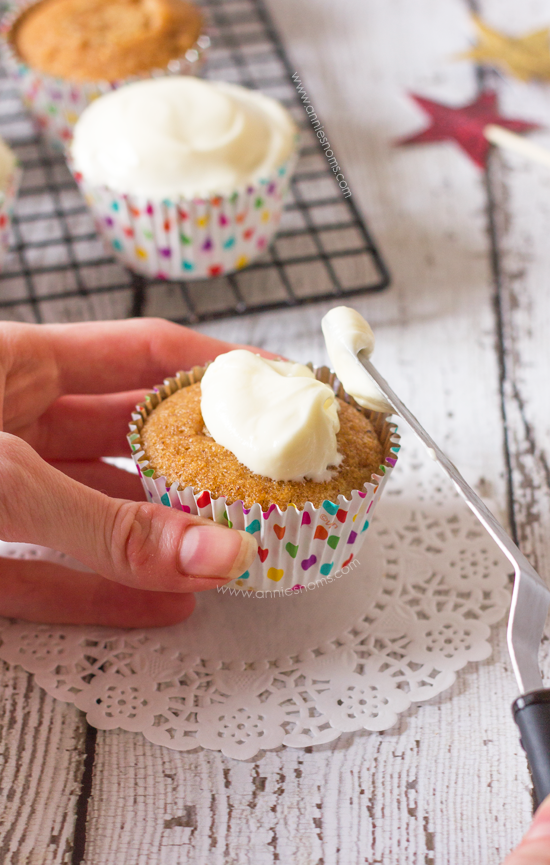 I may be slightly biased, but I think these little cupcakes are just perfect for the New Year. They're a little bit different, spicy, sweet, citrussy and have the slight tang of the cream cheese.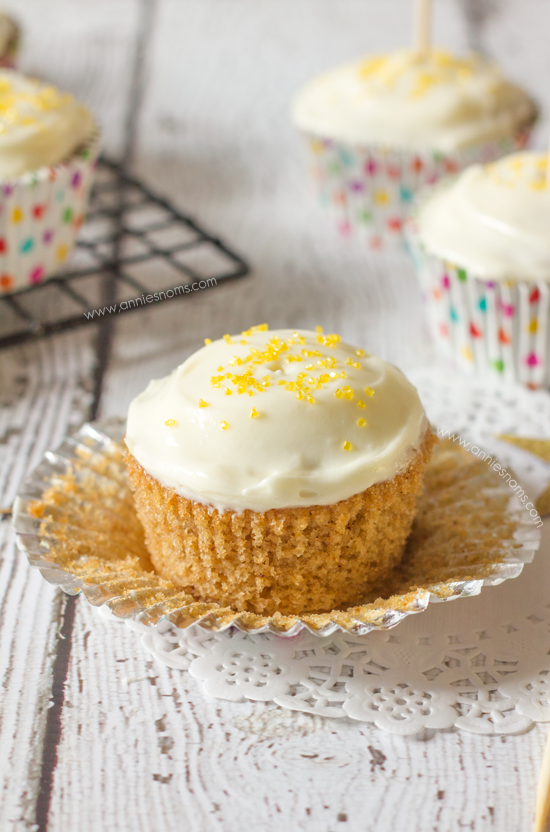 AND as is so important with a cupcake: they have the PERFECT crumb! Well… OK maybe it's just me who obsesses over the consistency of my cake crumbs.
It's literally the first thing I check for when I take something out of the oven…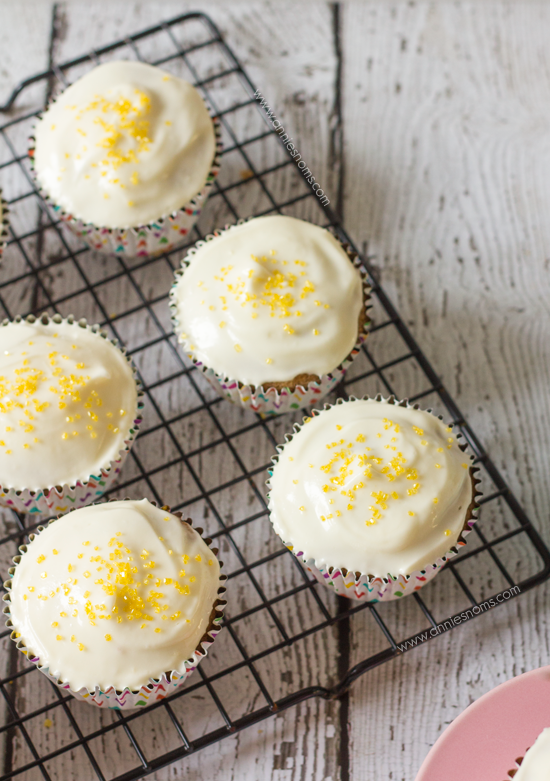 As ever, this recipe is a variation of my Perfect Vanilla cupcakes – I love showing you how super versatile my cupcake recipe is and giving you loads of ideas for flavour combinations!
This version has light brown sugar as well as caster. I also used less vanilla extract as I was adding in flavours with the spices.
These are so soft and the flavours intensify as time goes by. A bit like pumpkin or banana bread, these taste better on the second day, but they're still pretty damn fine on the first day! 😉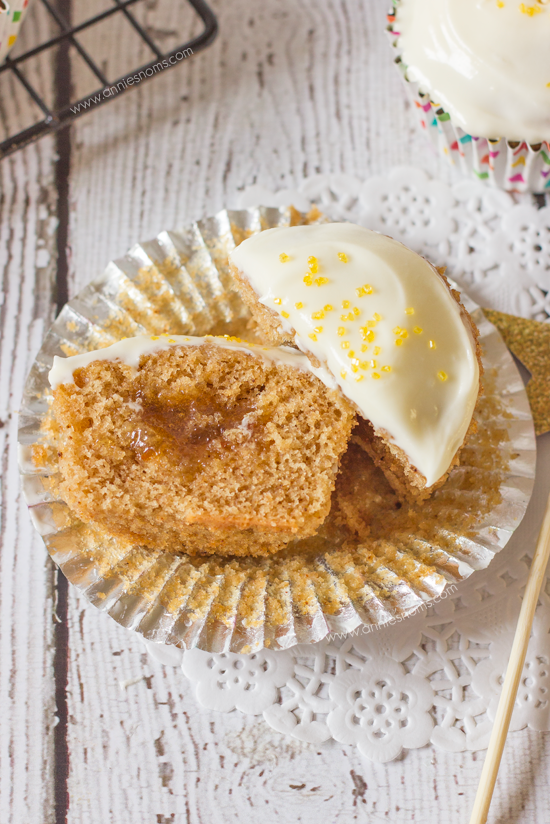 Basically, it gives you an excuse to eat cupcakes every day as you can say you're "testing the intensity of the spices" – sounds all scientific too 😀
Finally, let's talk about that creamy, sweet frosting.
I love a good cream cheese frosting. It's so simple to make, yet rich and creamy with a touch of vanilla. I use 1/2 a stick of butter in my frosting recipe and this adds a richness to it, without making it sickly or too buttery.
Then there's the star ingredient: cream cheese. 10oz of cream cheese to be exact! Then I add 2 and 1/2 cups icing sugar – this makes the perfect consistency for piping or swirling on with a knife!
The frosting recipe I'm giving you makes enough to pipe all of the cupcakes, but if you're using a cupcake icing knife you will need about half the recipe, unless you spoon it on reallllllly high!
I know there are always disagreements on the frosting to cupcake ratio, so I'm going to stay neutral! 🙂
OXO provided me with products for this post, however, all opinions are my own.
Enjoyed this post? Sign up to my weekly newsletter to ensure you never miss a post!
Spiced Cupcakes with Orange Filling and Cream Cheese Frosting
These Spiced Cupcakes with their orange filling are a taste explosion in your mouth! The soft spicy cake, contrasts with the citrusy, sweet orange filling perfectly. All finished off with cream cheese frosting and sprinkles!
Ingredients
For the cupcakes:

1

stick (113g) margarine/unsalted butter*

1/2

cup

(100g) light brown sugar

1/2

cup

(100g) caster sugar

2

large eggs

1/2

tsp

vanilla extract

Pinch salt - ONLY if you're using unsalted butter

1 1/2

cups

(210g) plain flour

2

tsp

baking powder

1/2

tsp

ground cinnamon

1/2

tsp

ground ginger

1/4

tsp

ground nutmeg

1/4

tsp

ground cloves

1/2

cup

(120ml) milk

For the filling:

1/2

cup

(160g) orange marmalade/jam

1-2

tbsp

light brown sugar

optional (down to personal preference)

For the frosting:

1/2

stick (56g) unsalted butter,

at room temperature

10

oz

(285g) full fat cream cheese

1/2

tsp

vanilla extract

2 1/2

cups

(300g) icing sugar,

sifted

Sprinkles to garnish

optional
Instructions
Preheat the oven to 180C/350F and line a 12 hole cupcake tin.

Place marg/butter and sugars into a large bowl or the bowl of your stand mixer and beat on med-high speed until light and fluffy.

Add in the eggs and vanilla, scraping sides as necessary, and mix on med-high speed until well incorporated.

Add in the salt if using, flour, baking powder, spices and milk and mix on medium speed until well combined and smooth.

Divide the batter between the cupcake liners, 3/4 full.

Place in the oven for 18-23 minutes, until risen, golden and an inserted skewer into the middle comes out clean.

Transfer cupcakes to a wire rack immediately to cool (yes, this is a bit painful, but in my experience if you leave them in the cupcake tray the liners peel away from the cupcakes).

Once the cupcakes are completely cool, use a cupcake corer or small knife to remove a one inch circle from the centre of each cupcake. Don't go all the way to the bottom of the cupcake liner, you still want a base in there.

With each cupcake core, slice it in half, so you still have a top for your cake once you've filled it. Discard (or eat) the leftover cores.

Place marmalade/jam and sugar, if using, into a small heatproof bowl and mix together. Place in the microwave for 10-20 seconds, just to make it a little easier to work with.

Place 1-1 and 1/2tsp of jam into each cupcake and top with your halved cores.

Make the frosting: Place butter, cream cheese, vanilla and icing sugar into a large bowl and beat on low until it begins to combine. Then turn the speed up to medium-high and beat until smooth, light and fluffy.

You may need to place it in the fridge for 30 mins to firm up, once you've mixed it in a warm kitchen!

Either pipe or spoon frosting onto each cupcake and then top with sprinkles, if desired.

Cupcakes will keep in an airtight container, in the fridge for 4 days.
Notes
*I prefer the texture margarine gives to my cupcakes, it's the only time I use marg, but if you want to use butter, then just add a pinch of salt. Recipe by Annie of Annie's Noms