This no-bake Chocolate Honeycomb Cheesecake is packed with tiny morsels of crunchy honeycomb inside a velvety smooth cheesecake. With a simple biscuit base and homemade honeycomb garnish, this dessert is a showstopper that doesn't forever to make!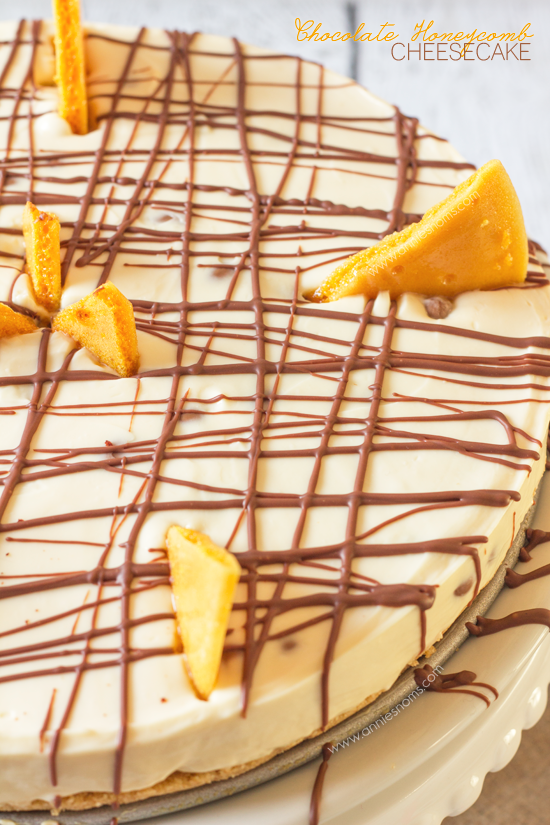 Is it just me who thinks that it doesn't really feel like a new year until a new week starts? A few friends have been saying it recently and I definitely agree!
I know it was the 1st January last week, and I did a few half days of work, but OH was still off, so it did not feel like a new year. I guess in years gone by, I've been in education, so I've not been that focused on the days/dates.
Yesterday though? OH went back to work and it finally felt new!! And I got excited when I started thinking about all the things I want to accomplish this year!
I'm not really one for new year's resolutions, but I do want to become more professional and organised when it comes to blogging this year. I purchased the Ultimate Blog Planner from Yellow Bliss Road and I am loving it so far. There are pages and tables for everything! 
And it was an excuse to buy cute new stationery…
Just me who could walk into Paperchase and spend about 5 million pounds on random cute pens and notebooks when I already have about a hundred?
Moving right along…. to this Chocolate Honeycomb Cheesecake! It's no-bake and the hardest part is putting it in the fridge and having enough patience to not pick at it.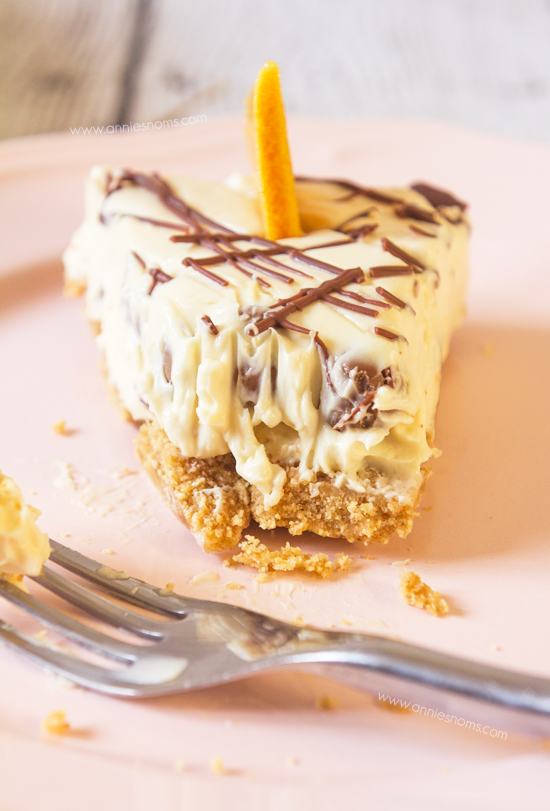 I am an eternal picker! Literally cannot stop myself. When I'm cooking, when something has come out the oven, when I'm mixing something… pick, pick, pick. I mean, we have to taste stuff right?? Baker's perk?
OK, maybe I'm just incredibly impatient.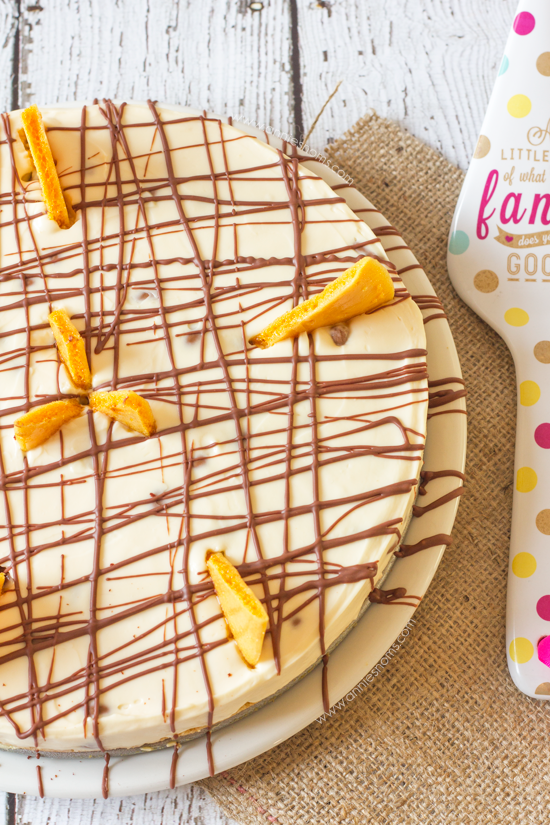 Anyway, crushed digestive biscuits and melted butter are mixed together and pressed into a 9 inch round pan before being chilled to firm up.
Then the real deliciousness starts. I used a mix of full fat cream cheese, double cream and a little caramel sauce to make a velvety smooth, melt in your mouth cheesecake filling, with the slightest hint of caramel.
The cream helps with the texture as it's so rich, creamy and smooth. Beaten together with cream cheese, it just creates the most amazing cheesecake mixture.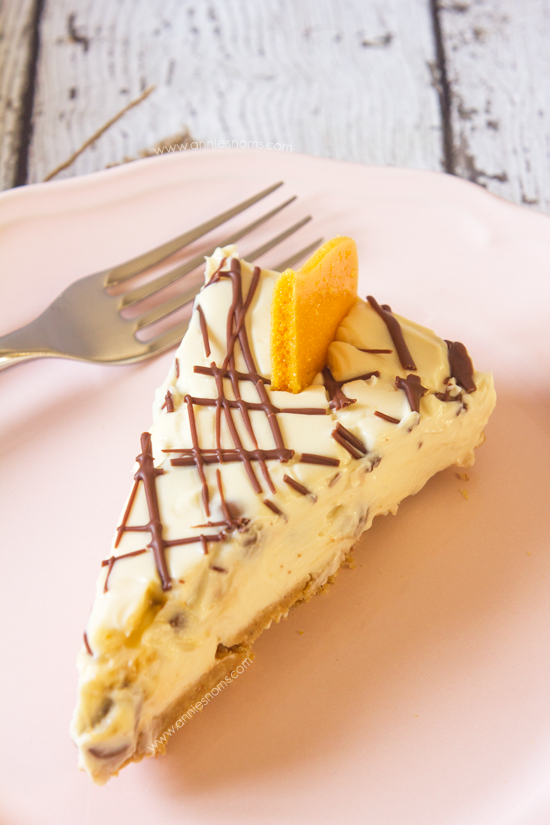 I decided on making this no-bake as we had my parents over for New Year's Eve and my Dad has real problems with baked cheesecake. He thinks it's stale and spongy.
I'm fairly sure I could change his mind with my baked cheesecake as I haven't had a spongy one yet, but once he's made his mind up on something, there isn't much anyone can do.
No-bake it is. The inspiration for this came from a dessert my family absolutely loves whenever they see it on a menu in a restaurant: Honeycomb Smash Cheesecake.
I've been wanting to re-create my own for ages, but never got round to it, until now! And, boy I'm so glad I did!!!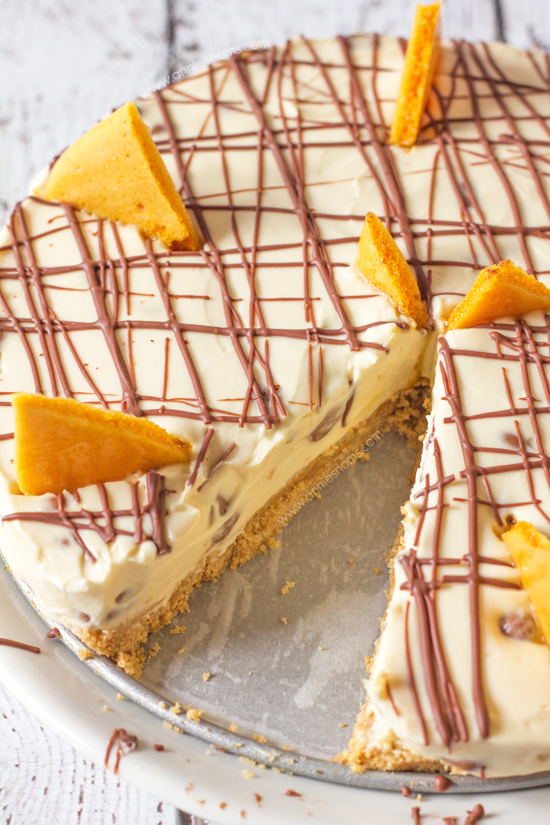 The crowning glory is the homemade honeycomb!! I had never made it before, but it is SO FUN! Having to be super quick with your bicarbonate of soda as it fizzes up is so good, then the flavours and textures – honey, toffee, sweet, sticky, crunchy. Completely mind-blowing!
I may have eaten about 20 pieces whilst breaking it up to garnish the cheesecake.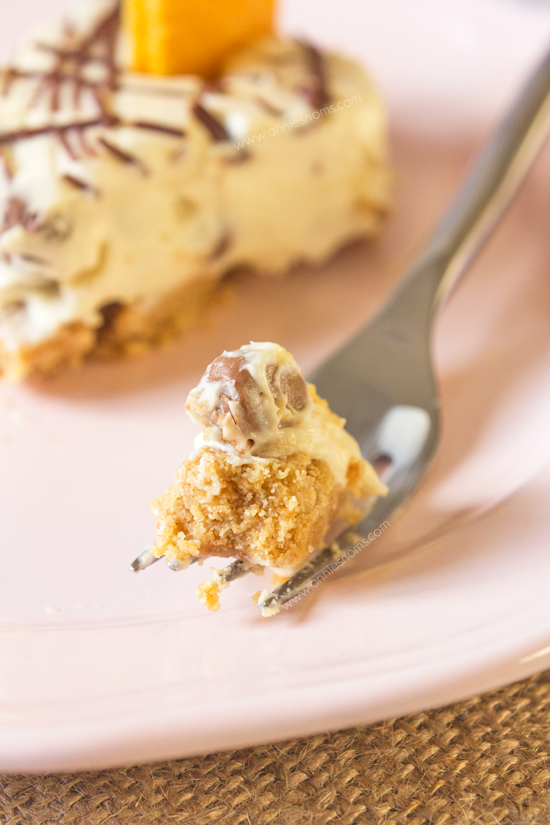 Inside the cheesecake I mixed in some small pieces of chocolate covered honeycomb. They add crunch to the ultra silky, smooth cheeescake and ramp up the honeycomb flavour.
To finish it off I drizzled melted milk chocolate all over the top. Top tip here: if you want to make something look artistic and special, drizzle melted chocolate over it in a really random, elaborate way. Works every time. People go "wow" and I go "Thanks, it took me sooooooooooo long"
All together, this cheesecake is like biting into pure heaven. I LOVE it. Everyone loved it. OH even had 3 slices.
THREE SLICES FRIENDS! Go and make it now!
Chocolate Honeycomb Cheesecake
This no-bake Chocolate Honeycomb Cheesecake is packed with tiny morsels of crunchy honeycomb inside a velvety smooth cheesecake. With a simple biscuit base and homemade honeycomb garnish, this dessert is a showstopper that doesn't take forever to make!
Ingredients
For the base:

2 1/2

cups

(300g) crushed digestive biscuits/graham crackers,

measured AFTER crushing

1

stick (113g) unsalted butter,

melted and slightly cooled

For the cheesecake:

14

oz

(400g) full fat cream cheese

3/4

cup

(180ml) double cream

1/4

cup

(70g) caramel sauce;

you want quite a thin sauce

1

cup

(120g) icing sugar,

sifted

1

tsp

vanilla extract

3/4

cup

(150g) chocolate covered honeycomb pieces

3

oz

(85g) milk chocolate,

melted

For the honeycomb:

1/2

cup

(100g) caster sugar

3

tbsp

golden syrup

1

tsp

bicarbonate of soda
Instructions
Grease and line a 9 inch round spring-form cake tin. Place biscuit crumbs into a medium sized bowl and pour the melted butter over the crumbs.

Mix until all the crumbs are covered in butter, then tip into your greased pan and press into the pan until you have a level biscuit layer. Place in the fridge, whilst you make the cheesecake.

Place the cream cheese, double cream, caramel sauce, icing sugar and vanilla extract into a large bowl, or the bowl of your stand mixer and beat until light and smooth, about 2 minutes on med-high speed.

Add in the chocolate covered honeycomb pieces and fold in by hand.

Take your chilled base out of the fridge and then pour your cheesecake filling over the top. Smooth until level with a small, angled spatula.

Place in the fridge for around 4 hours, until firm. (Cheesecake will not set hard, it will be slightly firm to the touch, but still soft if you press really hard into it!)

Whilst the cheesecake is chilling, make the honeycomb: Line a baking tray with greaseproof paper and leave to one side.

Place the sugar and golden syrup into a medium sized saucepan, over a low heat. Stir occasionally until the sugar dissolves and the mixture starts to get runny. Then stop stirring.

Once the mixture starts bubbling around the edges, turn the heat up to high and boil until golden - this will take about 5 minutes. Lift the pan and give it a swirl every so often to stop it burning, but DO NOT stir.

Once the entire mixture is golden yellow (don't let it get dark and caramel coloured, this is overdone.), remove from heat and add in bicarbonate of soda immediately. Mixture will froth up very quickly and then settle. Once the bicarb has dissolved, the mixture will stop expanding. Pour it onto your lined baking tray and leave to set completely.

Once set, break into shards and leave to one side whilst you finish off the cheesecake.

Remove cheesecake from the fridge and place melted chocolate into a squeezy bottle or small Ziploc bag, with the corner snipped off.

Drizzle chocolate all over the top of your cheesecake, however you like, I did lines vertically and horizontally over mine.

Take small shards of honeycomb and place around the edge of your cheesecake and in the centre, however many pieces you want, I used 5 around the edge and 3 smaller pieces in the centre, but it's completely up to you!

Place back into the fridge until ready to serve.

Cheesecake will keep covered, in the fridge for 3 days.
Notes
Recipe by Annie of Annie's Noms