The combination of apple and carrot makes these muffins, sweet, yet slightly tart. Along with oats and a little spice in there too, they're hearty and filling, whilst not being packed with sugar. The perfect muffin to keep you full until lunch!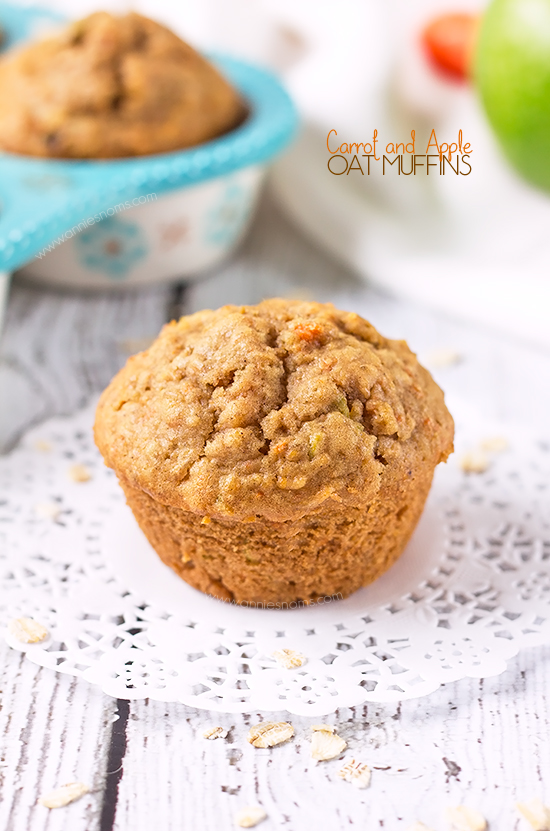 NOTE: (17/08/2015) Due to horrible, and unnecessary comments I'm adding a note that you can double or triple the spices depending on personal preference. As with all recipes, not everyone is going to agree on flavour/spice amounts. I openly admit I love spices and my partner doesn't, so I have to find some place in the middle where he will enjoy things too. I'm sorry you don't all agree, but there is no need to leave horrible comments. I know I "put myself out there" but I can't please every single person in the world and I have never set out to.
Howdy friends! 😀
I have had these muffins on my mind for agesssss. But, as my "to bake" list grows daily, they kept getting pushed further down the list!
Am I the only one who has that problem? Like seriously, I must have a million things that I want to make. Pinterest, magazines, books, other food blogs… they just inspire me so much and I want to make the whole world.
It's a wonder I actually make anything because every day I want to make new and different things.
Even with me being Miss Organised and writing plans for recipes and blog posts for the month, I end up scribbling stuff out as new ideas come to light.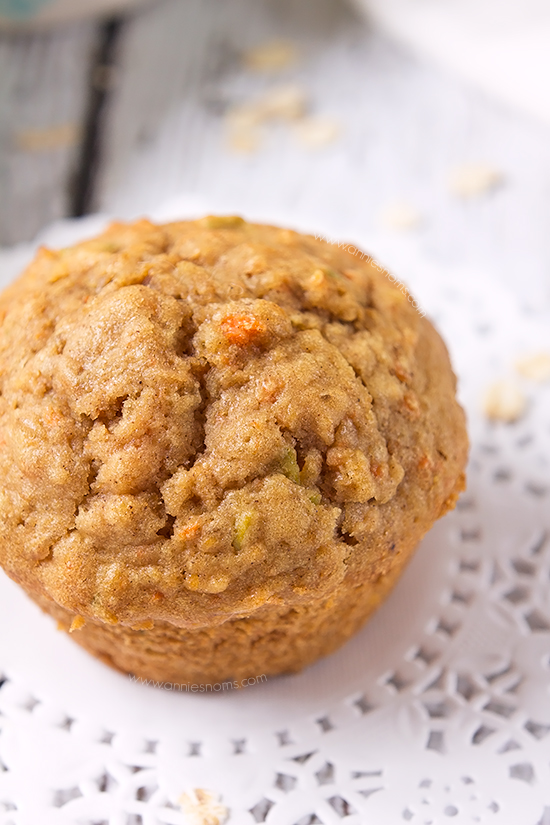 Anyway, OH has been asking for carrot cake forever and I kept saying "Yes, soon, I have loads of things to make first!"
I probably should prioritise what my boyfriend asks for… Sorry hun, but that's the problem with food blogger's – they don't normally make the same thing twice!
And that's true of this recipe too 😉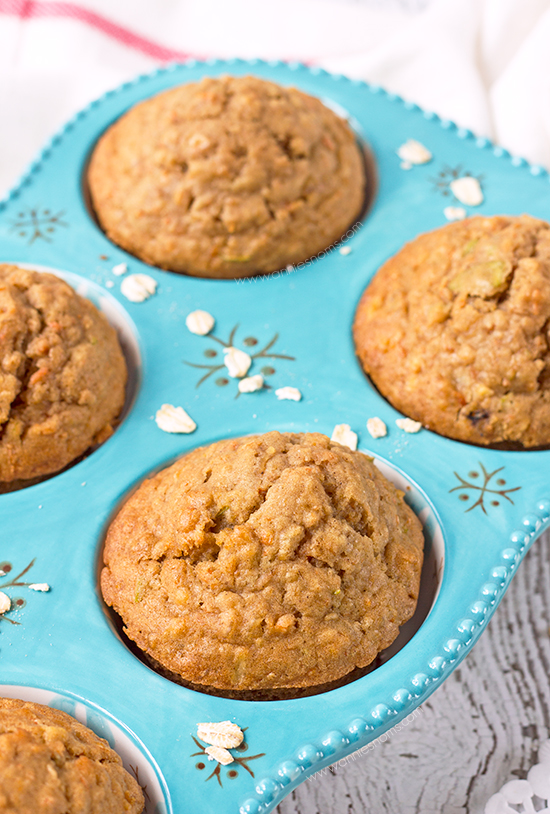 Although I've made carrot cake before, I wanted to try the combination of carrot and apple. I love the tartness of Granny Smiths and thought they would work perfectly with the slight sweetness of carrots.
However, these would be perfect with most apples, carrots are slightly nutty in their flavour, so a sweet, crisp apple would compliment them as well.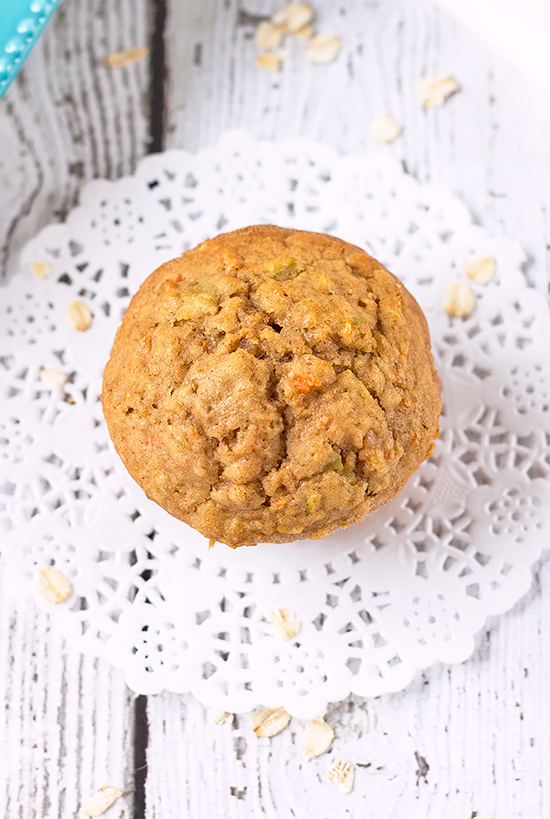 The sweetness of the carrots also meant I could reduce the sugar in this recipe, because we all know sugar is kind of bad. Sucks, but it's true. 🙁
Although, I'm not about to give up sugar. I'm sorry, but it's just too good. Life without cake would not be worth living. I just think "everything in moderation" is key.
Instead of just making plain muffins, I also decided to add in 1 cup of rolled oats. I don't know about you, but I simply cannot get enough oats at the moment; I have them every day for breakfast and try and add them to my baked goods all the time.
I love the texture, the earthy taste, the fact they are filling – you notice the texture of the oats in these muffins, they contrast with the softness of the cooked carrot and apple.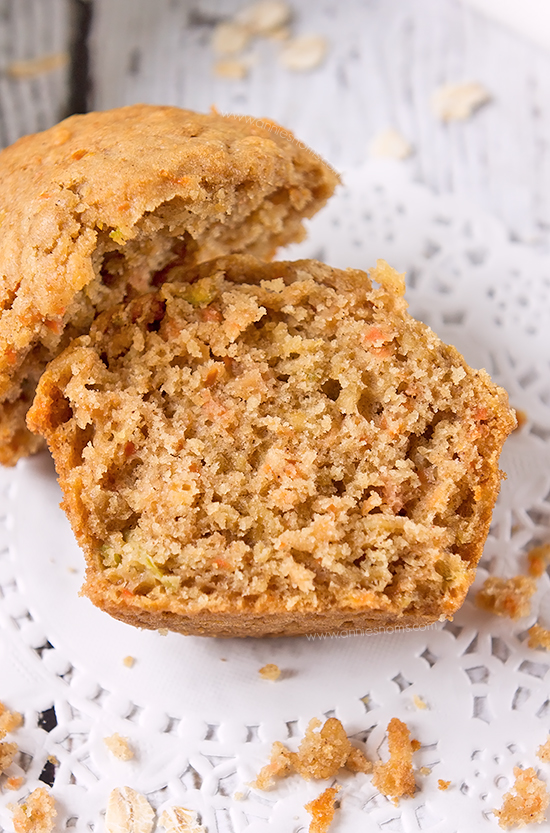 As with traditional carrot cake, there's no butter in these muffins, I used a mixture of vegetable oil and milk.
I know you wouldn't normally use milk, but I like to use milk in my muffins as it lightens them a little, nobody wants a heavy, dense muffin, especially if you're going to have them for breakfast.
These muffins really are perfect for an on the go breakfast or just as an afternoon snack. You get all the flavours of a carrot cake, with the addition of apples, then there's the fact they are filling, without being overly rich. Their light texture just takes them to another level!
It's amazing how simple, earthy flavours can combine to make something so mindbogglingly delicious!
Enjoyed this post? Sign up to my weekly newsletter to ensure you never miss a post!
Carrot and Apple Oat Muffins
The combination of apple and carrot makes these muffins, sweet, yet slightly tart. Along with oats and a little spice in there too, they're hearty and filling, whilst not being packed with sugar. The perfect muffin to keep you full until lunch!
Ingredients
2

cups

(280g) plain flour

1

cup

(80g) rolled oats

2 1/2

tsp

baking powder

1/2

tsp

bicarbonate of soda

1/2

tsp

ground cinnamon

1/2

tsp

ground ginger

3/4

cup

(150g) light brown sugar

1

cup

(150g) grated apple,

this was one large Granny Smith for me

1

cup

(150g) grated carrot,

This was 2-3 medium carrots for me

2

large eggs

1/2

tsp

vanilla extract

1/2

cup

(120ml) milk,

I used skim

1/2

cup

(120ml) vegetable oil
Instructions
Preheat oven to 180C/350F and grease a 12 hole muffin tin.

Place the flour, oats, baking powder, bicarb, spices and sugar into a large bowl and stir until combined.

Add in the grated carrot and apple and stir until they are coated in flour.

Place eggs, vanilla extract, milk and vegetable oil into a jug and beat lightly.

Pour over the dry ingredients and mix until there are no lumps of flour left. Don't beat or be tempted to keep mixing, otherwise you may end up with rubbery muffins.

Divide the mixture between the greased muffin holes, fill each one level.

Place in the oven for 15-20 minutes, until risen, lightly golden and an inserted skewer into the centre comes out clean.

Leave to cool in the tin for 10 minutes, before transferring to a wire rack to cool completely.

Once cooled, muffins will keep in an airtight container, at room temperature, for 5 days.
Notes
NOTE: (17/08/2015) Due to negative, unnecessary comments I'm adding a note that you can double or triple the spices depending on personal preference. I love spices, my partner doesn't, so I have to find some place in the middle. Recipe by Annie of Annie's Noms