My "Skinny" Raspberry Cheesecake Cups don't taste skinny at all! Packed with the flavours of fresh raspberries, cream cheese and agave nectar – these will become your new favourite treat – and your skinny jeans will love you too!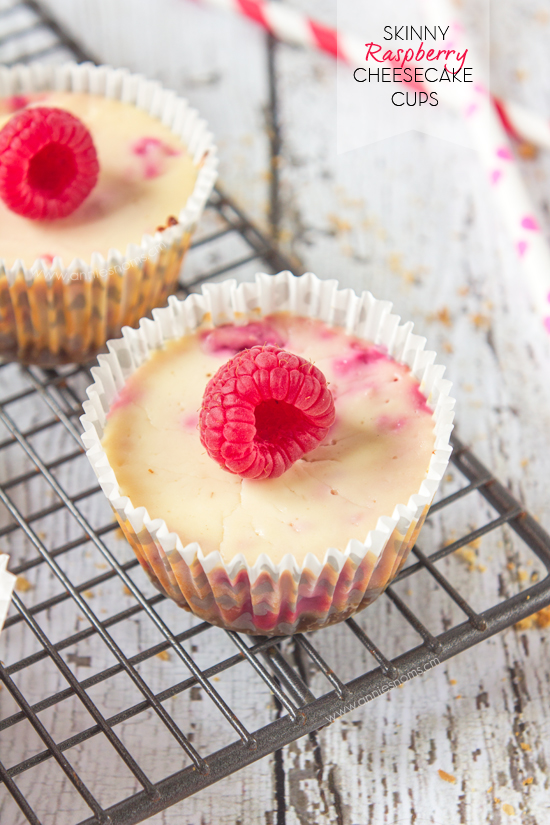 Let's talk about strange allergies.
What are you allergic to that just makes you go "really?!?!"
I used to think I was allergic to tomato ketchup, which would have been a tragedy, but it seems that I'm actually allergic to a herb in some ketchup recipes – still haven't figured out which one.
Sometimes I think it's coriander, other times I think it's oregano, all I know is I go as red and blotchy as a tomato when I have it!
Seriously though… I'm always asked if I'm having dinner with my ketchup as I have so much, so my life would have been over if I was allergic.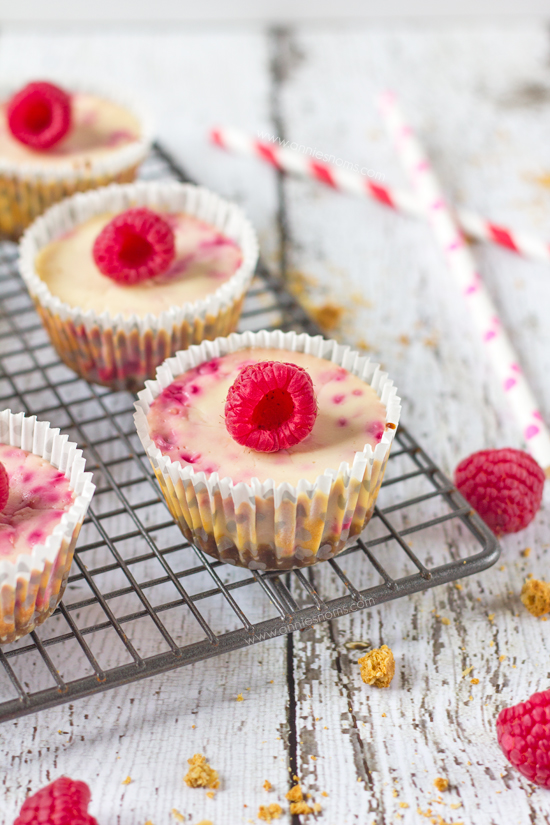 Now, you know how much I love granola – this, this and this proves that… but there's another reason I have to make homemade granola and that's an allergy to nuts. That's fine, I'm used to that…
BUT, recently I've started having the most horrendous reaction to honey.
What is life?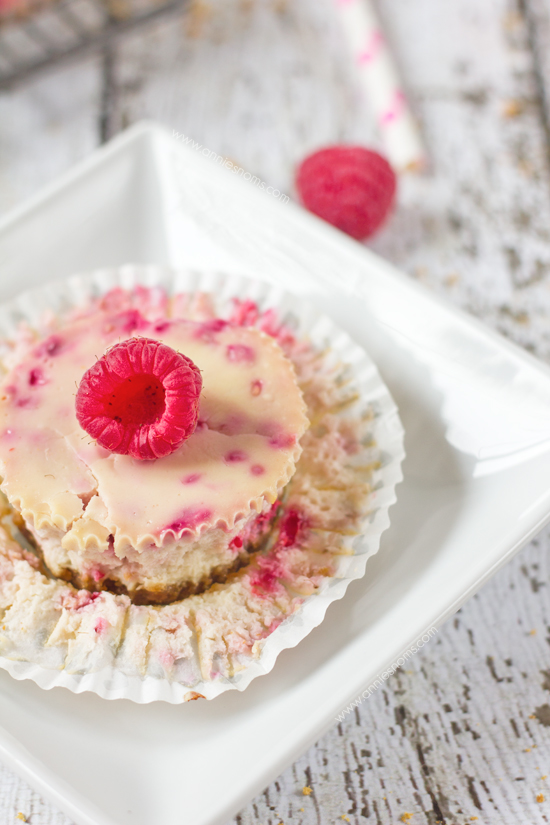 Pretty much as soon as I have it I'm sick and get stabbing pains in my stomach as well. It's ridiculous.
Because of this I've been left contemplating what else I can use – I've been hearing loads about agave nectar recently – I know it's sweeter than honey, but also not as thick, so I began my hunt for some!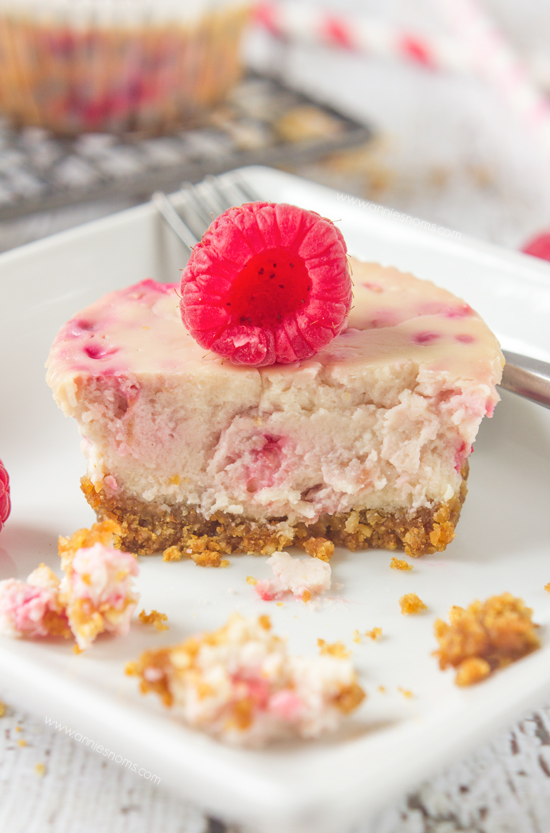 I managed to get hold of some agave from a Health food store online and wanted to see how it works in baking. I already had the idea for some raspberry cheesecake cups and was just going to make them as I normally do, but after tasting a little agave on my finger, I thought it would taste really nice with the tang of cream cheese.
Boy, was I right!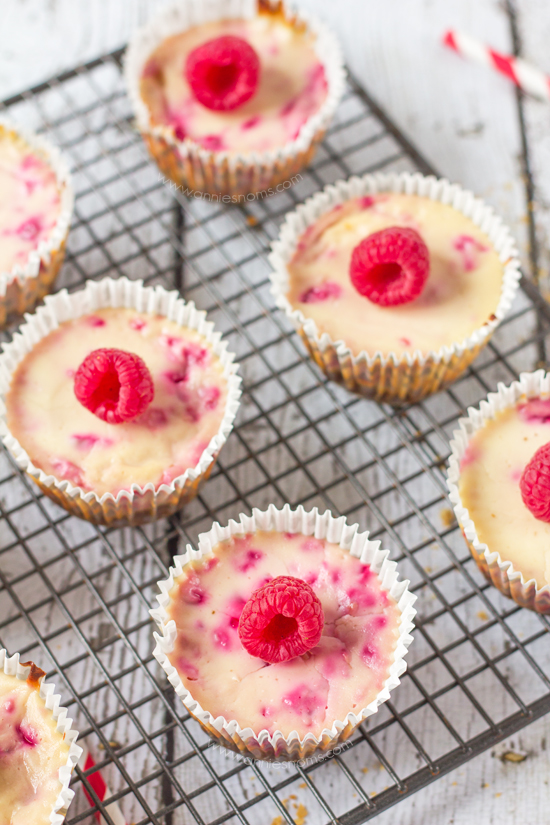 Since I was using agave, I decided on making the rest of the recipe slightly lighter too.
I'm not normally one for lighter versions of things, but I love light Philadelphia – it's just as creamy as the full fat version and I can't really notice a difference.
I'm also having a major love affair with Greek Yoghurt at the moment and decided on adding 1 cup of yoghurt to this recipe – it adds a delicious tang and makes the most creamy, smooth cheesecake I've ever tasted!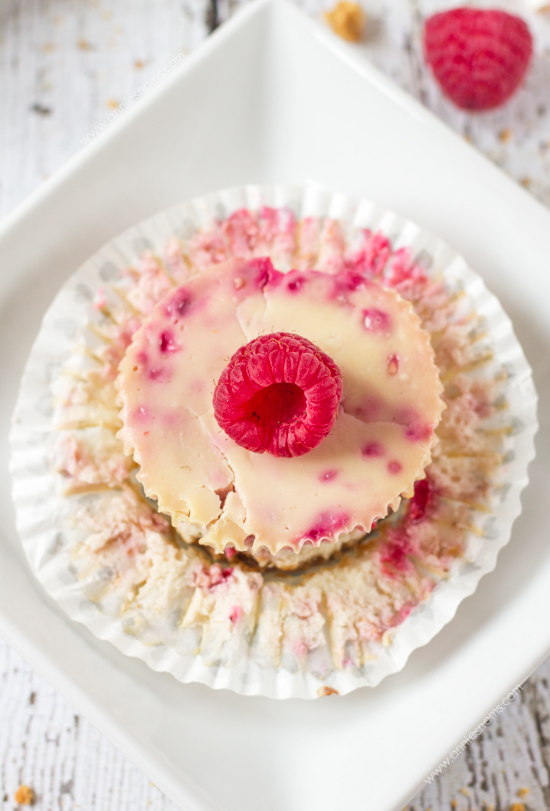 These are so simple to make and they taste just like the full fat version. The raspberries add sweetness and even with the agave you still get that tang that everyone loves in cheesecake, it doesn't overpower anything.
I made these cheesecake cups twice with different bases, once with chocolate covered Hob Nobs and once with traditional Hob Nobs – OH and I loved both, but we both thought that the normal Hob Nobs were better – it's a nice change to a traditional digestive/graham cracker base and adds another layer of texture which contrasts with the velvety smooth cheesecake.
Of course you can use digestives/graham crackers if you want a normal cheesecake base, but the oaty bits and earthy taste of Hob Nobs do work magically with the cheesecake layer!
So, go make these ASAP! And relish the fact you don't have to feel too guilty eating one!
Enjoyed this post? Sign up to my weekly newsletter to ensure you never miss a post!
Skinny Raspberry Cheesecake Cups
My "Skinny" Raspberry Cheesecake Cups don't taste skinny at all! Packed with the flavours of fresh raspberries, cream cheese and agave nectar - these will become your new favourite treat!
Ingredients
For the base:

1 1/4

cups

(160g) Hob Nobs

crushed (measure BEFORE crushing)

2 1/2

tbsp

butter,

melted and slightly cooled

For the cheesecake:

8

oz

(225g) light cream cheese,

I used Philadelphia

1

cup

(240g) Fat Free Greek Yoghurt

1

large egg

1

tsp

vanilla extract

1/4

cup

(80g) agave nectar

4

tbsp

(60g) plain flour

1

cup

(125g) fresh raspberries
Instructions
Preheat the oven to 180C/350F and line a 12 hole muffins tin with liners.

Either place your Hob Nobs* into a Ziploc bag and hit with a rolling pin to smash them up, or place them in a mini chopper and blitz until you have fine crumbs.

Tip into your melted butter and stir until all the biscuit crumbs are coated in butter, mixture will be crumbly and a little dry.

Place just under 1tbsp of biscuit crumbs in each muffin liner and press into a level layer with a small spoon or your fingers.

Place in the oven for 5 minutes, until slightly puffy and ever so slightly darker in colour. Once done, leave to one side.

Whilst the biscuit base is baking, make the cheesecake: Place the cream cheese, Greek yoghurt**, egg and vanilla into a large bowl and whisk until well combined and smooth.

Add in plain flour and agave nectar and whisk until well combined.

Place raspberries in a small bowl and mash with a fork, smaller and larger lumps of raspberry are fine.

Place 3-4 large spoonfuls of the cheesecake into the bowl with the raspberries and stir until combined.

Add the raspberry cheesecake mix back into your large bowl of cheesecake, one spoonful at a time, mixing slightly between each addition. Don't mix it in entirely, you want to swirl the two mixes together and see the difference between the white and pink cheesecake mixes.

Divide the cheesecake between the muffin liners, fill each one almost level.

Place in the oven for 15-20 minutes until cheesecake is slightly puffy in the middle, ever so slightly coloured around the edges and is set. When you wobble the pan, the cheesecake shouldn't wobble much - only the slightest wobble in the middle!

Leave to cool for at least 15 minutes in the pan before transferring to a wire rack to cool completely.

Once cool, cheesecake cups will keep in an airtight container, in the fridge for 3 days.
Notes
*You can substitute digestive/graham crackers for the base **You can substitute plain natural yoghurt, try and get a thicker set one though. Recipe by Annie of Annie's Noms