With their delicate not-quite-chocolate, not-quite-vanilla flavour and their big hit of red colour, these Red Velvet Doughnuts are an old favourite that your sweetie will love this Valentine's Day!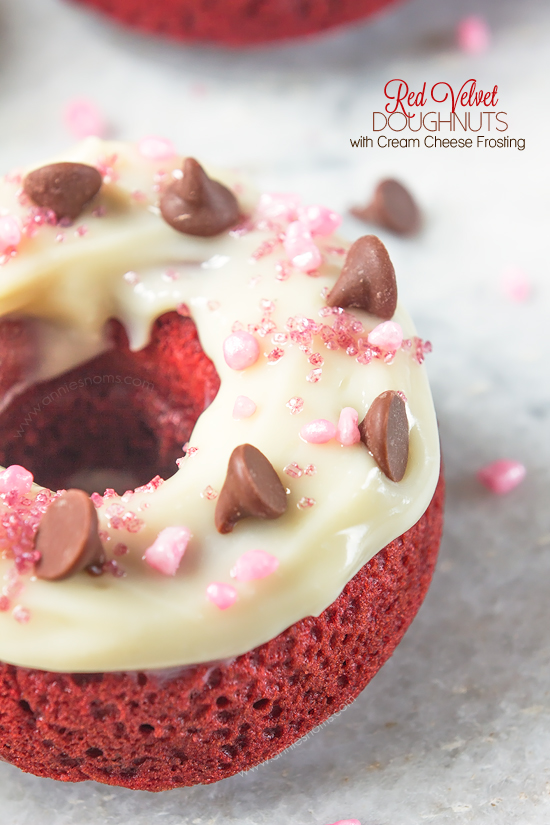 Are you big on Valentine's Day?
I love the idea, but I don't like the over-commercialism there is now. And I do kind of feel like I tell OH I love him every day, so I shouldn't really need one day to specifically tell him. Although it can be quite nice to have a day which (in theory anyway) is for you to show your feelings and do something together.
I know I can't be the only one who, although saying "I love you" every day, gets bogged down with every day life and sometimes fails to take half an hour to sit and do something together; be it hugging, hand holding or just talking.
However, something I do LOVE – all the desserts!
Who doesn't love red velvet? And rich chocolate cakes? Basically all the red and pink things 😉
And these red velvet doughnuts fit right in! Light, fluffy, tender…. blissful!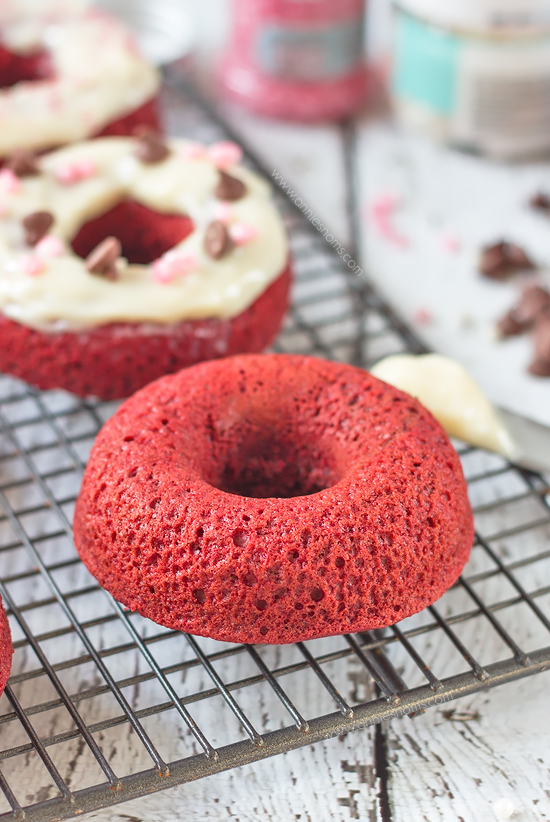 Do you want to know something though?
Until I actually tried Red Velvet for the first time, I didn't really "get it".
I just thought it was a really artificially coloured thing and didn't get why everyone was obsessed by it.
Then I made some.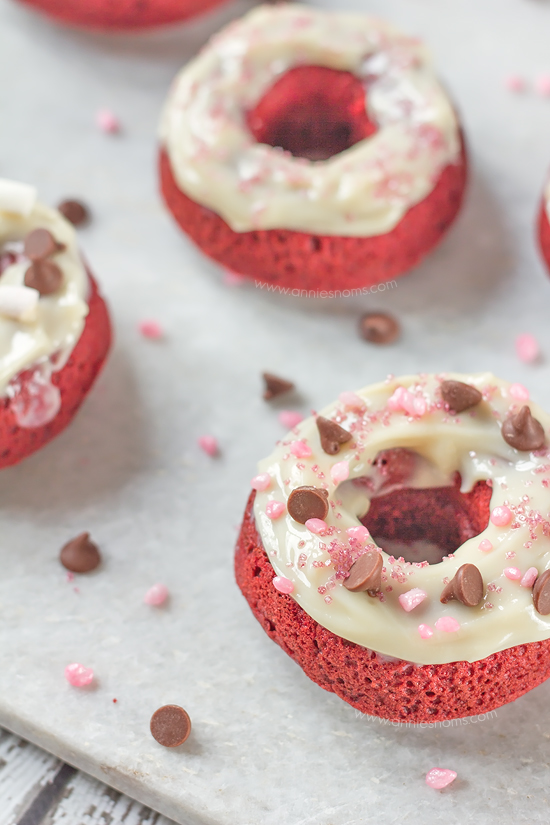 And fell in love.
The colour still scares me; whenever I make it, it looks like I'm an axe murderer and as I'm clumsy at the best of times, I pretty much always end up staining/dyeing something bright red.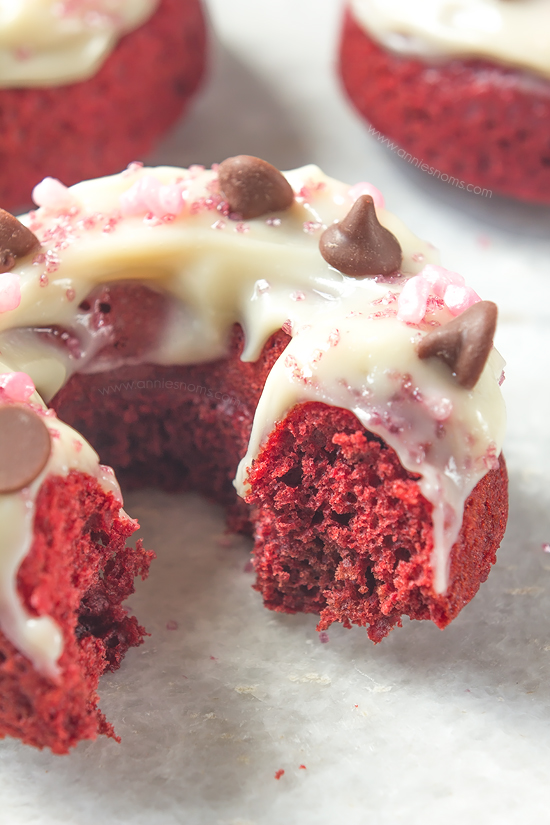 But, I like the fact it almost confuses your taste-buds. They can't work out if I'm eating chocolate or vanilla.
Sometimes you get a slight hint of chocolate, sometimes vanilla. It tastes like a lighter version of chocolate cake.
I mean, I love chocolate cake as much as the next person, but sometimes they can be too rich – OK, I never thought I'd say that…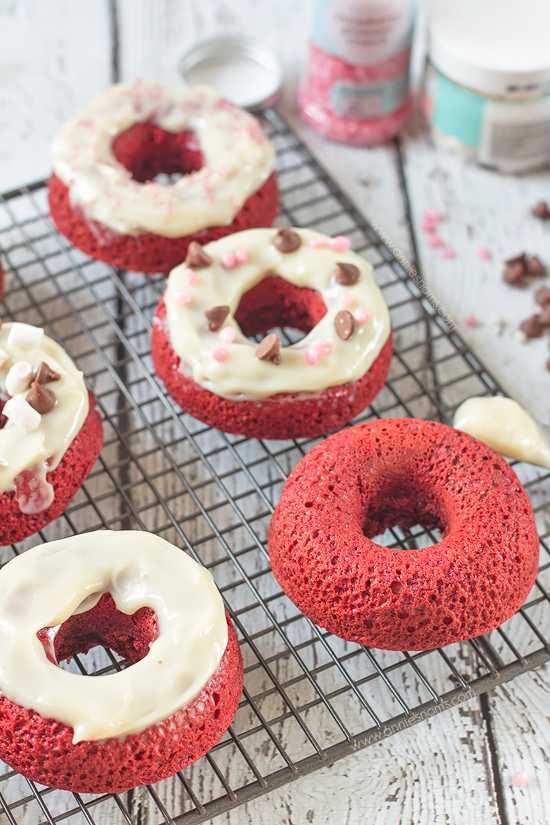 Did you know that when you make red velvet the cocoa powder is meant to have a little reaction with the buttermilk to make a red hue? But, actually it kind of goes brown, hence the addition of lots of red food colouring!
Thank you to my second brain, Google, for that nugget.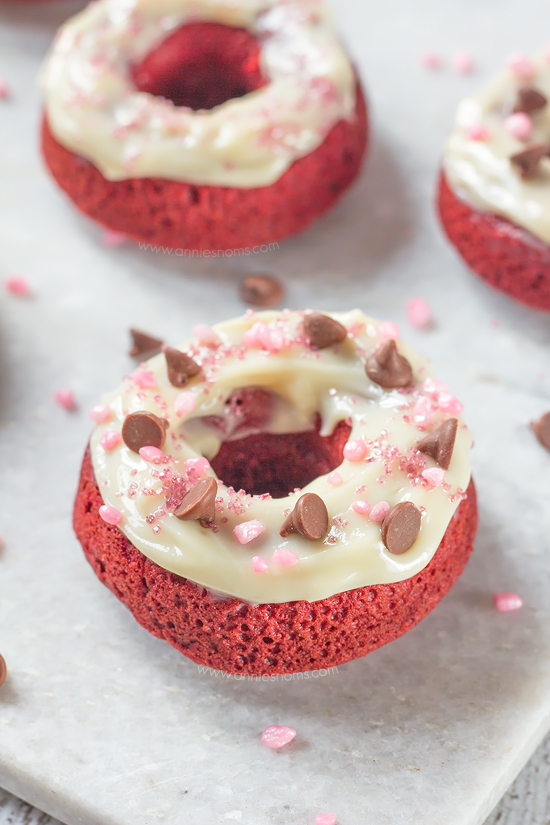 I know some people think it's a travesty to make baked doughnuts, not fried, but I happen to like a baked doughnut.. or three.
This batter is the perfect consistency to pipe into your doughnut mold, they rise up really well and have the lightest, most tender crumb. They're soft and not dried out, like some recipes with cocoa powder and I topped them with the sweetest, creamiest cream cheese frosting EVER!
That frosting. MAN – I literally took a spoon to the bowl after I finished frosting my doughnuts. AH-MAZING.
Smooth, melt in your mouth, vanilla-ry goodness. When you bite into the whole doughnut and frosting it's like pure heavenly deliciousness.
Topped with a myriad of sprinkles, chocolate chips and glittery sugar, they look cute and taste utterly divine. My OH certainly loved them and yours will too!
Your life needs these doughnuts NOW!
Enjoyed this post? Sign up to my weekly newsletter to ensure you never miss a post!
Red Velvet Doughnuts with Cream Cheese Frosting
With their delicate not-quite-chocolate, not-quite-vanilla flavour and their big hit of red colour, these Red Velvet Doughnuts are an old favourite that your sweetie will love this Valentine's Day!
Ingredients
For the doughnuts:

2

cups

(280g) plain flour

1/4

cup

(25g) cocoa powder

2

tsp

baking powder

Pinch salt

3/4

cup

(150g) caster sugar

2

tsp

vanilla extract

1

large egg

3

tbsp

butter,

melted and slightly cooled

1-2

tbsp

red food colouring,

amount will depend on whether you use liquid or gel colouring

2/3

cup

(160g) buttermilk

1

tsp

bicarbonate of soda

2

tsp

white wine vinegar

For the frosting:

8

oz

(225g) cream cheese,

softened

1 1/2

cups

(180g) icing sugar,

sifted

1

tsp

vanilla extract

Variety of sprinkles to decorate
Instructions
Preheat oven to 180C/350F and grease a standard sized 6 hole doughnut pan. (If you have 2, great! Grease them both, but if you have one, like me, bake doughnuts in two batches)

Place the flour, cocoa powder, baking powder and salt into a large bowl and whisk until combined. Leave to one side.

Place caster sugar, vanilla extract and egg into a medium sized bowl and whisk until thick and creamy, about 1 minute.

Add in the melted butter and mix until combined.

Add in the red food colouring, a little at a time, mixing in between until you get the right shade - you want a really bright red!

Add the red mixture to your dry ingredients and mix until you have a thick batter.

Add in the buttermilk and mix until well combined.

Place the bicarbonate of soda and vinegar into a small glass and mix together briefly, mixture will fizz up a little.

Add the vinegar mix into your doughnut batter and mix until well combined. At this stage, if your batter isn't red enough, add a little more colouring!

Place the batter into a large piping bag, with a large plain nozzle attached (I used a 12mm) and pipe batter into each doughnut hole - keep the piping consistent and smooth, you want to fill each hole about 2/3 full.

Alternatively, spoon the batter into the doughnut pan with a small spoon - I would advise piping though as it's much easier!

Place doughnuts in the oven for 8-10 minutes, until well risen and an inserted skewer comes out clean.

Leave in pan for 5 minutes, before transferring to a wire rack to cool completely.

Make sure the doughnut pan is cool before greasing again and piping the remaining 6 doughnuts into it and baking, if you're using one pan.

Once all doughnuts are completely cool, make the frosting: Place all frosting ingredients into a large bowl and beat on med-high speed until light and smooth, about 1 minute.

Using a small angled spatula, or spoon, spread frosting over the top of each doughnut before adding whichever sprinkles/decorations you desire.

Frosted doughnuts will keep in an airtight container, in the fridge for 2 days. Un-frosted doughnuts can be frozen for a month.
Notes
Recipe by Annie of Annie's Noms