25 of my favourite Super Fruity Smoothies from blogger's all over the web – full of flavour, freshness and amazing colour – you need to add all of these smoothies to your "to make" list!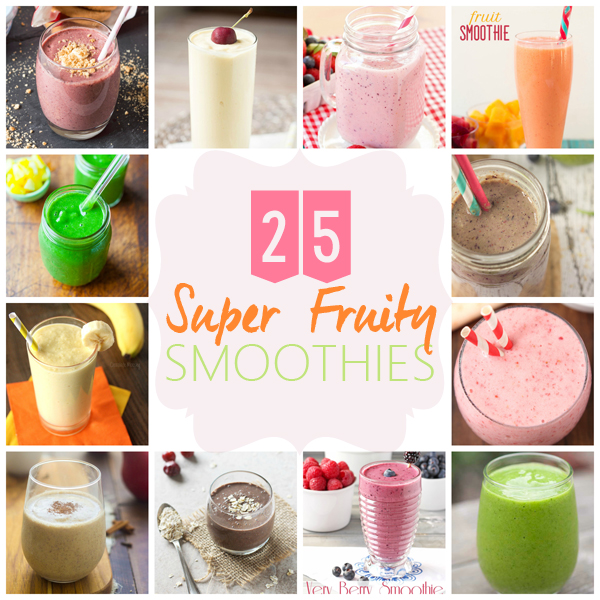 So, today I thought I'd share something different with you because I am having a major love-fest with SMOOTHIES! 
I decided on Super Fruity Smoothies, some of which have vegetables in there too because 1) I LOVE fruit and 2) I don't really like vegetables and need to eat more!
Smoothies are the perfect way to get more veggies in if you're like me and a bit of a vegetable-phobe – with all the fruit, things like Spinach add a ton of good stuff to your smoothie, but you can't really taste it – perfection in my eyes! 🙂
In the last couple of weeks I've been experimenting with different flavour combinations almost every day to make my own fruity smoothies – as with any experimenting in the kitchen some have been great, others… not so much.
I still can't stomach beetroot. Even in a smoothie… 🙁
In fact, tomorrow I'm sharing a recipe for a Mango, Grapefruit and Banana Smoothie which was a definite hit!
But, as a recipe developer, I am always looking for inspiration for my next make, so this round-up includes a wide variety of smoothies; I spent a long time trawling the internet for the most delicious smoothies and these are my favourite! Some of them I've already made, others I am planning to make soon, but all look utterly divine and should be added to your smoothie list!