These Oreo Stuffed Chocolate Muffins are like a brownie/muffin hybrid; soft, rich and chocolatey. And with a delightful, crunchy surprise in the middle, these make the most perfect sweet treat!
This week was almost a disaster before it got started.
Clearly, this recipe is insanely awesome. I mean Oreo STUFFED Chocolate Muffins… but this was meant to be Thursday's recipe…
There was a serious food colouring fail in my kitchen on Sunday evening.
I won't name the brand, but lets just say they are called "gel food colouring" but with an entire tube of colouring in some cupcakes, they still weren't the colour I wanted them to be. 🙁
#foodbloggerproblems.
I couldn't share Pink Velvet Cupcakes with you when they were brown. However, the cupcakes themselves are just delicious! What a shame that we now have 12 naked, lightly pink, but mostly brown cupcakes to eat. It's a hard job, but someone has to do it!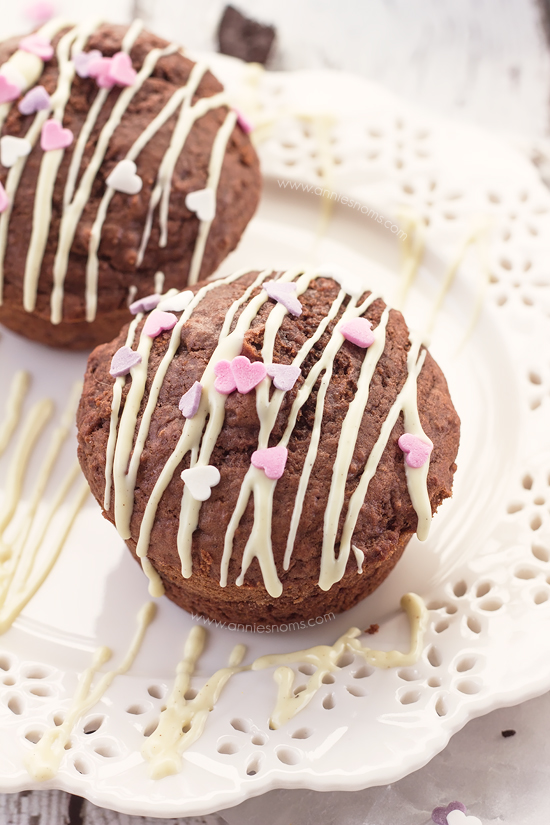 I also had to panic order some pink gel paste colouring. Fingers crossed it arrives today, so I can still share those cupcakes with you on Thursday ;)!
Anyway. We have important things to talk about.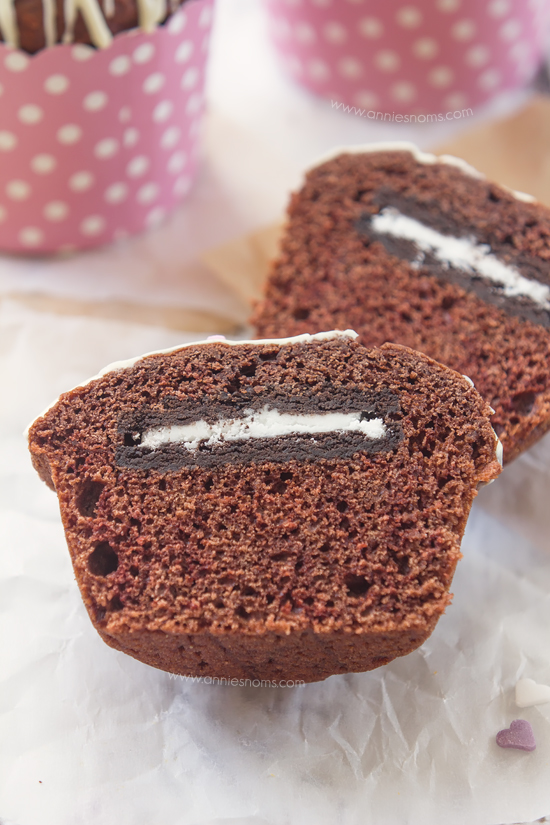 Like the fact I decided it was a good idea to make a brownie/muffin hybrid and then stuff an entire Oreo in the middle of them.
I know, I know. Amazing.
AND the best part? The Oreo stays crunchy after baking! I was a little worried that it might go a little soft/stale, but it didn't. They give the most amazing contrast to the soft muffin.
Change of subject – have you ever tried a warm Oreo?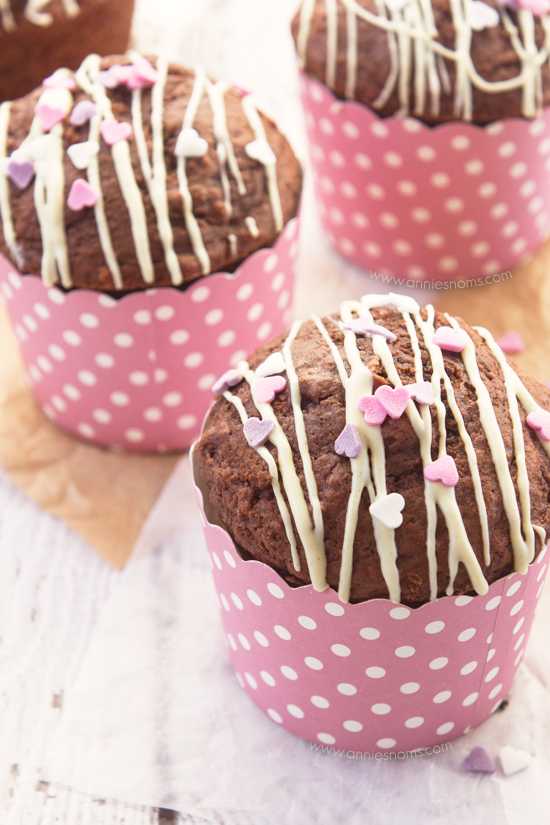 Because I have the patience of a 1 year old, I always attack things as soon as they come out of the oven. So, obviously I broke straight into one of these and warm Oreo's are delicious! The flavour of the filling is more intense and the biscuit still doesn't go soggy!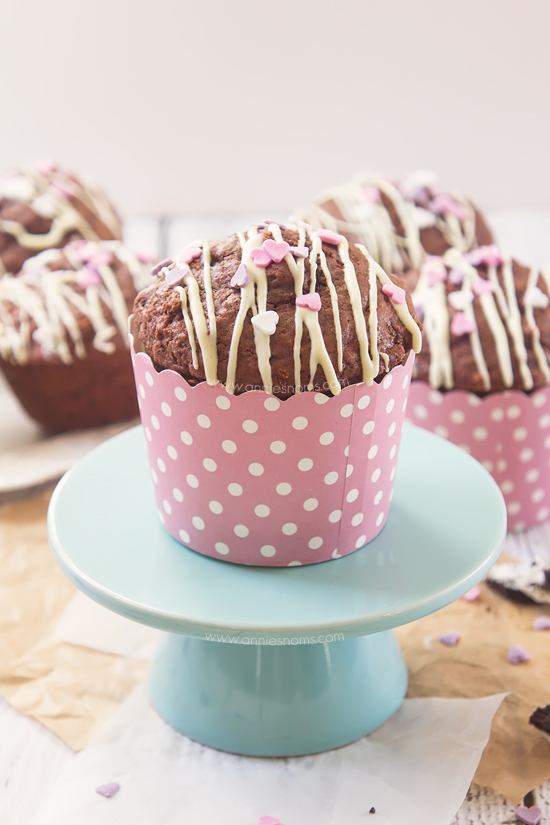 SO, to make these muffins I started out like I do with all good brownie recipes – melted butter and chocolate mixed together into glossy, melty, liquid heaven.
Whilst that's cooling slightly, we whisk the dry ingredients together, flour, cocoa powder, sugar, salt, baking powder and a little bicarb (baking soda.), just until they're evenly combined.
Then, we mix the vanilla, eggs and milk together in a jug and pour the wet into the dry.
The final step is to take that buttery, chocolate mix and pour it all over your dry ingredients.
Mix it by hand just until you have no large lumps of flour (we all know by now that beating muffin batter results in rubbery muffins – ain't nobody got time for that!).
To create these amazing muffins, you then half fill your muffin holes with the thick, rich batter, pop an Oreo into each hole, push it down slightly then top it off with the remaining muffin batter.
Pop those babies into the oven for 15-20 minutes, allow them to cool (OK, I won't judge if you dig in hot!) drizzle them with melted white chocolate and DEVOUR.
Happy Tuesday friends! 😉
Oreo Stuffed Chocolate Muffins
These Oreo Stuffed Chocolate Muffins are like a brownie/muffin hybrid; soft, rich and chocolatey. And with a delightful, crunchy surprise in the middle, these make the most perfect sweet treat!
Ingredients
For the muffins:

1/2

cup

(87g) milk chocolate chips

1/2

stick (56g) unsalted butter

2

cups

(280g) plain flour

1/4

cup

(25g) cocoa powder

1/2

cup

(100g) caster sugar

2 1/2

tsp

baking powder

1/2

tsp

bicarbonate of soda

Pinch of salt

1

tsp

vanilla extract

2

large eggs

1/2

cup

(120ml) milk

10

full size Oreo's

For the glaze

3.5

oz

(100g) white chocolate;

I always use Green and Blacks

Sprinkles/non-pareils to decorate
Instructions
Preheat the oven to 180C/350F and grease 10 holes of a muffin tin.

Place the milk chocolate chips and butter into a heatproof bowl and microwave in 20 second increments, stirring in between until everything is melted. Alternatively, you can place the heatproof bowl over a simmering saucepan of water and stir until melted. Leave to one side.

Place the flour, cocoa powder, sugar, baking powder, bicarb and salt into a large bowl and whisk until evenly combined.

Place the vanilla extract, eggs and vanilla into a jug and beat lightly. Pour into your bowl of dry ingredients. Pour your melted butter and chocolate mixture over your dry ingredients as well and then mix with a wooden spoon/spatula until just combined and you have no lumps of flour visible. (Don't beat or over mix)

Fill your 10 muffin holes half way, around 1tbsp per hole. Place an Oreo into each muffin hole and press into the muffin batter slightly.

Divide the remaining batter between the 10 muffin holes to cover the Oreo's. Each muffin hole should be filled level.

Place in the oven for 15-20 minutes until risen and an inserted skewer into the centre comes out clean. (You'll only be able to insert a skewer a few inches into the centre without hitting the Oreo!)

Leave to cool in the pan for 10 minutes before transferring to a wire rack to cool completely.

Once cooled, make the glaze, if using: place the white chocolate into a heatproof bowl and heat in the microwave in 20 second increments, stirring in between, until melted.

Place into a small piping bag/Ziploc bag with the very end snipped off. Drizzle melted chocolate all over your cooled muffins and then sprinkle with your chosen non-pareils/sprinkles. Leave uncovered until the chocolate drizzle has set.

Once set, muffins will keep in an airtight container, at room temperature for 4 days.
Notes
Recipe by Annie of Annie's Noms