I took my favourite ever brownie batter and baked it into cute little hearts to create these Valentine Brownie Pops! Dunked into melted white chocolate and decorated to your heart's content, your Valentine will love these individual sized pops!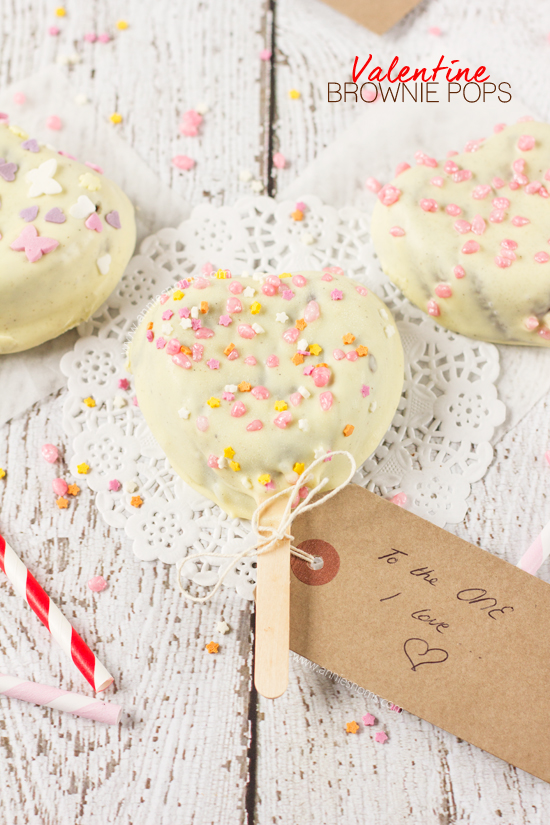 Do you ever feel like the baking God's are against you?
Obviously they are against me this week because clearly these aren't Pink Velvet Cupcakes…
Ah yes, friends, read about the colour disaster on Tuesday?
Well, my gel paste arrived on Tuesday thank goodness, so I was planning to make the cupcakes again yesterday, then post them today. A quicker turnaround than I normally like, but needs must.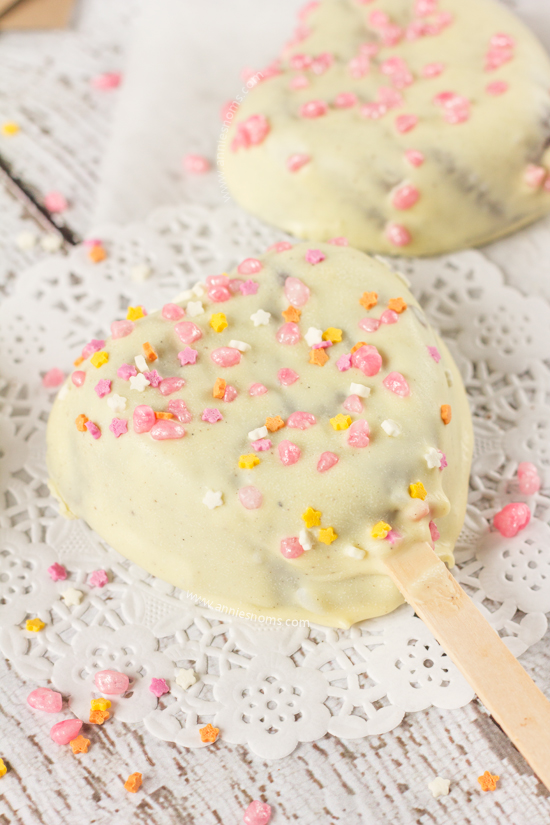 I took them out of the oven, they were pink, life was good… but they didn't look as good as Sunday's batch – those might have been the wrong colour, but they had the most amazing, delicate crumb and no lines on top – just perfectly smooth, glorious cupcakes.
Yesterday's ones had a few lines, looked like they'd almost leaked over the side… Then I was like "I cannot post these." Even though I know the recipe works because I already made them twice, I couldn't photograph them and share them with you when they didn't look perfect.
Then I tried to make frosting and this is where my day just got worse and worse.
I treated myself to some stainless steel mixing bowls just after Christmas and generally I love them. However, yesterday they didn't love me. My butter had been out for hours, (I buy a huge, great stick, so it takes a long time to get to room temp) I had my melted chocolate ready to go, sifted my icing sugar…
Then I started beating the icing sugar and butter mix and it WOULD NOT come together. I literally made the biggest mess I ever have – way worse than the normal "Icing dust cloud" – it was everywhere. I couldn't even see inside the bowl as there was just a cloud over the whole bowl, then I started coughing…
Jeez it was a disaster.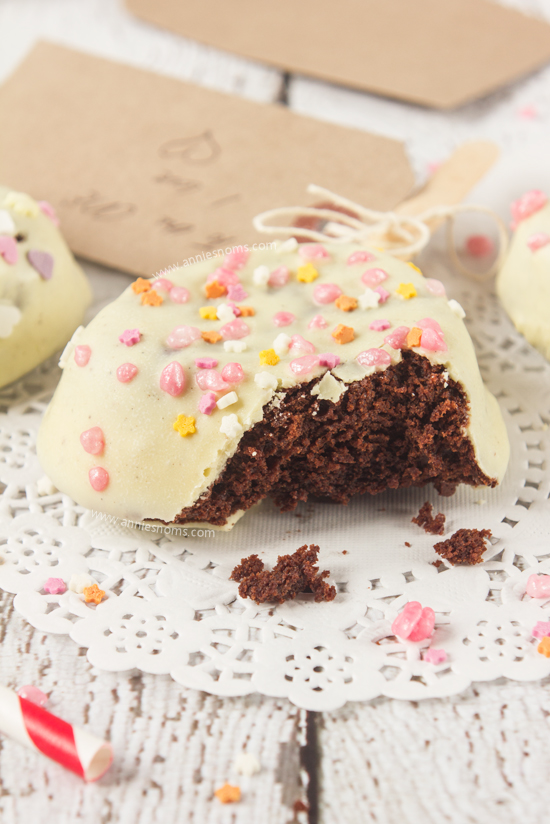 I then added the melted chocolate and hoped beyond hope that I could bring it back together. NO.
It was smooth-ish, but it had tiny lumps in it?!?! I could not figure out if they were cocoa powder, little lumps of chocolate which had cooled…. I think it was probably that now because I put the chocolate into a cold bowl.
So, I tried to melt it again to make it smooth. It went smooth, but then it was too runny to pipe, so I put it in the fridge, then I came back to it 30 mins later and it was a hideous, grainy, split mess.
Into the bin it went with those darn cupcakes.
So, there we have it friends, proof that food blogger's have disastrous days in the kitchen too.
After that, I downed my tools and retreated to the sofa. Then OH bought me some flowers on the way home and I realised that it was just one bad day. not like my life is over. That's just me because I'm so passionate about food.
Anyway. Brownies.
I made my famous, super fudgy, made with cocoa powder and melted chocolate, rich, sweet brownies and I baked them into this awesome little cake tin I picked up last week – with heart shapes!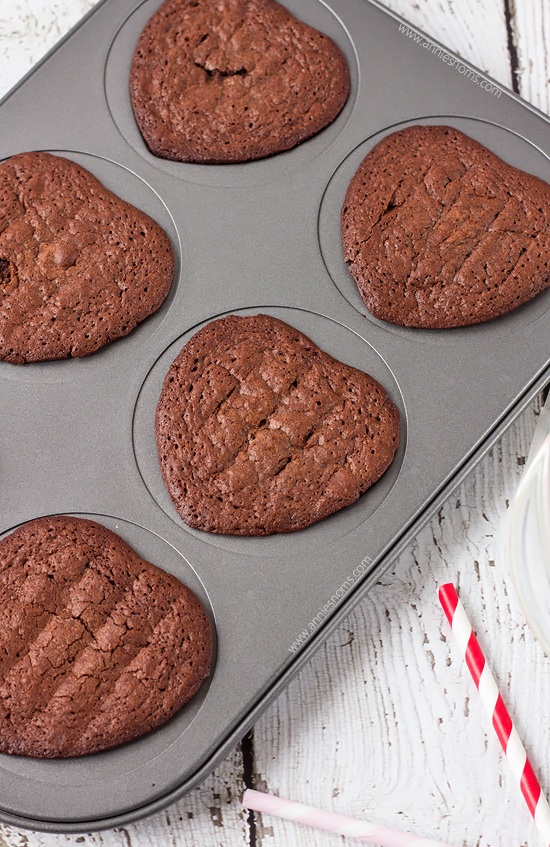 Of course you don't have to go and buy a heart shaped pan specially for this – before I found my tin, I was going to bake  my brownies in a 9×9 inch pan, then just use a cookie cutter to cut them into hearts, but this did make life a little easier.
After baking these cute little brownies up, I left them to cool, before melting a big old bowl of white chocolate. I used a little chocolate on the end of a lollipop stick before poking them into the brownies – the chocolate worked as a glue to bind the stick and brownie and make the "pop".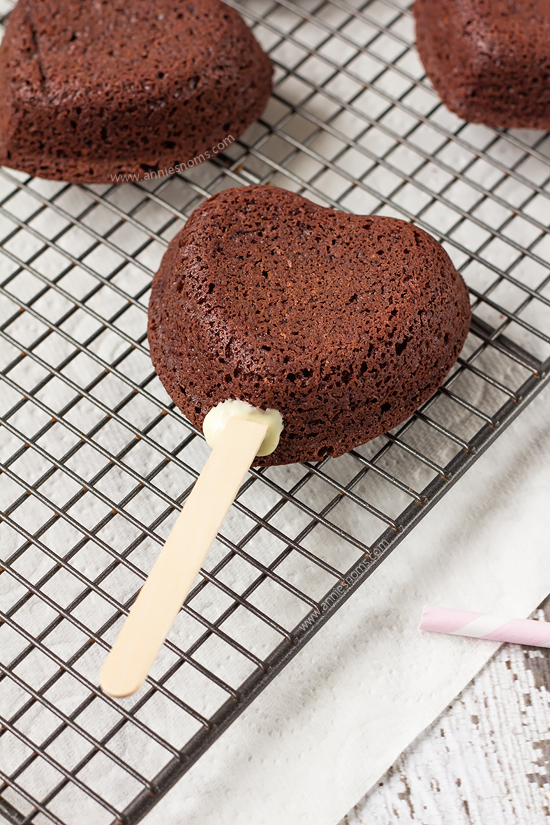 Then I dunked those babies into chocolate!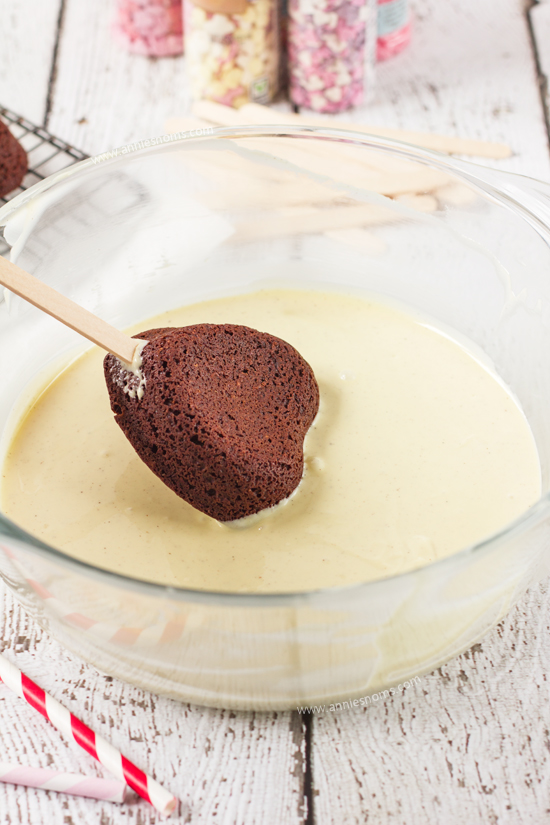 To let them set, I placed the lollipop sticks through the squares of my wire rack and placed a clip-lid container behind it to prop it up straight.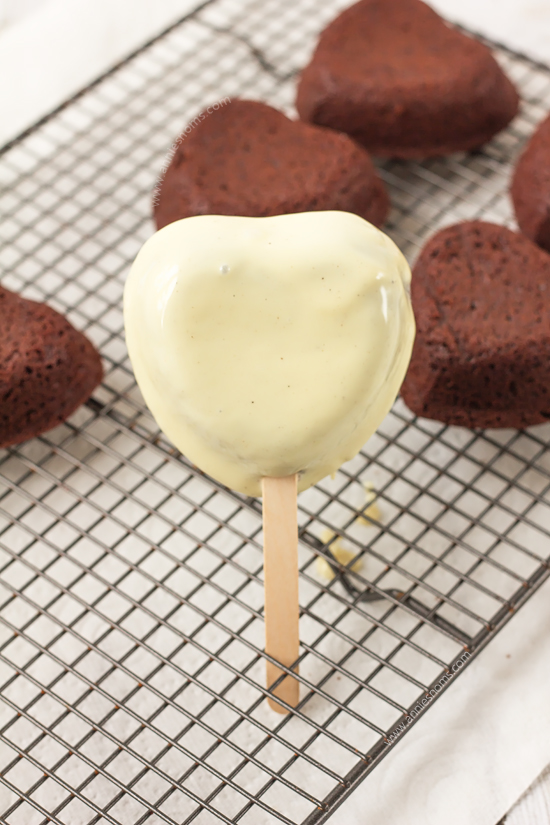 Then I went mad with sprinkles. I can't apologise for my love of cute sprinkles, it's a life necessity 😉
OH fell in love with these little brownie pops, cute, heart shaped, fudgy and delicious, what could be better?
The best bit? They might be a tiny little bit fiddly, but they're actually pretty easy to make and fun to decorate!
Enjoyed this post? Sign up to my weekly newsletter to ensure you never miss a post!
Valentine Brownie Pops
I took my favourite ever brownie batter and baked it into cute little hearts to create these Valentine Brownie Pops! Dunked into melted white chocolate and decorated to your heart's content, your Valentine will love these individual sized pops!
Ingredients
For the brownies:

3.5

oz

(100g) dark chocolate;

I always use Green and Blacks

1

stick (113g) unsalted butter

2

large eggs

1

tsp

vanilla extract

1

cup

(200g) light brown sugar

1/2

cup

(70g) plain flour

1/4

cup

(25g) cocoa powder,

sifted

1/2

tsp

baking powder

Pinch salt

For the chocolate coating/decorating:

1

lb

(450g) white chocolate

Sprinkles to decorate

6-8

Standard sized lollipop sticks

3

inch

wide heart shaped cookie cutter;

if you don't have heart shaped pans
Instructions
Preheat the oven to 180C/350F and grease and line a 9x9 inch pan or a baking tin with 6 heart shaped cavities.

Place the chocolate and butter into a heatproof bowl and place in the microwave to melt, 20 seconds at a time, stirring in between to ensure the mixture doesn't burn. Leave to one side.

Place the eggs, vanilla and brown sugar into a large bowl and whisk by hand until well combined and slightly frothy. Leave to one side.

Place the flour, cocoa powder, baking powder and salt into a medium sized bowl and mix with a spoon until everything is incorporated and you don't have lumps of cocoa powder.

Pour the melted chocolate mixture into your egg mixture and whisk until well combined and smooth.

Add in your flour mix and mix until just combined and smooth. Don't beat or overmix.

Pour the mixture into your lined baking pan, or divide the batter between your heart shaped holes, fill them almost level. (You may need to bake in batches if you only have one pan)

For 9x9 pan: Place in the oven for 22-27 minutes until slightly risen, a little puffy and an inserted skewer into the centre comes out with just a few crumbs on. The top will look slightly crackly as well.

For heart shaped pan: Place in oven for 12-16 minutes until slightly risen, a little puffy and an inserted skewer comes out with just a few crumbs on.

Leave to cool in the pan for at least 30 mins before transferring to a wire rack to cool completely.

Once cooled, (if you made a 9x9 inch pan) use your cookie cutter to cut as many hearts from your brownies as possible. Leave to one side.

Place white chocolate into a large heatproof bowl and place in the microwave, in 20 second increments, stirring in between, until melted. Take one of your lollipop sticks and dip the end into your bowl of melted chocolate, then push the lolllipop stick through the bottom of the heart and up into the brownie, leaving around 4 inches outside of the brownie, so you can hold them!

Repeat for all your brownies. Take one brownie at a time and dip into the bowl of melted chocolate, then spoon chocolate all over your brownie pop until it's covered. Turn the pop back upright and let excess chocolate drip off.

You can either place them flat onto a wire rack to set if you don't mind there being lines in one side of your chocolate, OR use the squares in your wire rack and place the lollipop stick into one of the squares and place something (I used a clip-lid container) behind the pop to prop it up straight.

Sprinkle decorations/non-pareils over each brownie pop as desired and then leave the chocolate to set for at least an hour.

Once set, place in little confectionery bags if you want, or keep them in an airtight container in the fridge. Bring to room temperature before serving.

Brownie pops will keep for 3 days.
Notes
Recipe by Annie of Annie's Noms