This velvety smooth Red Velvet Hot Chocolate is topped with sweetened whipped cream and chocolate to make a satisfying, rich beverage for this Valentine's Day!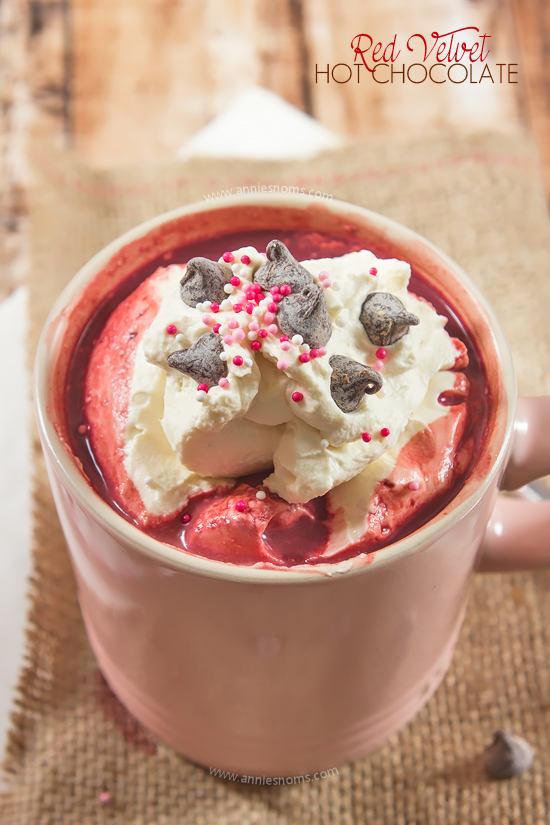 Hoarding.
Are you a hoarder? Is your partner a hoarder? Is your house crying under the weight of all of this stuff you don't use?
I like to think I'm pretty good at getting rid of things – I don't create too much of an emotional attachment to things and if I really haven't used it for a while, then I'll get rid of it. My OH though? He finds it almost impossible to part with anything, even a pair of socks.
AND even if they have holes in.
It's kind of ridiculous, but I just have to laugh. After I've fought with him to throw them out and promised him I'll buy him more.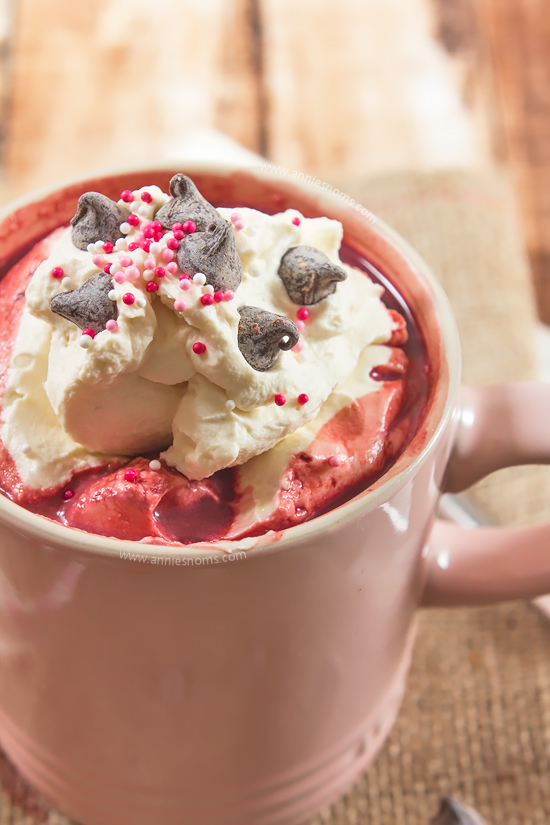 However, where it becomes a grey area for me is with my food props.
Like, seriously, I turn into a different person when it comes to my precious collection of plates, cake stands, glasses and cupcakes cases.
Everyone needs 3000 cupcakes cases, yes…?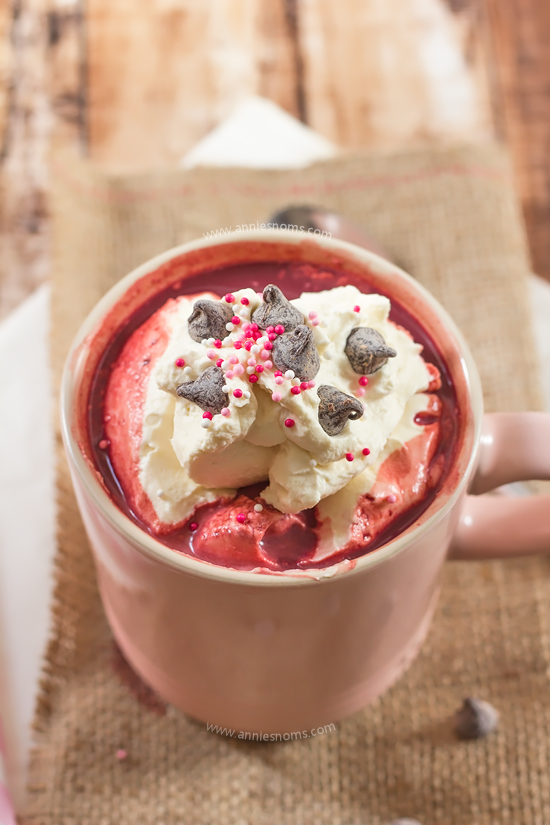 I like to keep my props fresh, so whenever I see a cute plate I MUST BUY IT.
I figure that you would probably be incredibly bored if you saw the same plate in every single photo.
Or maybe not… food blogging kind of gives us an excuse to collect a random selection of cute stuff.
If you want a pink plate, I've got 10. Cake stand? Take your pick… different shape glasses, paper straws… there are loads.
But, don't ever ask for a set. Because I only have one or two of each. 😀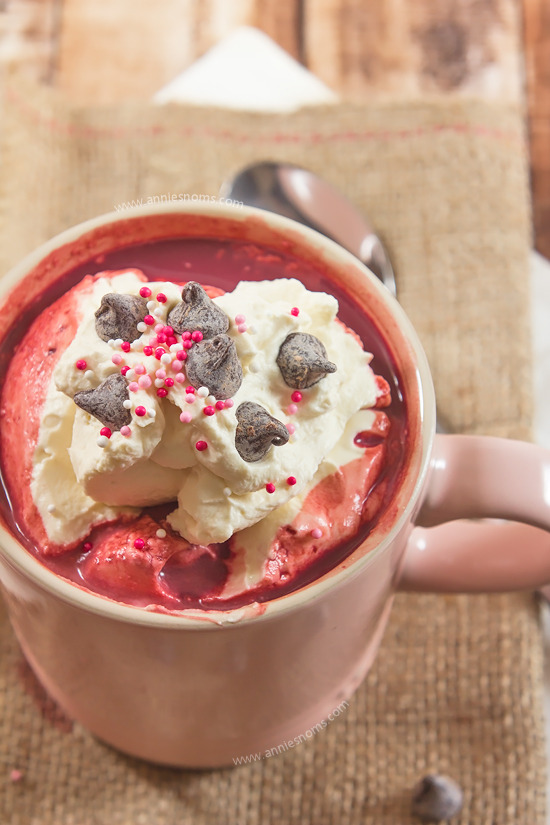 You're wondering what the heck this has to do with Red Velvet Hot Chocolate, yes?
Let me enlighten you. That gorgeous pink Le Creuset mug you see? I just HAD to have it.
Even though there was only one in the whole store. (And yes, I spent half an hour checking.)
Who buys ONE mug?!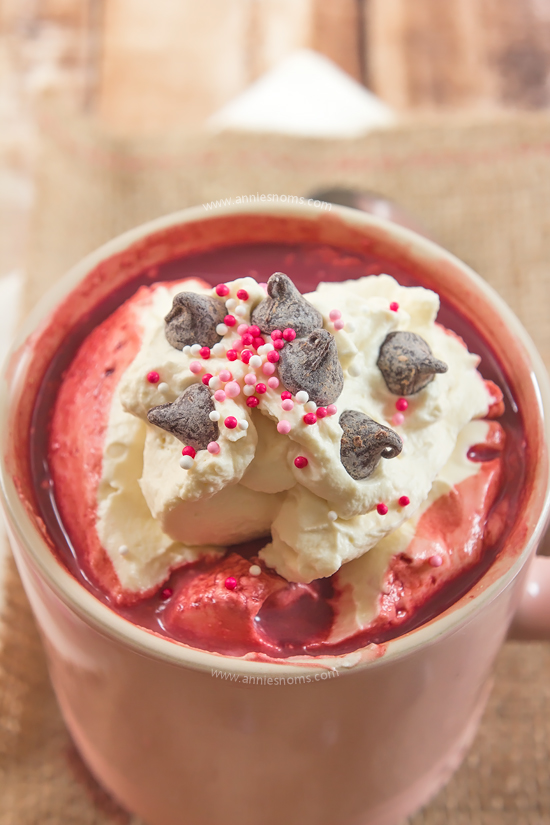 The answer to that: a food blogger 😀
I had the idea for this Red Velvet Hot Chocolate a few weeks back and I was looking through my (actually slightly lacking) mug collection when I realised I did not have a cute mug to use.
That is like my worst nightmare. I've put off sharing recipes with you for months before, because I couldn't find the right glasses… I didn't want it to happen with this insane hot chocolate. I had to share it, it's so velvety smooth and rich, with just a little sweetness, vanilla and a ton of glorious red.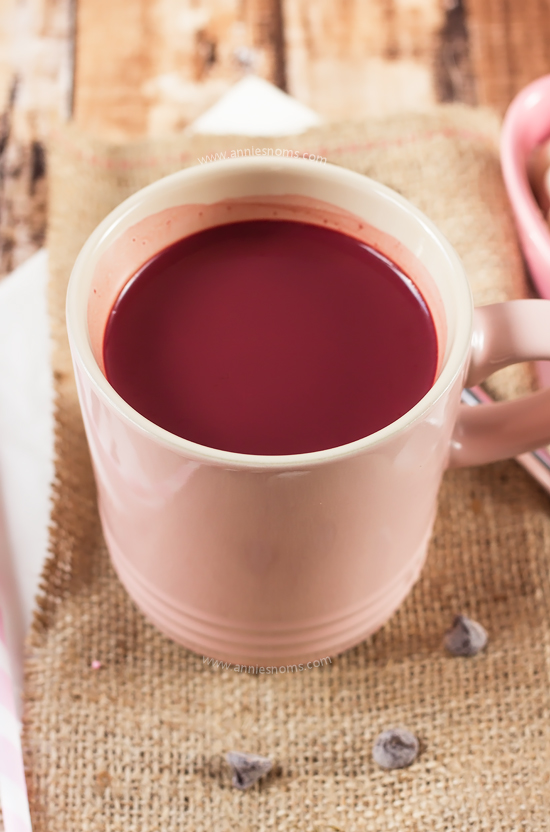 I walked into TK Maxx and it was like "Operation: Find a cute mug"
It was stressful. OH was following me round like a lost puppy. Then I saw this mug and fell in love.
And all was well with life. I came home and whisked together my favourite Green and Blacks cocoa powder with some milk, sugar, vanilla and red food colouring and then sat down to enjoy.
This is honestly one of the easiest things to make, yet what is more satisfying than sitting down with a warm hot chocolate? Yes, I am 80.
All you have to do to make this is put all the ingredients into a saucepan over a medium heat and whisk until smooth, then stir occasionally, so you don't get a skin forming, serve up and whip some cream up with a little sugar to create a light topping. Then DEVOUR.
You're welcome. 🙂
Enjoyed this post? Sign up to my weekly newsletter to ensure you never miss a post!
Red Velvet Hot Chocolate
This velvety smooth Red Velvet Hot Chocolate is topped with sweetened whipped cream and chocolate to make a satisfying, rich beverage for this Valentine's Day!
Ingredients
For the hot chocolate:

2

cups

(480ml) milk

3

tbsp

cocoa powder;

I always use Green and Blacks

1

tbsp

vanilla extract

2-3

tbsp

sugar,

add to taste

Liquid Red food colouring;

I used almost a full 2oz bottle

For the topping:

1/2

cup

(120ml) double cream

2

tsp

sugar

1/2

tsp

vanilla extract

1

tbsp

dark chocolate chips

Sprinkles to decorate,

optional
Instructions
Place cocoa powder into a medium sized sauce pan and then pour the milk in gradually whilst whisking.

Turn the heat onto low-medium and continue whisking until you have no lumps of cocoa powder.

Add in the vanilla extract, sugar (check sweetness and adjust to taste) and red food colouring, whisking whilst you add.

Bring the mixture to a simmer, whisking occasionally to stop a skin forming. Do not boil.

If it's not red enough, add more food colouring, stir and then take off the heat.

Divide between two mugs and leave to one side whilst you make the topping.

Place double cream, sugar and vanilla into a small bowl and whisk until thick and it holds its shape - this will take about 3 minutes.

Top each hot chocolate with the cream mixture, sprinkle chocolate chips and sprinkles (if using) on top and serve.
Notes
Recipe by Annie of Annie's Noms