My "Naked" Oreo Lover's Cake is one decadent, delicious dessert! Super simple to make, it looks like it took you hours to perfect those rich, chocolate cakes, crunchy Oreo centre and perfectly smooth whipped cream frosting. The perfect cake for Oreo addicts everywhere!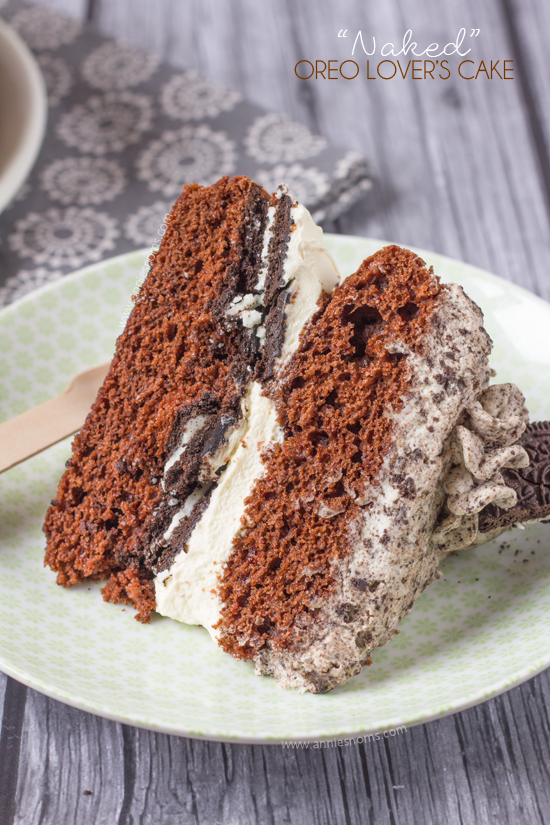 Boy, do I have a recipe for you today!
When I posed a slice of this cake on my Instagram, it got the most likes I've ever had on ANY picture!!
What can I say? We all must be Oreo lover's!
Before we get into how amazing this cake is, a quick note: the blog will be quiet this week; I've been struggling for weeks feeling drained and exhausted and never having a moment to myself. Well, last week I was completely floored by an illness and was forced to slow down and not do much. 
So, I'm taking a break from the blog this week; I am so burnt-out it's untrue. I'm excited for the things I have planned in the future, but I need time to work on them. OH has a week off, so we're going to spend some time together (we both work incredibly long hours and hardly see each other) and we're going to work on the new blog design and really make a dent in it!
I hope that by taking a few days, I can rest up and get fired up for what's to come. Normal blogging schedule will be back next week! Thanks you guys for your unwavering support!
Now, did somebody mention cake?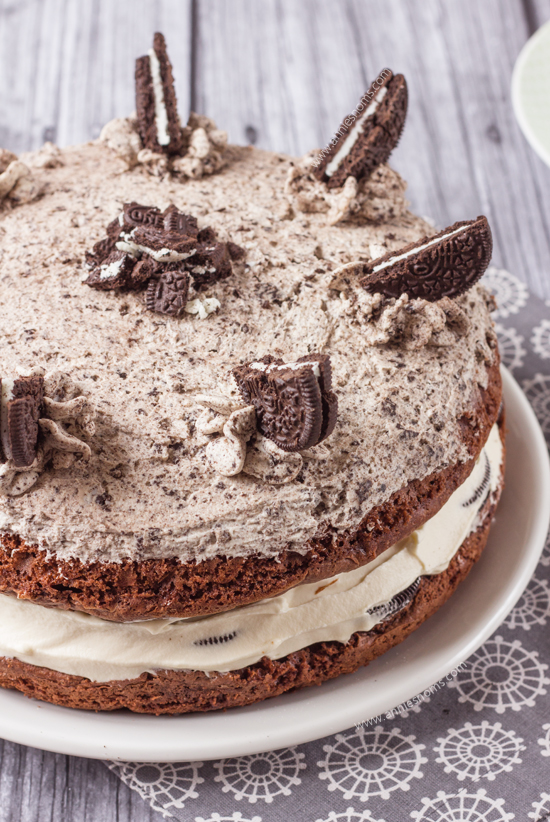 This idea for cake originally came about after a friend asked if my Oreo Stuffed Chocolate Muffins would make a good cake. I didn't think so, as muffin batters are made differently to cake batters (I don't beat butter and sugar together for my muffins).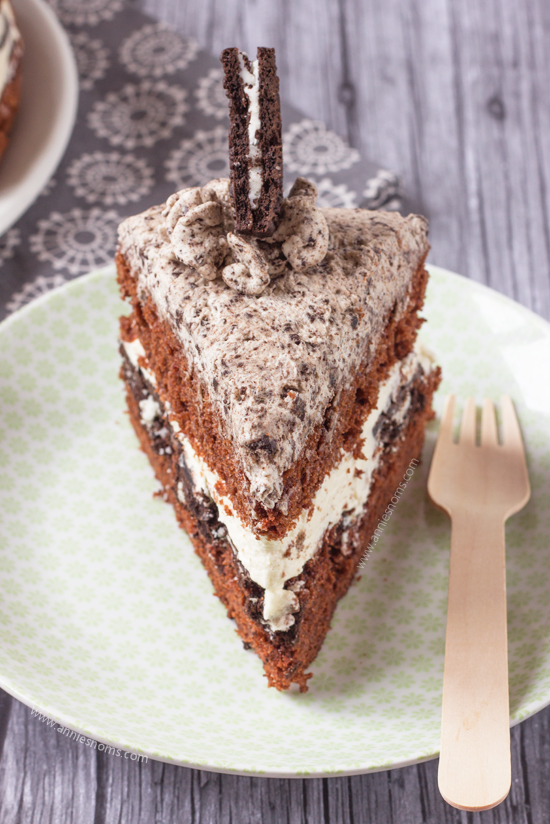 So, I decided that I'd have a play around with my favourite chocolate cake and what felt like 100 packs of Oreo's!
I wasn't even planning on blogging this as it literally was just an experiment…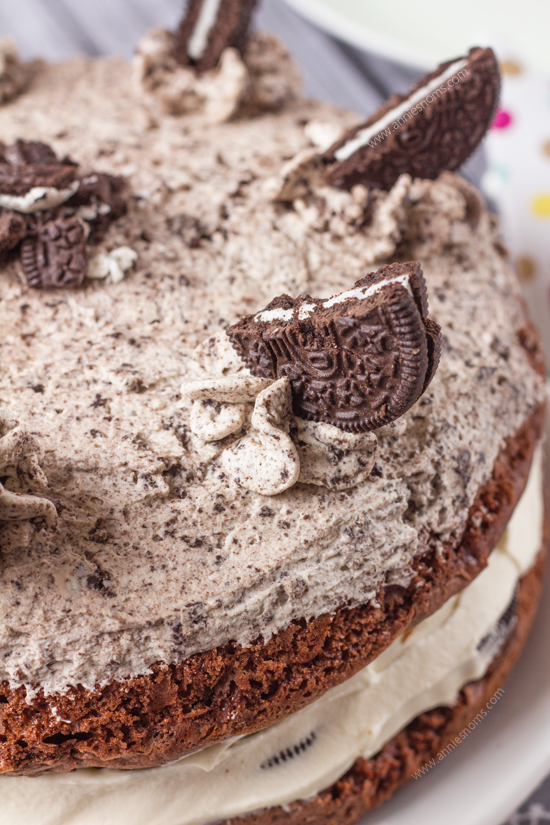 However, it turned out to be so mouthwatering-ly delicious, I just HAD to share it with you guys!!!
I made a chocolate cake with both melted chocolate AND cocoa powder in the batter – I do this because I find cocoa powder makes cakes dry, by adding in a little more wet, you still get the rich chocolate flavour I as after, but you don't end up choking on cake crumbs because, let's be honest, nobody wants that! 😉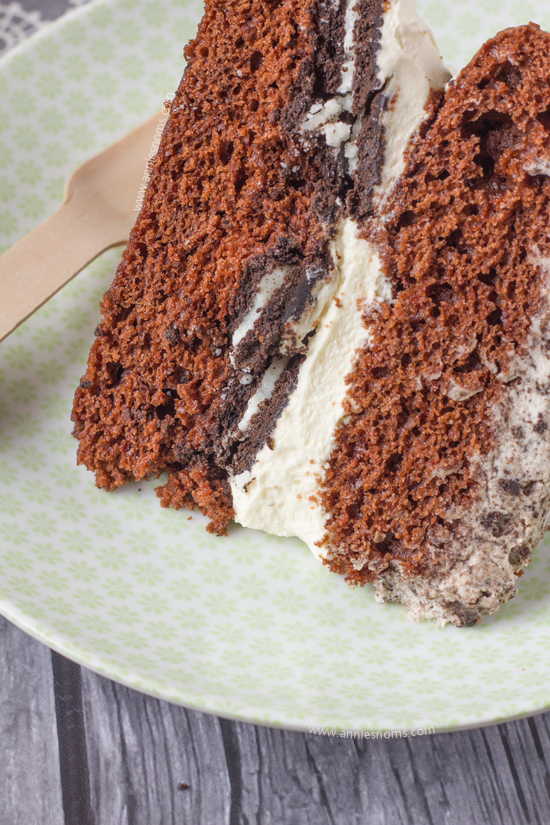 On top of one of my chocolate cakes I packed it full with a layer of Oreo's. I may also have eaten my weight in Oreo's too.
After baking them, I let them cool before making a smooth, creamy, sweet, light as air whipped cream filling.
I divided my whipped cream in half to create my plain "Oreo filling" and to create an Oreo crumb packed topping for the cake.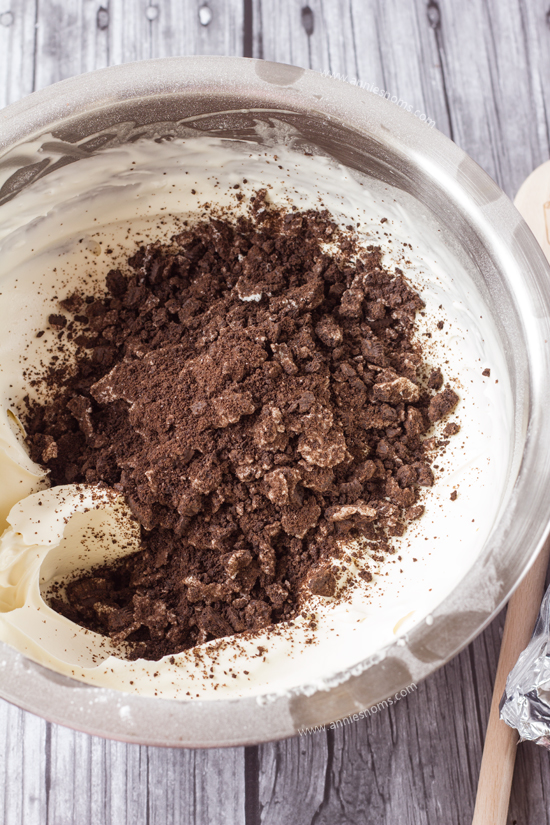 I decided from the beginning this was going to be a "Naked" cake – frosting the whole cake just wasn't what I envisioned in my head when thinking about this cake!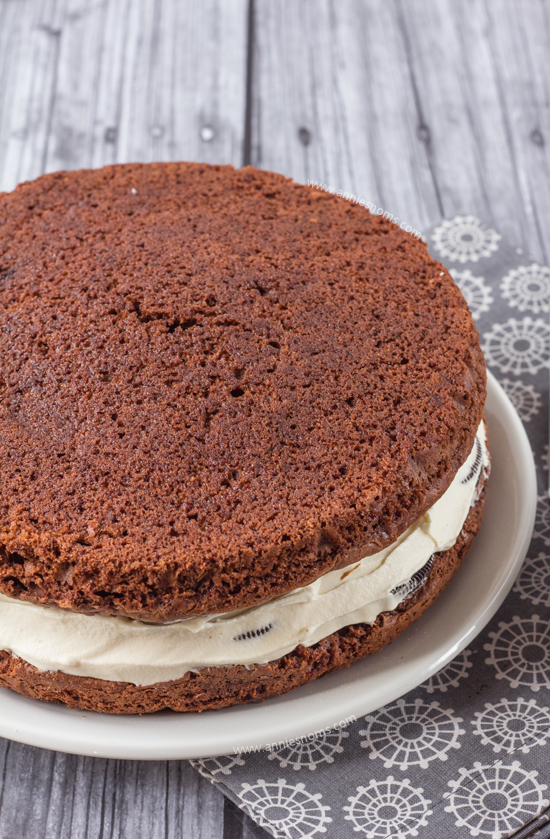 To finish this awesome cake off? More Oreo's on the top of the cake. Obviously.
I think there's almost 4 full sleeves of Oreo's in this cake. And that doesn't include the one's I had to quality control. 😀
Let's just go over those layers again: chocolate cake, Oreo's, whipped cream, chocolate cake, Oreo stuffed whipped cream, more Oreo's on top.
Honestly, this cake is insane AND the best part? It's easy!! There's no perfect finishes where you spend hours trying to get the frosting as smooth as humanly possible… just naked sides, Oreo's everywhere and whipped cream finishing things off.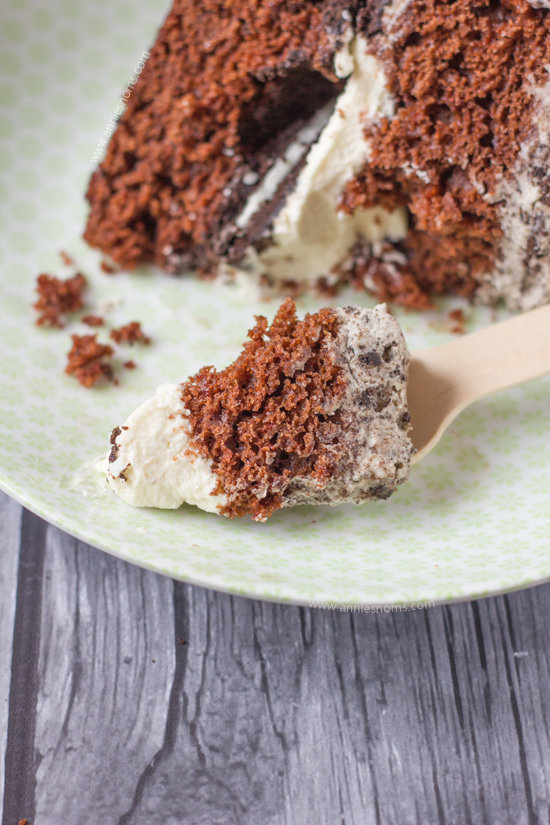 Who wouldn't want this gorgeous cake turning up at their party?
I sent it to work with OH and got a plate full of crumbs back… I think they liked it.
Enjoyed this post? Sign up to my weekly newsletter to ensure you never miss a post!
"Naked" Oreo Lover's Cake
My "Naked" Oreo Lover's Cake is one decadent, delicious dessert! Super simple to make, it looks like it took you hours to perfect those rich, chocolate cakes, crunchy Oreo centre and perfectly smooth whipped cream frosting. The perfect cake for Oreo addicts everywhere!
Ingredients
For the cake:

3

oz

(85g) dark chocolate,

melted and slightly cooled

1/4

cup

(50ml) vegetable oil

2

large eggs

1

tsp

vanilla extract

1

cup

(200g) caster sugar

1/2

cup

(100g) light brown sugar

1 3/4

cups

(245g) plain flour

1/4

cup

(25g) cocoa powder

1

tsp

baking powder

1/2

tsp

bicarbonate of soda

Pinch of salt

1

cup

(240g) sour cream

18-19

Oreo's,

Just over one packet

For the filling and topping:

2 1/2

cups

(600ml) double cream

1

tbsp

vanilla extract

1

cup

(120g) icing sugar,

sifted

5.4

oz

(154g) sleeve original Oreo's

5

extra Oreo's to garnish,

optional
Instructions
Preheat the oven to 180C/350F and grease and line two 9 inch round pans.

Place dark chocolate into a heatproof bowl and place in the microwave in 20 second increments, stirring in between until melted. Alternatively, you can place the bowl over a simmering pan of water on a low heat on the hob and stir until melted. Leave to one side.

Place oil, eggs, vanilla extract and sugars into a large bowl or the bowl of your stand mixer and beat on medium-high speed until light and frothy, about 1 minute.

Add in the melted chocolate and mix until well combined.

Add in flour, cocoa powder, baking powder, bicarbonate of soda, salt and sour cream and mix on low until well combined and smooth.

Divide cake batter between your lined cake tins. I use a 1/2 cup to divide my batter and ensure they're both even.

Smooth and level the batter in each tin and then take one of your cake layers and place whole Oreo's all over it - I started with a circle on the outside, then worked my way in to the centre - this was 18 and 1/2 Oreo's for me!

Place in the oven; the cake not covered in Oreo's will bake faster – 18-23 minutes. Remove that from the oven when risen and an inserted skewer in the centre comes out clean.

The cake with Oreo's on the top will take 20-25 minutes – remove once risen and an inserted skewer into the centre comes out clean.

Leave to cool in the pans for at least an hour before transferring to a wire rack to cool.

Once cooled, take the cake with Oreo's on the top and place it onto a plate, Oreo side facing up.

Then, make the filling: Place double cream, vanilla extract and icing sugar into a large bowl and whisk until thick and it holds a peak when you pull the whisk out.

Divide the mixture in half, placing one half into another bowl.

Place one full sleeve of Oreo's into a large Ziploc bag and beat with a rolling pin until you have small crumbs. Alternatively, you can place them into your food processor and blitz until you have crumbs.

Tip the Oreo crumbs into one of the bowls of whipped cream. Fold in slowly, being careful not to whip anymore air into the mixture otherwise you may over whip your cream. Leave to one side.

Take the bowl with plain double cream and spoon it onto the cake with a layer of Oreo's. Smooth until level with a spatula or wooden spoon.

Take the plain chocolate cake and place it bottom side up, on top of the whipped cream topped cake.

Next, spoon your Oreo cream mixture onto the cake and smooth with a spatula until level. If you want, reserve a little mixture to pipe little mounds around the edge, this is optional.

If you do pipe around the edge (I used a large open star nozzle) then cut 4 Oreo's in half and place in the centre of each mound of cream. Crumble the last remaining Oreo into the centre of the cake, optional.

Cake will keep covered, in the fridge for 2 days. Best served at room temperature.
Notes
Recipe by Annie of Annie's Noms