This shop has been compensated by Collective Bias, Inc. and its advertiser. All opinions are mine alone. #CollectiveBias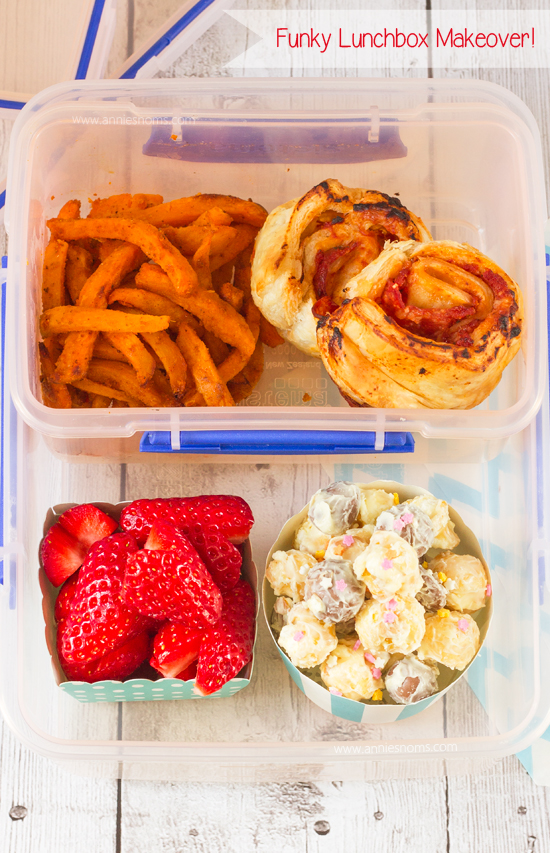 Do you ever feel like you get stuck in a rut of the same few boring lunches?
Yes, me too. Which is why today I'm sharing with you our lunchbox makeover!
I make a packed lunch for my partner every day and every morning turns out pretty much the same:
Me: "What do you want in your sandwich?"
OH: "I don't know, whatever."
Me: "Meat and salad? Marmite and cheese? Meat and cheese?"
OH: "Whichever" followed by grunting and sighing. I know, bad girlfriend for making such boring lunches!!! 😉
This is why I jumped at the chance to give our lunchboxes a makeover and make them more appealing to the eye and more interesting to eat! I just love when I get to sit and make notes on possible recipe ideas – it really gets my creative juices flowing and gets me excited to get into the kitchen.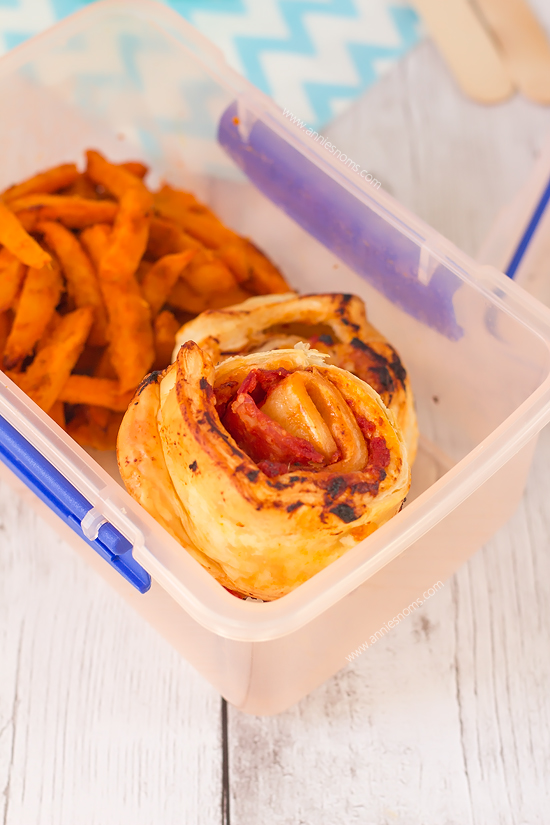 We headed out to our local Sainsbury's and got busy looking for my specific list of ingredients to make a fun lunchbox! First up it was straight to the home baking corner of the butter aisle. This is where you find all the different kinds of pastries – I'm normally one for making everything from scratch, but life is too short to make puff pastry!
Sainsbury's having ready rolled sheets means that making my pizza wheels is even easier!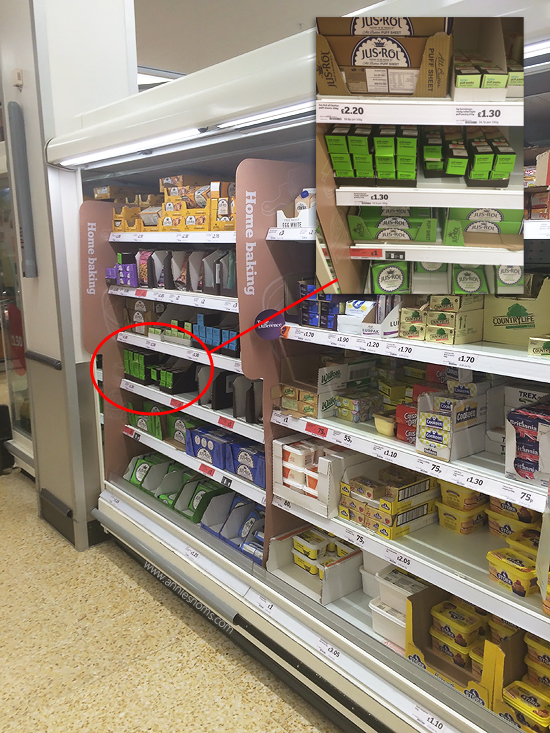 For our lunchbox makeover, I had decided on some homemade puff pastry pizza wheels (fun for adults and kids to make!), sweet potato fries, a caramel chocolate popcorn concoction and some luscious, juicy strawberries.
I've seen pizza wheels around for a while, but hadn't got round to making them, even though I knew they would be a hit around here. I'm sure you know what it's like – you see so many recipe ideas, other things get pushed down and down your "to-make" list!!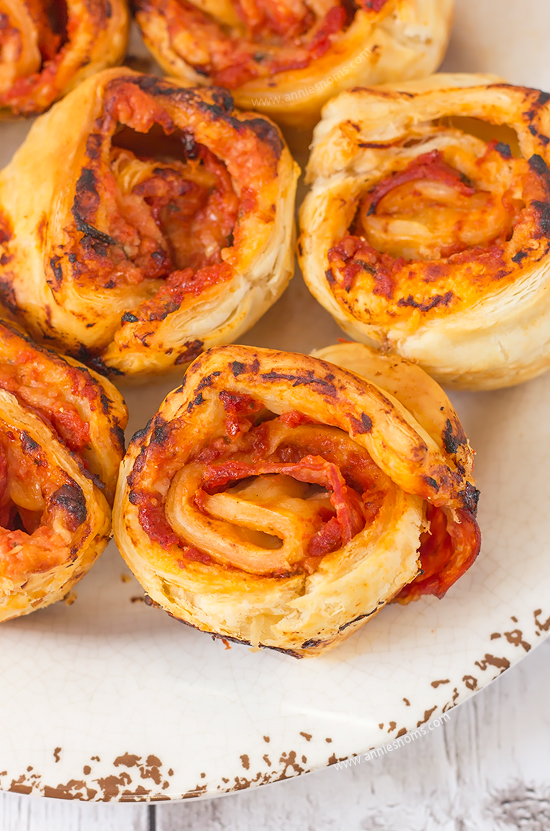 I am SO glad that I made these pizza wheels now though – INSTANT hit!! I used some tomato and basil pizza sauce, freshly grated mature cheddar and a few pieces of pepperoni to re-create my favourite ever pizza in wheel form!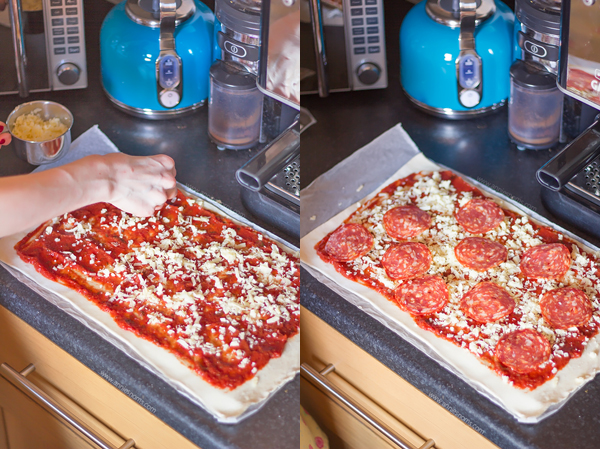 They are ready in 30 minutes and you get 8-10 wheels per sheet, meaning you could make a batch on Sunday and have them ready to go for numerous lunches through the week!
Now, let's talk about the other parts of our lunchbox makeover. I am a recent convert to sweet potatoes. I tried them for the first time a few years back and didn't like them, but recently I have become borderline obsessed.
Really, the way I go through phases of just eating the same thing for weeks on end cannot be healthy! 🙂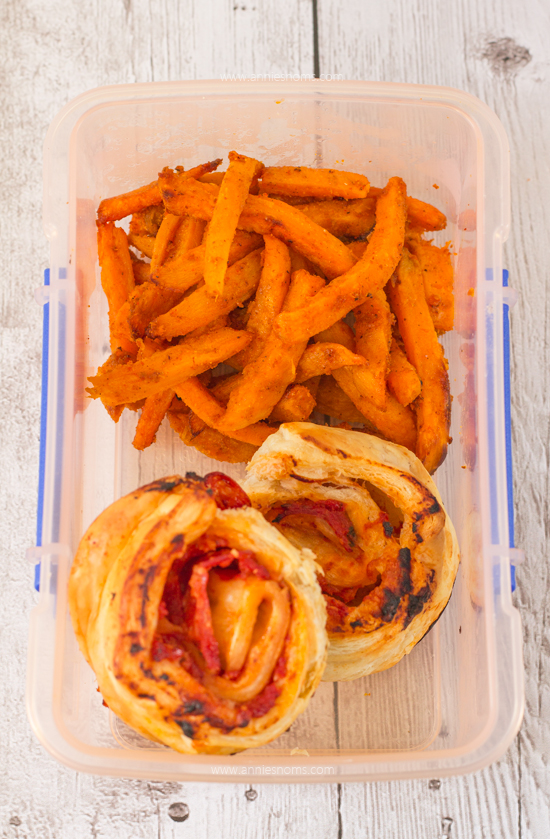 Honestly, if you haven't tried sweet potato fries my way before, you need to: par boiled for 3-5 minutes, then tossed in a little oil mixed with garlic, paprika, salt and pepper before being baked until crisp on the outside.
Melt in your mouth, packed with flavour, sweet little bites of heaven. The perfect alternative to a bag of crisps in your lunch box!
I've given you the recipe for 4 servings today, but the recipe is so easily doubled. You could make a huge batch and then keep them in a Ziploc bag ready to divide between lunchboxes later in the week.
Finally in our lunchbox makeover is the "dessert". I'm all for "everything in moderation", so I like to balance out the healthier sweet potatoes with a little treat… I made a popcorn mix with toffee popcorn, some Mars Revels, melted white chocolate and sprinkles. The sprinkles are optional… BUT everyone knows how sprinkles make everything better!
A quick to make and super satisfying sweet treat!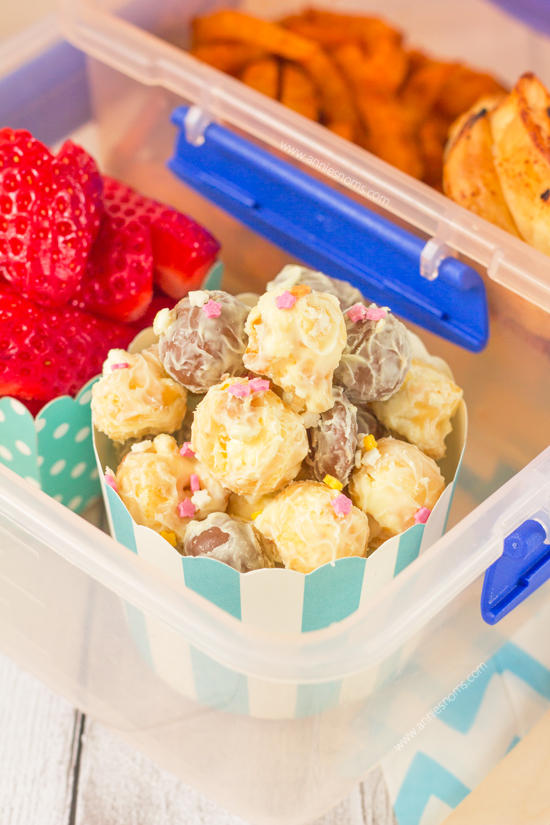 To balance out the chocolate, I took some juicy strawberries, halved them and then cut them into little heart shapes. Cute to look at and delicious. Who wouldn't want to eat these pretty little berries?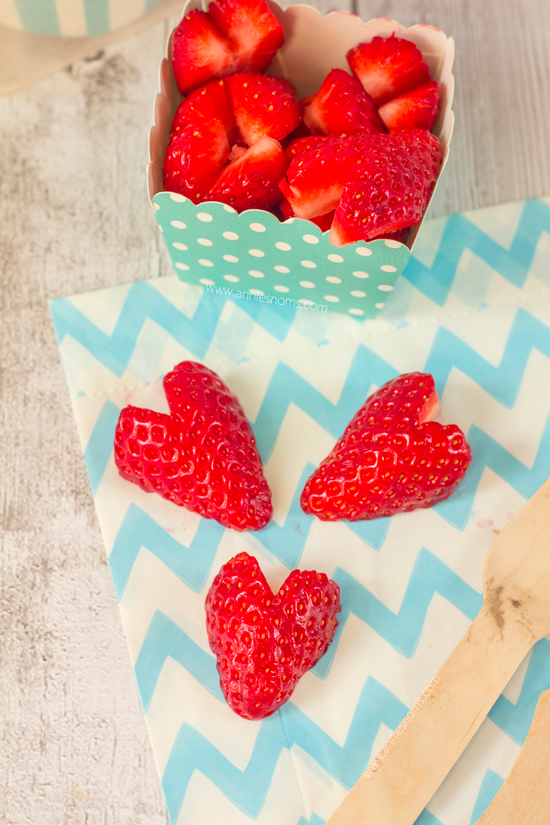 I have absolutely loved making over our lunchboxes. My partner came home raving about how much he loved his lunch. I haven't gotten that reaction in a while, so I'd say that's a job well done!
Has this got you thinking about your lunchbox and whether or not it could be better? What are you going to do to makeover your lunch?
Funky Lunchbox Makeover!
Make lunch interesting by making my puff pastry pizza wheels, sweet potato fries, chocolate popcorn mix and heart shaped strawberries. Easy to make ahead of time, filling, delicious and interesting to look at - the perfect lunch makeover!
Ingredients
For the pizza wheels:

One 375g/13.5oz sheet ready rolled puff pastry

3/4

cup

(180g) pizza sauce of your choice;

I used tomato and basil

1

cup

(113g) grated cheddar cheese

12

slices

pepperoni,

optional

For the sweet potato fries:

2-3

large sweet potatoes

2

tbsp

olive oil

1 1/2

tsp

paprika

1/4

tsp

garlic granules

Salt and pepper,

to taste

For dessert :

easily doubled for 4 lunchboxes

Two 30g/1oz bags of toffee popcorn;

I used Butterkist

4

tbsp

Revels,

or any other chocolate you like

56

g

(2oz) white chocolate,

melted

Sprinkles to decorate,

optional

1

cup

(152g) halved strawberries
Instructions
For the pizza wheels:

Preheat oven to 200C/400F and grease a 12 hole muffin tin.

Un-roll your puff pastry and then spoon over your pizza sauce, leaving a 1 inch gap around the edges.

Smooth over with the back of a spoon and then sprinkle grated cheese all over the pizza sauce.

Place pepperoni, if using, evenly over the cheese.

Take one of the long sides of pastry and roll tightly into one long sausage.

Place in the fridge for 10 minutes if it feels a little soft.

Once chilled, slice into 8-10 pieces. We got 8 pieces and they were 2 inches wide. Place them, with the swirls pointing up into each muffin hole.

Place in the oven for 10-15 minutes until puffed up, golden and crispy on top. All the cheese should be melted as well.

Leave to cool for 5 minutes in the pan, before using a small spatula around the edges to loosen each wheel. Place on a wire rack to cool completely.

For the sweet potato fries: Turn the oven up to 220C/425F and line a baking tray. Fill a large saucepan 3/4 full with water and place on the hob.

Peel your potatoes and slice into french fry sized pieces. Place all of your fries into the pan of water and place on a high heat. Bring to a boil and boil for 3-5 minutes. Keep an eye of your fries, you don't want them too soft, when the edges are going translucent, take off of the heat and drain.

Whilst your fries are boiling, place olive oil, paprika, garlic, salt and pepper into a large bowl and stir until you have a paste.

When your fries are boiled and drained, tip them into the bowl of spices and toss to coat the fries.

Tip onto you lined tray and spread into an even layer.

Place in the oven for 20-25 minutes, turning halfway through, until edges are crispy and golden.

Leave to cool completely on the tray.

For the popcorn: Place toffee popcorn, revels (or other chocolate) and melted white chocolate into a small bowl and toss until everything is covered in chocolate. Garnish with sprinkles, if using.

For the strawberries: Take each half of your strawberries and cut a "v" shape out of the top to create a heart shape.

To assemble a lunchbox: Place 1/4 of the fries into a clip lid container and add in 2 pizza wheels.

In a small clip lid container or sweet bag, place 1/2 the popcorn/chocolate mix. Place half the strawberries into a small container. Finish each off with either wooden or plastic cutlery (I think wooden looks cute!) and a napkin.
Notes
All recipes by Annie of Annie's Noms