My Banana Caramel French Toast is super easy to make as it uses store bought caramel sauce to caramelize the bananas! The sweet, sticky caramel mix is then put on to crisp, fried Brioche to create a decadent breakfast!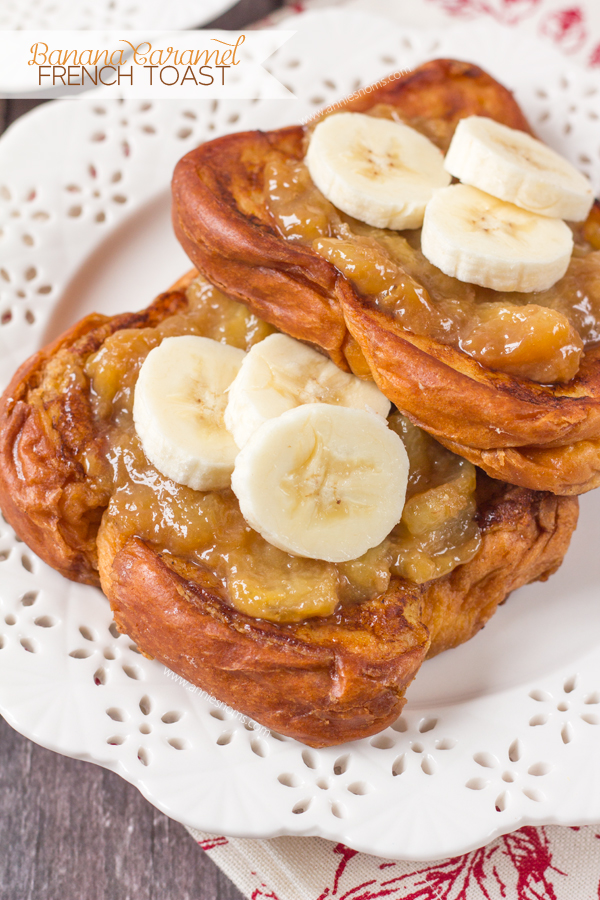 Hello everyone, how are you?? Have a good week last week?
I had a whole week off from recipe developing and baking and I feel like it did me the WORLD of good!
I was really struggling, felt like I was in a constant circle of being exhausted, in pain, stressed out and never having time to do anything. Even just a week of relaxing a little and doing things for me made me feel so much calmer.
ALSO – in case you missed the "official announcement" on Social media…. Mr Annie's Noms proposed!
It actually happened a few weeks ago, BUT he wanted us to choose a ring together, so once we'd sat for about 10 hours choosing the exact diamond that would be going in my ring, we then had to wait 3 weeks for it to arrive, so we waited to announce as well!
We are so unbelievably happy and I can't wait to be a Mrs. Not entirely sure when it will be yet, but we do know we're having a very small wedding (maybe 10-15 people) abroad because we want the day to be about us, not having a ton of people there who we don't see for years on end. Too much fuss!!
Do any of you have tips for planning a small wedding? Or one abroad?? I'd love to hear them!
Anyway, onto more important things like how gorgeous my ring is: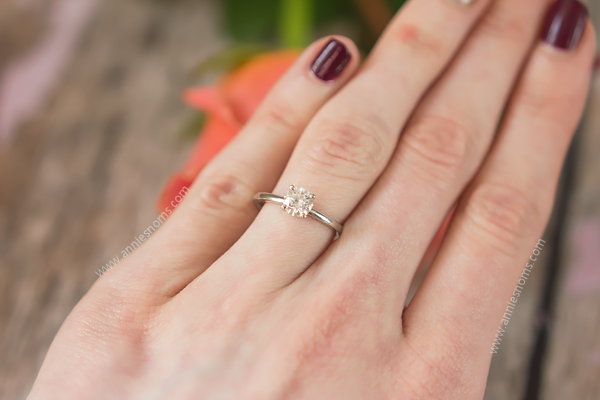 I am so in love with it! We went for a platinum band because I'm super, super clumsy and it's meant to be more hard-wearing; also I can't be bothered to get white gold re-plated every year or so.
I always knew I wanted a solitaire, but I wasn't sure on setting, we looked at so many, but I finally went for the simplest setting – just a classic solitaire "v" shape. It lets the diamond do the talking!!! 😀
Diamond wise, I went for an F (colourless), VVS2 with excellent cut, polish and symmetry – it's almost 3/4 carat and I think it's the perfect size for my hand!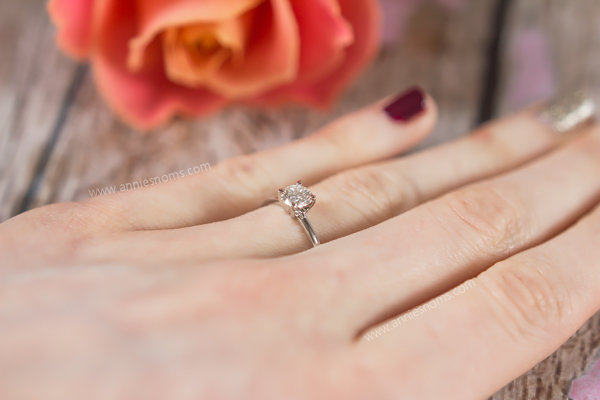 OH bought me a beautiful bouquet of flowers, so I couldn't resist having a play around with one of the roses and my ring: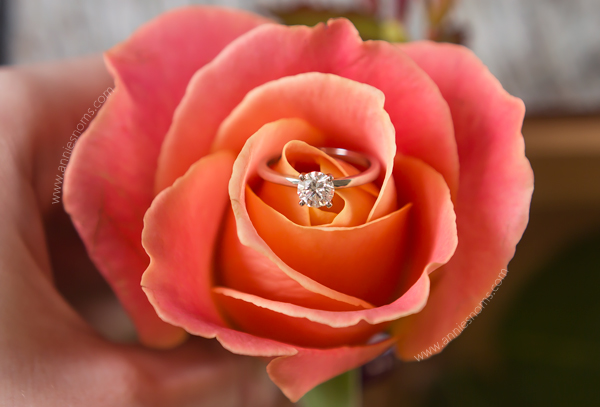 To celebrate this good news, I made you french toast which tastes like doughnuts.
No need to thank me.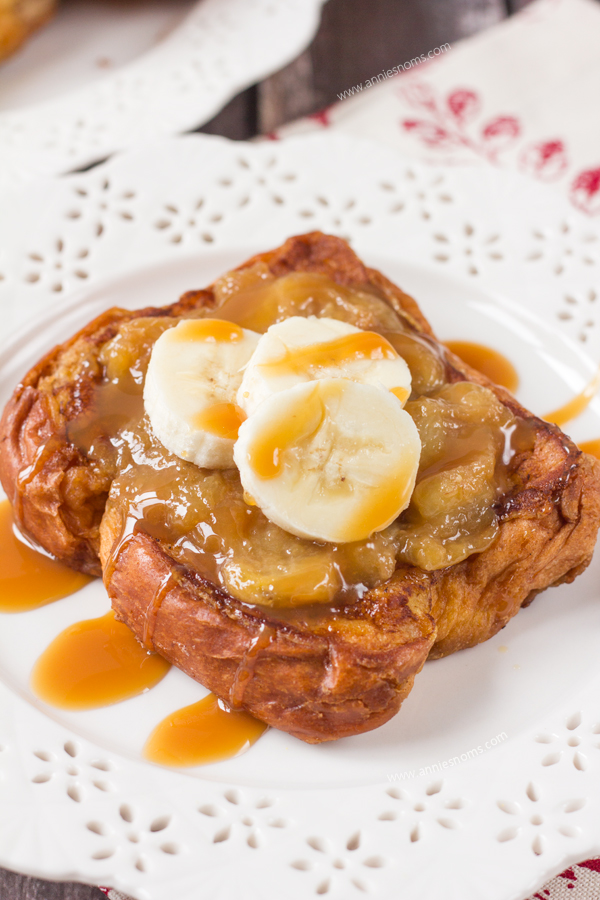 I mean, if I can fool myself into thinking I'm eating doughnuts for breakfast then I think I'm onto a winner.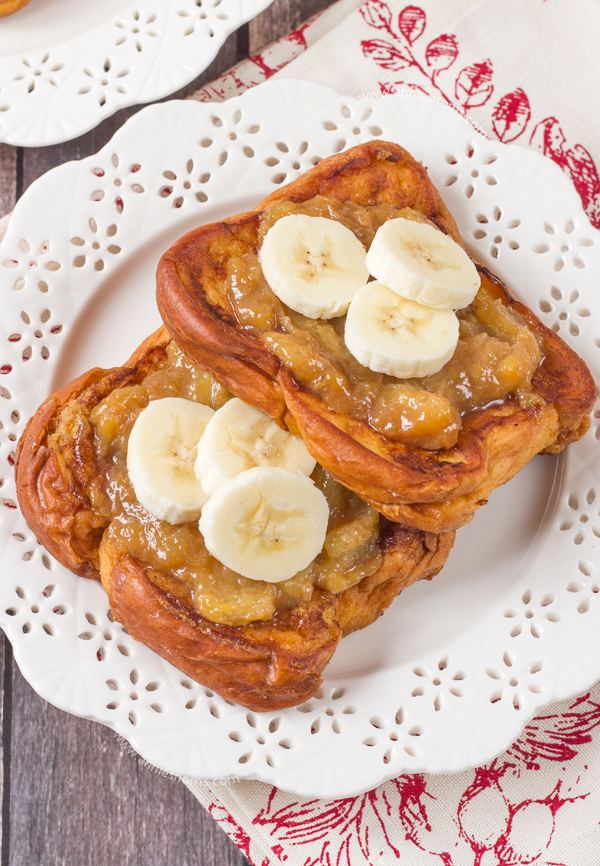 After my first foray into French Toast, I decided my life needs more.
So, I decided to develop my own recipe. And since these Banana Caramel Cupcakes were so popular last year, I knew that I had to try that combination along with crisp, crunchy fried bread.
Oh my word. What a taste sensation. As soon as OH and I bit into a big ol' bit we both went "OMG this is insane!!"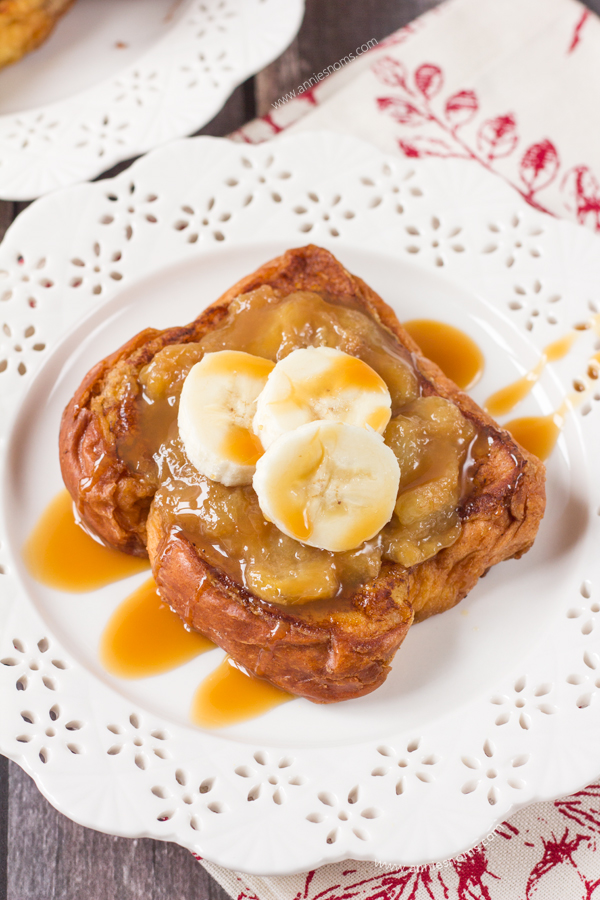 I used brioche because I have this weird thing with normal white bread in that I cannot deal with it with ANYTHING sweet!
So, buttery, soft brioche dipped in an egg and milk mixture before being fried until golden – blissful, but you can use any bread you like.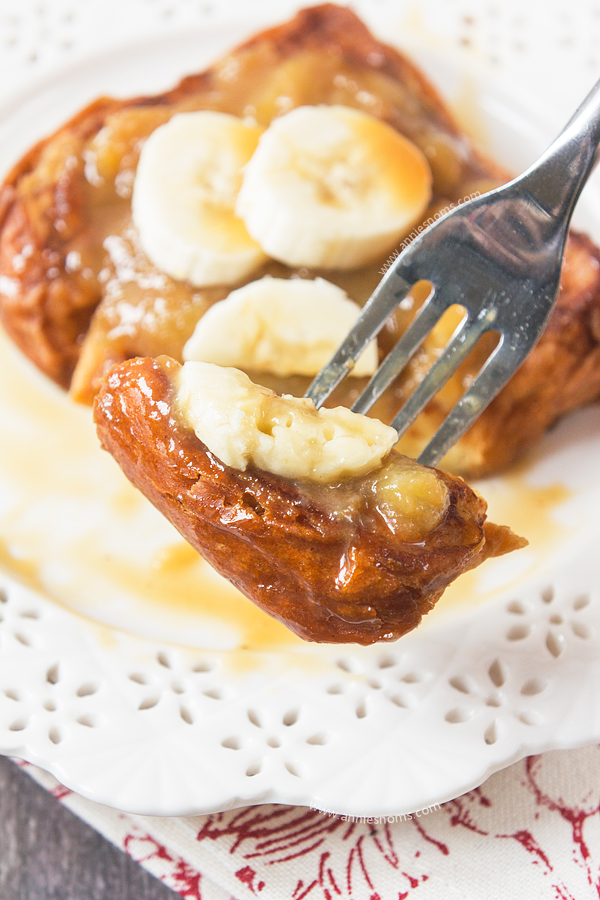 For the topping, I sliced some ripe, but firm bananas, then added in some Hershey's caramel syrup, before bringing the mixture to a boil and reducing it. The bananas get soft and super sweet and then the rich caramel cuts through them. It's just divine.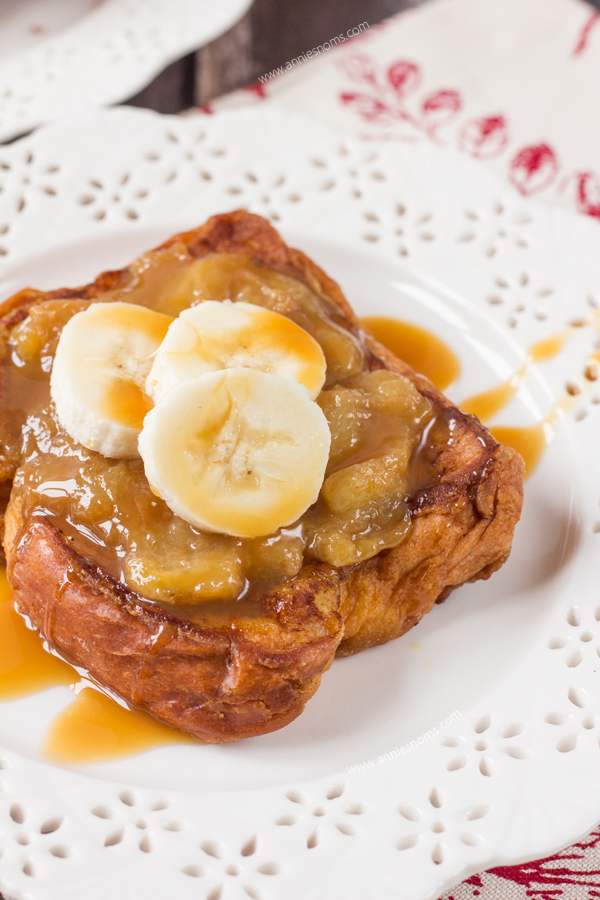 I know, some of you will be screaming at me for not making my own caramel, but I wanted this breakfast recipe to be easy, quick and approachable. Whilst caramel isn't the hardest things to make, I do find that it either goes very, very right or very, very wrong and I don't know about you, but in the mornings, I just want food. NOW.
So, if you like breakfast in a hurry too, then you need to make this Banana Caramel French Toast!

Banana Caramel French Toast
My Banana Caramel French Toast is super easy to make as it uses store bought caramel sauce to caramelize the bananas! The sweet, sticky caramel mix is then put on to crisp, fried Brioche to create a decadent breakfast!
Ingredients
For the banana caramel topping:

1/3

cup

+ 2tbsp (110g) caramel sauce

I used Hershey's

3

medium sized bananas,

sliced thinly. Reserve 1/2 a banana to garnish

For the french toast:

4

slices

thick white bread,

I used Brioche

2

large eggs

1/3

cup

(80ml) milk

1

tsp

sugar

1-2

tbsp

butter
Instructions
For the topping: Place the caramel sauce and 2 and 1/2 sliced bananas into a small pan over a medium heat. Bring to a boil, stirring occasionally and then continue to boil until the bananas have softened, broken up slightly and the sauce is thick and reduced down. You don't want too much liquid, but a thick sauce that sticks to the bananas! Leave to cool slightly.

When the topping is boiling, start making the French toast: place the eggs, milk and sugar into a small, shallow bowl and beat with a fork until well combined.

Heat 1 tbsp in a large frying pan over a low-medium heat. Once melted and bubbling, dip both sides of a slice of bread into the egg mixture, pushing down for a few seconds in order for it to absorb the mixture. Don't hold it in there so long it goes soggy though.

Place dipped bread into your frying pan and repeat dipping of bread until your frying pan is full (see note.)

Fry each side of the bread until golden, around 3 minutes on each side.Once all slices of bread are fried, it's time to serve! Give each person 1-2 slices and top with a quarter of the banana caramel mixture.

Garnish each slice of toast with extra slices of banana and dig in!
Notes
Note: You may need to make in batches like me, hence the 2tbsp butter as you'll make the toast in 2 batches. If your pan is big enough for all 4 slices of bread, you'll only need 1tbsp butter. Recipe by Annie of Annie's Noms